Abstract
Cells employ transcription-coupled repair (TCR) to eliminate transcription-blocking DNA lesions. DNA damage-induced binding of the TCR-specific repair factor CSB to RNA polymerase II (RNAPII) triggers RNAPII ubiquitylation of a single lysine (K1268) by the CRL4CSA ubiquitin ligase. How CRL4CSA is specifically directed towards K1268 is unknown. Here, we identify ELOF1 as the missing link that facilitates RNAPII ubiquitylation, a key signal for the assembly of downstream repair factors. This function requires its constitutive interaction with RNAPII close to K1268, revealing ELOF1 as a specificity factor that binds and positions CRL4CSA for optimal RNAPII ubiquitylation. Drug–genetic interaction screening also revealed a CSB-independent pathway in which ELOF1 prevents R-loops in active genes and protects cells against DNA replication stress. Our study offers key insights into the molecular mechanisms of TCR and provides a genetic framework of the interplay between transcriptional stress responses and DNA replication.
Relevant articles
Open Access articles citing this article.
Inés Paniagua

,

Zainab Tayeh

…

Jacqueline J. L. Jacobs

Nature Communications Open Access 08 September 2022

Alba Muniesa-Vargas

,

Arjan F. Theil

…

Hannes Lans

Cellular and Molecular Life Sciences Open Access 01 March 2022
Access options
Access Nature and 54 other Nature Portfolio journals
Get Nature+, our best-value online-access subscription
$29.99 / 30 days
cancel any time
Subscribe to this journal
Receive 12 print issues and online access
$209.00 per year
only $17.42 per issue
Rent or buy this article
Prices vary by article type
from$1.95
to$39.95
Prices may be subject to local taxes which are calculated during checkout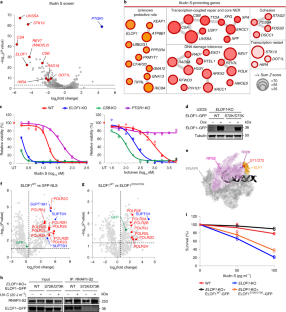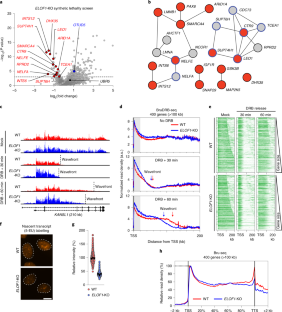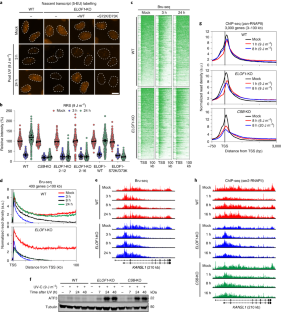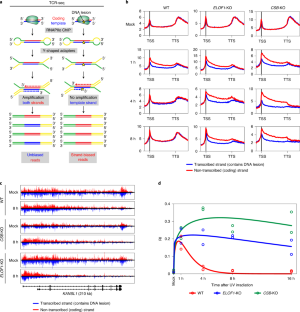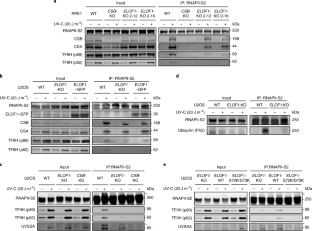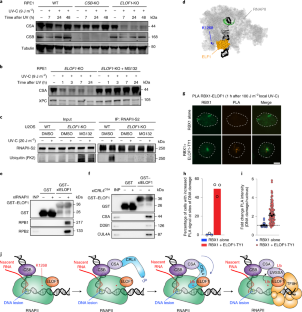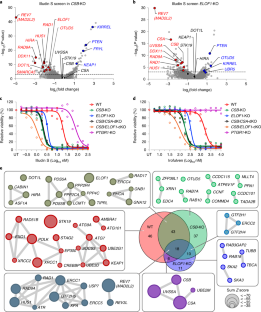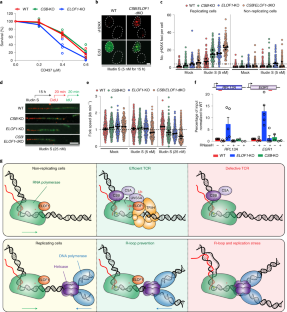 Data availability
Both raw and processed ChIP-seq, Bru-seq, ATAC-seq and RNA-seq data shown in main Figs. 2–4 and Extended Data Figs. 3–9 have been deposited into the Gene Expression Omnibus (GEO) under GSE149760. The mass spectrometry proteomics data shown in main Fig. 1 and Extended Data Fig. 2 have been deposited into the ProteomeXchange Consortium via the PRIDE partner repository54 (https://www.ebi.ac.uk/pride/) with the dataset identifier PXD024051. Additionally, publicly available reference datasets of the Hg38 genome and hg19 genome and the known Canonical gene table from the UCSC genome database (https://genome.ucsc.edu/cgi-bin/hgTables; hg38 genome, lifted-over to hg19 when needed) and gene interactions from the GeneMANIA database (https://genemania.org/) have been obtained and used in this manuscript. Published structural information has been obtained for Saccharomyces cerevisiae RAD26 bound to RNAPII https://www.rcsb.org/ PBD: 5VVS) and Komagataella pastoris ELF1 bound to RNAPII (PDB: 5XOG). Source data are provided with this paper. All other data supporting the findings of this study are available from the corresponding authors upon reasonable request.
References
Brueckner, F., Hennecke, U., Carell, T. & Cramer, P. CPD damage recognition by transcribing RNA polymerase II. Science 315, 859–862 (2007).

Nakazawa, Y. et al. Ubiquitination of DNA damage-stalled RNAPII promotes transcription-coupled repair. Cell 180, 1228–1244.e24 (2020).

Tufegdžić Vidaković, A. et al. Regulation of the RNAPII pool is integral to the DNA damage response. Cell 180, 1245–1261.e21 (2020).

Nakazawa, Y. et al. Mutations in UVSSA cause UV-sensitive syndrome and impair RNA polymerase IIo processing in transcription-coupled nucleotide-excision repair. Nat. Genet. 44, 586–592 (2012).

Schwertman, P. et al. UV-sensitive syndrome protein UVSSA recruits USP7 to regulate transcription-coupled repair. Nat. Genet. 44, 598–602 (2012).

van der Weegen, Y. et al. The cooperative action of CSB, CSA, and UVSSA target TFIIH to DNA damage-stalled RNA polymerase II. Nat. Commun. 11, 2104 (2020).

Laugel, V. et al. Mutation update for the CSB/ERCC6 and CSA/ERCC8 genes involved in Cockayne syndrome. Hum. Mutat. 31, 113–126 (2010).

Xu, J. et al. Structural basis for the initiation of eukaryotic transcription-coupled DNA repair. Nature 551, 653–657 (2017).

Jaspers, N. G. et al. Anti-tumour compounds illudin S and irofulven induce DNA lesions ignored by global repair and exclusively processed by transcription- and replication-coupled repair pathways. DNA Repair (Amst.) 1, 1027–1038 (2002).

Mair, B. et al. Essential gene profiles for human pluripotent stem cells identify uncharacterized genes and substrate dependencies. Cell Rep. 27, 599–615.e12 (2019).

Yu, X. et al. Up-regulation of human prostaglandin reductase 1 improves the efficacy of hydroxymethylacylfulvene, an antitumor chemotherapeutic agent. J. Pharmacol. Exp. Ther. 343, 426–433 (2012).

Adam, S., Polo, S. E. & Almouzni, G. Transcription recovery after DNA damage requires chromatin priming by the H3.3 histone chaperone HIRA. Cell 155, 94–106 (2013).

Oksenych, V. et al. Histone methyltransferase DOT1L drives recovery of gene expression after a genotoxic attack. PLoS Genet. 9, e1003611 (2013).

Boeing, S. et al. Multiomic analysis of the UV-induced DNA damage response. Cell Rep. 15, 1597–1610 (2016).

Daniels, J. P., Kelly, S., Wickstead, B. & Gull, K. Identification of a crenarchaeal orthologue of Elf1: implications for chromatin and transcription in Archaea. Biol. Direct 4, 24 (2009).

Ehara, H. et al. Structural insight into nucleosome transcription by RNA polymerase II with elongation factors. Science 363, 744–747 (2019).

Ehara, H. et al. Structure of the complete elongation complex of RNA polymerase II with basal factors. Science 357, 921–924 (2017).

Prather, D., Krogan, N. J., Emili, A., Greenblatt, J. F. & Winston, F. Identification and characterization of Elf1, a conserved transcription elongation factor in Saccharomyces cerevisiae. Mol. Cell. Biol. 25, 10122–10135 (2005).

Veloso, A. et al. Rate of elongation by RNA polymerase II is associated with specific gene features and epigenetic modifications. Genome Res. 24, 896–905 (2014).

Mayne, L. V. & Lehmann, A. R. Failure of RNA synthesis to recover after UV irradiation: an early defect in cells from individuals with Cockayne's syndrome and xeroderma pigmentosum. Cancer Res. 42, 1473–1478 (1982).

Perdiz, D. et al. Distribution and repair of bipyrimidine photoproducts in solar UV-irradiated mammalian cells. Possible role of Dewar photoproducts in solar mutagenesis. J. Biol. Chem. 275, 26732–26742 (2000).

Epanchintsev, A. et al. Cockayne's syndrome A and B proteins regulate transcription arrest after genotoxic stress by promoting ATF3 degradation. Mol. Cell 68, 1054–1066.e6 (2017).

Bugai, A. et al. P-TEFb activation by RBM7 shapes a pro-survival transcriptional response to genotoxic stress. Mol. Cell 74, 254–267 e210 (2019).

Geijer, I. et al. NCB-M43309B. Nat. Cell Biol. doi:Placeholder (2021).

Zhang, X. et al. Mutations in UVSSA cause UV-sensitive syndrome and destabilize ERCC6 in transcription-coupled DNA repair. Nat. Genet. 44, 593–597 (2012).

Fei, J. & Chen, J. KIAA1530 protein is recruited by Cockayne syndrome complementation group protein A (CSA) to participate in transcription-coupled repair (TCR). J. Biol. Chem. 287, 35118–35126 (2012).

Olivieri, M. et al. A genetic map of the response to DNA damage in human cells. Cell 182, 481–496 e421 (2020).

de Vivo, A. et al. The OTUD5–UBR5 complex regulates FACT-mediated transcription at damaged chromatin. Nucleic Acids Res. 47, 729–746 (2019).

Panier, S. et al. Tandem protein interaction modules organize the ubiquitin-dependent response to DNA double-strand breaks. Mol. Cell 47, 383–395 (2012).

Benedict, B. et al. WAPL-dependent repair of damaged DNA replication forks underlies oncogene-induced loss of sister chromatid cohesion. Dev. Cell 52, 683–698.e7 (2020).

Doench, J. G. et al. Rational design of highly active sgRNAs for CRISPR–Cas9-mediated gene inactivation. Nat. Biotechnol. 32, 1262–1267 (2014).

Hart, T. et al. High-Resolution CRISPR screens reveal fitness genes and genotype-specific cancer liabilities. Cell 163, 1515–1526 (2015).

Colic, M. et al. Identifying chemogenetic interactions from CRISPR screens with drugZ. Genome Med. 11, 52 (2019).

Typas, D. et al. The de-ubiquitylating enzymes USP26 and USP37 regulate homologous recombination by counteracting RAP80. Nucleic Acid Res. 43, 6919–6933 (2015).

Rappsilber, J., Mann, M. & Ishihama, Y. Protocol for micro-purification, enrichment, pre-fractionation and storage of peptides for proteomics using StageTips. Nat. Protoc. 2, 1896–1906 (2007).

Tyanova, S., Temu, T. & Cox, J. The MaxQuant computational platform for mass spectrometry-based shotgun proteomics. Nat. Protoc. 11, 2301–2319 (2016).

Tyanova, S. et al. The Perseus computational platform for comprehensive analysis of (prote)omics data. Nat. Methods 13, 731–740 (2016).

Parra, I. & Windle, B. High resolution visual mapping of stretched DNA by fluorescent hybridization. Nat. Genet. 5, 17–21 (1993).

Garcia-Rubio, M., Barroso, S. I. & Aguilera, A. Detection of DNA–RNA hybrids in vivo. Methods Mol. Biol. 1672, 347–361 (2018).

Sanz, L. A. & Chedin, F. High-resolution, strand-specific R-loop mapping via S9.6-based DNA–RNA immunoprecipitation and high-throughput sequencing. Nat. Protoc. 14, 1734–1755 (2019).

Andrade-Lima, L. C., Veloso, A., Paulsen, M. T., Menck, C. F. & Ljungman, M. DNA repair and recovery of RNA synthesis following exposure to ultraviolet light are delayed in long genes. Nucleic Acids Res. 43, 2744–2756 (2015).

Bolger, A. M., Lohse, M. & Usadel, B. Trimmomatic: a flexible trimmer for Illumina sequence data. Bioinformatics 30, 2114–2120 (2014).

Kim, D., Langmead, B. & Salzberg, S. L. HISAT: a fast spliced aligner with low memory requirements. Nat. Methods 12, 357–360 (2015).

Li, H. et al. The Sequence Alignment/Map format and SAMtools. Bioinformatics 25, 2078–2079 (2009).

Liao, Y., Smyth, G. K. & Shi, W. featureCounts: an efficient general purpose program for assigning sequence reads to genomic features. Bioinformatics 30, 923–930 (2014).

Robinson, M. D., McCarthy, D. J. & Smyth, G. K. edgeR: a Bioconductor package for differential expression analysis of digital gene expression data. Bioinformatics 26, 139–140 (2010).

Li, H. Aligning sequence reads, clone sequences and assembly contigs with BWA-MEM. Preprint at https://arxiv.org/abs/1303.3997 (2013).

Tischler, G. & Leonard, S. biobambam: tools for read pair collation based algorithms on BAM files. Source Code Biol. Med. 9, 13 (2014).

McKenna, A. et al. The Genome Analysis Toolkit: a MapReduce framework for analyzing next-generation DNA sequencing data. Genome Res. 20, 1297–1303 (2010).

Heinz, S. et al. Simple combinations of lineage-determining transcription factors prime cis-regulatory elements required for macrophage and B cell identities. Mol. Cell 38, 576–589 (2010).

R Development Core Team. R: a Language and Environment for Statistical Computing. (R Foundation for Statistical Computing, 2019).

Benaglia, T., Hunter, C. D. & Young, D. R. D mixtools: an R Package for analyzing finite mixture models. J. Stat. Softw. 32, 1–29 (2009).

Danko, C. G. et al. Signaling pathways differentially affect RNA polymerase II initiation, pausing, and elongation rate in cells. Mol. Cell 50, 212–222 (2013).

Perez-Riverol, Y. et al. The PRIDE database and related tools and resources in 2019: improving support for quantification data. Nucleic Acids Res. 47, D442–D450 (2019).
Acknowledgements
We acknowledge A. Kragten, J. Balk, J. Poell, K. Kato, M. Shimada, S. Kloet, M. Paulsen, M. Vukic, D. Warmerdam, A. Ramadhin and L. Daxinger for help during this project. We also thank J. Moffat, K. Chan and A. Tong for sharing the pLCKO-TKOv3 library before publication. We thank the Amsterdam UMC NGS sequencing facilities for support. We thank P. van Veelen and A. de Ru for MS equipment maintenance. This work was funded by a LUMC Research Fellowship, a NWO-ENW-M grant (OCENW.KLEIN.090) and a NWO-VIDI grant (ALW.016.161.320) to M.S.L., a Leiden University Fund (LUF) grant to D.v.d.H. (W18355-2-EM), a KWF/Alpe Young Investigator 10701 grant to J.d.L., a CCA proof-of-concept grant to K.d.L. and R.W., an Amsterdam UMC Innovation Grant (CRISPR Expertise Center, 2019) to R.W., UM1 HG009382 and R01 CA213214 NCI grants to M.L., a KWF Young Investigator grant 11367 to R.G.-P., and an ERC starting grant 310913 to A.C.O.V. J.C.W. was supported by NIH grant HL098316 and is a Howard Hughes Medical Institute (HHMI) Investigator and an American Cancer Society Research Professor. T.E.T.M. was supported by an EMBO Long-term fellowship (ALTF 1316-2016) and a HHMI fellowship of The Jane Coffin Childs Memorial Fund for Medical Research.
Ethics declarations
Competing interests
The authors declare no competing interests.
Additional information
Peer review information Nature Cell Biology thanks Dong Wang and the other, anonymous, reviewer(s) for their contribution to the peer review of this work. Peer reviewer reports are available.
Publisher's note Springer Nature remains neutral with regard to jurisdictional claims in published maps and institutional affiliations.
Supplementary information
Supplementary Table 1: Cell lines. Supplementary. Table 2: sgRNAs. Supplementary Table 3: Plasmids. Supplementary Table 4: Primers. Supplementary Table 5: Antibodies. Supplementary Table 6: Sequence depth. Supplementary Table 7: Read counts (no mismatches allowed) per pLCKO-TKOv3 guide for the four CRISPR screens presented. (A) General information for the screens. (B) Raw read counts of the CRISPR screens.
About this article
Cite this article
van der Weegen, Y., de Lint, K., van den Heuvel, D. et al. ELOF1 is a transcription-coupled DNA repair factor that directs RNA polymerase II ubiquitylation. Nat Cell Biol 23, 595–607 (2021). https://doi.org/10.1038/s41556-021-00688-9
Received:

Accepted:

Published:

Issue Date:

DOI: https://doi.org/10.1038/s41556-021-00688-9