Abstract
The response of cells to forces is critical for their function and occurs via rearrangement of the actin cytoskeleton1. Cytoskeletal remodelling is energetically costly2,3, yet how cells signal for nutrient uptake remains undefined. Here we present evidence that force transmission increases glucose uptake by stimulating glucose transporter 1 (GLUT1). GLUT1 recruitment to and retention at sites of force transmission requires non-muscle myosin IIA-mediated contractility and ankyrin G. Ankyrin G forms a bridge between the force-transducing receptors and GLUT1. This bridge is critical for enabling cells under tension to tune glucose uptake to support remodelling of the actin cytoskeleton and formation of an epithelial barrier. Collectively, these data reveal an unexpected mechanism for how cells under tension take up nutrients and provide insight into how defects in glucose transport and mechanics might be linked.
Access options
Subscribe to Journal
Get full journal access for 1 year
$59.00
only $4.92 per issue
All prices are NET prices.
VAT will be added later in the checkout.
Tax calculation will be finalised during checkout.
Rent or Buy article
Get time limited or full article access on ReadCube.
from$8.99
All prices are NET prices.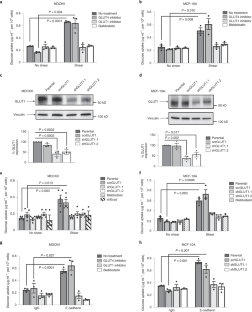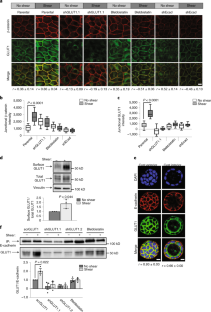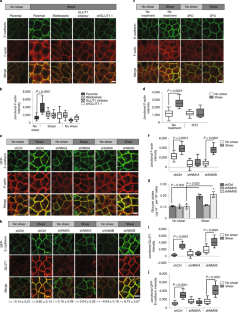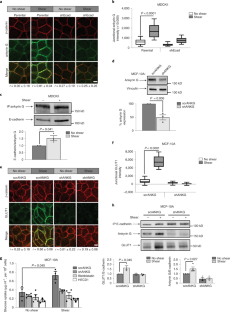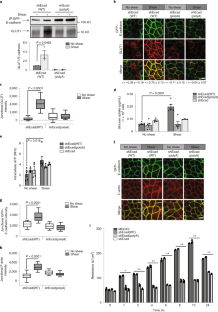 Data availability
Source data are provided with this paper. All other data supporting the findings of this study are available from the corresponding author upon reasonable request.
References
1.

Fletcher, D. A. & Mullins, R. D. Cell mechanics and the cytoskeleton. Nature 463, 485–492 (2010).

2.

Bernstein, B. W. & Bamburg, J. R. Actin-ATP hydrolysis is a major energy drain for neurons. J. Neurosci. 23, 1–6 (2003).

3.

Daniel, J. L., Molish, I. R., Robkin, L. & Holmsen, H. Nucleotide exchange between cytosolic ATP and F-actin-bound ADP may be a major energy-utilizing process in unstimulated platelets. Eur. J. Biochem. 156, 677–684 (1986).

4.

Ferrell, N. et al. Application of physiological shear stress to renal tubular epithelial cells. Methods Cell Biol. 153, 43–67 (2019).

5.

Neville, M. C. Classic studies of mammary development and milk secretion: 1945–1980. J. Mammary Gland Biol. Neoplasia 14, 193–197 (2009).

6.

Guilluy, C. et al. The Rho GEFs LARG and GEF-H1 regulate the mechanical response to force on integrins. Nat. Cell Biol. 13, 722–727 (2011).

7.

Marjoram, R. J., Guilluy, C. & Burridge, K. Using magnets and magnetic beads to dissect signaling pathways activated by mechanical tension applied to cells. Methods 94, 19–26 (2016).

8.

Barry, A. K. et al. α-Catenin cytomechanics—role in cadherin-dependent adhesion and mechanotransduction. J. Cell Sci. 127, 1779–1791 (2014).

9.

Collins, C. et al. Localized tensional forces on PECAM-1 elicit a global mechanotransduction response via the integrin-RhoA pathway. Curr. Biol. 22, 2087–2094 (2012).

10.

Kim, T. J. et al. Dynamic visualization of α-catenin reveals rapid, reversible conformation switching between tension states. Curr. Biol. 25, 218–224 (2015).

11.

Bays, J. L., Campbell, H. K., Heidema, C., Sebbagh, M. & DeMali, K. A. Linking E-cadherin mechanotransduction to cell metabolism through force-mediated activation of AMPK. Nat. Cell Biol. 19, 724–731 (2017).

12.

Bays, J. L. et al. Vinculin phosphorylation differentially regulates mechanotransduction at cell–cell and cell–matrix adhesions. J. Cell Biol. 205, 251–263 (2014).

13.

Tzima, E. et al. A mechanosensory complex that mediates the endothelial cell response to fluid shear stress. Nature 437, 426–431 (2005).

14.

Park, J. S. et al. Mechanical regulation of glycolysis via cytoskeleton architecture. Nature 578, 621–626 (2020).

15.

Camps, M., Vilaro, S., Testar, X., Palacin, M. & Zorzano, A. High and polarized expression of GLUT1 glucose transporters in epithelial cells from mammary gland: acute down-regulation of GLUT1 carriers by weaning. Endocrinology 134, 924–934 (1994).

16.

Yang, Q. et al. PRKAA1/AMPKα1-driven glycolysis in endothelial cells exposed to disturbed flow protects against atherosclerosis. Nat. Commun. 9, 4667 (2018).

17.

Farrell, C. L., Yang, J. & Pardridge, W. M. GLUT-1 glucose transporter is present within apical and basolateral membranes of brain epithelial interfaces and in microvascular endothelia with and without tight junctions. J. Histochem. Cytochem. 40, 193–199 (1992).

18.

Capaldo, C. T. & Macara, I. G. Depletion of E-cadherin disrupts establishment but not maintenance of cell junctions in Madin–Darby canine kidney epithelial cells. Mol. Biol. Cell 18, 189–200 (2007).

19.

O'Brien, L. E., Zegers, M. M. & Mostov, K. E. Building epithelial architecture: insights from three-dimensional culture models. Nat. Rev. Mol. Cell Biol. 3, 531–537 (2002).

20.

Yu, W. et al. Formation of cysts by alveolar type II cells in three-dimensional culture reveals a novel mechanism for epithelial morphogenesis. Mol. Biol. Cell 18, 1693–1700 (2007).

21.

Zegers, M. M., O'Brien, L. E., Yu, W., Datta, A. & Mostov, K. E. Epithelial polarity and tubulogenesis in vitro. Trends Cell Biol. 13, 169–176 (2003).

22.

Heuze, M. L. et al. Myosin II isoforms play distinct roles in adherens junction biogenesis. eLife 8, e46599 (2019).

23.

Bennett, V. & Healy, J. Membrane domains based on ankyrin and spectrin associated with cell–cell interactions. Cold Spring Harb. Perspect. Biol. 1, a003012 (2009).

24.

Nelson, W. J., Shore, E. M., Wang, A. Z. & Hammerton, R. W. Identification of a membrane-cytoskeletal complex containing the cell adhesion molecule uvomorulin (E-cadherin), ankyrin, and fodrin in Madin–Darby canine kidney epithelial cells. J. Cell Biol. 110, 349–357 (1990).

25.

Kizhatil, K. et al. Ankyrin-G is a molecular partner of E-cadherin in epithelial cells and early embryos. J. Biol. Chem. 282, 26552–26561 (2007).

26.

Jenkins, P. M. et al. E-cadherin polarity is determined by a multifunction motif mediating lateral membrane retention through ankyrin-G and apical–lateral transcytosis through clathrin. J. Biol. Chem. 288, 14018–14031 (2013).

27.

Cadwell, C. M., Jenkins, P. M., Bennett, V. & Kowalczyk, A. P. Ankyrin-G inhibits endocytosis of cadherin dimers. J. Biol. Chem. 291, 691–704 (2016).

28.

Yang, H. Q. et al. Ankyrin-G mediates targeting of both Na+ and KATP channels to the rat cardiac intercalated disc. eLife 9, e52373 (2020).

29.

Zhou, D. et al. AnkyrinG is required for clustering of voltage-gated Na channels at axon initial segments and for normal action potential firing. J. Cell Biol. 143, 1295–1304 (1998).

30.

Lowe, J. S. et al. Voltage-gated Nav channel targeting in the heart requires an ankyrin-G dependent cellular pathway. J. Cell Biol. 180, 173–186 (2008).

31.

Baines, A. J. The spectrin–ankyrin-4.1–adducin membrane skeleton: adapting eukaryotic cells to the demands of animal life. Protoplasma 244, 99–131 (2010).

32.

Bennett, V. The molecular basis for membrane–cytoskeleton association in human erythrocytes. J. Cell Biochem. 18, 49–65 (1982).

33.

Drenckhahn, D., Schluter, K., Allen, D. P. & Bennett, V. Colocalization of band 3 with ankyrin and spectrin at the basal membrane of intercalated cells in the rat kidney. Science 230, 1287–1289 (1985).

34.

Drenckhahn, D. & Bennett, V. Polarized distribution of Mr 210,000 and 190,000 analogs of erythrocyte ankyrin along the plasma membrane of transporting epithelia, neurons and photoreceptors. Eur. J. Cell Biol. 43, 479–486 (1987).

35.

Khan, A. A. et al. Dematin and adducin provide a novel link between the spectrin cytoskeleton and human erythrocyte membrane by directly interacting with glucose transporter-1. J. Biol. Chem. 283, 14600–14609 (2008).

36.

Jiang, W. et al. Interaction of glucose transporter 1 with anion exchanger 1 in vitro. Biochem. Biophys. Res. Commun. 339, 1255–1261 (2006).

37.

Zhang, J. et al. Energetic regulation of coordinated leader-follower dynamics during collective invasion of breast cancer cells. Proc. Natl Acad. Sci. USA 116, 7867–7872 (2019).

38.

DeCamp, S. J. et al. Epithelial layer unjamming shifts energy metabolism toward glycolysis. Sci. Rep. 10, 18302 (2020).

39.

Zanotelli, M. R. et al. Energetic costs regulated by cell mechanics and confinement are predictive of migration path during decision-making. Nat. Commun. 10, 4185 (2019).

40.

Kannan, N. & Tang, V. W. Synaptopodin couples epithelial contractility to α-actinin-4-dependent junction maturation. J. Cell Biol. 211, 407–434 (2015).

41.

Maiers, J. L., Peng, X., Fanning, A. S. & DeMali, K. A. ZO-1 recruitment to α-catenin—a novel mechanism for coupling the assembly of tight junctions to adherens junctions. J. Cell Sci. 126, 3904–3915 (2013).

42.

Tang, V. W. & Goodenough, D. A. Paracellular ion channel at the tight junction. Biophys. J. 84, 1660–1673 (2003).

43.

Peng, X., Cuff, L. E., Lawton, C. D. & DeMali, K. A. Vinculin regulates cell-surface E-cadherin expression by binding to β-catenin. J. Cell Sci. 123, 567–577 (2010).
Acknowledgements
We thank P. Rubenstein and G. DeWane for comments. This work is supported by National Institutes of Health grants R35GM136291 to K.A.D. and P30CA086862 to the Holden Comprehensive Cancer Center. R.-M.M. was supported by Agence Nationale de la Recherche 'POLCAM' (ANR-17-CE13-0013) and 'CODECIDE' (ANR-17-CE13-0022) Ligue Contre le Cancer (Equipe labellisée 2019). National Institutes of Health predoctoral fellowships T32GM067795 and 1F31GM135962-01 supported A.M.S. American Heart Association grant 16PRE26701111 supported J.L.B.
Ethics declarations
Competing interests
The authors declare no competing interests.
Additional information
Peer review information Nature Cell Biology thanks Gaudenz Danuser, Vivian Tang and Sheng-Cai Lin for their contribution to the peer review of this work.
Publisher's note Springer Nature remains neutral with regard to jurisdictional claims in published maps and institutional affiliations.
Supplementary information
About this article
Cite this article
Salvi, A.M., Bays, J.L., Mackin, S.R. et al. Ankyrin G organizes membrane components to promote coupling of cell mechanics and glucose uptake. Nat Cell Biol 23, 457–466 (2021). https://doi.org/10.1038/s41556-021-00677-y
Received:

Accepted:

Published:

Issue Date: