Abstract
Direct targeting of the downstream mitogen-activated protein kinase (MAPK) pathway to suppress extracellular-regulated kinase (ERK) activation in KRAS and BRAF mutant colorectal cancer (CRC) has proven clinically unsuccessful, but promising results have been obtained with combination therapies including epidermal growth factor receptor (EGFR) inhibition. To elucidate the interplay between EGF signalling and ERK activation in tumours, we used patient-derived organoids (PDOs) from KRAS and BRAF mutant CRCs. PDOs resemble in vivo tumours, model treatment response and are compatible with live-cell microscopy. We established real-time, quantitative drug response assessment in PDOs with single-cell resolution, using our improved fluorescence resonance energy transfer (FRET)-based ERK biosensor EKAREN5. We show that oncogene-driven signalling is strikingly limited without EGFR activity and insufficient to sustain full proliferative potential. In PDOs and in vivo, upstream EGFR activity rigorously amplifies signal transduction efficiency in KRAS or BRAF mutant MAPK pathways. Our data provide a mechanistic understanding of the effectivity of EGFR inhibitors within combination therapies against KRAS and BRAF mutant CRC.
Access options
Access Nature and 54 other Nature Portfolio journals
Get Nature+, our best-value online-access subscription
$29.99 / 30 days
cancel any time
Subscribe to this journal
Receive 12 print issues and online access
$209.00 per year
only $17.42 per issue
Rent or buy this article
Prices vary by article type
from$1.95
to$39.95
Prices may be subject to local taxes which are calculated during checkout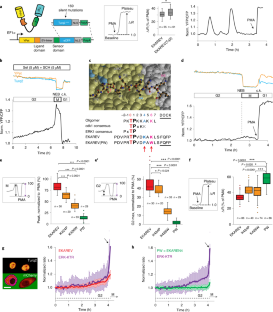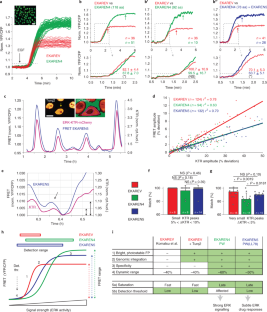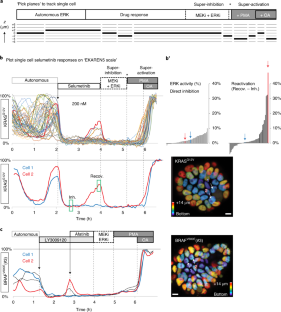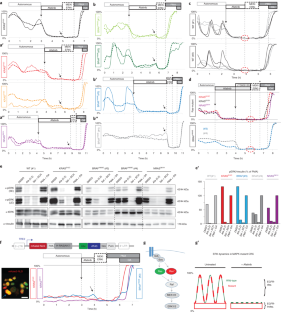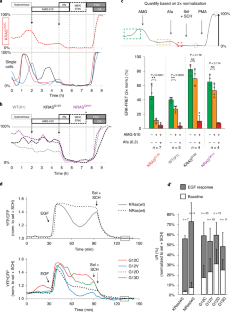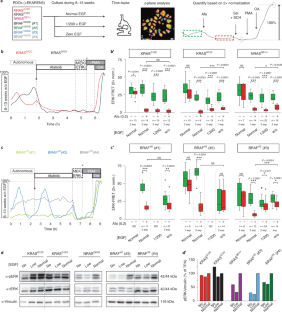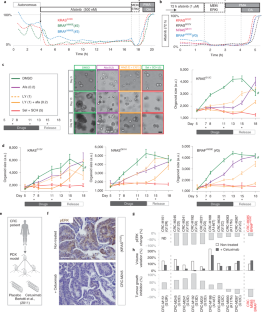 Similar content being viewed by others
Data availability
Source data are provided with this paper. All other data supporting the findings of this study are available from the corresponding author on reasonable request.
Code availability
Custom-written ImageJ/Fiji-scripts that were used to analyse 2D and 3D FRET data are available from the corresponding author upon request.
References
Ryan, M. B. & Corcoran, R. B. Therapeutic strategies to target RAS-mutant cancers. Nat. Rev. Clin. Oncol. 15, 709–720 (2018).

Yaeger, R. & Corcoran, R. B. Targeting alterations in the RAF-MEK pathway. Cancer Discov. 9, 329–341 (2019).

Karnoub, A. E. & Weinberg, R. A. Ras oncogenes: split personalities. Nat. Rev. Mol. Cell Biol. 9, 517–531 (2008).

Yao, Z. et al. BRAF mutants evade ERK-dependent feedback by different mechanisms that determine their sensitivity to pharmacologic inhibition. Cancer Cell 28, 370–383 (2015).

Corcoran, R. B. et al. Combined BRAF, EGFR and MEK inhibition in patients with BRAFV600E-mutant colorectal cancer. Cancer Discov. 8, 428–443 (2018).

van Geel, R. et al. A phase Ib dose-escalation study of encorafenib and cetuximab with or without alpelisib in metastatic BRAF-mutant colorectal cancer. Cancer Discov. 7, 610–619 (2017).

Kopetz, S. et al. Encorafenib, binimetinib and cetuximab in BRAF V600E-mutated colorectal cancer. New Engl. J. Med. 381, 1632–1643 (2019).

Amodio, V. et al. EGFR blockade reverts resistance to KRAS(G12C) inhibition in colorectal cancer. Cancer Discov. 10, 1129–1139 (2020).

Huijberts, S. et al. Phase I study of lapatinib plus trametinib in patients with KRAS-mutant colorectal, non-small cell lung and pancreatic cancer. Cancer Chemother. Pharmacol. 85, 917–930 (2020).

Prahallad, A. et al. Unresponsiveness of colon cancer to BRAF(V600E) inhibition through feedback activation of EGFR. Nature 483, 100–103 (2012).

Sun, C. et al. Intrinsic resistance to MEK inhibition in KRAS mutant lung and colon cancer through transcriptional induction of ERBB3. Cell Rep. 7, 86–93 (2014).

Corcoran, R. B. et al. EGFR-mediated re-activation of MAPK signaling contributes to insensitivity of BRAF mutant colorectal cancers to RAF inhibition with vemurafenib. Cancer Discov. 2, 227–235 (2012).

Moll, H. P. et al. Afatinib restrains K-RAS-driven lung tumorigenesis. Sci. Transl. Med. 10, eaao2301 (2018).

Ardito, C. M. et al. EGF receptor is required for KRAS-induced pancreatic tumorigenesis. Cancer Cell 22, 304–317 (2012).

Navas, C. et al. EGF receptor signaling is essential for K-RAS oncogene-driven pancreatic ductal adenocarcinoma. Cancer Cell 22, 318–330 (2012).

Albeck, J. G., Mills, G. B. & Brugge, J. S. Frequency-modulated pulses of ERK activity transmit quantitative proliferation signals. Mol. Cell 49, 249–261 (2013).

Aoki, K. et al. Stochastic ERK activation induced by noise and cell-to-cell propagation regulates cell density-dependent proliferation. Mol. Cell 52, 529–540 (2013).

Muta, Y. et al. Composite regulation of ERK activity dynamics underlying tumour-specific traits in the intestine. Nat. Commun. 9, 2174 (2018).

Bugaj, L. J. et al. Cancer mutations and targeted drugs can disrupt dynamic signal encoding by the Ras-Erk pathway. Science 361, eaao3048 (2018).

Vlachogiannis, G. et al. Patient-derived organoids model treatment response of metastatic gastrointestinal cancers. Science 359, 920–926 (2018).

Ganesh, K. et al. A rectal cancer organoid platform to study individual responses to chemoradiation. Nat. Med. 25, 1607–1614 (2019).

Yao, Y. et al. Patient-derived organoids predict chemoradiation responses of locally advanced rectal cancer. Cell Stem Cell 26, 17–26 (2020).

van de Wetering, M. et al. Prospective derivation of a living organoid biobank of colorectal cancer patients. Cell 161, 933–945 (2015).

Fujii, M. et al. A colorectal tumor organoid library demonstrates progressive loss of niche factor requirements during tumorigenesis. Cell Stem Cell 18, 827–838 (2016).

Pauli, C. et al. Personalized in vitro and in vivo cancer models to guide precision medicine. Cancer Discov. 7, 462–477 (2017).

Verissimo, C. S. et al. Targeting mutant RAS in patient-derived colorectal cancer organoids by combinatorial drug screening. eLife 5, e18489 (2016).

Regot, S., Hughey, J. J., Bajar, B. T., Carrasco, S. & Covert, M. W. High-sensitivity measurements of multiple kinase activities in live single cells. Cell 157, 1724–1734 (2014).

Komatsu, N. et al. Development of an optimized backbone of FRET biosensors for kinases and GTPases. Mol. Biol. Cell 22, 4647–4656 (2011).

Kamioka, Y. et al. Live imaging of protein kinase activities in transgenic mice expressing FRET biosensors. Cell Struct. Funct. 37, 65–73 (2012).

Goedhart, J. et al. Structure-guided evolution of cyan fluorescent proteins towards a quantum yield of 93%. Nat. Commun. 3, 751 (2012).

Komatsubara, A. T., Matsuda, M. & Aoki, K. Quantitative analysis of recombination between YFP and CFP genes of FRET biosensors introduced by lentiviral or retroviral gene transfer. Sci. Rep. 5, 13283 (2015).

Vinkenborg, J. L., Evers, T. H., Reulen, S. W., Meijer, E. W. & Merkx, M. Enhanced sensitivity of FRET-based protease sensors by redesign of the GFP dimerization interface. ChemBioChem 8, 1119–1121 (2007).

Cost, H., Barreau, P., Basset, M., Le Peuch, C. & Geny, B. Phorbol myristate acetate inhibits phosphoinositol lipid-specific phospholipase C activity via protein kinase C activation in conditions inducing differentiation in HL-60 cells. Cell Biochem. Funct. 9, 263–273 (1991).

Bonnet, J., Mayonove, P. & Morris, M. C. Differential phosphorylation of Cdc25C phosphatase in mitosis. Biochem. Biophys. Res. Commun. 370, 483–488 (2008).

Franckhauser, C., Mamaeva, D., Heron-Milhavet, L., Fernandez, A. & Lamb, N. J. Distinct pools of cdc25C are phosphorylated on specific TP sites and differentially localized in human mitotic cells. PLoS ONE 5, e11798 (2010).

Bao, Z. Q., Jacobsen, D. M. & Young, M. A. Briefly bound to activate: transient binding of a second catalytic magnesium activates the structure and dynamics of CDK2 kinase for catalysis. Structure 19, 675–690 (2011).

Holt, L. J. et al. Global analysis of Cdk1 substrate phosphorylation sites provides insights into evolution. Science 325, 1682–1686 (2009).

King, C., Sarabipour, S., Byrne, P., Leahy, D. J. & Hristova, K. The FRET signatures of noninteracting proteins in membranes: simulations and experiments. Biophys. J. 106, 1309–1317 (2014).

Sparta, B. et al. Receptor level mechanisms are required for epidermal growth factor (EGF)-stimulated extracellular signal-regulated kinase (ERK) activity pulses. J. Biol. Chem. 290, 24784–24792 (2015).

Gillies, T. E., Pargett, M., Minguet, M., Davies, A. E. & Albeck, J. G. Linear integration of ERK activity predominates over persistence detection in Fra-1 regulation. Cell Syst. 5, 549–563 (2017).

Aoki, K. et al. Propagating wave of ERK activation orients collective cell migration. Dev. Cell 43, 305–317 (2017).

Harvey, C. D. et al. A genetically encoded fluorescent sensor of ERK activity. Proc. Natl Acad. Sci. USA 105, 19264–19269 (2008).

Dymond, A. W. et al. Metabolism, excretion and pharmacokinetics of selumetinib, an MEK1/2 inhibitor, in healthy adult male subjects. Clin. Ther. 38, 2447–2458 (2016).

Gerosa, L. et al. Receptor-driven ERK pulses reconfigure MAPK signaling and enable persistence of drug-adapted BRAF-mutant melanoma cells. Cell Syst. 11, 478–494.e9 (2020).

Meerbrey, K. L. et al. The pINDUCER lentiviral toolkit for inducible RNA interference in vitro and in vivo. Proc. Natl Acad. Sci. USA 108, 3665–3670 (2011).

de Vries-Smits, A. M., Burgering, B. M., Leevers, S. J., Marshall, C. J. & Bos, J. L. Involvement of p21ras in activation of extracellular signal-regulated kinase 2. Nature 357, 602–604 (1992).

Canon, J. et al. The clinical KRAS(G12C) inhibitor AMG 510 drives anti-tumour immunity. Nature 575, 217–223 (2019).

Waters, A. M. et al. Evaluation of the selectivity and sensitivity of isoform- and mutation-specific RAS antibodies. Sci. Signal. 10, eaao3332 (2017).

Matano, M. et al. Modeling colorectal cancer using CRISPR-Cas9-mediated engineering of human intestinal organoids. Nat. Med. 21, 256–262 (2015).

Bertotti, A. et al. A molecularly annotated platform of patient-derived xenografts ('xenopatients') identifies HER2 as an effective therapeutic target in cetuximab-resistant colorectal cancer. Cancer Discov. 1, 508–523 (2011).

Hiratsuka, T. et al. Intercellular propagation of extracellular signal-regulated kinase activation revealed by in vivo imaging of mouse skin. eLife 4, e05178 (2015).

Lavoie, H. & Therrien, M. Regulation of RAF protein kinases in ERK signalling. Nat. Rev. Mol. Cell Biol. 16, 281–298 (2015).

Ambrogio, C. et al. KRAS dimerization impacts MEK inhibitor sensitivity and oncogenic activity of mutant KRAS. Cell 172, 857–868 (2018).

Hunter, J. C. et al. Biochemical and structural analysis of common cancer-associated KRAS mutations. Mol. Cancer Res. 13, 1325–1335 (2015).

Sheffels, E., Sealover, N. E., Theard, P. L. & Kortum, R. L. Anchorage-independent growth conditions reveal a differential SOS2 dependence for transformation and survival in RAS-mutant cancer cells. Small GTPases 12, 67–78 (2019).

Nichols, R. J. et al. RAS nucleotide cycling underlies the SHP2 phosphatase dependence of mutant BRAF-, NF1- and RAS-driven cancers. Nat. Cell Biol. 20, 1064–1073 (2018).

Mainardi, S. et al. SHP2 is required for growth of KRAS-mutant non-small-cell lung cancer in vivo. Nat. Med. 24, 961–967 (2018).

Durrant, D. E. & Morrison, D. K. Targeting the Raf kinases in human cancer: the Raf dimer dilemma. Br. J. Cancer 118, 3–8 (2018).

Blasco, R. B. et al. c-Raf, but not B-Raf, is essential for development of K-Ras oncogene-driven non-small cell lung carcinoma. Cancer Cell 19, 652–663 (2011).

Uhlitz, F. et al. A census of cell types and paracrine interactions in colorectal cancer. Preprint at bioRxiv https://doi.org/10.1101/2020.01.10.901579 (2020).

Lupo, B. et al. Colorectal cancer residual disease at maximal response to EGFR blockade displays a druggable Paneth cell-like phenotype. Sci. Transl. Med. 12, eaax8313 (2020).

Zanella, E. R. et al. IGF2 is an actionable target that identifies a distinct subpopulation of colorectal cancer patients with marginal response to anti-EGFR therapies. Sci. Transl. Med. 7, 272ra212 (2015).

Khambata-Ford, S. et al. Expression of epiregulin and amphiregulin and K-ras mutation status predict disease control in metastatic colorectal cancer patients treated with cetuximab. J. Clin. Oncol. 25, 3230–3237 (2007).

Huang, Y. M. & Chang, C. E. Mechanism of phosphothreonine/serine recognition and specificity for modular domains from all-atom molecular dynamics. BMC Biophys. 4, 12 (2011).

Roerink, S. F. et al. Intra-tumour diversification in colorectal cancer at the single-cell level. Nature 556, 457–462 (2018).

Kraulis, P. J. Similarity of protein G and ubiquitin. Science 254, 581–582 (1991).

Merritt, E. A. & Murphy, M. E. Raster3D Version 2.0. A program for photorealistic molecular graphics. Acta Crystallogr. D Biol. Crystallogr. 50, 869–873 (1994).

Borlinghaus, R. T. MRT letter: high speed scanning has the potential to increase fluorescence yield and to reduce photobleaching. Microsc. Res. Tech. 69, 689–692 (2006).
Acknowledgements
We thank members of the Snippert, Riquet and Trusolino laboratories for reagents, suggestions and discussions. We thank M. Gloerich for careful reading of the manuscript. This work is part of the Oncode Institute, which is partly financed by the Dutch Cancer Society and was funded by the Gravitation Program CancerGenomics.nl from the Netherlands Organisation for Scientific Research (NWO), by a grant from the Dutch Cancer Society (KWF/UU2013-6070, H.J.G.S.), ERC starting grant (IntratumoralNiche, H.J.G.S.) and a 'Sta op tegen Kanker' International Translational Cancer Research grant (J.L.B.). Stand Up to Cancer is a programme administered by the AACR. Research was further supported by EOS MODEL-IDI (FWO grant no. 30826052), iBOF ATLANTIS (BOF20/IBF/039), FWO research grants (G.0E04.16N, G.0C76.18N, G.0B71.18N and G.0B96.20N), Methusalem (BOF16/MET_V/007), Foundation against Cancer (F/2016/865 and F/2020/1505), CRIG and GIGG consortia, and VIB (to P.V.). This research was supported by the Agence Nationale pour la Recherche (ANR) via the G2Progress programme (ANR-13- BSV2-0016-02, F.B.R.). F.B.R. acknowledges the Nikon BELUX partnership and funding from Oseo–Ministère de l'enseignement supérieur et de la recherche via the national contest 2013 d'aide à la création d'entreprise de technologies innovantes catégorie émergence in the context of the KiBioS spin-off project. This collaborative work was encouraged by the CNRS Groupement de recherche (GDR) 2588 'Microscopie et Imagerie du Vivant' scientific community via the biosensor workgroup initiative and especially during IMOB2018. Additional funding was provided by AIRC (Associazione Italiana per la Ricerca sul Cancro) Investigator grants 20697 (A.B.) and 22802 (L.T.), AIRC 5x1000 grant no. 21091 (A.B. and L.T.), AIRC/CRUK/FC AECC Accelerator Award 22795 (L.T.), European Research Council Consolidator Grant 724748—BEAT (A.B.), H2020 grant no. 754923 COLOSSUS (L.T.), H2020 INFRAIA grant no. 731105 EDIReX (A.B.) and Fondazione Piemontese per la Ricerca sul Cancro-ONLUS, 5x1000 Ministero della Salute 2014, 2015 and 2016 (L.T.). A.B. and L.T. are members of the EurOPDX Consortium.
Ethics declarations
Competing interests
The authors declare no competing interests.
Additional information
Peer review information Nature Cell Biology thanks the anonymous reviewers for their contribution to the peer review of this work. Peer reviewer reports are available.
Publisher's note Springer Nature remains neutral with regard to jurisdictional claims in published maps and institutional affiliations.
Supplementary information
About this article
Cite this article
Ponsioen, B., Post, J.B., Buissant des Amorie, J.R. et al. Quantifying single-cell ERK dynamics in colorectal cancer organoids reveals EGFR as an amplifier of oncogenic MAPK pathway signalling. Nat Cell Biol 23, 377–390 (2021). https://doi.org/10.1038/s41556-021-00654-5
Received:

Accepted:

Published:

Issue Date:

DOI: https://doi.org/10.1038/s41556-021-00654-5