Abstract
Rapid wound detection by distant leukocytes is essential for antimicrobial defence and post-infection survival1. The reactive oxygen species hydrogen peroxide and the polyunsaturated fatty acid arachidonic acid are among the earliest known mediators of this process2,3,4. It is unknown whether or how these highly conserved cues collaborate to achieve wound detection over distances of several hundreds of micrometres within a few minutes. To investigate this, we locally applied arachidonic acid and skin-permeable peroxide by micropipette perfusion to unwounded zebrafish tail fins. As in wounds, arachidonic acid rapidly attracted leukocytes through dual oxidase (Duox) and 5-lipoxygenase (Alox5a). Peroxide promoted chemotaxis to arachidonic acid without being chemotactic on its own. Intravital biosensor imaging showed that wound peroxide and arachidonic acid converged on half-millimetre-long lipid peroxidation gradients that promoted leukocyte attraction. Our data suggest that lipid peroxidation functions as a spatial redox relay that enables long-range detection of early wound cues by immune cells, outlining a beneficial role for this otherwise toxic process.
Relevant articles
Open Access articles citing this article.
Wulf Tonnus

,

Francesca Maremonti

…

Andreas Linkermann

Cell Death & Disease Open Access 15 September 2022

Qing Nie

,

Yue Hu

…

Xuedong Fang

Cancer Cell International Open Access 07 January 2022

Wulf Tonnus

,

Claudia Meyer

…

Andreas Linkermann

Nature Communications Open Access 20 July 2021
Access options
Subscribe to Nature+
Get immediate online access to Nature and 55 other Nature journal
Subscribe to Journal
Get full journal access for 1 year
$99.00
only $8.25 per issue
All prices are NET prices.
VAT will be added later in the checkout.
Tax calculation will be finalised during checkout.
Buy article
Get time limited or full article access on ReadCube.
$32.00
All prices are NET prices.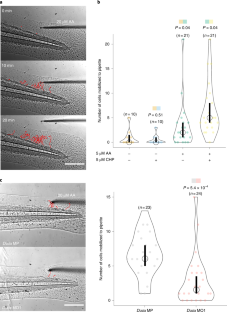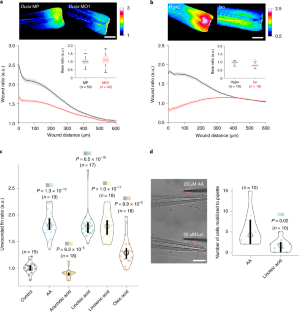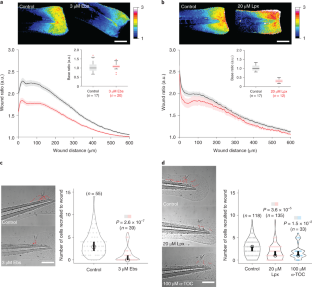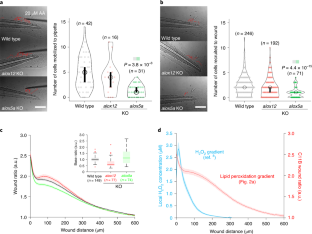 Data availability
All of the data supporting the findings of this study are available from the corresponding author upon reasonable request. Source data are provided with this paper.
References
Huang, C. & Niethammer, P. Tissue damage signaling is a prerequisite for protective neutrophil recruitment to microbial infection in zebrafish. Immunity 48, 1006–1013.e6 (2018).

Niethammer, P., Grabher, C., Look, A. T. & Mitchison, T. J. A tissue-scale gradient of hydrogen peroxide mediates rapid wound detection in zebrafish. Nature 459, 996–999 (2009).

Yoo, S. K., Starnes, T. W., Deng, Q. & Huttenlocher, A. Lyn is a redox sensor that mediates leukocyte wound attraction in vivo. Nature 480, 109–112 (2011).

Enyedi, B., Kala, S., Nikolich-Zugich, T. & Niethammer, P. Tissue damage detection by osmotic surveillance. Nat. Cell Biol. 15, 1123–1130 (2013).

Enyedi, B. & Niethammer, P. Mechanisms of epithelial wound detection. Trends Cell Biol. 25, 398–407 (2015).

Klyubin, I. V., Kirpichnikova, K. M. & Gamaley, I. A. Hydrogen peroxide-induced chemotaxis of mouse peritoneal neutrophils. Eur. J. Cell Biol. 70, 347–351 (1996).

Evans, I. R., Rodrigues, F. S. L. M., Armitage, E. L. & Wood, W. Draper/CED-1 mediates an ancient damage response to control inflammatory blood cell migration in vivo. Curr. Biol. 25, 1606–1612 (2015).

Jelcic, M., Enyedi, B., Xavier, J. B. & Niethammer, P. Image-based measurement of H2O2 reaction–diffusion in wounded zebrafish larvae. Biophys. J. 112, 2011–2018 (2017).

Enyedi, B., Jelcic, M. & Niethammer, P. The cell nucleus serves as a mechanotransducer of tissue damage-induced inflammation. Cell 165, 1160–1170 (2016).

Lämmermann, T. et al. Neutrophil swarms require LTB4 and integrins at sites of cell death in vivo. Nature 498, 371–375 (2013).

Trede, N. S., Langenau, D. M., Traver, D., Look, A. T. & Zon, L. I. The use of zebrafish to understand immunity. Immunity 20, 367–379 (2004).

Hammarström, S. et al. Increased concentrations of nonesterified arachidonic acid, 12L-hydroxy-5,8,10,14-eicosatetraenoic acid, prostaglandin E2, and prostaglandin F2α in epidermis of psoriasis. Proc. Natl Acad. Sci. USA 72, 5130–5134 (1975).

Mathias, J. R. et al. Resolution of inflammation by retrograde chemotaxis of neutrophils in transgenic zebrafish. J. Leukoc. Biol. 80, 1281–1288 (2006).

Gault, W. J., Enyedi, B. & Niethammer, P. Osmotic surveillance mediates rapid wound closure through nucleotide release. J. Cell Biol. 207, 767–782 (2014).

Riendeau, D., Denis, D., Choo, L. Y. & Nathaniel, D. J. Stimulation of 5-lipoxygenase activity under conditions which promote lipid peroxidation. Biochem. J. 263, 565–572 (1989).

Rouzer, C. A. & Samuelsson, B. The importance of hydroperoxide activation for the detection and assay of mammalian 5-lipoxygenase. FEBS Lett. 204, 293–296 (1986).

Conrad, M. et al. Regulation of lipid peroxidation and ferroptosis in diverse species. Genes Dev. 32, 602–619 (2018).

Linkermann, A. et al. Synchronized renal tubular cell death involves ferroptosis. Proc. Natl Acad. Sci. USA 111, 16836–16841 (2014).

Kim, S. E. et al. Ultrasmall nanoparticles induce ferroptosis in nutrient-deprived cancer cells and suppress tumour growth. Nat. Nanotechnol. 11, 977–985 (2016).

Riegman, M. et al. Ferroptosis occurs through an osmotic mechanism and propagates independently of cell rupture. Nat. Cell Biol. (in the press).

Yang, W. S. et al. Peroxidation of polyunsaturated fatty acids by lipoxygenases drives ferroptosis. Proc. Natl Acad. Sci. USA 113, E4966–E4975 (2016).

Lebold, K. M. et al. Novel liquid chromatography–mass spectrometry method shows that vitamin E deficiency depletes arachidonic and docosahexaenoic acids in zebrafish (Danio rerio) embryos. Redox Biol. 2, 105–113 (2013).

Pap, E. H. W. et al. Ratio-fluorescence microscopy of lipid oxidation in living cells using C11-BODIPY581/591. FEBS Lett. 453, 278–282 (1999).

Brash, A. R. Arachidonic acid as a bioactive molecule. J. Clin. Invest. 107, 1339–1345 (2001).

Noguchi, N., Yoshida, Y., Kaneda, H., Yamamoto, Y. & Niki, E. Action of ebselen as an antioxidant against lipid peroxidation. Biochem. Pharmacol. 44, 39–44 (1992).

Zilka, O. et al. On the mechanism of cytoprotection by ferrostatin-1 and liproxstatin-1 and the role of lipid peroxidation in ferroptotic cell death. ACS Cent. Sci. 3, 232–243 (2017).

Adel, S., Heydeck, D., Kuhn, H. & Ufer, C. The lipoxygenase pathway in zebrafish. Expression and characterization of zebrafish ALOX5 and comparison with its human ortholog. Biochim. Biophys. Acta 1861, 1–11 (2016).

Haas, U. et al. Targeted knock-down of a structurally atypical zebrafish 12S-lipoxygenase leads to severe impairment of embryonic development. Proc. Natl Acad. Sci. USA 108, 20479–20484 (2011).

Uhlén, M. et al. A human protein atlas for normal and cancer tissues based on antibody proteomics. Mol. Cell Proteom. 4, 1920–1932 (2005).

Erlemann, K.-R. et al. Airway epithelial cells synthesize the lipid mediator 5-oxo-ETE in response to oxidative stress. Free Radic. Biol. Med. 42, 654–664 (2007).

Albadri, S. et al. Redox signaling via lipid peroxidation regulates retinal progenitor cell differentiation. Dev. Cell 50, 73–89.e6 (2019).

White, R. M. et al. Transparent adult zebrafish as a tool for in vivo transplantation analysis. Cell Stem Cell 2, 183–189 (2008).

Nüsslein-Volhard, C. & Dahm, R. Zebrafish: A Practical Approach 303 (Oxford Univ. Press, 2002).

Maeda, H. et al. Fluorescent probes for hydrogen peroxide based on a non-oxidative mechanism. Angew. Chem. Int. Ed. Engl. 43, 2389–2391 (2004).

Meijering, E., Dzyubachyk, O. & Smal, I. Methods for cell and particle tracking. Meth. Enzymol. 504, 183–200 (2012).

Schindelin, J. et al. Fiji: an open-source platform for biological-image analysis. Nat. Methods 9, 676–682 (2012).

Rosowski, E. E. et al. Macrophages inhibit Aspergillus fumigatus germination and neutrophil-mediated fungal killing. PLoS Pathog. 14, e1007229 (2018).

Robu, M. E. et al. p53 activation by knockdown technologies. PLoS Genet. 3, e78 (2007).

Labun, K., Montague, T. G., Gagnon, J. A., Thyme, S. B. & Valen, E. CHOPCHOP v2: a web tool for the next generation of CRISPR genome engineering. Nucleic Acids Res. 44, W272–W276 (2016).

Postma, M. & Goedhart, J. PlotsOfData—a web app for visualizing data together with their summaries. PLoS Biol. 17, e3000202 (2019).
Acknowledgements
This research was supported by the NIH/NIGMS grants R01GM099970 and R01GM127356 to P.N. and the MSKCC Functional Genomics Initiative, and in part through NIH/NCI Cancer Center Support grant P30CA008748. We thank the Integrated Genomics Operation Core and Bioinformatics Core at MSKCC for assistance.
Ethics declarations
Competing interests
The authors declare no competing interests.
Additional information
Publisher's note Springer Nature remains neutral with regard to jurisdictional claims in published maps and institutional affiliations.
Supplementary information
About this article
Cite this article
Katikaneni, A., Jelcic, M., Gerlach, G.F. et al. Lipid peroxidation regulates long-range wound detection through 5-lipoxygenase in zebrafish. Nat Cell Biol 22, 1049–1055 (2020). https://doi.org/10.1038/s41556-020-0564-2
Received:

Accepted:

Published:

Issue Date:

DOI: https://doi.org/10.1038/s41556-020-0564-2