Abstract
p53 is the most intensively studied tumour suppressor1. The regulation of p53 homeostasis is essential for its tumour-suppressive function2,3. Although p53 is regulated by an array of post-translational modifications, both during normal homeostasis and in stress-induced responses2,3,4, how p53 maintains its homeostasis remains unclear. UFMylation is a recently identified ubiquitin-like modification with essential biological functions5,6,7. Deficiency in this modification leads to embryonic lethality in mice and disease in humans8,9,10,11,12. Here, we report that p53 can be covalently modified by UFM1 and that this modification stabilizes p53 by antagonizing its ubiquitination and proteasome degradation. Mechanistically, UFL1, the UFM1 ligase6, competes with MDM2 to bind to p53 for its stabilization. Depletion of UFL1 or DDRGK1, the critical regulator of UFMylation6,13, decreases p53 stability and in turn promotes cell growth and tumour formation in vivo. Clinically, UFL1 and DDRGK1 expression are downregulated and positively correlated with levels of p53 in a high percentage of renal cell carcinomas. Our results identify UFMylation as a crucial post-translational modification for maintenance of p53 stability and tumour-suppressive function, and point to UFMylation as a promising therapeutic target in cancer.
Access options
Subscribe to Journal
Get full journal access for 1 year
$209.00
only $17.42 per issue
All prices are NET prices.
VAT will be added later in the checkout.
Rent or Buy article
Get time limited or full article access on ReadCube.
from$8.99
All prices are NET prices.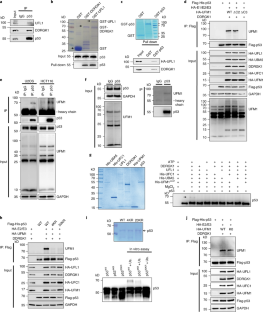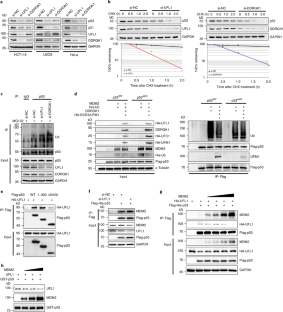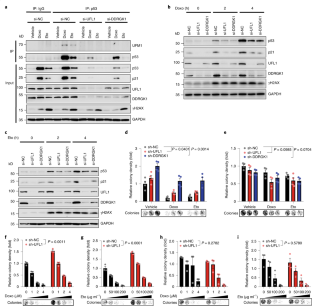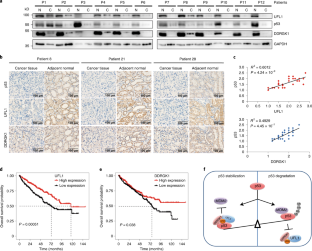 Data availability
All of the source data supporting the findings of this study are available within this paper and/or from the corresponding author upon reasonable request. The human kidney renal clear cell carcinoma data were derived from The Cancer Genome Atlas Research Network (http://cancergenome.nih.gov/). Source data are provided with this paper.
References
1.

Dolgin, E. The most popular genes in the human genome. Nature 551, 427–431 (2017).

2.

Kastenhuber, E. R. & Lowe, S. W. Putting p53 in context. Cell 170, 1062–1078 (2017).

3.

Vousden, K. H. & Prives, C. Blinded by the light: the growing complexity of p53. Cell 137, 413–431 (2009).

4.

Kruse, J. P. & Gu, W. Modes of p53 regulation. Cell 137, 609–622 (2009).

5.

Komatsu, M. et al. A novel protein-conjugating system for Ufm1, a ubiquitin-fold modifier. EMBO J. 23, 1977–1986 (2004).

6.

Tatsumi, K. et al. A novel type of E3 ligase for the Ufm1 conjugation system. J. Biol. Chem. 285, 5417–5427 (2010).

7.

Daniel, J. & Liebau, E. The ufm1 cascade. Cells 3, 627–638 (2014).

8.

Nahorski, M. S. et al. Biallelic UFM1 and UFC1 mutations expand the essential role of UFMylation in brain development. Brain 141, 1934–1945 (2018).

9.

Tatsumi, K. et al. The Ufm1-activating enzyme Uba5 is indispensable for erythroid differentiation in mice. Nat. Commun. 2, 181 (2011).

10.

Zhang, M. et al. RCAD/Ufl1, a Ufm1 E3 ligase, is essential for hematopoietic stem cell function and murine hematopoiesis. Cell Death Differ. 22, 1922–1934 (2015).

11.

Cai, Y. et al. UFBP1, a key component of the Ufm1 conjugation system, is essential for UFMylation-mediated regulation of erythroid development. PLoS Genet. 11, e1005643 (2015).

12.

Egunsola, A. T. et al. Loss of DDRGK1 modulates SOX9 ubiquitination in spondyloepimetaphyseal dysplasia. J. Clin. Invest. 127, 1475–1484 (2017).

13.

Yoo, H. M. et al. Modification of ASC1 by UFM1 is crucial for ERα transactivation and breast cancer development. Mol. Cell 56, 261–274 (2014).

14.

Gu, B. & Zhu, W. G. Surf the post-translational modification network of p53 regulation. Int. J. Biol. Sci. 8, 672–684 (2012).

15.

Honda, R., Tanaka, H. & Yasuda, H. Oncoprotein MDM2 is a ubiquitin ligase E3 for tumor suppressor p53. FEBS Lett. 420, 25–27 (1997).

16.

Scheffner, M., Huibregtse, J. M., Vierstra, R. D. & Howley, P. M. The HPV-16 E6 and E6-AP complex functions as a ubiquitin–protein ligase in the ubiquitination of p53. Cell 75, 495–505 (1993).

17.

Huang, Y. F., Wee, S., Gunaratne, J., Lane, D. P. & Bulavin, D. V. Isg15 controls p53 stability and functions. Cell Cycle 13, 2200–2210 (2014).

18.

Weger, S., Hammer, E. & Heilbronn, R. Topors acts as a SUMO-1 E3 ligase for p53 in vitro and in vivo. FEBS Lett. 579, 5007–5012 (2005).

19.

Maki, C. G., Huibregtse, J. M. & Howley, P. M. In vivo ubiquitination and proteasome-mediated degradation of p53. Cancer Res. 56, 2649–2654 (1996).

20.

Lemaire, K. et al. Ubiquitin fold modifier 1 (UFM1) and its target UFBP1 protect pancreatic beta cells from ER stress-induced apoptosis. PLoS ONE 6, e18517 (2011).

21.

Liu, J. et al. A critical role of DDRGK1 in endoplasmic reticulum homoeostasis via regulation of IRE1α stability. Nat. Commun. 8, 14186 (2017).

22.

Li, J. et al. Ufm1-specific ligase Ufl1 regulates endoplasmic reticulum homeostasis and protects against heart failure. Circ. Heart Fail. 11, e004917 (2018).

23.

Wang, Z. et al. MRE11 UFMylation promotes ATM activation. Nucleic Acids Res. 47, 4124–4135 (2019).

24.

Qin, B. et al. UFL1 promotes histone H4 UFMylation and ATM activation. Nat. Commun. 10, 1242 (2019).

25.

Walczak, C. P. et al. Ribosomal protein RPL26 is the principal target of UFMylation. Proc. Natl Acad. Sci. USA 116, 1299–1308 (2019).

26.

Wang, L. et al. UFMylation of RPL26 links translocation-associated quality control to endoplasmic reticulum protein homeostasis. Cell Res. 30, 5–20 (2020).

27.

Nakamura, S., Roth, J. A. & Mukhopadhyay, T. Multiple lysine mutations in the C-terminal domain of p53 interfere with MDM2-dependent protein degradation and ubiquitination. Mol. Cell Biol. 20, 9391–9398 (2000).

28.

Rodriguez, M. S., Desterro, J. M., Lain, S., Lane, D. P. & Hay, R. T. Multiple C-terminal lysine residues target p53 for ubiquitin–proteasome-mediated degradation. Mol. Cell Biol. 20, 8458–8467 (2000).

29.

Kruse, J. P. & Gu, W. MSL2 promotes Mdm2-independent cytoplasmic localization of p53. J. Biol. Chem. 284, 3250–3263 (2009).

30.

Chen, J., Marechal, V. & Levine, A. J. Mapping of the p53 and mdm-2 interaction domains. Mol. Cell Biol. 13, 4107–4114 (1993).

31.

Yuan, J., Luo, K., Zhang, L., Cheville, J. C. & Lou, Z. USP10 regulates p53 localization and stability by deubiquitinating p53. Cell 140, 384–396 (2010).

32.

Noon, A. P. et al. p53 and MDM2 in renal cell carcinoma: biomarkers for disease progression and future therapeutic targets? Cancer 116, 780–790 (2010).

33.

Riley, T., Sontag, E., Chen, P. & Levine, A. Transcriptional control of human p53-regulated genes. Nat. Rev. Mol. Cell Biol. 9, 402–412 (2008).

34.

Hu, W., Feng, Z. & Levine, A. J. The regulation of multiple p53 stress responses is mediated through MDM2. Genes Cancer 3, 199–208 (2012).

35.

Dai, C. & Gu, W. p53 post-translational modification: deregulated in tumorigenesis. Trends Mol. Med. 16, 528–536 (2010).

36.

Beckerman, R. et al. Lysines in the tetramerization domain of p53 selectively modulate G1 arrest. Cell Cycle 15, 1425–1438 (2016).

37.

Xu, J. Preparation, culture, and immortalization of mouse embryonic fibroblasts. Curr. Protoc. Mol. Biol. https://doi.org/10.1002/0471142727.mb2801s70 (2005).

38.

Wu, J., Lei, G., Mei, M., Tang, Y. & Li, H. A novel C53/LZAP-interacting protein regulates stability of C53/LZAP and DDRGK domain-containing protein 1 (DDRGK1) and modulates NF-κB signaling. J. Biol. Chem. 285, 15126–15136 (2010).
Acknowledgements
We thank X. Li for providing the MDM2 and ubiquitin constructs, X. Xu for the UFM1 Lys-less construct and S. Bacchetti for critical reading of the manuscript. This work was supported by grants from the National Natural Science Foundation of China (31730020, 31871416, 81701380 and 31571409), Natural Science Foundation of Zhejiang Province of China (LY18C070001 and LY20H250002) and Hangzhou Science and Technology Bureau (20182014B01 and 20180533B27).
Ethics declarations
Competing interests
The authors declare no competing interests.
Additional information
Publisher's note Springer Nature remains neutral with regard to jurisdictional claims in published maps and institutional affiliations.
About this article
Cite this article
Liu, J., Guan, D., Dong, M. et al. UFMylation maintains tumour suppressor p53 stability by antagonizing its ubiquitination. Nat Cell Biol 22, 1056–1063 (2020). https://doi.org/10.1038/s41556-020-0559-z
Received:

Accepted:

Published:

Issue Date:
Further reading
Cancers (2020)

Sayanika Banerjee

,

Manoj Kumar

&

Reuven Wiener

Biomolecules (2020)