Abstract
Intestinal stem cells (ISCs) are located at the crypt base and fine-tune the balance of their self-renewal and differentiation1,2, but the physiological mechanism involved in regulating that balance remains unknown. Here we describe a transcriptional regulator that preserves the stemness of ISCs by restricting their differentiation into secretory-cell lineages. Interferon regulatory factor 2 (IRF2) negatively regulates interferon signalling3, and mice completely lacking Irf24 or with a selective Irf2 deletion in their intestinal epithelial cells have significantly fewer crypt Lgr5hi ISCs than control mice. Although the integrity of intestinal epithelial cells was unimpaired at steady state in Irf2-deficient mice, regeneration of their intestinal epithelia after 5-fluorouracil-induced damage was severely impaired. Similarly, extended treatment with low-dose poly(I:C) or chronic infection of lymphocytic choriomeningitis virus clone 13 (LCMV C13)5 caused a functional decline of ISCs in wild-type mice. In contrast, massive accumulations of immature Paneth cells were found at the crypt base of Irf2−/− as well as LCMV C13-infected wild-type mice, indicating that excess interferon signalling directs ISCs towards a secretory-cell fate. Collectively, our findings indicate that regulated interferon signalling preserves ISC stemness by restricting secretory-cell differentiation.
Access options
Subscribe to Journal
Get full journal access for 1 year
$99.00
only $8.25 per issue
All prices are NET prices.
VAT will be added later in the checkout.
Tax calculation will be finalised during checkout.
Rent or Buy article
Get time limited or full article access on ReadCube.
from$8.99
All prices are NET prices.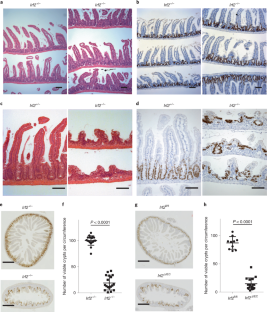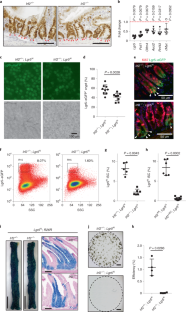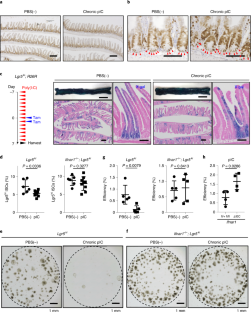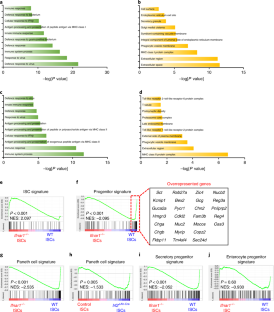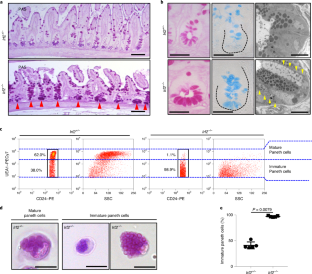 Data availability
The microarray datasets have been deposited in the Gene Expression Omnibus under the accession numbers GSE137189 and GSE137190. ChIP–Seq datasets have been deposited under the accession number GSE137260. All other data supporting the findings of this study are available from the corresponding author on reasonable request. Source data are provided with this paper.
References
1.

Barker, N. et al. Identification of stem cells in small intestine and colon by marker gene Lgr5. Nature 449, 1003–1007 (2007).

2.

Metcalfe, C., Kljavin, N. M., Ybarra, R. & de Sauvage, F. J. Lgr5+ stem cells are indispensable for radiation-induced intestinal regeneration. Cell Stem Cell 14, 149–159 (2014).

3.

Harada, H. et al. Structurally similar but functionally distinct factors, IRF-1 and IRF-2, bind to the same regulatory elements of IFN and IFN-inducible genes. Cell 58, 729–739 (1989).

4.

Matsuyama, T. et al. Targeted disruption of IRF-1 or IRF-2 results in abnormal type I IFN gene induction and aberrant lymphocyte development. Cell 75, 83–97 (1993).

5.

Wilson, E. B. et al. Blockade of chronic type I interferon signaling to control persistent LCMV infection. Science 340, 202–207 (2013).

6.

Pestka, S., Krause, C. D. & Walter, M. R. Interferons, interferon-like cytokines, and their receptors. Immunol. Rev. 202, 8–32 (2004).

7.

Taniguchi, T., Ogasawara, K., Takaoka, A. & Tanaka, N. IRF family of transcription factors as regulators of host defense. Annu. Rev. Immunol. 19, 623–655 (2001).

8.

Taniguchi, T. & Takaoka, A. A weak signal for strong responses: interferon-alpha/beta revisited. Nat. Rev. Mol. Cell Biol. 2, 378–386 (2001).

9.

Sato, T. et al. Interferon regulatory factor-2 protects quiescent hematopoietic stem cells from type I interferon-dependent exhaustion. Nat. Med. 15, 696–700 (2009).

10.

Soares, P. M. et al. Inflammatory intestinal damage induced by 5-fluorouracil requires IL-4. Cytokine 61, 46–49 (2013).

11.

Madison, B. B. et al. Cis elements of the villin gene control expression in restricted domains of the vertical (crypt) and horizontal (duodenum, cecum) axes of the intestine. J. Biol. Chem. 277, 33275–33283 (2002).

12.

Sato, T. et al. Single Lgr5 stem cells build crypt-villus structures in vitro without a mesenchymal niche. Nature 459, 262–265 (2009).

13.

Ireland, H. et al. Inducible cre-mediated control of gene expression in the murine gastrointestinal tract: effect of loss of β-catenin. Gastroenterology 126, 1236–1246 (2004).

14.

Hida, S. et al. CD8+ T cell-mediated skin disease in mice lacking IRF-2, the transcriptional attenuator of interferon-α/β signaling. Immunity 13, 643–655 (2000).

15.

Fink, K. & Grandvaux, N. STAT2 and IRF9: beyond ISGF3. JAKSTAT 2, e27521 (2013).

16.

Wu, X. et al. Intrinsic immunity shapes viral resistance of stem cells. Cell 172, 423–438 (2018).

17.

Sun, L. et al. Type I interferons link viral infection to enhanced epithelial turnover and repair. Cell Host Microbe 17, 85–97 (2015).

18.

Rusinova, I. et al. Interferome v2.0: an updated database of annotated interferon-regulated genes. Nucleic Acids Res. 41, D1040–D1046 (2013).

19.

Subramanian, A., Kuehn, H., Gould, J., Tamayo, P. & Mesirov, J. P. GSEA-P: a desktop application for gene set enrichment analysis. Bioinformatics 3, 3251–3253 (2007).

20.

King, S. L., Mohiuddin, J. J. & Dekaney, C. M. Paneth cells expand from newly created and preexisting cells during repair after doxorubicin-induced damage. Am. J. Physiol. Gastrointest. Liver Physiol. 305, G151–G162 (2013).

21.

Andreu, P. et al. A genetic study of the role of the Wnt/β-catenin signalling in Paneth cell differentiation. Dev. Biol. 324, 288–296 (2008).

22.

Lee, G. et al. Contributions made by CDC25 phosphatases to proliferation of intestinal epithelial stem and progenitor cells. PLoS ONE 6, e15561 (2011).

23.

Yan, K. S. et al. Non-equivalence of Wnt and R-spondin ligands during Lgr5+ intestinal stem-cell self-renewal. Nature 545, 238–242 (2017).

24.

VanDussen, K. L. et al. Notch signaling modulates proliferation and differentiation of intestinal crypt base columnar stem cells. Development 139, 488–497 (2012).

25.

Gregorieff, A., Liu, Y., Inanlou, M. R., Khomchuk, Y. & Wrana, J. L. Yap-dependent reprogramming of Lgr5+ stem cells drives intestinal regeneration and cancer. Nature 526, 715–718 (2015).

26.

Kamphuis, E., Junt, T., Waibler, Z., Forster, R. & Kalinke, U. Type I interferons directly regulate lymphocyte recirculation and cause transient blood lymphopenia. Blood 108, 3253–3261 (2006).

27.

Le Bon, A. et al. Cutting edge: enhancement of antibody responses through direct stimulation of B and T cells by type I IFN. J. Immunol. 176, 2074–2078 (2006).

28.

Yilmaz, Ö. H. et al. TORC1 in the Paneth cell niche couples intestinal stem-cell function to calorie intake. Nature 486, 490–495 (2012).

29.

Fujii, M. et al. Human intestinal organoids maintain self-renewal capacity and cellular diversity in niche-inspired culture condition. Cell Stem Cell 23, 787–793 (2018).

30.

Huang, daW., Sherman, B. T. & Lempicki, R. A. Systematic and integrative analysis of large gene lists using DAVID bioinformatics resources. Nat. Protoc. 4, 44–57 (2009).
Acknowledgements
We thank H. Kamioka for secretarial support; K. Shiseki, S. Kuroda, S. Yamada and M. Kajita for technical support; T. W. Mak (Campbell Family Institute for Breast Cancer Research, Princess Margaret Cancer Centre) for providing the Irf2–/– mice; D. J. Winton (Cancer Research UK Cambridge Institute) for providing the Ah-cre mice; U. Kalinke (Hanover Medical School) for providing Ifnar1-flox mice; T. Akatsuka (Saitama Medical University) for providing the LCMV C13; and M. Nakagawa (TMDU) and Y. Asahina (TMDU) for providing the patient information. This work was supported by the Naito Foundation (T.O.); a Naoki Tsuchida Research Grant (Taku Sato); a Research Grant from Mishima Kaiun Memorial Foundation (Taku Sato); Nanken-Kyoten, TMDU (Toshiro Sato); a Grant-in-Aid for Scientific Research on Innovative Areas 'Stem Cell Aging and Disease' from MEXT, Japan (grant nos 15H01508 and 17H05635; T.O.); and the Japan Science and Technology Agency, PREST (grant no. JPMJPR13M4; Taku Sato).
Ethics declarations
Competing interests
The authors declare no competing interests.
Additional information
Publisher's note Springer Nature remains neutral with regard to jurisdictional claims in published maps and institutional affiliations.
Supplementary information
Supplementary Table 1. GOTERM_BP 'defence response to virus' genes. Related to Fig. 4a, genes included in GOTERM BP 'defence response to virus' are shown. Red text reveals IFN-inducible genes defined by INTERFEROME v2.0 database. DEGs (n = 781) upregulatred in ISCs of poly(I:C)-treated Lgr5ki mice compared with those of similarly treated Ifnar1−/−; Lgr5ki mice, were applied to GO analysis using the DAVID tool and calculated uncorrected P value. Supplementary Table 2. GOTERM CC 'extracellular region' genes. Related to Fig. 4b, genes included in GOTERM CC 'extracellular region' genes are shown. Red text reveals genes encoding antibacterial proteins and endocrine hormones. DEGs (n = 781) upregulatred in ISCs of poly(I:C)-treated Lgr5ki mice compared with those of similarly treated Ifnar1−/−; Lgr5ki mice, were applied to GO analysis using the DAVID tool and calculated uncorrected P value. Supplementary Table 3. ISC signature. Supplementary Table 4. Progenitor signature. Supplementary Table 5. Paneth cell signature (GSE25109). Supplementary Table 6. Secretory Progenitor signature (GSE51398). Supplementary Table 7. Enterocyte Progenitor signature (GSE51398). Supplementary Table 8. YAP signature25. Supplementary Table 9. Wnt signature25. Supplementary Table 10. Notch signature (GSE66751). Supplementary Table 11. Summary of primers used in this study. Supplementary Table 12. Summary of antibodies used in this study.
About this article
Cite this article
Sato, T., Ishikawa, S., Asano, J. et al. Regulated IFN signalling preserves the stemness of intestinal stem cells by restricting differentiation into secretory-cell lineages. Nat Cell Biol 22, 919–926 (2020). https://doi.org/10.1038/s41556-020-0545-5
Received:

Accepted:

Published:

Issue Date:
Further reading
Costanza Borrelli

,

Tomas Valenta

,

Kristina Handler

,

Karelia Vélez

,

Alessandra Gurtner

,

Giulia Moro

,

Atefeh Lafzi

,

Laura de Vargas Roditi

,

George Hausmann

,

Isabelle C. Arnold

,

Andreas E. Moor

&

Konrad Basler

Nature Communications (2021)

Andrés R. Muñoz-Rojas

&

Diane Mathis

Nature Reviews Immunology (2021)

Kana Minamide

,

Taku Sato

,

Yusuke Nakanishi

,

Hiroshi Ohno

,

Tamotsu Kato

,

Jumpei Asano

&

Toshiaki Ohteki

Scientific Reports (2020)