Abstract
Cancer-associated fibroblasts (CAFs) perform diverse roles and can modulate therapy responses1. The inflammatory environment within tumours also influences responses to many therapies, including the efficacy of oncolytic viruses2; however, the role of CAFs in this context remains unclear. Furthermore, little is known about the cell signalling triggered by heterotypic cancer cell–fibroblast contacts and about what activates fibroblasts to express inflammatory mediators1,3. Here, we show that direct contact between cancer cells and CAFs triggers the expression of a wide range of inflammatory modulators by fibroblasts. This is initiated following transcytosis of cytoplasm from cancer cells into fibroblasts, leading to the activation of STING and IRF3-mediated expression of interferon-β1 and other cytokines. Interferon-β1 then drives interferon-stimulated transcriptional programs in both cancer cells and stromal fibroblasts and ultimately undermines the efficacy of oncolytic viruses, both in vitro and in vivo. Further, targeting IRF3 solely in stromal fibroblasts restores oncolytic herpes simplex virus function.
Relevant articles
Open Access articles citing this article.
Ayano Kabashima

,

Yuki Matsuo

…

Shinji Tanaka

Scientific Reports Open Access 30 June 2022

Renren Yu

,

Bo Zhu

&

Degao Chen

Cellular and Molecular Life Sciences Open Access 16 March 2022

Jialu Xu

,

Qingle Ma

…

Chao Wang

Nature Communications Open Access 10 January 2022
Access options
Subscribe to Nature+
Get immediate online access to Nature and 55 other Nature journal
Subscribe to Journal
Get full journal access for 1 year
$99.00
only $8.25 per issue
All prices are NET prices.
VAT will be added later in the checkout.
Tax calculation will be finalised during checkout.
Buy article
Get time limited or full article access on ReadCube.
$32.00
All prices are NET prices.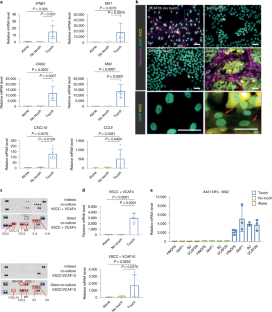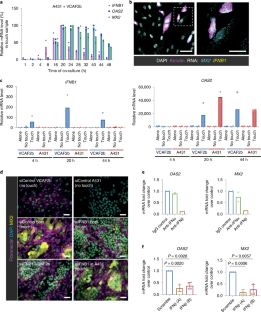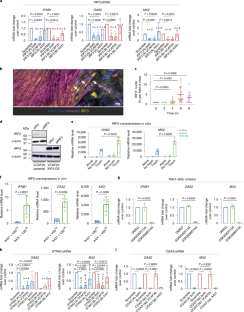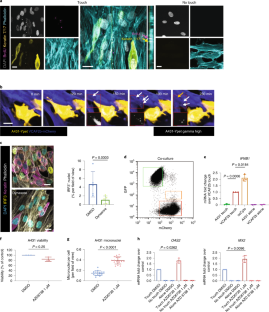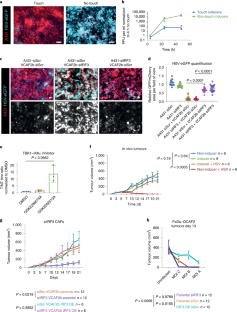 Data availability
Microarray data that support the findings of this study have been deposited in the Gene Expression Omnibus under accession numbers GSE121058. Previously published gene-expression data that were re-analysed here are available under accession codes GSE10332216 and GSE12153638 and GSE2215527. Source data for Figs. 1–5 and Extended Data Figs. 1–7 are available online. All other data supporting the findings of this study are available from the corresponding author on reasonable request.
References
Sahai, E. et al. A framework for advancing our understanding of cancer-associated fibroblasts. Nat. Rev. Cancer 20, 174–186 (2020).

Lawler, S. E., Speranza, M. C., Cho, C. F. & Chiocca, E. A. Oncolytic viruses in cancer treatment: a review. JAMA Oncol. 3, 841–849 (2017).

Labernadie, A. et al. A mechanically active heterotypic E-cadherin/N-cadherin adhesion enables fibroblasts to drive cancer cell invasion. Nat. Cell Biol. 19, 224–237 (2017).

Barros, M. R. Jr. et al. Activities of stromal and immune cells in HPV-related cancers. J. Exp. Clin. Cancer Res. 37, 137 (2018).

Kalluri, R. The biology and function of fibroblasts in cancer. Nat. Rev. Cancer 16, 582–598 (2016).

Gaggioli, C. et al. Fibroblast-led collective invasion of carcinoma cells with differing roles for RhoGTPases in leading and following cells. Nat. Cell Biol. 9, 1392–1400 (2007).

Hirata, E. et al. Intravital imaging reveals how BRAF inhibition generates drug-tolerant microenvironments with high integrin β1/FAK signaling. Cancer Cell 27, 574–588 (2015).

Su, S. et al. CD10+GPR77+ cancer-associated fibroblasts promote cancer formation and chemoresistance by sustaining cancer stemness. Cell 172, 841–856 (2018).

Costa, A. et al. Fibroblast heterogeneity and immunosuppressive environment in human breast cancer. Cancer Cell 33, 463–479 (2018).

Givel, A. M. et al. miR200-regulated CXCL12β promotes fibroblast heterogeneity and immunosuppression in ovarian cancers. Nat. Commun. 9, 1056 (2018).

Andtbacka, R. H. et al. Talimogene laherparepvec improves durable response rate in patients with advanced melanoma. J. Clin. Oncol. 33, 2780–2788 (2015).

Pol, J. et al. Trial watch–oncolytic viruses and cancer therapy. Oncoimmunology 5, e1117740 (2016).

Ribas, A. et al. Oncolytic virotherapy promotes intratumoral T cell infiltration and improves anti-PD-1 immunotherapy. Cell 170, 1109–1119 (2017).

Ishikawa, H., Ma, Z. & Barber, G. N. STING regulates intracellular DNA-mediated, type I interferon-dependent innate immunity. Nature 461, 788–792 (2009).

Platanias, L. C. Mechanisms of type-I- and type-II-interferon-mediated signalling. Nat. Rev. Immunol. 5, 375–386 (2005).

Puram, S. V. et al. Cell transcriptomic analysis of primary and metastatic tumor ecosystems in head and neck cancer. Cell 171, 1611–1624 (2017).

Ohlund, D. et al. Distinct populations of inflammatory fibroblasts and myofibroblasts in pancreatic cancer. J. Exp. Med. 214, 579–596 (2017).

Gluck, S. et al. Innate immune sensing of cytosolic chromatin fragments through cGAS promotes senescence. Nat. Cell Biol. 19, 1061–1070 (2017).

Hassona, Y., Cirillo, N., Heesom, K., Parkinson, E. K. & Prime, S. S. Senescent cancer-associated fibroblasts secrete active MMP-2 that promotes keratinocyte dis-cohesion and invasion. Br. J. Cancer 111, 1230–1237 (2014).

Xia, T., Konno, H., Ahn, J. & Barber, G. N. Deregulation of STING signaling in colorectal carcinoma constrains DNA damage responses and correlates with tumorigenesis. Cell Rep. 14, 282–297 (2015).

Chen, Q. et al. Carcinoma-astrocyte gap junctions promote brain metastasis by cGAMP transfer. Nature 533, 493–498 (2016).

Armstrong, S. M. et al. Co-regulation of transcellular and paracellular leak across microvascular endothelium by dynamin and Rac. Am. J. Pathol. 180, 1308–1323 (2012).

Verhelst, J., Hulpiau, P. & Saelens, X. Mx proteins: antiviral gatekeepers that restrain the uninvited. Microbiol. Mol. Biol. Rev. 77, 551–566 (2013).

MacKie, R. M., Stewart, B. & Brown, S. M. Intralesional injection of herpes simplex virus 1716 in metastatic melanoma. Lancet 357, 525–526 (2001).

Benci, J. L. et al. Opposing functions of interferon coordinate adaptive and innate immune responses to cancer immune checkpoint blockade. Cell 178, 933–948 (2019).

Wongthida, P. et al. Type III IFN interleukin-28 mediates the antitumor efficacy of oncolytic virus VSV in immune-competent mouse models of cancer. Cancer Res. 70, 4539–4549 (2010).

Twyman-Saint Victor, C. et al. Radiation and dual checkpoint blockade activate non-redundant immune mechanisms in cancer. Nature 520, 373–377 (2015).

Marcus, A. et al. Tumor-derived cGAMP triggers a STING-mediated interferon response in non-tumor cells to activate the NK cell response. Immunity 49, 754–763.e4 (2018).

Ablasser, A. et al. Cell intrinsic immunity spreads to bystander cells via the intercellular transfer of cGAMP. Nature 503, 530–534 (2013).

Schadt, L. et al. Cancer-cell-intrinsic cGAS expression mediates tumor immunogenicity. Cell Rep. 29, 1236–1248.e7 (2019).

Zhou, Y. et al. Blockade of the phagocytic receptor MerTK on tumor-associated macrophages enhances P2X7R-dependent STING activation by tumor-derived cGAMP. Immunity 52, 357–373.e9 (2020).

Chan, Y. K. & Gack, M. U. Viral evasion of intracellular DNA and RNA sensing. Nat. Rev. Microbiol. 14, 360–373 (2016).

Ilkow, C. S. et al. Reciprocal cellular cross-talk within the tumor microenvironment promotes oncolytic virus activity. Nat. Med. 21, 530–536 (2015).

Yang, Z. Z. et al. TGF-β upregulates CD70 expression and induces exhaustion of effector memory T cells in B-cell non-Hodgkin's lymphoma. Leukemia 28, 1872–1884 (2014).

Calvo, F. et al. Mechanotransduction and YAP-dependent matrix remodelling is required for the generation and maintenance of cancer-associated fibroblasts. Nat. Cell Biol. 15, 637–646 (2013).

Du, P., Kibbe, W. A. & Lin, S. lumi: A pipeline for processing Illumina microarray. Bioinformatics 24, 1547–1548 (2008).

Subramanian, A. et al. Gene set enrichment analysis: A knowledge-based approach for interpreting genome-wide expression profiles. Proc. Natl Acad. Sci. USA 102, 15545–15550 (2005).

Park, D. et al. Extracellular matrix anisotropy is determined by TFAP2C-dependent regulation of cell collisions. Nat. Mater. 2, 227–238 (2019).
Acknowledgements
We thank P. Chakravarty for assistance with Bioinformatics, S. Foo and R. Sadri for technical assistance, Joan Massagué for discussion, colleagues in our laboratory for support and advice and A. Blanchard for provision of compounds. E.N.A, E.L.M., A.R., S.D., S.H. and E.S. are supported by the Francis Crick Institute, which receives its core funding from Cancer Research UK (FC001144), the UK Medical Research Council (FC001144) and the Wellcome Trust (FC001144). E.N.A. was additionally supported by the Wellcome Trust (096084/B/11/Z). A.R. was supported by the Spanish Society for Medical Oncology (Beca Fundación SEOM), E.L.M. was supported by a Biotechnology and Biological Sciences Research Council–GlaxoSmithKline CASE Fellowship. K.J.H., A.M. and D.M. are supported by The Royal Marsden and The Institute of Cancer Research National Institute for Health Research Biomedical Research Centre and a Cancer Research UK grant (A23275). T.K. was funded by Marie-Curie action (HeteroCancerInvaison # 708651) and the Japanese Strategic Young Researcher Overseas Visits Program for Accelerating Brain Circulation.
Ethics declarations
Competing interests
E.S. and E.M. received research funds from GlaxoSmithKline through a Biotechnology and Biological Sciences Research Council–GlaxoSmithKline CASE Fellowship. The other authors declare no competing interests.
Additional information
Publisher's note Springer Nature remains neutral with regard to jurisdictional claims in published maps and institutional affiliations.
Supplementary information
About this article
Cite this article
Arwert, E.N., Milford, E.L., Rullan, A. et al. STING and IRF3 in stromal fibroblasts enable sensing of genomic stress in cancer cells to undermine oncolytic viral therapy. Nat Cell Biol 22, 758–766 (2020). https://doi.org/10.1038/s41556-020-0527-7
Received:

Accepted:

Published:

Issue Date:

DOI: https://doi.org/10.1038/s41556-020-0527-7