Abstract
Mutations in chromatin-modifying complexes and metabolic enzymes commonly underlie complex human developmental syndromes affecting multiple organs. A major challenge is to determine how disease-causing genetic lesions cause deregulation of homeostasis in unique cell types. Here we show that neural-specific depletion of three members of the non-specific lethal (NSL) chromatin complex—Mof, Kansl2 or Kansl3—unexpectedly leads to severe vascular defects and brain haemorrhaging. Deregulation of the epigenetic landscape induced by the loss of the NSL complex in neural cells causes widespread metabolic defects, including an accumulation of free long-chain fatty acids (LCFAs). Free LCFAs induce a Toll-like receptor 4 (TLR4)–NFκB-dependent pro-inflammatory signalling cascade in neighbouring vascular pericytes that is rescued by TLR4 inhibition. Pericytes display functional changes in response to LCFA-induced activation that result in vascular breakdown. Our work establishes that neurovascular function is determined by the neural metabolic environment.
This is a preview of subscription content
Access options
Subscribe to Nature+
Get immediate online access to the entire Nature family of 50+ journals
Subscribe to Journal
Get full journal access for 1 year
$99.00
only $8.25 per issue
All prices are NET prices.
VAT will be added later in the checkout.
Tax calculation will be finalised during checkout.
Buy article
Get time limited or full article access on ReadCube.
$32.00
All prices are NET prices.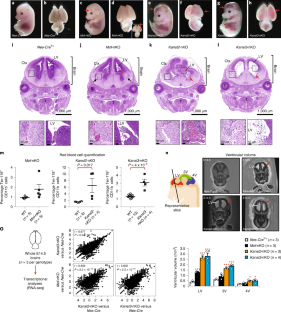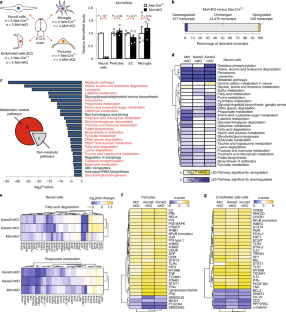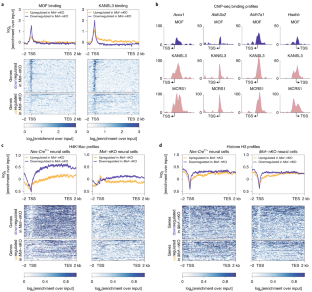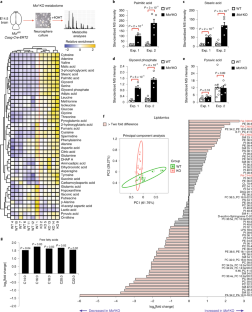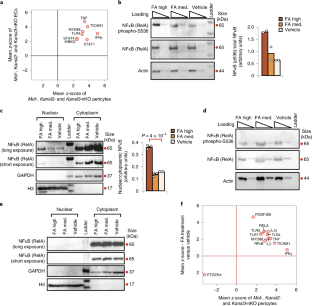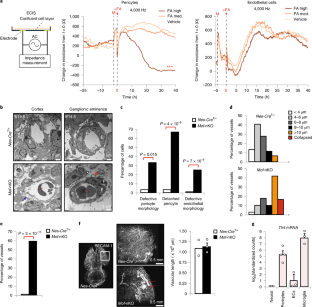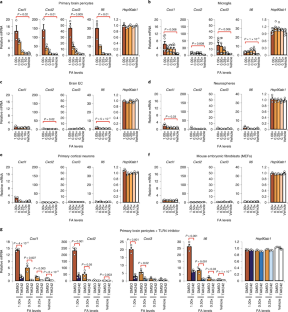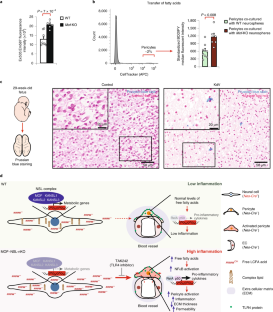 References
Mirabella, A. C., Foster, B. M. & Bartke, T. Chromatin deregulation in disease. Chromosoma 125, 75–93 (2016).

Butler, J. S., Koutelou, E., Schibler, A. C. & Dent, S. Y. Histone-modifying enzymes: regulators of developmental decisions and drivers of human disease. Epigenomics 4, 163–177 (2012).

Cho, K. S., Elizondo, L. I. & Boerkoel, C. F. Advances in chromatin remodeling and human disease. Curr. Opin. Genet. Dev. 14, 308–315 (2004).

van Karnebeek, C. D., Shevell, M., Zschocke, J., Moeschler, J. B. & Stockler, S. The metabolic evaluation of the child with an intellectual developmental disorder: diagnostic algorithm for identification of treatable causes and new digital resource. Mol. Genet. Metab. 111, 428–438 (2014).

Kinnear, D. et al. Prevalence of physical conditions and multimorbidity in a cohort of adults with intellectual disabilities with and without Down syndrome: cross-sectional study. BMJ Open 8, e018292 (2018).

Cooper, S. A. et al. Multiple physical and mental health comorbidity in adults with intellectual disabilities: population-based cross-sectional analysis. BMC Fam. Pract. 16, 110 (2015).

Matson, J. L. & Cervantes, P. E. Comorbidity among persons with intellectual disabilities. Res. Autism Spectr. Disord. 7, 1318–1322 (2013).

Bannister, A. J. & Kouzarides, T. Regulation of chromatin by histone modifications. Cell Res. 21, 381–395 (2011).

Rajagopal, N. et al. Distinct and predictive histone lysine acetylation patterns at promoters, enhancers, and gene bodies. G3 4, 2051–2063 (2014).

Wang, Z. et al. Combinatorial patterns of histone acetylations and methylations in the human genome. Nat. Genet. 40, 897–903 (2008).

Voss, A. K. & Thomas, T. Histone Lysine and genomic targets of histone acetyltransferases in mammals. BioEssays 40, e1800078 (2018).

Seto, E. & Yoshida, M. Erasers of histone acetylation: the histone deacetylase enzymes. Cold Spring Harb. Perspect. Biol. 6, a018713 (2014).

Arboleda, V. A. et al. De novo nonsense mutations in KAT6A, a lysine acetyl-transferase gene, cause a syndrome including microcephaly and global developmental delay. Am. J. Hum. Genet 96, 498–506 (2015).

Petrij, F. et al. Rubinstein–Taybi syndrome caused by mutations in the transcriptional co-activator CBP. Nature 376, 348–351 (1995).

Roelfsema, J. H. et al. Genetic heterogeneity in Rubinstein–Taybi syndrome: mutations in both the CBP and EP300 genes cause disease. Am. J. Hum. Genet. 76, 572–580 (2005).

Tham, E. et al. Dominant mutations in KAT6A cause intellectual disability with recognizable syndromic features. Am. J. Hum. Genet. 96, 507–513 (2015).

Clayton-Smith, J. et al. Whole-exome-sequencing identifies mutations in histone acetyltransferase gene KAT6B in individuals with the Say-Barber-Biesecker variant of Ohdo syndrome. Am. J. Hum. Genet. 89, 675–681 (2011).

Simpson, M. A. et al. De novo mutations of the gene encoding the histone acetyltransferase KAT6B cause Genitopatellar syndrome. Am. J. Hum. Genet. 90, 290–294 (2012).

Kraft, M. et al. Disruption of the histone acetyltransferase MYST4 leads to a Noonan syndrome-like phenotype and hyperactivated MAPK signaling in humans and mice. J. Clin. Invest. 121, 3479–3491 (2011).

Sheikh, B. N. Crafting the brain—role of histone acetyltransferases in neural development and disease. Cell Tissue Res. 356, 553–573 (2014).

Sheikh, B. N. & Akhtar, A. The many lives of KATs—detectors, integrators and modulators of the cellular environment. Nat. Rev. Genet. 20, 7–23 (2019).

Thomas, T., Dixon, M. P., Kueh, A. J. & Voss, A. K. Mof (MYST1 or KAT8) is essential for progression of embryonic development past the blastocyst stage and required for normal chromatin architecture. Mol. Cell Biol. 28, 5093–5105 (2008).

Akhtar, A. & Becker, P. B. Activation of transcription through histone H4 acetylation by MOF, an acetyltransferase essential for dosage compensation in Drosophila. Mol. Cell 5, 367–375 (2000).

Taipale, M. et al. hMOF histone acetyltransferase is required for histone H4 lysine 16 acetylation in mammalian cells. Mol. Cell. Biol. 25, 6798–6810 (2005).

Chelmicki, T. et al. MOF-associated complexes ensure stem cell identity and Xist repression. eLife 3, e02024 (2014).

Shogren-Knaak, M. et al. Histone H4-K16 acetylation controls chromatin structure and protein interactions. Science 311, 844–847 (2006).

Gilissen, C. et al. Genome sequencing identifies major causes of severe intellectual disability. Nature 511, 344–347 (2014).

Koolen, D. A. et al. Mutations in the chromatin modifier gene KANSL1 cause the 17q21.31 microdeletion syndrome. Nat. Genet. 44, 639–641 (2012).

Zollino, M. et al. Mutations in KANSL1 cause the 17q21.31 microdeletion syndrome phenotype. Nat. Genet. 44, 636–638 (2012).

Sheikh, B.N., Guhathakurta, S. & Akhtar, A. The non-specific lethal (NSL) complex at the crossroads of transcriptional control and cellular homeostasis. EMBO Rep. 20, e47630 (2019).

Koolen, D. A. et al. Clinical and molecular delineation of the 17q21.31 microdeletion syndrome. J. Med. Genet. 45, 710–720 (2008).

Morgan, A. T. et al. Early speech development in Koolen de Vries syndrome limited by oral praxis and hypotonia. Eur. J. Hum. Genet. 26, 75–84 (2018).

Myers, K. A. et al. The epileptology of Koolen-de Vries syndrome: electro-clinico-radiologic findings in 31 patients. Epilepsia 58, 1085–1094 (2017).

Koolen, D. A. et al. The Koolen-de Vries syndrome: a phenotypic comparison of patients with a 17q21.31 microdeletion versus a KANSL1 sequence variant. Eur. J. Hum. Genet 24, 652–659 (2016).

Raja, S. J. et al. The nonspecific lethal complex is a transcriptional regulator in Drosophila. Mol. Cell 38, 827–841 (2010).

Ballabh, P. et al. Angiogenic inhibition reduces germinal matrix hemorrhage. Nat. Med. 13, 477–485 (2007).

Braun, A. et al. Paucity of pericytes in germinal matrix vasculature of premature infants. J. Neurosci. 27, 12012–12024 (2007).

Sheikh, B. N. et al. Systematic Identification of cell–cell communication networks in the developing brain. iScience 21, 273–287 (2019).

Fuchs, C. D. et al. Absence of adipose triglyceride lipase protects from hepatic endoplasmic reticulum stress in mice. Hepatology 56, 270–280 (2012).

Liu, T., Zhang, L., Joo, D. & Sun, S.C. NF-κB signaling in inflammation. Signal Transduct. Target. Ther. 2, 17023 (2017).

Han, X. et al. Mapping the mouse cell atlas by Microwell-seq. Cell 172, e1017 (2018).

Huang, S. et al. Saturated fatty acids activate TLR-mediated proinflammatory signaling pathways. J. Lipid Res. 53, 2002–2013 (2012).

Shi, H. et al. TLR4 links innate immunity and fatty acid-induced insulin resistance. J. Clin. Invest. 116, 3015–3025 (2006).

Zhao, Z., Nelson, A. R., Betsholtz, C. & Zlokovic, B. V. Establishment and dysfunction of the blood–brain barrier. Cell 163, 1064–1078 (2015).

Armulik, A., Genove, G. & Betsholtz, C. Pericytes: developmental, physiological, and pathological perspectives, problems, and promises. Dev. Cell 21, 193–215 (2011).

Montagne, A. et al. Blood–brain barrier breakdown in the aging human hippocampus. Neuron 85, 296–302 (2015).

Sengillo, J. D. et al. Deficiency in mural vascular cells coincides with blood–brain barrier disruption in Alzheimer's disease. Brain Pathol. 23, 303–310 (2013).

Nation, D. A. et al. Blood–brain barrier breakdown is an early biomarker of human cognitive dysfunction. Nat. Med. 25, 270–276 (2019).

Nishioku, T. et al. Detachment of brain pericytes from the basal lamina is involved in disruption of the blood–brain barrier caused by lipopolysaccharide-induced sepsis in mice. Cell Mol. Neurobiol. 29, 309–316 (2009).

Busquets, O. et al. Long-term exposition to a high fat diet favors the appearance of β-amyloid depositions in the brain of C57BL/6J mice. A potential model of sporadic Alzheimer's disease. Mech. Ageing Dev. 162, 38–45 (2017).

Denver, P., Gault, V. A. & McClean, P. L. Sustained high-fat diet modulates inflammation, insulin signalling and cognition in mice and a modified xenin peptide ameliorates neuropathology in a chronic high-fat model. Diabetes Obes. Metab. 20, 1166–1175 (2018).

Choudhary, C., Weinert, B. T., Nishida, Y., Verdin, E. & Mann, M. The growing landscape of lysine acetylation links metabolism and cell signalling. Nat. Rev. Mol. Cell Biol. 15, 536–550 (2014).

Marino, G. et al. Regulation of autophagy by cytosolic acetyl-coenzyme A. Mol. Cell 53, 710–725 (2014).

Tronche, F. et al. Disruption of the glucocorticoid receptor gene in the nervous system results in reduced anxiety. Nat. Genet. 23, 99–103 (1999).

Zimmerman, L. et al. Independent regulatory elements in the nestin gene direct transgene expression to neural stem cells or muscle precursors. Neuron 12, 11–24 (1994).

Proctor, J. M., Zang, K., Wang, D., Wang, R. & Reichardt, L. F. Vascular development of the brain requires β8 integrin expression in the neuroepithelium. J. Neurosci. 25, 9940–9948 (2005).

Graus-Porta, D. et al. β1-class integrins regulate the development of laminae and folia in the cerebral and cerebellar cortex. Neuron 31, 367–379 (2001).

Braun, T. P. et al. Expression of myeloid differentiation factor 88 in neurons is not requisite for the induction of sickness behavior by interleukin-1β. J. Neuroinflammation 9, 229 (2012).

Sheikh, B. N. et al. MOZ (MYST3, KAT6A) inhibits senescence via the INK4A–ARF pathway. Oncogene 34, 5807–5820 (2015).

Tigges, U., Welser-Alves, J. V., Boroujerdi, A. & Milner, R. A novel and simple method for culturing pericytes from mouse brain. Microvascular Res. 84, 74–80 (2012).

Yang, B. et al. Single-cell phenotyping within transparent intact tissue through whole-body clearing. Cell 158, 945–958 (2014).

Chatterjee, A. et al. MOF acetyl transferase regulates transcription and respiration in mitochondria. Cell 167, 722–738 (2016).

Dobin, A et al. STAR: ultrafast universal RNA-seq aligner. Bioinformatics 29, 15–21 (2013).

Liao, Y., Smyth, G. K. & Shi, W. featureCounts: an efficient general purpose program for assigning sequence reads to genomic features. Bioinformatics 30, 923–930 (2014).

Love, M. I., Huber, W. & Anders, S. Moderated estimation of fold change and dispersion for RNA-seq data with DESeq2. Genome Biol. 15, 550 (2014).

Huang da, W., Sherman, B. T. & Lempicki, R. A. Systematic and integrative analysis of large gene lists using DAVID bioinformatics resources. Nat. Protoc. 4, 44–57 (2009).

Arrigoni, L. et al. RELACS nuclei barcoding enables high-throughput ChIP-seq. Commun. Biol. 1, 214 (2018).

Herman, J. S., Sagar & Grün, D. FateID infers cell fate bias in multipotent progenitors from single-cell RNA-seq data. Nat. Methods 15, 379–386 (2018).

Haghverdi, L., Buttner, M., Wolf, F. A., Buettner, F. & Theis, F. J. Diffusion pseudotime robustly reconstructs lineage branching. Nat. Methods 13, 845–848 (2016).

He, L. et al. Analysis of the brain mural cell transcriptome. Sci. Rep. 6, 35108 (2016).

Vanlandewijck, M. et al. A molecular atlas of cell types and zonation in the brain vasculature. Nature 554, 475–480 (2018).

Sagar, Herman., J. S., Pospisilik, J. A., Grün, D. High-throughput single-cell RNA sequencing and data analysis. Methods Mol. Biol. 1766, 257–283 (2018).
Acknowledgements
We thank the Core Imaging facility (IMCF, University of Basel) and in particular W. Heusermann for technical assistance provided on the SPIM light-sheet microscope. We thank B. Joch, K. Seidel, H. Al-Hasani and J. Seyfferth for technical assistance, as well as T. Vogel, S. Weise (University of Freiburg), R. Adams, H. W. Jeong and E. Watson (MPI for Molecular Biomedicine, Münster) for their helpful discussions. We thank M. Shvedunova for help with writing and editing the manuscript. B.N.S. was funded by an Alexander von Humboldt fellowship. This work was supported by the CRC 992 and CRC 1381 awarded to A.A. and by the German Research Foundation (DFG) under Germany's Excellence Strategy (CIBSS, EXC-2189, project ID 390939984).
Ethics declarations
Competing interests
The authors declare no competing interests.
Additional information
Publisher's note Springer Nature remains neutral with regard to jurisdictional claims in published maps and institutional affiliations.
Supplementary information
Supplementary Table 1: Genotyping primers. Supplementary Table 2: qRT-PCR primers. Supplementary Table 3: Primers used to quantify mitochondrial and nuclear DNA. Supplementary Table 4: Antibody list.
Neural vascular imaging using light-sheet microscopy. Exemplary wild-type E14.5 cleared brain stained with the endothelial marker PECAM1 and subsequently imaged with light-sheet microscopy. 'Fly through' visualization was made using the Arivis Vision4D software.
About this article
Cite this article
Sheikh, B.N., Guhathakurta, S., Tsang, T.H. et al. Neural metabolic imbalance induced by MOF dysfunction triggers pericyte activation and breakdown of vasculature. Nat Cell Biol 22, 828–841 (2020). https://doi.org/10.1038/s41556-020-0526-8
Received:

Accepted:

Published:

Issue Date:

DOI: https://doi.org/10.1038/s41556-020-0526-8