Abstract
Macrophages are diverse immune cells that reside in all tissues. Although macrophages have been implicated in mammary-gland function, their diversity has not been fully addressed. By exploiting high-resolution three-dimensional imaging and flow cytometry, we identified a unique population of tissue-resident ductal macrophages that form a contiguous network between the luminal and basal layers of the epithelial tree throughout postnatal development. Ductal macrophages are long lived and constantly survey the epithelium through dendrite movement, revealed via advanced intravital imaging. Although initially originating from embryonic precursors, ductal macrophages derive from circulating monocytes as they expand during puberty. Moreover, they undergo proliferation in pregnancy to maintain complete coverage of the epithelium in lactation, when they are poised to phagocytose milk-producing cells post-lactation and facilitate remodelling. Interestingly, ductal macrophages strongly resemble mammary tumour macrophages and form a network that pervades the tumour. Thus, the mammary epithelium programs specialized resident macrophages in both physiological and tumorigenic contexts.
Access options
Subscribe to Journal
Get full journal access for 1 year
$225.00
only $18.75 per issue
All prices are NET prices.
VAT will be added later in the checkout.
Rent or Buy article
Get time limited or full article access on ReadCube.
from$8.99
All prices are NET prices.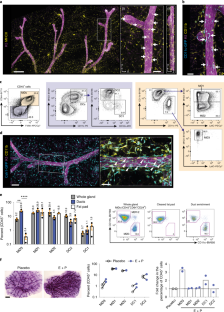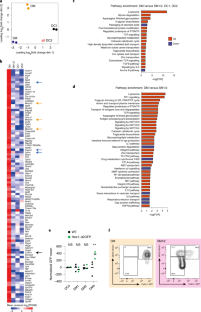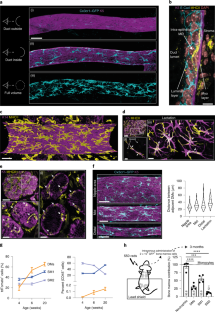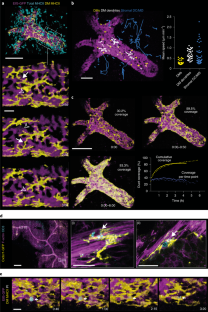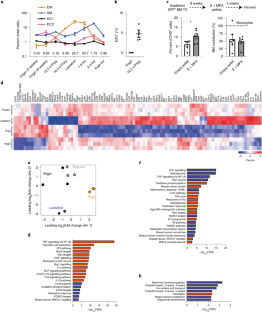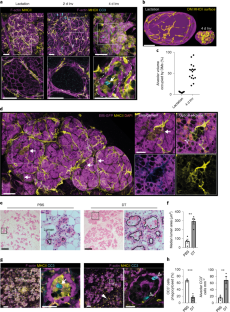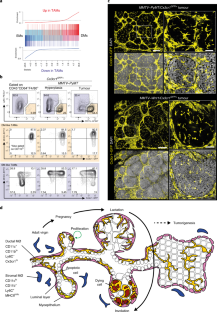 Data availability
The RNA-seq data that support the findings of this study have been deposited in the GEO under accession code GSE119869. Previously published microarray data that were re-analysed here are available under accession code GSE56755 (ref. 48). All other data supporting the findings of this study are available from the corresponding author on reasonable request.
Code availability
FIJI macros are available from the authors on request.
References
1.

Lavin, Y. & Merad, M. Macrophages: gatekeepers of tissue integrity. Cancer Immunol. Res. 1, 201–209 (2013).

2.

Varol, C., Mildner, A. & Jung, S. Macrophages: development and tissue specialization. Ann. Rev. Immunol. 33, 643–675 (2015).

3.

Wynn, T. A., Chawla, A. & Pollard, J. W. Macrophage biology in development, homeostasis and disease. Nature 496, 445–455 (2013).

4.

Gautier, E. L. et al. Gene-expression profiles and transcriptional regulatory pathways that underlie the identity and diversity of mouse tissue macrophages. Nature 13, 1118–1128 (2012).

5.

Lavin, Y. et al. Tissue-resident macrophage enhancer landscapes are shaped by the local microenvironment. Cell 159, 1312–1326 (2014).

6.

Gordon, S. & Plüddemann, A. Tissue macrophages: heterogeneity and functions. BMC Biol. 15, 53 (2017).

7.

Hoeffel, G. & Ginhoux, F. Ontogeny of tissue-resident macrophages. Front. Immunol. 6, 486 (2015).

8.

Ginhoux, F. & Guilliams, M. Tissue-resident macrophage ontogeny and homeostasis. Immunity 44, 439–449 (2016).

9.

Guilliams, M. & Scott, C. L. Does niche competition determine the origin of tissue-resident macrophages? Nat. Rev. Immunol. 17, 451–460 (2017).

10.

Chua, A., Hodson, L., Moldenhauer, L., Robertson, S. & Ingman, W. Dual roles for macrophages in ovarian cycle-associated development and remodelling of the mammary gland epithelium. Development 137, 4229–4238 (2010).

11.

Sun, X., Robertson, S. & Ingman, W. Regulation of epithelial cell turnover and macrophage phenotype by epithelial cell-derived transforming growth factor beta1 in the mammary gland. Cytokine 61, 377–388 (2013).

12.

Gouon-Evans, V., Rothenberg, M. E. & Pollard, J. W. Postnatal mammary gland development requires macrophages and eosinophils. Development 127, 2269–2282 (2000).

13.

O'Brien, J. et al. Alternatively activated macrophages and collagen remodeling characterize the postpartum involuting mammary gland across species. Am. J. Pathol. 176, 1241–1255 (2010).

14.

Jäppinen, N. et al. Fetal-derived macrophages dominate in adult mammary glands. Nat. Commun. 10, 281 (2019).

15.

Stewart, T. A., Hughes, K., Hume, D. A. & Davis, F. M. Developmental stage-specific distribution of macrophages in mouse mammary gland. Front. Cell Dev. Biol 7, 250 (2019).

16.

Nguyen, A. & Pollard, J. Colony stimulating factor-1 is required to recruit macrophages into the mammary gland to facilitate mammary ductal outgrowth. Dev. Biol. 247, 11–25 (2002).

17.

Pollard, J. W. & Hennighausen, L. Colony stimulating factor 1 is required for mammary gland development during pregnancy. Proc. Natl Acad. Sci. USA 91, 9312–9316 (1994).

18.

Ingman, W. V., Wyckoff, J., Gouon-Evans, V., Condeelis, J. & Pollard, J. W. Macrophages promote collagen fibrillogenesis around terminal end buds of the developing mammary gland. Dev. Dynam. 235, 3222–3229 (2006).

19.

O'Brien, J., Martinson, H., Durand-Rougely, C. & Schedin, P. Macrophages are crucial for epithelial cell death and adipocyte repopulation during mammary gland involution. Development 139, 269–275 (2012).

20.

Walker, N., Bennett, R. & Kerr, J. Cell death by apoptosis during involution of the lactating breast in mice and rats. Am. J. Anat. 185, 19–32 (1989).

21.

Lilla, J. N. & Werb, Z. Mast cells contribute to the stromal microenvironment in mammary gland branching morphogenesis. Dev. Biol. 337, 124–133 (2010).

22.

Plaks, V. et al. Adaptive immune regulation of mammary postnatal organogenesis. Dev. Cell 34, 493–504 (2015).

23.

Rios, A. C. et al. Intraclonal plasticity in mammary tumors revealed through large-scale single-cell resolution 3D imaging. Cancer Cell 35, 618–632 (2019).

24.

Yu, Y.-R. A. R. et al. A protocol for the comprehensive flow cytometric analysis of immune cells in normal and inflamed murine non-lymphoid tissues. PLoS ONE 11, e0150606 (2016).

25.

Ginhoux, F. et al. The origin and development of nonlymphoid tissue CD103+ DCs. J. Exp. Med. 206, 3115–3130 (2009).

26.

Chakarov, S. et al. Two distinct interstitial macrophage populations coexist across tissues in specific subtissular niches. Science 363, eaau0964 (2019).

27.

Schiavoni, G. et al. ICSBP is essential for the development of mouse type I interferon-producing cells and for the generation and activation of CD8α+ dendritic cells. J. Exp. Med. 196, 1415–1425 (2002).

28.

Wang, H. et al. A reporter mouse reveals lineage-specific and heterogeneous expression of IRF8 during lymphoid and myeloid cell differentiation. J. Immunol. 193, 1766–1777 (2014).

29.

Sasmono, R. et al. A macrophage colony-stimulating factor receptor–green fluorescent protein transgene is expressed throughout the mononuclear phagocyte system of the mouse. Blood 101, 1155–1163 (2003).

30.

Feng, J. et al. IFN regulatory factor 8 restricts the size of the marginal zone and follicular B cell pools. J. Immunol. 186, 1458–1466 (2011).

31.

Gouon-Evans, V., Lin, E. Y. & Pollard, J. W. Requirement of macrophages and eosinophils and their cytokines/chemokines for mammary gland development. Breast Cancer Res. 4, 155–164 (2002).

32.

Miller, J. C. et al. Deciphering the transcriptional network of the dendritic cell lineage. Nat. Immunol. 13, 888–899 (2012).

33.

Ohtsuka, T. et al. Visualization of embryonic neural stem cells using Hes promoters in transgenic mice. Mol. Cell. Neurosci. 31, 109–122 (2006).

34.

Gyorki, D. E., Asselin-Labat, M.-L., Rooijen, Nvan, Lindeman, G. J. & Visvader, J. E. Resident macrophages influence stem cell activity in the mammary gland. Breast Cancer Res. 11, R62 (2009).

35.

Chakrabarti, R. et al. Notch ligand Dll1 mediates cross-talk between mammary stem cells and the macrophageal niche. Science 360, eaan4153 (2018).

36.

Liu, Z. et al. Fate mapping via Ms4a3 expression history traces monocyte-derived cells. Cell 178, 1509–1525 (2019).

37.

Jaitin, D. et al. Lipid-associated macrophages control metabolic homeostasis in a Trem2-dependent manner. Cell 178, 686–698 (2019).

38.

Ewald, A. J., Werb, Z. & Egeblad, M. Monitoring of vital signs for long-term survival of mice under anesthesia. Cold Spring Harb. Protoc. 2011, 174–177 (2011).

39.

Ewald, A. J., Werb, Z. & Egeblad, M. Preparation of mice for long-term intravital imaging of the mammary gland. Cold Spring Harb. Protoc. 2011, 168–173 (2011).

40.

Hor, J. L. et al. Spatiotemporally distinct interactions with dendritic cell subsets facilitates CD4+ and CD8+ T cell activation to localized viral infection. Immunity 43, 554–565 (2015).

41.

Kedrin, D. et al. Intravital imaging of metastatic behavior through a mammary imaging window. Nat. Methods 5, 1019–1021 (2008).

42.

Rios, A. C., Fu, N. Y., Lindeman, G. J. & Visvader, J. E. In situ identification of bipotent stem cells in the mammary gland. Nature 506, 322–327 (2014).

43.

Uderhardt, S., Martins, A., Tsang, J., Lämmermann, T. & Germain, R. Resident macrophages cloak tissue microlesions to prevent neutrophil-driven inflammatory damage. Cell 177, 541–555 (2019).

44.

Betts, C. B. et al. Mucosal immunity in the female murine mammary gland. J. Immunol. 201, 734–746 (2018).

45.

Rios, A. C. et al. Essential role for a novel population of binucleated mammary epithelial cells in lactation. Nat. Commun. 7, 11400 (2016).

46.

Qian, B.-Z. & Pollard, J. W. Macrophage diversity enhances tumor progression and metastasis. Cell 141, 39–51 (2010).

47.

Lohela, M. et al. Intravital imaging reveals distinct responses of depleting dynamic tumor-associated macrophage and dendritic cell subpopulations. Proc. Natl Acad. Sci. USA 111, E5086–E5095 (2014).

48.

Franklin, R. A. et al. The cellular and molecular origin of tumor-associated macrophages. Science 344, 921–925 (2014).

49.

Tymoszuk, P. et al. In situ proliferation contributes to accumulation of tumor‐associated macrophages in spontaneous mammary tumors. Eur. J. Immunol. 44, 2247–2262 (2014).

50.

Broz, M. L. et al. Dissecting the tumor myeloid compartment reveals rare activating antigen-presenting cells critical for T cell immunity. Cancer Cell 26, 638–652 (2014).

51.

Engelhardt, J. J. et al. Marginating dendritic cells of the tumor microenvironment cross-present tumor antigens and stably engage tumor-specific T cells. Cancer Cell 21, 402–417 (2012).

52.

Linde, N. et al. Macrophages orchestrate breast cancer early dissemination and metastasis. Nat. Commun. 9, 21 (2018).

53.

Martinson, H., Jindal, S., Durand-Rougely, C., Borges, V. & Schedin, P. Wound healing‐like immune program facilitates postpartum mammary gland involution and tumor progression. Int. J. Cancer 136, 1803–1813 (2015).

54.

Monks, J. et al. Epithelial cells as phagocytes: apoptotic epithelial cells are engulfed by mammary alveolar epithelial cells and repress inflammatory mediator release. Cell Death Differ. 12, 107–114 (2005).

55.

Monks, J., Smith-Steinhart, C., Kruk, E., Fadok, V. & Henson, P. Epithelial cells remove apoptotic epithelial cells during post-lactation involution of the mouse mammary gland. Biol. Reprod. 78, 586–594 (2008).

56.

Han, H. et al. Inducible gene knockout of transcription factor recombination signal binding protein-J reveals its essential role in T versus B lineage decision. Int. Immunol. 14, 627–645 (2002).

57.

Shackleton, M. et al. Generation of a functional mammary gland from a single stem cell. Nature 439, 84 (2006).

58.

Schindelin, J. et al. Fiji: an open-source platform for biological-image analysis. Nat. Methods 9, 676 (2012).

59.

Liao, Y., Smyth, G. K. & Shi, W. The Subread aligner: fast, accurate and scalable read mapping by seed-and-vote. Nucleic Acids Res. 41, e108 (2013).

60.

Liao, Y., Smyth, G. K. & Shi, W. featureCounts: an efficient general purpose program for assigning sequence reads to genomic features. Bioinformatics 30, 923–930 (2014).

61.

Ritchie, M. E. et al. limma powers differential expression analyses for RNA-sequencing and microarray studies. Nucleic Acids Res. 43, e47 (2015).

62.

Phipson, B., Lee, S., Majewski, I. J., Alexander, W. S. & Smyth, G. K. Robust hyperparameter estimation protects against hypervariable genes and improves power to detect differential expression. Ann. Appl. Stat. 10, 946–963 (2016).

63.

Liberzon, A. et al. Molecular signatures database (MSigDB) 3.0. Bioinformatics 27, 1739–1740 (2011).

64.

Wu, D. & Smyth, G. K. Camera: a competitive gene set test accounting for inter-gene correlation. Nucleic Acids Res. 40, e133 (2012).

65.

Sheridan, J. M. et al. A pooled shRNA screen for regulators of primary mammary stem and progenitor cells identifies roles for Asap1 and Prox1. BMC Cancer 15, 221 (2015).
Acknowledgements
We thank W. Alexander, M. Kauppi and A. Stock for their assistance with the chimaera experiments; F. Jackling for animal management; M. Chopin and S. Nutt for providing mice; Y. Hu for assistance with bioinformatics; J. Whittle, S. Naik, G. Belz, S. Heinzel, J. Schreuder and D. Lin for discussions; and C. Nowell at the MIPS imaging facility. We are grateful to the WEHI Centre for Dynamic Imaging, flow cytometry and animal facilities. This work was supported by the Australian National Health and Medical Research Council (NHMRC) grant nos 1016701, 1054618, 1100807 and 1113133; NHMRC IRIISS; the Victorian State Government through VCA funding and Operational Infrastructure Support and the Australian Cancer Research Foundation. C.A.D. was supported by an Australian Government Research Training Program Scholarship. A.C.R. was supported by a National Breast Cancer Foundation (NBCF)/Cure Cancer Australia Fellowship. S.N.M., G.K.S., G.J.L. and J.E.V. were supported by NHMRC Fellowships (grant nos 1136550, 1058892, 1078730, and 1037230 and 1102742, respectively).
Ethics declarations
Competing interests
The authors declare no competing interests.
Additional information
Publisher's note Springer Nature remains neutral with regard to jurisdictional claims in published maps and institutional affiliations.
Supplementary information
About this article
Cite this article
Dawson, C.A., Pal, B., Vaillant, F. et al. Tissue-resident ductal macrophages survey the mammary epithelium and facilitate tissue remodelling. Nat Cell Biol 22, 546–558 (2020). https://doi.org/10.1038/s41556-020-0505-0
Received:

Accepted:

Published:

Issue Date: