Abstract
The importance of germline-inherited post-translational histone modifications on priming early mammalian development is just emerging1,2,3,4. Histone H3 lysine 9 (H3K9) trimethylation is associated with heterochromatin and gene repression during cell-fate change5, whereas histone H3 lysine 4 (H3K4) trimethylation marks active gene promoters6. Mature oocytes are transcriptionally quiescent and possess remarkably broad domains of H3K4me3 (bdH3K4me3)1,2. It is unknown which factors contribute to the maintenance of the bdH3K4me3 landscape. Lysine-specific demethylase 4A (KDM4A) demethylates H3K9me3 at promoters marked by H3K4me3 in actively transcribing somatic cells7. Here, we report that KDM4A-mediated H3K9me3 demethylation at bdH3K4me3 in oocytes is crucial for normal pre-implantation development and zygotic genome activation after fertilization. The loss of KDM4A in oocytes causes aberrant H3K9me3 spreading over bdH3K4me3, resulting in insufficient transcriptional activation of genes, endogenous retroviral elements and chimeric transcripts initiated from long terminal repeats during zygotic genome activation. The catalytic activity of KDM4A is essential for normal epigenetic reprogramming and pre-implantation development. Hence, KDM4A plays a crucial role in preserving the maternal epigenome integrity required for proper zygotic genome activation and transfer of developmental control to the embryo.
Access options
Subscribe to Journal
Get full journal access for 1 year
$225.00
only $18.75 per issue
All prices are NET prices.
VAT will be added later in the checkout.
Rent or Buy article
Get time limited or full article access on ReadCube.
from$8.99
All prices are NET prices.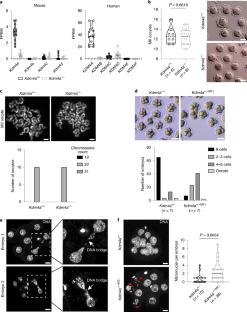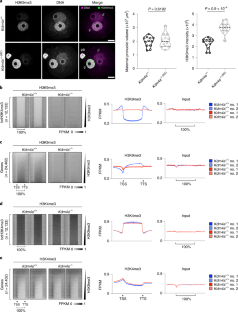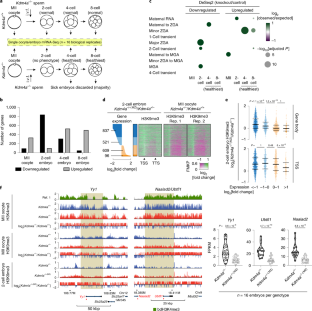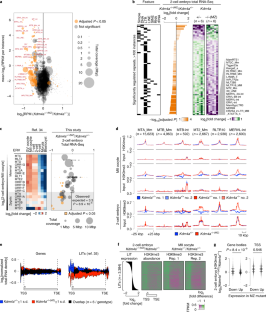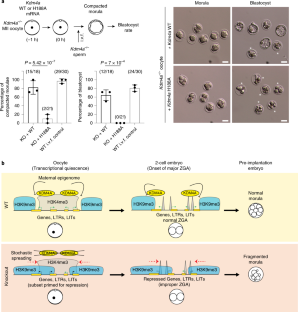 Data availability
All sequencing data related to this study have been deposited at the Gene Expression Omnibus (GEO) under the accession number GSE129735. RNA-Seq data for human single oocytes have been submitted to the European Genome Phenome Archive (EGA) under the reference EGAS00001004220. Published H3K4me3 and H3K9me3 µChIP-Seq data re-analysed in this study are available at GEO using the accession numbers GSE72784 and GSM2588560, respectively. A dedicated EaSeq session related to this study is available at http://easeq.net/Sessions/Sankar.eas. Data relating to human single oocyte mRNA-Seq are available under the material transfer agreement and General Data Protection Regulation in accordance with Danish law from the corresponding author along with any other data on reasonable request.
References
1.

Dahl, J. A. et al. Broad histone H3K4me3 domains in mouse oocytes modulate maternal-to-zygotic transition. Nature 537, 548–552 (2016).

2.

Zhang, B. et al. Allelic reprogramming of the histone modification H3K4me3 in early mammalian development. Nature 537, 553–557 (2016).

3.

Hanna, C. W. et al. MLL2 conveys transcription-independent H3K4 trimethylation in oocytes. Nat. Struct. Mol. Biol. 25, 73–82 (2018).

4.

Xu, Q. et al. SETD2 regulates the maternal epigenome, genomic imprinting and embryonic development. Nat. Genet. 51, 844–856 (2019).

5.

Becker, J. S., Nicetto, D. & Zaret, K. S. H3K9me3-dependent heterochromatin: barrier to cell fate changes. Trends Genet. 32, 29–41 (2016).

6.

Ruthenburg, A. J., Allis, C. D. & Wysocka, J. Methylation of lysine 4 on histone H3: intricacy of writing and reading a single epigenetic mark. Mol. Cell 25, 15–30 (2007).

7.

Pedersen, M. T. et al. Continual removal of H3K9 promoter methylation by Jmjd2 demethylases is vital for ESC self-renewal and early development. EMBO J. 35, 1550–1564 (2016).

8.

Eckersley-Maslin, M. A., Alda-Catalinas, C. & Reik, W. Dynamics of the epigenetic landscape during the maternal-to-zygotic transition. Nat. Rev. Mol. Cell Biol. 19, 436–450 (2018).

9.

Huang, Y., Fang, J., Bedford, M. T., Zhang, Y. & Xu, R. M. Recognition of histone H3 lysine-4 methylation by the double tudor domain of JMJD2A. Science 312, 748–751 (2006).

10.

Pedersen, M. T. et al. The demethylase JMJD2C localizes to H3K4me3-positive transcription start sites and is dispensable for embryonic development. Mol. Cell. Biol. 34, 1031–1045 (2014).

11.

Sankar, A. et al. Maternal expression of the histone demethylase Kdm4a is crucial for pre-implantation development. Development 144, 3264–3277 (2017).

12.

Chung, Y. G. et al. Histone demethylase expression enhances human somatic cell nuclear transfer efficiency and promotes derivation of pluripotent stem cells. Cell Stem Cell 17, 758–766 (2015).

13.

Matoba, S. et al. Embryonic development following somatic cell nuclear transfer impeded by persisting histone methylation. Cell 159, 884–895 (2014).

14.

Cheloufi, S. et al. The histone chaperone CAF-1 safeguards somatic cell identity. Nature 528, 218–224 (2015).

15.

Chen, J. et al. H3K9 methylation is a barrier during somatic cell reprogramming into iPSCs. Nat. Genet. 45, 34–42 (2013).

16.

Agger, K. et al. Jmjd2/Kdm4 demethylases are required for expression of Il3ra and survival of acute myeloid leukemia cells. Genes Dev. 30, 1278–1288 (2016).

17.

Kooistra, S. M. & Helin, K. Molecular mechanisms and potential functions of histone demethylases. Nat. Rev. Mol. Cell Biol. 13, 297–311 (2012).

18.

Rugg-Gunn, P. J., Cox, B. J., Ralston, A. & Rossant, J. Distinct histone modifications in stem cell lines and tissue lineages from the early mouse embryo. Proc. Natl Acad. Sci. USA 107, 10783–10790 (2010).

19.

Matsumura, Y. et al. H3K4/H3K9me3 bivalent chromatin domains targeted by lineage-specific DNA methylation pauses adipocyte differentiation. Mol. Cell 60, 584–596 (2015).

20.

Macfarlan, T. S. et al. Embryonic stem cell potency fluctuates with endogenous retrovirus activity. Nature 487, 57–63 (2012).

21.

Park, S. J., Shirahige, K., Ohsugi, M. & Nakai, K. DBTMEE: a database of transcriptome in mouse early embryos. Nucleic Acids Res. 43, D771–D776 (2015).

22.

Huang, C. J., Chen, C. Y., Chen, H. H., Tsai, S. F. & Choo, K. B. TDPOZ, a family of bipartite animal and plant proteins that contain the TRAF (TD) and POZ/BTB domains. Gene 324, 117–127 (2004).

23.

Ma, P. & Schultz, R. M. Histone deacetylase 1 (HDAC1) regulates histone acetylation, development, and gene expression in preimplantation mouse embryos. Dev. Biol. 319, 110–120 (2008).

24.

Pan, H. & Schultz, R. M. Sox2 modulates reprogramming of gene expression in two-cell mouse embryos. Biol. Reprod. 85, 409–416 (2011).

25.

Hamdane, N. et al. Conditional inactivation of Upstream Binding Factor reveals its epigenetic functions and the existence of a somatic nucleolar precursor body. PLoS Genet. 10, e1004505 (2014).

26.

Yamada, M. et al. Involvement of a novel preimplantation-specific gene encoding the high mobility group box protein Hmgpi in early embryonic development. Hum. Mol. Genet. 19, 480–493 (2010).

27.

Prendergast, L. et al. The CENP-T/-W complex is a binding partner of the histone chaperone FACT. Genes Dev. 30, 1313–1326 (2016).

28.

Singer, J. D., Gurian-West, M., Clurman, B. & Roberts, J. M. Cullin-3 targets cyclin E for ubiquitination and controls S phase in mammalian cells. Genes Dev. 13, 2375–2387 (1999).

29.

Moghe, S. et al. The CUL3-KLHL18 ligase regulates mitotic entry and ubiquitylates Aurora-A. Biol. Open 1, 82–91 (2012).

30.

Schulz, V. P. & Zakian, V. A. The saccharomyces PIF1 DNA helicase inhibits telomere elongation and de novo telomere formation. Cell 76, 145–155 (1994).

31.

Russell, P. & Nurse, P. Negative regulation of mitosis by wee1 +, a gene encoding a protein kinase homolog. Cell 49, 559–567 (1987).

32.

Toledo, L. I. et al. ATR prohibits replication catastrophe by preventing global exhaustion of RPA. Cell 155, 1088–1103 (2013).

33.

Peaston, A. E. et al. Retrotransposons regulate host genes in mouse oocytes and preimplantation embryos. Dev. Cell 7, 597–606 (2004).

34.

Franke, V. et al. Long terminal repeats power evolution of genes and gene expression programs in mammalian oocytes and zygotes. Genome Res. 27, 1384–1394 (2017).

35.

Brind'Amour, J. et al. LTR retrotransposons transcribed in oocytes drive species-specific and heritable changes in DNA methylation. Nat. Commun. 9, 3331 (2018).

36.

Rodriguez-Terrones, D. & Torres-Padilla, M. E. Nimble and ready to mingle: transposon outbursts of early development. Trends Genet. 34, 806–820 (2018).

37.

Wang, C. et al. Reprogramming of H3K9me3-dependent heterochromatin during mammalian embryo development. Nat. Cell Biol. 20, 620–631 (2018).

38.

Gaydos, L. J., Wang, W. & Strome, S. Gene repression. H3K27me and PRC2 transmit a memory of repression across generations and during development. Science 345, 1515–1518 (2014).

39.

Alabert, C. et al. Two distinct modes for propagation of histone PTMs across the cell cycle. Genes Dev. 29, 585–590 (2015).

40.

Black, J. C. et al. Conserved antagonism between JMJD2A/KDM4A and HP1γ during cell cycle progression. Mol. Cell 40, 736–748 (2010).

41.

Sankar A. Collection and handling of mouse oocytes/embryos. Protoc. Exch. https://doi.org/10.21203/rs.2.21552/v1 (2020).

42.

Sankar A. & Gonzalez J. M. In vitro fertilization of mouse oocytes. Protoc. Exch. https://doi.org/10.21203/rs.2.21562/v1 (2020).

43.

Sankar A. In vitro transcription and micro-injection of Kdm4a mRNA into mouse oocytes. Protoc. Exch. https://doi.org/10.21203/rs.2.21613/v1 (2020).

44.

Sankar A. Immunofluorescence of mouse zygotes and preimplantation embryos. Protoc. Exch. https://doi.org/10.21203/rs.2.21543/v1 (2020).

45.

Sankar A. Metaphase spread of mouse oocytes. Protoc. Exch. https://doi.org/10.21203/rs.2.18674/v1 (2020).

46.

Dahl, J. A. & Klungland, A. Micro chromatin immunoprecipitation (muChIP) from early mammalian embryos. Methods Mol. Biol. 1222, 227–245 (2015).

47.

Dahl, J. A. & Collas, P. A rapid micro chromatin immunoprecipitation assay (microChIP). Nat. Protoc. 3, 1032–1045 (2008).

48.

Sankar A. & Lerdrup M. ChIP-Seq data processing, normalization and visualization. Protoc. Exch. https://doi.org/10.21203/rs.2.21645/v1 (2020).

49.

Sankar A. and Johansen J. V. Single oocyte/embryo RNASeq data processing. Protoc. Exch. https://doi.org/10.21203/rs.2.21804/v1 (2020).

50.

Lerdrup, M., Johansen, J. V., Agrawal-Singh, S. & Hansen, K. An interactive environment for agile analysis and visualization of ChIP-sequencing data. Nat. Struct. Mol. Biol. 23, 349–357 (2016).

51.

R Core Team. R: A language and environment for statistical computing (2018).

52.

Eklund, A. beeswarm: the bee swarm plot, an alternative to stripchart. Version 0.2.0 (CRAN, 2016).
Acknowledgements
We thank the members of the Dahl, Helin and Hoffmann laboratories for discussions. We thank Y. Antoku of the BRIC Microscopy core facility for technical help, and V. Shukla and J. Hussain for their help with mouse genotyping. The work in the Klungland laboratory is funded by the South-Eastern Norway Regional Health Authority. The work in the Dahl laboratory is funded by the South-Eastern Norway Regional Health Authority (Early Career grant no. 2016058), the Norwegian Cancer Society and the Research Council of Norway (Young Research Talent Grant). The work in the Helin laboratory was supported by the Danish National Research Foundation (grant no. DNRF82), the Independent Research Foundation (grant no. DFF 7016-00067), a centre grant from the NNF to the NNF Center for Stem Cell Biology (grant no. NNF17CC0027852) and the Memorial Sloan Kettering Cancer Center Support Grant NIH (grant no. P30 CA008748). The Hoffmann laboratory was supported by a NNF Young Investigator Grant (grant no. NNF15OC0016662), ERC Consolidator Grant (grant no. 724718-ReCAP), a project grant from the DFF-FSS (grant no. 1111831001) and DNRF Center Grant (grant no. 6110-00344B).
Ethics declarations
Competing interests
The authors declare no competing interests.
Additional information
Publisher's note Springer Nature remains neutral with regard to jurisdictional claims in published maps and institutional affiliations.
Supplementary information
About this article
Cite this article
Sankar, A., Lerdrup, M., Manaf, A. et al. KDM4A regulates the maternal-to-zygotic transition by protecting broad H3K4me3 domains from H3K9me3 invasion in oocytes. Nat Cell Biol 22, 380–388 (2020). https://doi.org/10.1038/s41556-020-0494-z
Received:

Accepted:

Published:

Issue Date:
Further reading
Maria Samata

,

Anastasios Alexiadis

,

Gautier Richard

,

Plamen Georgiev

,

Johannes Nuebler

,

Tanvi Kulkarni

,

Gina Renschler

,

M. Felicia Basilicata

,

Fides Lea Zenk

,

Maria Shvedunova

,

Giuseppe Semplicio

,

Leonid Mirny

,

Nicola Iovino

&

Asifa Akhtar

Cell (2020)

Julie Brind'Amour

&

Matthew C. Lorincz

Nature Cell Biology (2020)