Abstract
Piwi proteins are normally restricted in germ cells to suppress transposons through associations with Piwi-interacting RNAs (piRNAs), but they are also frequently activated in many types of human cancers. A great puzzle is the lack of significant induction of corresponding piRNAs in cancer cells, as we document here in human pancreatic ductal adenocarcinomas (PDACs), which implies that such germline-specific proteins are somehow hijacked to promote tumorigenesis through a different mode of action. Here, we show that in the absence of piRNAs, human PIWIL1 in PDAC functions as an oncoprotein by activating the anaphase promoting complex/cyclosome (APC/C) E3 complex, which then targets a critical cell adhesion-related protein, Pinin, to enhance PDAC metastasis. This is in contrast to piRNA-dependent PIWIL1 ubiquitination and removal by APC/C during late spermiogenesis. These findings unveil a piRNA-dependent mechanism to switch PIWIL1 from a substrate in spermatids to a co-activator of APC/C in human cancer cells.
Access options
Subscribe to Journal
Get full journal access for 1 year
$225.00
only $18.75 per issue
All prices are NET prices.
VAT will be added later in the checkout.
Rent or Buy article
Get time limited or full article access on ReadCube.
from$8.99
All prices are NET prices.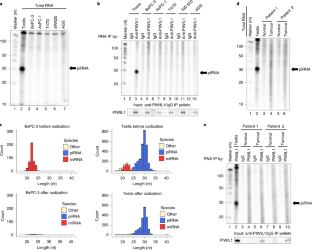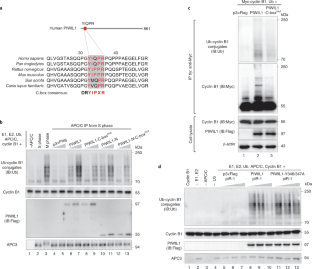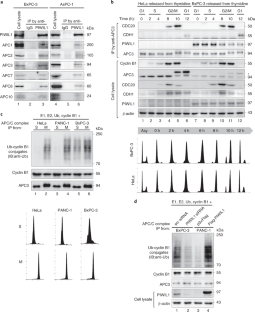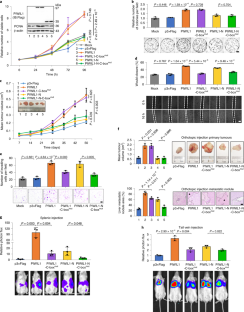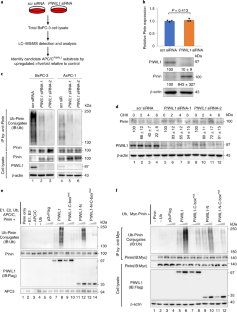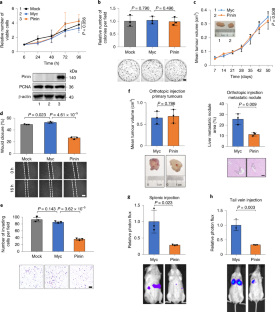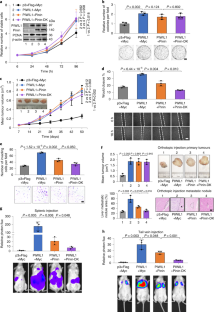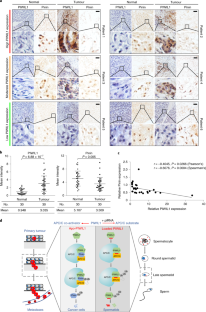 Data availability
The RNA sequencing data supporting the findings of this study have been deposited in the GEO repository under accession code GSE141340. The MS data have been deposited in ProteomeXchange with the primary accession code PXD017452. The human cancer data were derived from the TCGA Research Network at http://cancergenome.nih.gov/. The dataset derived from this resource that supports the findings of this study can be downloaded from BROAD (http://firebrowse.org/viewGene.html?gene=piwil1). All other data supporting the findings of this study are available from the corresponding authors upon reasonable request.
References
1.

Juliano, C., Wang, J. & Lin, H. Uniting germline and stem cells: the function of Piwi proteins and the piRNA pathway in diverse organisms. Annu. Rev. Genet. 45, 447–469 (2011).

2.

Cox, D. N. et al. A novel class of evolutionarily conserved genes defined by piwi are essential for stem cell self-renewal. Genes Dev. 12, 3715–3727 (1998).

3.

Harris, A. N. & Macdonald, P. M. aubergine encodes a Drosophila polar granule component required for pole cell formation and related to eIF2C. Development 128, 2823–2832 (2001).

4.

Deng, W. & Lin, H. miwi, a murine homolog of piwi, encodes a cytoplasmic protein essential for spermatogenesis. Dev. Cell 2, 819–830 (2002).

5.

Kuramochi-Miyagawa, S. et al. Mili, a mammalian member of piwi family gene, is essential for spermatogenesis. Development 131, 839–849 (2004).

6.

Carmell, M. A. et al. MIWI2 is essential for spermatogenesis and repression of transposons in the mouse male germline. Dev. Cell 12, 503–514 (2007).

7.

Batista, P. J. et al. PRG-1 and 21U-RNAs interact to form the piRNA complex required for fertility in C. elegans. Mol. Cell 31, 67–78 (2008).

8.

Houwing, S., Berezikov, E. & Ketting, R. F. Zili is required for germ cell differentiation and meiosis in zebrafish. EMBO J. 27, 2702–2711 (2008).

9.

Aravin, A. et al. A novel class of small RNAs bind to MILI protein in mouse testes. Nature 442, 203–207 (2006).

10.

Girard, A., Sachidanandam, R., Hannon, G. J. & Carmell, M. A. A germline-specific class of small RNAs binds mammalian Piwi proteins. Nature 442, 199–202 (2006).

11.

Grivna, S. T., Beyret, E., Wang, Z. & Lin, H. A novel class of small RNAs in mouse spermatogenic cells. Genes Dev. 20, 1709–1714 (2006).

12.

Lau, N. C. et al. Characterization of the piRNA complex from rat testes. Science 313, 363–367 (2006).

13.

Siomi, M. C., Sato, K., Pezic, D. & Aravin, A. A. PIWI-interacting small RNAs: the vanguard of genome defence. Nat. Rev. Mol. Cell Biol. 12, 246–258 (2011).

14.

Iwasaki, Y. W., Siomi, M. C. & Siomi, H. PIWI-interacting RNA: its biogenesis and functions. Annu. Rev. Biochem. 84, 405–433 (2015).

15.

Czech, B. & Hannon, G. J. One loop to rule them all: the ping-pong cycle and piRNA-guided silencing. Trends Biochem. Sci. 41, 324–337 (2016).

16.

Ozata, D. M., Gainetdinov, I., Zoch, A., O'Carroll, D. & Zamore, P. D. PIWI-interacting RNAs: small RNAs with big functions. Nat. Rev. Genet. 20, 89–108 (2019).

17.

Gou, L. T. et al. Pachytene piRNAs instruct massive mRNA elimination during late spermiogenesis. Cell Res. 24, 680–700 (2014).

18.

Watanabe, T. & Lin, H. Posttranscriptional regulation of gene expression by Piwi proteins and piRNAs. Mol. Cell 56, 18–27 (2014).

19.

Zhang, P. et al. MIWI and piRNA-mediated cleavage of messenger RNAs in mouse testes. Cell Res. 25, 193–207 (2015).

20.

Goh, W. S. et al. piRNA-directed cleavage of meiotic transcripts regulates spermatogenesis. Genes Dev. 29, 1032–1044 (2015).

21.

Barckmann, B. et al. Aubergine iCLIP reveals piRNA-dependent decay of mRNAs involved in germ cell development in the early embryo. Cell Rep. 12, 1205–1216 (2015).

22.

Vourekas, A., Alexiou, P., Vrettos, N., Maragkakis, M. & Mourelatos, Z. Sequence-dependent but not sequence-specific piRNA adhesion traps mRNAs to the germ plasm. Nature 531, 390–394 (2016).

23.

Watanabe, T., Cheng, E. C., Zhong, M. & Lin, H. Retrotransposons and pseudogenes regulate mRNAs and lncRNAs via the piRNA pathway in the germline. Genome Res. 25, 368–380 (2015).

24.

Shen, E. Z. et al. Identification of piRNA binding sites reveals the Argonaute regulatory landscape of the C. elegans germline. Cell 172, 937–951 (2018).

25.

Zhang, D. et al. The piRNA targeting rules and the resistance to piRNA silencing in endogenous genes. Science 359, 587–592 (2018).

26.

Rojas-Rios, P. & Simonelig, M. piRNAs and PIWI proteins: regulators of gene expression in development and stem cells. Development 145, dev161786 (2018).

27.

Dai, P. et al. A translation-activating function of MIWI/piRNA during mouse spermiogenesis. Cell 179, 1566–1581 (2019).

28.

Dai, P., Wang, X. & Liu, M. F. A dual role of the PIWI/piRNA machinery in regulating mRNAs during mouse spermiogenesis. Sci. China Life Sci. https://doi.org/10.1007/s11427-020-1632-5 (2020).

29.

Sasaki, T., Shiohama, A., Minoshima, S. & Shimizu, N. Identification of eight members of the Argonaute family in the human genome. Genomics 82, 323–330 (2003).

30.

Suzuki, R., Honda, S. & Kirino, Y. PIWI expression and function in cancer. Front. Genet. 3, 204 (2012).

31.

Litwin, M., Szczepanska-Buda, A., Piotrowska, A., Dziegiel, P. & Witkiewicz, W. The meaning of PIWI proteins in cancer development. Oncol. Lett. 13, 3354–3362 (2017).

32.

Simpson, A. J., Caballero, O. L., Jungbluth, A., Chen, Y. T. & Old, L. J. Cancer/testis antigens, gametogenesis and cancer. Nat. Rev. Cancer 5, 615–625 (2005).

33.

Siddiqi, S. & Matushansky, I. Piwis and piwi-interacting RNAs in the epigenetics of cancer. J. Cell. Biochem. 113, 373–380 (2012).

34.

Ng, K. W. et al. Piwi-interacting RNAs in cancer: emerging functions and clinical utility. Mol. Cancer 15, 5 (2016).

35.

Zhao, S. et al. piRNA-triggered MIWI ubiquitination and removal by APC/C in late spermatogenesis. Dev. Cell 24, 13–25 (2013).

36.

Peters, J. M. The anaphase promoting complex/cyclosome: a machine designed to destroy. Nat. Rev. Mol. Cell Biol. 7, 644–656 (2006).

37.

Pines, J. Cubism and the cell cycle: the many faces of the APC/C. Nat. Rev. Mol. Cell Biol. 12, 427–438 (2011).

38.

Chang, L. & Barford, D. Insights into the anaphase-promoting complex: a molecular machine that regulates mitosis. Curr. Opin. Struct. Biol. 29, 1–9 (2014).

39.

Zhang, J., Wan, L., Dai, X., Sun, Y. & Wei, W. Functional characterization of anaphase promoting complex/cyclosome (APC/C) E3 ubiquitin ligases in tumorigenesis. Biochim. Biophys. Acta 1845, 277–293 (2014).

40.

Ouyang, P. & Sugrue, S. P. Identification of an epithelial protein related to the desmosome and intermediate filament network. J. Cell Biol. 118, 1477–1488 (1992).

41.

Ouyang, P. & Sugrue, S. P. Characterization of pinin, a novel protein associated with the desmosome-intermediate filament complex. J. Cell Biol. 135, 1027–1042 (1996).

42.

Yu, B. et al. Methylation as a crucial step in plant microRNA biogenesis. Science 307, 932–935 (2005).

43.

Gou, L. T. et al. Ubiquitination-deficient mutations in human Piwi cause male infertility by impairing histone-to-protamine exchange during spermiogenesis. Cell 169, 1090–1104 (2017).

44.

Hasuwa, H., Ishino, K. & Siomi, H. Human PIWI (HIWI) is an azoospermia factor. Sci. China Life Sci. 61, 348–350 (2018).

45.

Passmore, L. A. et al. Doc1 mediates the activity of the anaphase-promoting complex by contributing to substrate recognition. EMBO J. 22, 786–796 (2003).

46.

Carroll, C. W., Enquist-Newman, M. & Morgan, D. O. The APC subunit Doc1 promotes recognition of the substrate destruction box. Curr. Biol. 15, 11–18 (2005).

47.

Glotzer, M., Murray, A. W. & Kirschner, M. W. Cyclin is degraded by the ubiquitin pathway. Nature 349, 132–138 (1991).

48.

Schwab, M., Neutzner, M., Möcker, D. & Seufert, W. Yeast Hct1 recognizes the mitotic cyclin Clb2 and other substrates of the ubiquitin ligase APC. EMBO J. 20, 5165–5175 (2001).

49.

Pfleger, C. M. & Kirschner, M. W. The KEN box: an APC recognition signal distinct from the D box targeted by Cdh1. Genes Dev. 14, 655–665 (2000).

50.

Dongre, A. & Weinberg, R. A. New insights into the mechanisms of epithelial–mesenchymal transition and implications for cancer. Nat. Rev. Mol. Cell Biol. 20, 69–84 (2019).

51.

Shi, Y., Ouyang, P. & Sugrue, S. P. Characterization of the gene encoding pinin/DRS/memA and evidence for its potential tumor suppressor function. Oncogene 19, 289–297 (2000).

52.

Shi, Y., Tabesh, M. & Sugrue, S. P. Role of cell adhesion-associated protein, pinin (DRS/memA), in corneal epithelial migration. Investig. Ophthalmol. Vis. Sci. 41, 1337–1345 (2000).

53.

Joo, J. H. et al. Reduction of Pnn by RNAi induces loss of cell–cell adhesion between human corneal epithelial cells. Mol. Vis. 11, 133–142 (2005).

54.

Joo, J. H. et al. Pinin modulates expression of an intestinal homeobox gene, Cdx2, and plays an essential role for small intestinal morphogenesis. Dev. Biol. 345, 191–203 (2010).

55.

Genzor, P., Cordts, S. C., Bokil, N. V. & Haase, A. D. Aberrant expression of select piRNA-pathway genes does not reactivate piRNA silencing in cancer cells. Proc. Natl Acad. Sci. USA 116, 11111–11112 (2019).

56.

Manchado, E. et al. Targeting mitotic exit leads to tumor regression in vivo: modulation by Cdk1, Mastl, and the PP2A/B55alpha, delta phosphatase. Cancer Cell 18, 641–654 (2010).

57.

Wan, L. et al. The APC/C E3 ligase complex activator FZR1 restricts BRAF oncogenic function. Cancer Discov. 7, 424–441 (2017).

58.

Yuan, P. et al. KRAS/NF-kappaB/YY1/miR-489 signaling axis controls pancreatic cancer metastasis. Cancer Res. 77, 100–111 (2017).

59.

Yang, Q. et al. Single-cell CAS-seq reveals a class of short PIWI-interacting RNAs in human oocytes. Nat Commun. 10, 3389 (2019).

60.

Jiang, S. et al. MicroRNA-155 functions as an OncomiR in breast cancer by targeting the suppressor of cytokine signaling 1 gene. Cancer Res. 70, 3119–3127 (2010).

61.

Jiang, S. et al. A novel miR-155/miR-143 cascade controls glycolysis by regulating hexokinase 2 in breast cancer cells. EMBO J. 31, 1985–1998 (2012).

62.

Zhang, L. F. et al. Suppression of miR-199a maturation by HuR is crucial for hypoxia-induced glycolytic switch in hepatocellular carcinoma. EMBO J. 34, 2671–2685 (2015).

63.

Hudson, S. V. et al. Targeted noninvasive imaging of EGFR-expressing orthotopic pancreatic cancer using multispectral optoacoustic tomography. Cancer Res. 74, 6271–6279 (2014).

64.

Kraft, C., Gmachl, M. & Peters, J. M. Methods to measure ubiquitin-dependent proteolysis mediated by the anaphase-promoting complex. Methods 38, 39–51 (2006).

65.

Williamson, A., Jin, L. & Rape, M. Preparation of synchronized human cell extracts to study ubiquitination and degradation. Methods Mol. Biol. 545, 301–312 (2009).

66.

Zhong, B. et al. Negative regulation of IL-17-mediated signaling and inflammation by the ubiquitin-specific protease USP25. Nat. Immunol. 13, 1110–1117 (2012).

67.

Wisniewski, J. R., Zougman, A., Nagaraj, N. & Mann, M. Universal sample preparation method for proteome analysis. Nat. Methods 6, 359–362 (2009).
Acknowledgements
We thank X.-D. Fu from the University of California, San Diego, Y. Zheng from UT Southwestern and members of the M.-F.L. Lab for helpful comments. We thank L. Zhan from the Institute of Nutrition and Health, SIBS, CAS, Y. Yu from Tianjin Medical University, and Q. Shi from the University of Science and Technology of China for experimental assistance. This work was supported by grants from the National Key R&D Program of China (2017YFA0504400), the National Natural Science Foundation of China (91940305, 31830109, 31821004, 31961133022 and 91640201), the Chinese Academy of Sciences ("Strategic Priority Research Program" grant XDB19010203) and the Shanghai Municipal Science and Technology Major Project (17JC1420100, 19JC1410200 and 2017SHZDZX01).
Ethics declarations
Competing interests
The authors declare no competing interests.
Additional information
Publisher's note Springer Nature remains neutral with regard to jurisdictional claims in published maps and institutional affiliations.
Supplementary information
Table 1: The list of proteins upregulated in PIWIL1 siRNA-transfected BxPC-3 cells relative to Scr siR control. Table 2: Relevance of PIWIL1 and Pinin expression with clinicopathological features in PDAC. Table 3: The sequences of chemically synthesized DNA and RNA oligonucleotides. Table 4: The list of antibodies and reagents.
About this article
Cite this article
Li, F., Yuan, P., Rao, M. et al. piRNA-independent function of PIWIL1 as a co-activator for anaphase promoting complex/cyclosome to drive pancreatic cancer metastasis. Nat Cell Biol 22, 425–438 (2020). https://doi.org/10.1038/s41556-020-0486-z
Received:

Accepted:

Published:

Issue Date:
Further reading
Nature Cell Biology (2020)