Abstract
The process of metastasis is complex1. In breast cancer, there are frequently long time intervals between cells leaving the primary tumour and growth of overt metastases2,3. Reasons for disease indolence and subsequent transition back to aggressive growth include interactions with myeloid and fibroblastic cells in the tumour microenvironment and ongoing immune surveillance4,5,6. However, the signals that cause actively growing cells to enter an indolent state, thereby enabling them to survive for extended periods of time, are not well understood. Here we reveal how the behaviour of indolent breast cancer cells in the lung is determined by their interactions with alveolar epithelial cells, in particular alveolar type 1 cells. This promotes the formation of fibronectin fibrils by indolent cells that drive integrin-dependent pro-survival signals. Combined in vivo RNA sequencing and drop-out screening identified secreted frizzled-related protein 2 (SFRP2) as a key mediator of this interaction. Sfrp2 is induced in breast cancer cells by signals from lung epithelial cells and promotes fibronectin fibril formation and survival, whereas blockade of Sfrp2 expression reduces the burden of indolent disease.
This is a preview of subscription content
Access options
Subscribe to Journal
Get full journal access for 1 year
$99.00
only $8.25 per issue
All prices are NET prices.
VAT will be added later in the checkout.
Tax calculation will be finalised during checkout.
Rent or Buy article
Get time limited or full article access on ReadCube.
from$8.99
All prices are NET prices.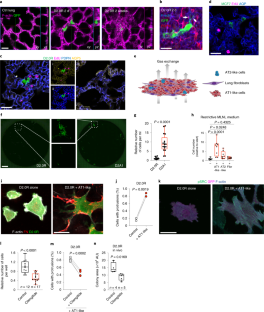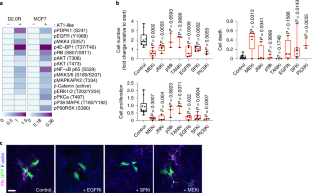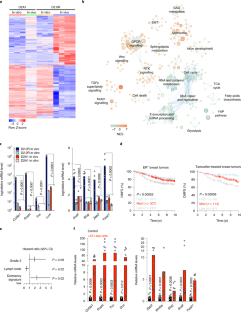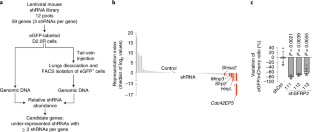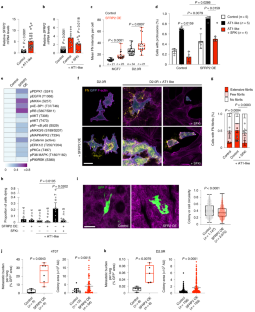 Data availability
RNAseq data have been deposited at the Gene Expression Omnibus with accession number GSE120628. Other data that support the findings of this study are available upon reasonable request from the corresponding authors.
References
1.

Lambert, A. W., Pattabiraman, D. R. & Weinberg, R. A. Emerging biological principles of metastasis. Cell 168, 670–691 (2017).

2.

Hedley, B. D. & Chambers, A. F. Tumor dormancy and metastasis. Adv. Cancer Res. 102, 67–101 (2009).

3.

Sosa, M. S., Bragado, P. & Aguirre-Ghiso, J. A. Mechanisms of disseminated cancer cell dormancy: an awakening field. Nat. Rev. Cancer 14, 611–622 (2014).

4.

Obenauf, A. C. & Massagué, J. Surviving at a distance: organ-specific metastasis.Trends Cancer 1, 76–91 (2015).

5.

Malladi, S. et al. Metastatic latency and immune evasion through autocrine inhibition of WNT. Cell 165, 45–60 (2016).

6.

Avgustinova, A. et al. Tumour cell-derived Wnt7a recruits and activates fibroblasts to promote tumour aggressiveness. Nat. Commun. 7, 10305 (2016).

7.

Naumov, G. N. et al. Persistence of solitary mammary carcinoma cells in a secondary site: a possible contributor to dormancy. Cancer Res. 62, 2162–2168 (2002).

8.

Barkan, D. et al. Inhibition of metastatic outgrowth from single dormant tumor cells by targeting the cytoskeleton. Cancer Res. 68, 6241–6250 (2008).

9.

Sowder, M. E. & Johnson, R. W. Enrichment and detection of bone disseminated tumor cells in models of low tumor burden. Sci. Rep. 8, 14299 (2018).

10.

Shibue, T., Brooks, M. W. & Weinberg, R. A. An integrin-linked machinery of cytoskeletal regulation that enables experimental tumor initiation and metastatic colonization. Cancer Cell 24, 481–498 (2013).

11.

Shibue, T., Brooks, M. W., Inan, M. F., Reinhardt, F. & Weinberg, R. A. The outgrowth of micrometastases is enabled by the formation of filopodium-like protrusions. Cancer Discov. 2, 706–721 (2012).

12.

Ghajar, C. M. et al. The perivascular niche regulates breast tumour dormancy. Nat. Cell Biol. 15, 807–817 (2013).

13.

van den Bogaard, E. H., Dailey, L. A., Thorley, A. J., Tetley, T. D. & Forbes, B. Inflammatory response and barrier properties of a new alveolar type 1-like cell line (TT1). Pharm. Res. 26, 1172–1180 (2009).

14.

Bohinski, R. J., Huffman, J. A., Whitsett, J. A. & Lattier, D. L. Cis-active elements controlling lung cell-specific expression of human pulmonary surfactant protein B gene. J. Biol. Chem. 268, 11160–11166 (1993).

15.

Kemp, S. J. et al. Immortalization of human alveolar epithelial cells to investigate nanoparticle uptake. Am. J. Respir. Cell Mol. Biol. 39, 591–597 (2008).

16.

Seguin, L., Desgrosellier, J. S., Weis, S. M. & Cheresh, D. A. Integrins and cancer: regulators of cancer stemness, metastasis, and drug resistance. Trends Cell Biol. 25, 234–240 (2015).

17.

Qin, X. et al. Single-cell signalling analysis of heterocellular organoids. Preprint at bioRxiv https://doi.org/10.1101/659896 (2019).

18.

El Touny, L. H. et al. Combined SFK/MEK inhibition prevents metastatic outgrowth of dormant tumor cells. J. Clin. Invest. 124, 156–168 (2014).

19.

Bragado, P. et al. TGF-β2 dictates disseminated tumour cell fate in target organs through TGF-β-RIII and p38α/β signalling. Nat. Cell Biol. 15, 1351–1361 (2013).

20.

Gawrzak, S. et al. MSK1 regulates luminal cell differentiation and metastatic dormancy in ER+ breast cancer. Nat, Cell Biol. 20, 211–221 (2018).

21.

Gao, H. et al. The BMP inhibitor Coco reactivates breast cancer cells at lung metastatic sites. Cell 150, 764–779 (2012).

22.

Kobayashi, A. et al. Bone morphogenetic protein 7 in dormancy and metastasis of prostate cancer stem-like cells in bone. J. Exp. Med. 208, 2641–2655 (2011).

23.

Cackowski, F. C. et al. Mer tyrosine kinase regulates disseminated prostate cancer cellular dormancy. J. Cell Biochem. 118, 891–902 (2017).

24.

Fluegen, G. et al. Phenotypic heterogeneity of disseminated tumour cells is preset by primary tumour hypoxic microenvironments. Nat. Cell Biol. 19, 120–132 (2017).

25.

Sosa, M. S. et al. NR2F1 controls tumour cell dormancy via SOX9- and RARβ-driven quiescence programmes. Nat. Commun. 6, 6170 (2015).

26.

Malanchi, I. et al. Interactions between cancer stem cells and their niche govern metastatic colonization. Nature 481, 85–89 (2011).

27.

Oskarsson, T. et al. Breast cancer cells produce tenascin C as a metastatic niche component to colonize the lungs. Nat. Med. 17, 867–874 (2011).

28.

Zhang, X. H., Giuliano, M., Trivedi, M. V., Schiff, R. & Osborne, C. K. Metastasis dormancy in estrogen receptor-positive breast cancer. Clin. Cancer Res. 19, 6389–6397 (2013).

29.

Kim, R. S. et al. Dormancy signatures and metastasis in estrogen receptor positive and negative breast cancer. PLoS One 7, e35569 (2012).

30.

Cheng, Q. et al. A signature of epithelial-mesenchymal plasticity and stromal activation in primary tumor modulates late recurrence in breast cancer independent of disease subtype. Breast Cancer Res. 16, 407 (2014).

31.

Lee, J. L., Lin, C. T., Chueh, L. L. & Chang, C. J. Autocrine/paracrine secreted Frizzled-related protein 2 induces cellular resistance to apoptosis: a possible mechanism of mammary tumorigenesis. J. Biol. Chem. 279, 14602–14609 (2004).

32.

Bovolenta, P., Esteve, P., Ruiz, J. M., Cisneros, E. & Lopez-Rios, J. Beyond Wnt inhibition: new functions of secreted Frizzled-related proteins in development and disease. J. Cell. Sci. 121, 737–746 (2008).

33.

Kaur, A. et al. sFRP2 in the aged microenvironment drives melanoma metastasis and therapy resistance. Nature 532, 250–254 (2016).

34.

Ombrato, L. et al. Metastatic-niche labelling reveals parenchymal cells with stem features. Nature 572, 603–608 (2019).

35.

Liberzon, A. et al. Molecular signatures database (MSigDB) 3.0. Bioinformatics 27, 1739–1740 (2011).

36.

Merico, D., Isserlin, R., Stueker, O., Emili, A. & Bader, G. D. Enrichment map: a network-based method for gene-set enrichment visualization and interpretation. PLoS One 5, e13984 (2010).

37.

Li, H. & Durbin, R. Fast and accurate long-read alignment with Burrows–Wheeler transform. Bioinformatics 26, 589–595 (2010).

38.

Behbehani, G. K., Bendall, S. C., Clutter, M. R., Fantl, W. J. & Nolan, G. P. Single-cell mass cytometry adapted to measurements of the cell cycle. Cytometry A 81, 552–566 (2012).

39.

Zunder, E. R. et al. Palladium-based mass tag cell barcoding with a doublet-filtering scheme and single-cell deconvolution algorithm. Nat. Protoc. 10, 316–333 (2015).

40.

Finck, R. et al. Normalization of mass cytometry data with bead standards. Cytometry A 83, 483–494 (2013).

41.

van Dijk, D. et al. Recovering gene interactions from single-cell data using data diffusion. Cell 174, 716–729 (2018). e727.

42.

Pocaterra, A. et al. F-actin dynamics regulates mammalian organ growth and cell fate maintenance. J. Hepatol. 71, 130–142 (2019).
Acknowledgements
We thank J. Downward, D. Barkan and R. Gomis for gifts of cell lines; I. Malanchi, S. Piccolo, S. Dupont and G. Martello for thoughtful discussion and reagents; Flow Cytometry, Experimental Histopathology, Bioinformatics and Biostatistics (in particular S. Horswell), Biological Research, Cell Services and Advanced Sequencing facilities at the Crick Institute for exceptional scientific and technical support throughout the project; and C. Mein for support and advice with RNA sequencing. E.S. and M.M. were funded by the Francis Crick Institute, which receives its core funding from Cancer Research UK (FC001144), the UK Medical Research Council (FC001144) and the Wellcome Trust (FC001144). M.M. also received funding from Marie Curie Actions—Intra-European Fellowships no. 625496 and BIRD Seed grant from Department of Molecular Medicine (University of Padua). C.J.T. and J.S. are supported by a Cancer Research UK Career Development Fellowship awarded to C.J.T.
Ethics declarations
Competing interests
The authors declare no competing interests.
Additional information
Publisher's note Springer Nature remains neutral with regard to jurisdictional claims in published maps and institutional affiliations.
Supplementary information
Supplementary Tables 1–5: Gene signatures, shRNA library sequences, oligos and antibodies used in the manuscript.
About this article
Cite this article
Montagner, M., Bhome, R., Hooper, S. et al. Crosstalk with lung epithelial cells regulates Sfrp2-mediated latency in breast cancer dissemination. Nat Cell Biol 22, 289–296 (2020). https://doi.org/10.1038/s41556-020-0474-3
Received:

Accepted:

Published:

Issue Date: