Abstract
During endoplasmic-reticulum-associated protein degradation (ERAD), misfolded proteins are polyubiquitinated, extracted from the ER membrane and degraded by the proteasome1,2,3,4. In a process called retrotranslocation, misfolded luminal proteins first need to traverse the ER membrane before ubiquitination can occur in the cytosol. It was suggested that the membrane-embedded ubiquitin ligase Hrd1 forms a retrotranslocation pore regulated by cycles of auto- and deubiquitination5,6,7,8. However, the mechanism by which auto-ubiquitination affects Hrd1 and allows polypeptides to cross the membrane and whether Hrd1 forms a membrane-spanning pore remained unknown. Here, using purified Hrd1 incorporated into different model membranes, we show that Hrd1 auto-ubiquitination leads to the opening of a pore. Substrate binding increases the pore size and its activity, whereas deubiquitination closes the pore and renders it unresponsive to substrate. We identify two binding sites for misfolded proteins in Hrd1, a low-affinity luminal site and a high-affinity cytoplasmic site formed following auto-ubiquitination of specific lysine residues in Hrd1's RING domain. We propose that the affinity difference between the luminal and cytoplasmic binding sites provides the initial driving force for substrate movement through Hrd1.
Access options
Subscribe to Journal
Get full journal access for 1 year
$225.00
only $18.75 per issue
All prices are NET prices.
VAT will be added later in the checkout.
Rent or Buy article
Get time limited or full article access on ReadCube.
from$8.99
All prices are NET prices.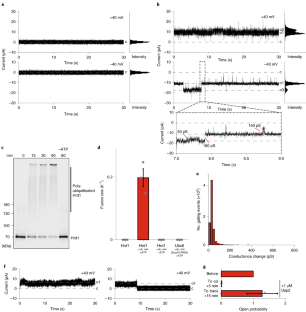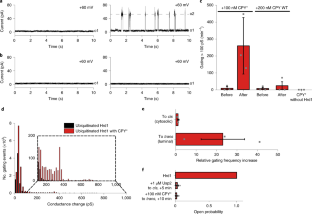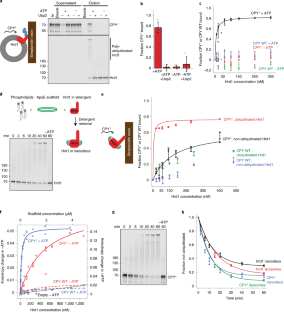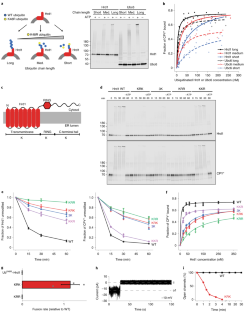 References
1.

Christianson, J. C. & Ye, Y. Cleaning up in the endoplasmic reticulum: ubiquitin in charge. Nat. Struct. Mol. Biol. 21, 325–335 (2014).

2.

Ruggiano, A., Foresti, O. & Carvalho, P. Quality control: ER-associated degradation: protein quality control and beyond. J. Cell Biol. 204, 869–879 (2014).

3.

Mehrtash, A. B. & Hochstrasser, M. Ubiquitin-dependent protein degradation at the endoplasmic reticulum and nuclear envelope. Semin. Cell Dev. Biol. 93, 111–124 (2019).

4.

Wu, X. & Rapoport, T. A. Mechanistic insights into ER-associated protein degradation. Curr. Opin. Cell Biol. 53, 22–28 (2018).

5.

Carvalho, P., Stanley, A. M. & Rapoport, T. A. Retrotranslocation of a misfolded luminal ER protein by the ubiquitin-ligase Hrd1p. Cell 143, 579–591 (2010).

6.

Stein, A., Ruggiano, A., Carvalho, P. & Rapoport, T. A. Key steps in ERAD of luminal ER proteins reconstituted with purified components. Cell 158, 1375–1388 (2014).

7.

Baldridge, R. D. & Rapoport, T. A. Autoubiquitination of the Hrd1 ligase triggers protein retrotranslocation in ERAD. Cell 166, 394–407 (2016).

8.

Peterson, B. G., Glaser, M. L., Rapoport, T. A. & Baldridge, R. D. Cycles of autoubiquitination and deubiquitination regulate the ERAD ubiquitin ligase Hrd1. eLife 8, e50903 (2019).

9.

Hampton, R. Y., Gardner, R. G. & Rine, J. Role of 26S proteasome and HRD genes in the degradation of 3-hydroxy-3-methylglutaryl-CoA reductase, an integral endoplasmic reticulum membrane protein. Mol. Biol. Cell 7, 2029–2044 (1996).

10.

Knop, M., Finger, A., Braun, T., Hellmuth, K. & Wolf, D. H. Der1, a novel protein specifically required for endoplasmic reticulum degradation in yeast. EMBO J. 15, 753–763 (1996).

11.

Bordallo, J., Plemper, R. K., Finger, A. & Wolf, D. H. Der3p/Hrd1p is required for endoplasmic reticulum-associated degradation of misfolded lumenal and integral membrane proteins. Mol. Biol. Cell 9, 209–222 (1998).

12.

Bays, N. W., Gardner, R. G., Seelig, L. P., Joazeiro, C. A. & Hampton, R. Y. Hrd1p/Der3p is a membrane-anchored ubiquitin ligase required for ER-associated degradation. Nat. Cell Biol. 3, 24–29 (2001).

13.

Gauss, R., Jarosch, E., Sommer, T. & Hirsch, C. A complex of Yos9p and the HRD ligase integrates endoplasmic reticulum quality control into the degradation machinery. Nat. Cell Biol. 8, 849–854 (2006).

14.

Carvalho, P., Goder, V. & Rapoport, T. A. Distinct ubiquitin-ligase complexes define convergent pathways for the degradation of ER proteins. Cell 126, 361–373 (2006).

15.

Kanehara, K., Xie, W. & Ng, D. T. Modularity of the Hrd1 ERAD complex underlies its diverse client range. J. Cell Biol. 188, 707–716 (2010).

16.

Mehnert, M., Sommer, T. & Jarosch, E. Der1 promotes movement of misfolded proteins through the endoplasmic reticulum membrane. Nat. Cell Biol. 16, 77–86 (2014).

17.

Hiller, M. M., Finger, A., Schweiger, M. & Wolf, D. H. ER degradation of a misfolded luminal protein by the cytosolic ubiquitin-proteasome pathway. Science 273, 1725–1728 (1996).

18.

Biederer, T., Volkwein, C. & Sommer, T. Role of Cue1p in ubiquitination and degradation at the ER surface. Science 278, 1806–1809 (1997).

19.

Wilhovsky, S., Gardner, R. & Hampton, R. HRD gene dependence of endoplasmic reticulum-associated degradation. Mol. Biol. Cell 11, 1697–1708 (2000).

20.

Twomey, E. C. et al. Substrate processing by the Cdc48 ATPase complex is initiated by ubiquitin unfolding. Science 365, eaax1033 (2019).

21.

Bays, N. W., Wilhovsky, S. K., Goradia, A., Hodgkiss-Harlow, K. & Hampton, R. Y. HRD4/NPL4 is required for the proteasomal processing of ubiquitinated ER proteins. Mol. Biol. Cell 12, 4114–4128 (2001).

22.

Neuber, O., Jarosch, E., Volkwein, C., Walter, J. & Sommer, T. Ubx2 links the Cdc48 complex to ER-associated protein degradation. Nat. Cell Biol. 7, 993–998 (2005).

23.

Jarosch, E. et al. Protein dislocation from the ER requires polyubiquitination and the AAA-ATPase Cdc48. Nat. Cell Biol. 4, 134–139 (2002).

24.

Ye, Y., Meyer, H. H. & Rapoport, T. A. The AAA ATPase Cdc48/p97 and its partners transport proteins from the ER into the cytosol. Nature 414, 652–656 (2001).

25.

Schuberth, C. & Buchberger, A. Membrane-bound Ubx2 recruits Cdc48 to ubiquitin ligases and their substrates to ensure efficient ER-associated protein degradation. Nat. Cell Biol. 7, 999–1006 (2005).

26.

Plemper, R. K. et al. Genetic interactions of Hrd3p and Der3p/Hrd1p with Sec61p suggest a retro-translocation complex mediating protein transport for ER degradation. J. Cell Sci. 112, 4123–4134 (1999).

27.

Finger, A., Knop, M. & Wolf, D. H. Analysis of two mutated vacuolar proteins reveals a degradation pathway in the endoplasmic reticulum or a related compartment of yeast. Eur. J. Biochem. 218, 565–574 (1993).

28.

Schoebel, S. et al. Cryo-EM structure of the protein-conducting ERAD channel Hrd1 in complex with Hrd3. Nature 548, 352–355 (2017).

29.

Meinecke, M. et al. Tim50 maintains the permeability barrier of the mitochondrial inner membrane. Science 312, 1523–1526 (2006).

30.

Saparov, S. M. et al. Determining the conductance of the SecY protein translocation channel for small molecules. Mol. Cell 26, 501–509 (2007).

31.

Truscott, K. N. et al. A presequence- and voltage-sensitive channel of the mitochondrial preprotein translocase formed by Tim23. Nat. Struct. Biol. 8, 1074–1082 (2001).

32.

Hospenthal, M. K., Mevissen, T. E. T. & Komander, D. Deubiquitinase-based analysis of ubiquitin chain architecture using Ubiquitin Chain Restriction (UbiCRest). Nat. Protoc. 10, 349–361 (2015).

33.

Meinecke, M. et al. The peroxisomal importomer constitutes a large and highly dynamic pore. Nat. Cell Biol. 12, 273–277 (2010).

34.

Wirth, A. et al. The Sec61p complex is a dynamic precursor activated channel. Mol. Cell 12, 261–268 (2003).

35.

Spear, E. D. & Ng, D. T. Single, context-specific glycans can target misfolded glycoproteins for ER-associated degradation. J. Cell Biol. 169, 73–82 (2005).

36.

Vashistha, N., Neal, S. E., Singh, A., Carroll, S. M. & Hampton, R. Y. Direct and essential function for Hrd3 in ER-associated degradation. Proc. Natl Acad. Sci. USA 113, 5934–5939 (2016).

37.

Neal, S. et al. The Dfm1 derlin is required for ERAD retrotranslocation of integral membrane proteins. Mol. Cell 69, 306–320 (2018).

38.

Horn, S. C. et al. Usa1 functions as a scaffold of the HRD-ubiquitin ligase. Mol. Cell 36, 782–793 (2009).

39.

Gardner, R. G. et al. Endoplasmic reticulum degradation requires lumen to cytosol signaling. Transmembrane control of Hrd1p by Hrd3p. J. Cell Biol. 151, 69–82 (2000).

40.

Carroll, S. M. & Hampton, R. Y. Usa1p is required for optimal function and regulation of the Hrd1p endoplasmic reticulum-associated degradation ubiquitin ligase. J. Biol. Chem. 285, 5146–5156 (2010).

41.

Popp, M. W. & Ploegh, H. L. Making and breaking peptide bonds: protein engineering using sortase. Angew. Chem. Int. Ed. Engl. 50, 5024–5032 (2011).

42.

Chen, I., Dorr, B. M. & Liu, D. R. A general strategy for the evolution of bond-forming enzymes using yeast display. Proc. Natl Acad. Sci. USA 108, 11399–11404 (2011).

43.

Hernandez, J. M. et al. Membrane fusion intermediates via directional and full assembly of the SNARE complex. Science 336, 1581–1584 (2012).

44.

Bello, O. D., Auclair, S. M., Rothman, J. E. & Krishnakumar, S. S. Using ApoE nanolipoprotein particles to analyze SNARE-induced fusion pores. Langmuir 32, 3015–3023 (2016).

45.

Harsman, A., Bartsch, P., Hemmis, B., Kruger, V. & Wagner, R. Exploring protein import pores of cellular organelles at the single molecule level using the planar lipid bilayer technique. Eur. J. Cell Biol. 90, 721–730 (2011).

46.

Denkert, N. et al. Cation selectivity of the presequence translocase channel Tim23 is crucial for efficient protein import. eLife 6, e28324 (2017).

47.

Reinhold, R. et al. The channel-forming Sym1 protein is transported by the TIM23 complex in a presequence-independent manner. Mol. Cell. Biol. 32, 5009–5021 (2012).

48.

Cohen, F. S., Niles, W. D. & Akabas, M. H. Fusion of phospholipid vesicles with a planar membrane depends on the membrane permeability of the solute used to create the osmotic pressure. J. Gen. Physiol. 93, 201–210 (1989).

49.

Smart, O. S., Breed, J., Smith, G. R. & Sansom, M. S. A novel method for structure-based prediction of ion channel conductance properties. Biophys. J. 72, 1109–1126 (1997).

50.

Hodgkin, A. L. & Katz, B. The effect of sodium ions on the electrical activity of giant axon of the squid. J. Physiol. 108, 37–77 (1949).

51.

Hotz, T. et al. Idealizing ion channel recordings by a jump segmentation multiresolution filter. IEEE Trans. Nanobioscience 12, 376–386 (2013).
Acknowledgements
We thank O. D. Bello and J. E. Rothman for providing the construct for ApoE422K, I. Bickmeyer and N. Nupur for technical assistance and T. Rapoport and R. Jahn for comments on the manuscript. This work was supported by the European Research Council (ERC) under the Horizon2020 research and innovation programme (grant no. 677770) to A.S., by the Deutsche Forschungsgemeinschaft SFB1190, grant nos. P12 (to M.M.) and P15 (to A.S.), and a Boehringer Ingelheim Fonds PhD Fellowship (to V.V.).
Ethics declarations
Competing interests
The authors declare no competing interests.
Additional information
Publisher's note Springer Nature remains neutral with regard to jurisdictional claims in published maps and institutional affiliations.
Supplementary Information
About this article
Cite this article
Vasic, V., Denkert, N., Schmidt, C.C. et al. Hrd1 forms the retrotranslocation pore regulated by auto-ubiquitination and binding of misfolded proteins. Nat Cell Biol 22, 274–281 (2020). https://doi.org/10.1038/s41556-020-0473-4
Received:

Accepted:

Published:

Issue Date: