Abstract
Detection of endogenous signals and precise control of genetic circuits in the natural context are essential to understand biological processes. However, the tools to process endogenous information are limited. Here we developed a generalizable endogenous transcription-gated switch that releases single-guide RNAs in the presence of an endogenous promoter. When the endogenous transcription-gated switch is coupled with the highly sensitive CRISPR-activator-associated reporter we developed, we can reliably detect the activity of endogenous genes, including genes with very low expression (<0.001 relative to Gapdh; quantitative-PCR analysis). Notably, we could also monitor the transcriptional activity of typically long non-coding RNAs expressed at low levels in living cells using this approach. Together, our method provides a powerful platform to sense the activity of endogenous genetic elements underlying cellular functions.
Access options
Subscribe to Journal
Get full journal access for 1 year
$59.00
only $4.92 per issue
All prices are NET prices.
VAT will be added later in the checkout.
Tax calculation will be finalised during checkout.
Rent or Buy article
Get time limited or full article access on ReadCube.
from$8.99
All prices are NET prices.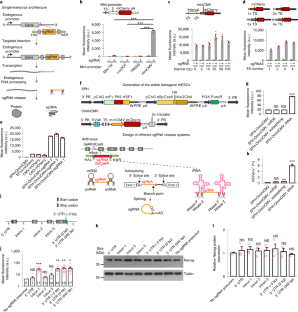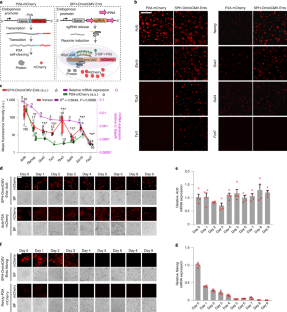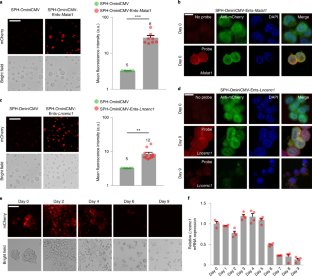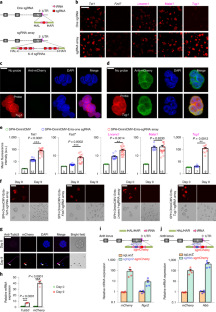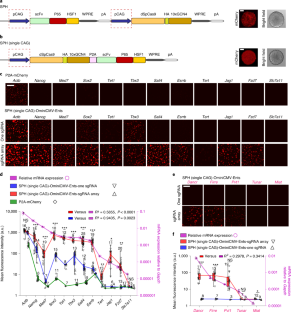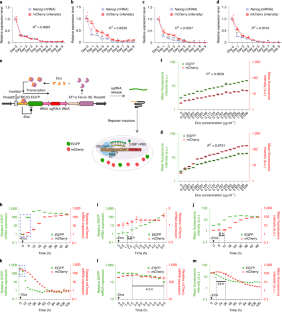 Data availability
The previously published RNA sequencing data that were re-analysed here are available under the accession code GSM2573084. All of the raw data associated with the figures are listed in the Source data (statistical source data). All of the raw images for the western blots can be found in the Source data (unprocessed western blots and gels). The sequences of all vectors are provided in Supplementary Fig. 1. All other materials and data are available on request. Source data are provided with this paper.
References
1.

Green, A. A., Silver, P. A., Collins, J. J. & Yin, P. Toehold switches: de-novo-designed regulators of gene expression. Cell 159, 925–939 (2014).

2.

Liu, Y. et al. Directing cellular information flow via CRISPR signal conductors. Nat. Methods 13, 938–944 (2016).

3.

Green, A. A. et al. Complex cellular logic computation using ribocomputing devices. Nature 548, 117–121 (2017).

4.

Hirosawa, M. et al. Cell-type-specific genome editing with a microRNA-responsive CRISPR–Cas9 switch. Nucleic Acids Res. 45, e118 (2017).

5.

Siu, K. H. & Chen, W. Riboregulated toehold-gated gRNA for programmable CRISPR–Cas9 function. Nat. Chem. Biol. 15, 217–220 (2019).

6.

Wang, X. W. et al. A microRNA-inducible CRISPR–Cas9 platform serves as a microRNA sensor and cell-type-specific genome regulation tool. Nat. Cell Biol. 21, 522–530 (2019).

7.

Miki, K. et al. Efficient detection and purification of cell populations using synthetic microRNA switches. Cell Stem Cell 16, 699–711 (2015).

8.

Hsu, P. D., Lander, E. S. & Zhang, F. Development and applications of CRISPR–Cas9 for genome engineering. Cell 157, 1262–1278 (2014).

9.

Yao, X. et al. Homology-mediated end joining-based targeted integration using CRISPR/Cas9. Cell Res. 27, 801–814 (2017).

10.

Mikuni, T., Nishiyama, J., Sun, Y., Kamasawa, N. & Yasuda, R. High-throughput, high-resolution mapping of protein localization in mammalian brain by in vivo genome editing. Cell 165, 1803–1817 (2016).

11.

Nishiyama, J., Mikuni, T. & Yasuda, R. Virus-mediated genome editing via homology-directed repair in mitotic and postmitotic cells in mammalian brain. Neuron 96, 755–768 (2017).

12.

Guttman, M. & Rinn, J. L. Modular regulatory principles of large non-coding RNAs. Nature 482, 339–346 (2012).

13.

Kretz, M. et al. Control of somatic tissue differentiation by the long non-coding RNA TINCR. Nature 493, 231–235 (2013).

14.

Sauvageau, M. et al. Multiple knockout mouse models reveal lincRNAs are required for life and brain development. eLife 2, e01749 (2013).

15.

Bester, A. C. et al. An integrated genome-wide CRISPRa approach to functionalize lncRNAs in drug resistance. Cell 173, 649–664 (2018).

16.

Cabili, M. N. et al. Localization and abundance analysis of human lncRNAs at single-cell and single-molecule resolution. Genome Biol. 16, 20 (2015).

17.

Chen, L. et al. Tissue expression difference between mRNAs and lncRNAs. Int. J. Mol. Sci. https://doi.org/10.3390/ijms19113416 (2018).

18.

Azlan, A., Obeidat, S. M., Yunus, M. A. & Azzam, G. Systematic identification and characterization of Aedes aegypti long noncoding RNAs (lncRNAs). Sci. Rep. 9, 12147 (2019).

19.

Zhou, H. et al. In vivo simultaneous transcriptional activation of multiple genes in the brain using CRISPR–dCas9-activator transgenic mice. Nat. Neurosci. 21, 440–446 (2018).

20.

Wang, J. et al. Generation of cell-type-specific gene mutations by expressing the sgRNA of the CRISPR system from the RNA polymerase II promoters. Protein Cell 6, 689–692 (2015).

21.

Black, D. L. Mechanisms of alternative pre-messenger RNA splicing. Annu. Rev. Biochem. 72, 291–336 (2003).

22.

Matlin, A. J., Clark, F. & Smith, C. W. Understanding alternative splicing: towards a cellular code. Nat. Rev. Mol. Cell Biol. 6, 386–398 (2005).

23.

Xie, K., Minkenberg, B. & Yang, Y. Boosting CRISPR/Cas9 multiplex editing capability with the endogenous tRNA-processing system. Proc. Natl Acad. Sci. USA 112, 3570–3575 (2015).

24.

Zhang, D. et al. Perfectly matched 20-nucleotide guide RNA sequences enable robust genome editing using high-fidelity SpCas9 nucleases. Genome Biol. 18, 191 (2017).

25.

Nissim, L., Perli, S. D., Fridkin, A., Perez-Pinera, P. & Lu, T. K. Multiplexed and programmable regulation of gene networks with an integrated RNA and CRISPR/Cas toolkit in human cells. Mol. Cell 54, 698–710 (2014).

26.

Ying, Q. L., Stavridis, M., Griffiths, D., Li, M. & Smith, A. Conversion of embryonic stem cells into neuroectodermal precursors in adherent monoculture. Nat. Biotechnol. 21, 183–186 (2003).

27.

Zhang, Z. H., Lu, Y. Y. & Yue, J. Two pore channel 2 differentially modulates neural differentiation of mouse embryonic stem cells. PLoS ONE 8, e66077 (2013).

28.

Wongpaiboonwattana, W. & Stavridis, M. P. Neural differentiation of mouse embryonic stem cells in serum-free monolayer culture. J. Vis. Exp. https://doi.org/10.3791/52823 (2015).

29.

Nair, G., Abranches, E., Guedes, A. M., Henrique, D. & Raj, A. Heterogeneous lineage marker expression in naive embryonic stem cells is mostly due to spontaneous differentiation. Sci. Rep. 5, 13339 (2015).

30.

Neri, F. et al. TET1 is controlled by pluripotency-associated factors in ESCs and downmodulated by PRC2 in differentiated cells and tissues. Nucleic Acids Res. 43, 6814–6826 (2015).

31.

Guo, F. et al. Single-cell multi-omics sequencing of mouse early embryos and embryonic stem cells. Cell Res. 27, 967–988 (2017).

32.

Ramos, A. D. et al. Integration of genome-wide approaches identifies lncRNAs of adult neural stem cells and their progeny in vivo. Cell Stem Cell 12, 616–628 (2013).

33.

Liu, S. J. et al. Single-cell analysis of long non-coding RNAs in the developing human neocortex. Genome Biol. 17, 67 (2016).

34.

Salviano-Silva, A., Lobo-Alves, S. C., Almeida, R. C., Malheiros, D. & Petzl-Erler, M. L. Besides pathology: long non-coding RNA in cell and tissue homeostasis. Noncoding RNA https://doi.org/10.3390/ncrna4010003 (2018).

35.

Sun, Z. et al. The long noncoding RNA Lncenc1 maintains naive states of mouse ESCs by promoting the glycolysis pathway. Stem Cell Rep. 11, 741–755 (2018).

36.

Liu, Y. et al. CRISPR activation screens systematically identify factors that drive neuronal fate and reprogramming. Cell Stem Cell 23, 758–771 (2018).

37.

Chavez, A. et al. Highly efficient Cas9-mediated transcriptional programming. Nat. Methods 12, 326–328 (2015).

38.

Gao, N., Hu, J., Zhou, H. & Yang, H. A protocol to generate SPH-OminiCMV-Ents mESCs. Protoc. Exch. https://doi.org/10.21203/rs.3.pex-1273/v1 (2020).
Acknowledgements
We thank L. Quan, H. Wu and S. Qian from the FACS facility in ION as well as Y. Wang, Y. Zhang, X. Chen, D. Xiang and Q. Hu from the Optical Imaging facility. We thank N. Zhong and Q. Wang for their technical assistance. This work was supported by the Basic Frontier Scientific Research Program of the Chinese Academy of Sciences From 0 to 1 original innovation project (grant no. ZDBS-LY-SM001), R&D Program of China (grant nos 2017YFC1001300 and 2018YFC2000100), CAS Strategic Priority Research Program (grant no. XDB32060000), National Natural Science Foundation of China (grant nos 31871502, 31925016, 91957122 and 31901047), Shanghai Municipal Science and Technology Major Project (grant no. 2018SHZDZX05), Shanghai City Committee of Science and Technology Project (grant nos 18411953700, 18JC1410100 and 19XD1424400) and International Partnership Program of Chinese Academy of Sciences (grant no. 153D31KYSB20170059).
Ethics declarations
Competing interests
The authors declare no competing interests.
Additional information
Peer review information Nature Cell Biology thanks Rory Johnson, Ophir Shalem and the other, anonymous, reviewers for their contribution to the peer review of this work.
Publisher's note Springer Nature remains neutral with regard to jurisdictional claims in published maps and institutional affiliations.
Supplementary information
Supplementary Table 1: sgRNA sequences. Supplementary Table 2: sgRNA sequences for endogenous gene activation. Supplementary Table 3: The sgRNA sequences for inserting the sgRNA precursor. Supplementary Table 4: Primers for identifying the sgRNA insertion. Supplementary Table 5: Relative expression levels. Supplementary Table 6: qPCR primers.
About this article
Cite this article
Gao, N., Hu, J., He, B. et al. Endogenous promoter-driven sgRNA for monitoring the expression of low-abundance transcripts and lncRNAs. Nat Cell Biol 23, 99–108 (2021). https://doi.org/10.1038/s41556-020-00610-9
Received:

Accepted:

Published:

Issue Date:
Further reading
Meira S. Zibitt

,

Corrine Corrina R. Hartford

&

Ashish Lal

RNA Biology (2021)