Abstract
Many germ cells are eliminated during development, long before oogenesis or spermatogenesis. In mouse fetal testes, the majority of germ cell apoptosis coincides with the onset of male differentiation, suggesting coordination of these processes. We studied fetal germ-cell fates and discovered that both apoptosis and differentiation initiate in clonally related clusters. Lineage tracing confirmed that germ cells die as clones independent of intercellular bridges, suggesting that shared intrinsic properties are apoptotic determinants. We identified transcriptional heterogeneity among fetal germ cells that included an apoptosis-susceptible population characterized by failure to differentiate, whereas successful differentiation to prospermatogonia occurred through the expression of epigenetically regulated genes, including LINE1. Our results indicate that the fetal germ-cell fate is based on discrete cell-heritable identities. Elevated DNA methylation in the apoptosis-susceptible subpopulation supports our hypothesis that earlier errors in germ-cell epigenetic reprogramming derail differentiation in cellular progeny, leading to fetal apoptotic selection that ultimately improves the gamete quality.
This is a preview of subscription content
Access options
Subscribe to Nature+
Get immediate online access to the entire Nature family of 50+ journals
Subscribe to Journal
Get full journal access for 1 year
$99.00
only $8.25 per issue
All prices are NET prices.
VAT will be added later in the checkout.
Tax calculation will be finalised during checkout.
Buy article
Get time limited or full article access on ReadCube.
$32.00
All prices are NET prices.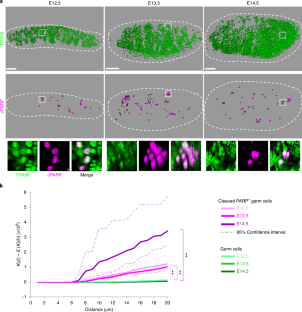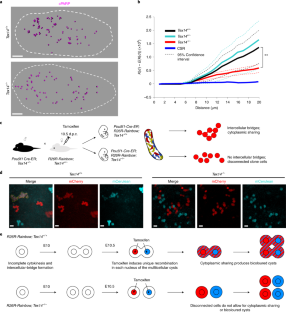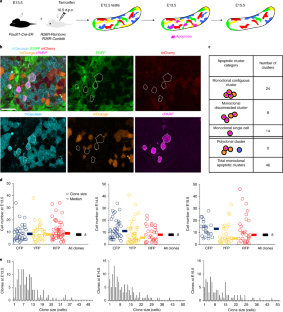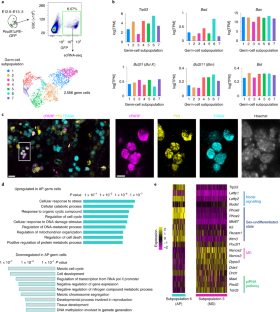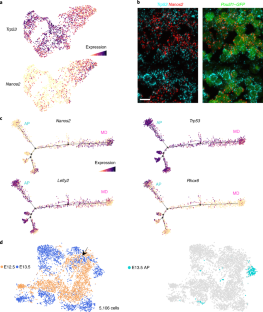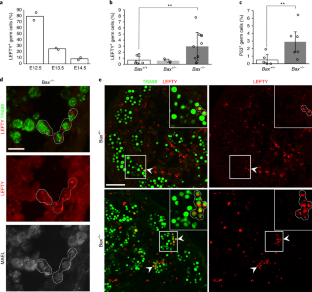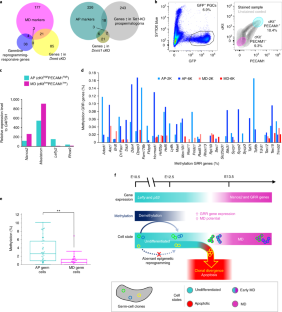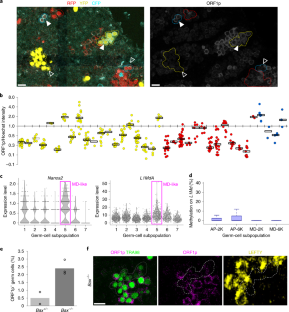 References
Lehtonen, J. & Parker, G. A. Gamete competition, gamete limitation, and the evolution of the two sexes. Mol. Hum. Reprod. 20, 1161–1168 (2014).

Gardner, R. L. & Rossant, J. Investigation of the fate of 4–5 day post-coitum mouse inner cell mass cells by blastocyst injection. J. Embryol. Exp. Morphol. 52, 141–152 (1979).

Anderson, R., Copeland, T. K., Schöler, H., Heasman, J. & Wylie, C. The onset of germ cell migration in the mouse embryo. Mech. Dev. 91, 61–68 (2000).

Cantú, A. V., Altshuler-Keylin, S. & Laird, D. J. Discrete somatic niches coordinate proliferation and migration of primordial germ cells via Wnt signaling. J. Cell. Biol. 214, 215–229 (2016).

Saitou, M., Kagiwada, S. & Kurimoto, K. Epigenetic reprogramming in mouse pre-implantation development and primordial germ cells. Development 139, 15–31 (2012).

Menke, D. B., Koubova, J. & Page, D. C. Sexual differentiation of germ cells in XX mouse gonads occurs in an anterior-to-posterior wave. Dev. Biol. 262, 303–312 (2003).

Ohta, K. et al. Male differentiation of germ cells induced by embryonic age-specific Sertoli cells in mice. Biol. Reprod. 86, 112 (2012).

Aitken, R. J., Findlay, J. K., Hutt, K. J. & Kerr, J. B. Apoptosis in the germ line. Reproduction 141, 139–150 (2011).

Runyan, C. et al. Steel factor controls midline cell death of primordial germ cells and is essential for their normal proliferation and migration. Development 133, 4861–4869 (2006).

Knudson, C. M., Tung, K. S., Tourtellotte, W. G., Brown, G. A. & Korsmeyer, S. J. Bax-deficient mice with lymphoid hyperplasia and male germ cell death. Science 270, 96–99 (1995).

Rodriguez, I., Ody, C., Araki, K., Garcia, I. & Vassalli, P. An early and massive wave of germinal cell apoptosis is required for the development of functional spermatogenesis. EMBO J. 16, 2262–2270 (1997).

Perez, G. I., Knudson, C. M., Leykin, L., Korsmeyer, S. J. & Tilly, J. L. Apoptosis-associated signaling pathways are required for chemotherapy-mediated female germ cell destruction. Nat. Med. 3, 1228–1232 (1997).

Coucouvanis, E. C., Sherwood, S. W., Carswell-Crumpton, C., Spack, E. G. & Jones, P. P. Evidence that the mechanism of prenatal germ cell death in the mouse is apoptosis. Exp. Cell Res. 209, 238–247 (1993).

Wang, R. A., Nakane, P. K. & Koji, T. Autonomous cell death of mouse male germ cells during fetal and postnatal period. Biol. Reprod. 58, 1250–1256 (1998).

Goriely, A., McVean, G. A. T., Röjmyr, M., Ingemarsson, B. & Wilkie, A. O. M. Evidence for selective advantage of pathogenic FGFR2 mutations in the male germ line. Science 301, 643–646 (2003).

Ueno, H., Turnbull, B. B. & Weissman, I. L. Two-step oligoclonal development of male germ cells. Proc. Natl Acad. Sci. USA 106, 175–180 (2009).

Cook, M. S., Munger, S. C., Nadeau, J. H. & Capel, B. Regulation of male germ cell cycle arrest and differentiation by DND1 is modulated by genetic background. Development 138, 23–32 (2011).

Foley, J. G. D. & Bard, J. B. L. Apoptosis in the cortex of the developing mouse kidney. J. Anat. 201, 477–484 (2002).

Laird, D. J., Altshuler-Keylin, S., Kissner, M. D., Zhou, X. & Anderson, K. V. Ror2 enhances polarity and directional migration of primordial germ cells. PLOS Genet. 7, e1002428 (2011).

Mendis, S. H. S., Meachem, S. J., Sarraj, M. A. & Loveland, K. L. Activin A balances Sertoli and germ cell proliferation in the fetal mouse testis. Biol. Reprod. 84, 379–391 (2011).

Lei, L. & Spradling, A. C. Mouse primordial germ cells produce cysts that partially fragment prior to meiosis. Development 140, 2075–2081 (2013).

Ventelä, S., Toppari, J. & Parvinen, M. Intercellular organelle traffic through cytoplasmic bridges in early spermatids of the rat: mechanisms of haploid gene product sharing. Mol. Biol. Cell 14, 2768–2780 (2003).

Greenbaum, M. P. et al. TEX14 is essential for intercellular bridges and fertility in male mice. Proc. Natl Acad. Sci. USA 103, 4982–4987 (2006).

Lu, K. L. & Yamashita, Y. M. Germ cell connectivity enhances cell death in response to DNA damage in the Drosophila testis. eLife 6, e27960 (2017).

Snippert, H. J. et al. Intestinal crypt homeostasis results from neutral competition between symmetrically dividing Lgr5 stem cells. Cell 143, 134–144 (2010).

Rinkevich, Y., Lindau, P., Ueno, H., Longaker, M. T. & Weissman, I. L. Germ-layer and lineage-restricted stem/progenitors regenerate the mouse digit tip. Nature 476, 409–413 (2011).

Greder, L. V. et al. Analysis of endogenous Oct4 activation during induced pluripotent stem cell reprogramming using an inducible Oct4 lineage label. Stem Cells 30, 2596–2601 (2012).

Western, P. S., Miles, D. C., van den Bergen, J. A., Burton, M. & Sinclair, A. H. Dynamic regulation of mitotic arrest in fetal male germ cells. Stem Cells 26, 339–347 (2008).

Bondar, T. & Medzhitov, R. p53-Mediated hematopoietic stem and progenitor cell competition. Cell Stem Cell 6, 309–322 (2010).

Bowling, S. et al. P53 and mTOR signalling determine fitness selection through cell competition during early mouse embryonic development. Nat. Commun. 9, 1763 (2018).

Haupt, S., Berger, M., Goldberg, Z. & Haupt, Y. Apoptosis—the p53 network. J. Cell Sci. 116, 4077–4085 (2003).

de Felici, M. D. et al. Bcl-2 and Bax regulation of apoptosis in germ cells during prenatal oogenesis in the mouse embryo. Cell Death Differ. 6, 908–915 (1999).

Rucker, E. B. et al. Bcl-x and Bax regulate mouse primordial germ cell survival and apoptosis during embryogenesis. Mol. Endocrinol. 14, 1038–1052 (2000).

Maclean, J. A. et al. Rhox: a new homeobox gene cluster. Cell 120, 369–382 (2005).

Spiller, C. M. et al. Endogenous Nodal signaling regulates germ cell potency during mammalian testis development. Development 139, 4123–4132 (2012).

Saba, R., Kato, Y. & Saga, Y. NANOS2 promotes male germ cell development independent of meiosis suppression. Dev. Biol. 385, 32–40 (2014).

Molaro, A. et al. Two waves of de novo methylation during mouse germ cell development. Genes Dev. 28, 1544–1549 (2014).

Suzuki, A. & Saga, Y. Nanos2 suppresses meiosis and promotes male germ cell differentiation. Genes Dev. 22, 430–435 (2008).

Milholland, B. et al. Differences between germline and somatic mutation rates in humans and mice. Nat. Commun. 8, 15183 (2017).

Seisenberger, S. et al. The dynamics of genome-wide DNA methylation reprogramming in mouse primordial germ cells. Mol. Cell 48, 849–862 (2012).

Hill, P. W. S. et al. Epigenetic reprogramming enables the transition from primordial germ cell to gonocyte. Nature 555, 392–396 (2018).

Hargan-Calvopina, J. et al. Stage-specific demethylation in primordial germ cells safeguards against precocious differentiation. Dev. Cell 39, 75–86 (2016).

Hajkova, P. et al. Epigenetic reprogramming in mouse primordial germ cells. Mech. Dev. 117, 15–23 (2002).

Malki, S., van der Heijden, G. W., O'Donnell, K. A., Martin, S. L. & Bortvin, A. A role for retrotransposon LINE-1 in fetal oocyte attrition in mice. Dev. Cell 29, 521–533 (2014).

Reznik, B. et al. Heterogeneity of transposon expression and activation of the repressive network in human fetal germ cells. Development 146, dev.171157 (2019).

Brockway, N. L. et al. Multicolour lineage tracing using in vivo time-lapse imaging reveals coordinated death of clonally related cells in the developing vertebrate brain. Dev. Biol. 453, 130–140 (2019).

Watanabe, K. et al. Cripto-1 is a cell surface marker for a tumorigenic, undifferentiated subpopulation in human embryonal carcinoma cells. Stem Cells 28, 1303–1314 (2010).

Spiller, C. M., Bowles, J. & Koopman, P. Nodal/Cripto signaling in fetal male germ cell development: implications for testicular germ cell tumors. Int. J. Dev. Biol. 57, 211–219 (2013).

Dawson, E. P. et al. Delayed male germ cell sex-specification permits transition into embryonal carcinoma cells with features of primed pluripotency. Development 145, dev156612 (2018).

Aravin, A. A. et al. A piRNA pathway primed by individual transposons is linked to de novo DNA methylation in mice. Mol. Cell 31, 785–799 (2008).

Hansson K. et al. RipleyGUI: software for analyzing spatial patterns in 3D cell distributions. Front. Neuroinform. 7, 5 (2013).

Susaki, E. A. et al. Whole-brain imaging with single-cell resolution using chemical cocktails and computational analysis. Cell 157, 726–739 (2014).

Jin, Y. et al. TEtranscripts: a package for including transposable elements in differential expression analysis of RNA-seq datasets. Bioinformatics 31, 3593–3599 (2015).

Liberzon, A. et al. The Molecular Signatures Database (MSigDB) hallmark gene set collection. Cell Syst. 1, 417–425 (2015).

Subramanaian, A. et al. Gene set enrichment analysis: a knowledge-based approach for interpreting genome-wide expression profiles. Proc. Natl Acad. Sci. USA 102, 15545–15550 (2005).
Acknowledgements
Mice were provided by I.L. Weissman, M. Matzuk, and M. Bartolomei. ORF1p antibody was provided by A. Wilkin, A. Bortvin, and A. Wiblin. J. Sneddon, M. Conti, T. Nystul, A.W. De Tomaso, L. Byrnes, D. Wong, R.G. Jaszczak, S. Cincotta, and B. Reznik provided feedback. J. Daza, G. Zhang, A. Villanueva, D. Palomera, I. Vainchtein, C. Bispo, R. Prasasva, and B. Dreskin assisted with experiments. Funding included an NSF Predoctoral Fellowship to D.H.N. and NIH 1DP2OD007420, R01GM122902, R01ES028212, and Cancer Research Coordinating Committee grants to D.J.L.
Ethics declarations
Competing interests
The authors declare no competing interests.
Additional information
Publisher's note Springer Nature remains neutral with regard to jurisdictional claims in published maps and institutional affiliations.
Supplementary information
About this article
Cite this article
Nguyen, D.H., Soygur, B., Peng, SP. et al. Apoptosis in the fetal testis eliminates developmentally defective germ cell clones. Nat Cell Biol 22, 1423–1435 (2020). https://doi.org/10.1038/s41556-020-00603-8
Received:

Accepted:

Published:

Issue Date:

DOI: https://doi.org/10.1038/s41556-020-00603-8
Further reading
Hyeon Jeong Choi
Kyung Min Jung
Jae Yong Han

Journal of Animal Science and Biotechnology (2022)

Jie Li
Ming-han Li
Ji-hang Yuan

British Journal of Cancer (2021)

Daniel H. Nguyen
Diana J. Laird

Cell Death & Differentiation (2021)