Abstract
Tissue regeneration declines with ageing but little is known about whether this arises from changes in stem-cell heterogeneity. Here, in homeostatic skeletal muscle, we identify two quiescent stem-cell states distinguished by relative CD34 expression: CD34High, with stemness properties (genuine state), and CD34Low, committed to myogenic differentiation (primed state). The genuine-quiescent state is unexpectedly preserved into later life, succumbing only in extreme old age due to the acquisition of primed-state traits. Niche-derived IGF1-dependent Akt activation debilitates the genuine stem-cell state by imposing primed-state features via FoxO inhibition. Interventions to neutralize Akt and promote FoxO activity drive a primed-to-genuine state conversion, whereas FoxO inactivation deteriorates the genuine state at a young age, causing regenerative failure of muscle, as occurs in geriatric mice. These findings reveal transcriptional determinants of stem-cell heterogeneity that resist ageing more than previously anticipated and are only lost in extreme old age, with implications for the repair of geriatric muscle.
Relevant articles
Open Access articles citing this article.
Jiayin Peng

,

Lili Han

…

Yun Zhao

Nature Communications Open Access 01 November 2023

Suyang Zhang

,

Feng Yang

…

Huating Wang

Nature Communications Open Access 17 August 2023

Victoria Moiseeva

,

Andrés Cisneros

…

Pura Muñoz-Cánoves

Nature Open Access 21 December 2022
Access options
Access Nature and 54 other Nature Portfolio journals
Get Nature+, our best-value online-access subscription
$29.99 / 30 days
cancel any time
Subscribe to this journal
Receive 12 print issues and online access
$209.00 per year
only $17.42 per issue
Rent or buy this article
Prices vary by article type
from$1.95
to$39.95
Prices may be subject to local taxes which are calculated during checkout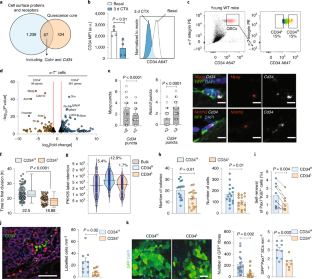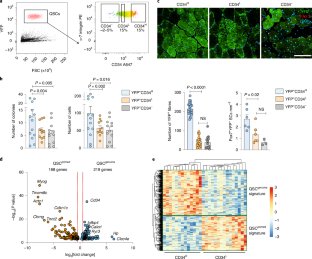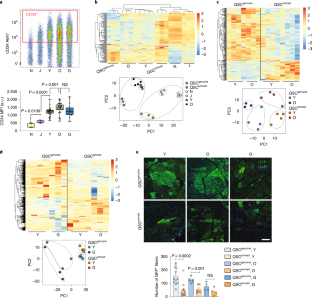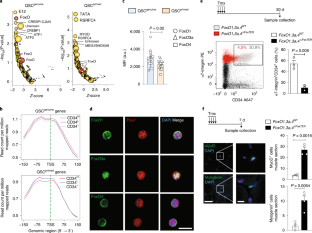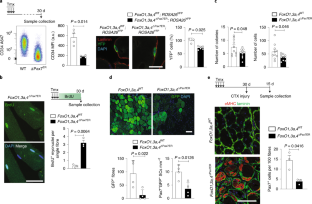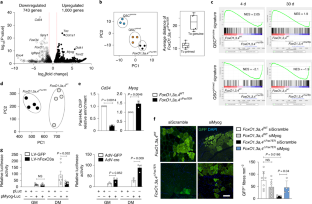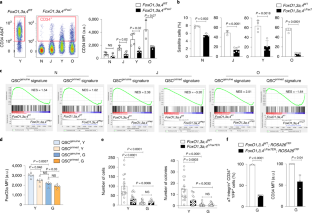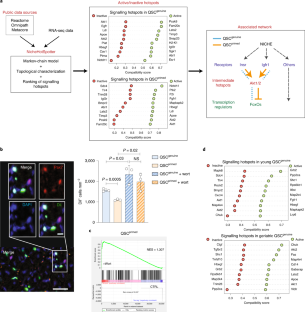 Data availability
The RNA-seq and ATAC-seq data that support the findings of this study have been deposited in GEO under the accession code GSE155642. All other data supporting the findings of this study are available from the corresponding author on reasonable request. Source data are provided with this paper.
References
Hwang, A. B. & Brack, A. S. Muscle stem cells and aging. Curr. Top. Dev. Biol. 126, 299–322 (2018).

Sousa-Victor, P., Garcia-Prat, L., Serrano, A. L., Perdiguero, E. & Munoz-Canoves, P. Muscle stem cell aging: regulation and rejuvenation. Trends Endocrinol. Metab. 26, 287–296 (2015).

Brack, A. S. & Rando, T. A. Tissue-specific stem cells: lessons from the skeletal muscle satellite cell. Cell Stem Cell 10, 504–514 (2012).

Feige, P., Brun, C. E., Ritso, M. & Rudnicki, M. A. Orienting muscle stem cells for regeneration in homeostasis, aging, and disease. Cell Stem Cell 23, 653–664 (2018).

Chakkalakal, J. V., Jones, K. M., Basson, M. A. & Brack, A. S. The aged niche disrupts muscle stem cell quiescence. Nature 490, 355–360 (2012).

Dell'Orso, S. et al. Single cell analysis of adult mouse skeletal muscle stem cells in homeostatic and regenerative conditions. Development 146, dev.174177 (2019).

Giordani, L. et al. High-dimensional single-cell cartography reveals novel skeletal muscle-resident cell populations. Mol. Cell 74, 609–621 (2019).

Kuang, S., Kuroda, K., Le Grand, F. & Rudnicki, M. A. Asymmetric self-renewal and commitment of satellite stem cells in muscle. Cell 129, 999–1010 (2007).

Rocheteau, P., Gayraud-Morel, B., Siegl-Cachedenier, I., Blasco, M. A. & Tajbakhsh, S. A subpopulation of adult skeletal muscle stem cells retains all template DNA strands after cell division. Cell 148, 112–125 (2012).

Scaramozza, A. et al. Lineage tracing reveals a subset of reserve muscle stem cells capable of clonal expansion under stress. Cell Stem Cell https://doi.org/10.1016/j.stem.2019.03.020 (2019).

Der Vartanian, A. et al. PAX3 confers functional heterogeneity in skeletal muscle stem cell responses to environmental stress. Cell Stem Cell https://doi.org/10.1016/j.stem.2019.03.019 (2019).

De Micheli, A. J. et al. Single-cell analysis of the muscle stem cell hierarchy identifies heterotypic communication signals involved in skeletal muscle regeneration. Cell Rep. 30, 3583–3595 (2020).

Toro-Dominguez, D. et al. ImaGEO: integrative gene expression meta-analysis from GEO database. Bioinformatics 35, 880–882 (2019).

Sidney, L. E., Branch, M. J., Dunphy, S. E., Dua, H. S. & Hopkinson, A. Concise review: evidence for CD34 as a common marker for diverse progenitors. Stem Cells 32, 1380–1389 (2014).

Beauchamp, J. R. et al. Expression of CD34 and Myf5 defines the majority of quiescent adult skeletal muscle satellite cells. J. Cell Biol. 151, 1221–1234 (2000).

van Velthoven, C. T. J., de Morree, A., Egner, I. M., Brett, J. O. & Rando, T. A. Transcriptional profiling of quiescent muscle stem cells in vivo. Cell Rep. 21, 1994–2004 (2017).

Garcia-Prat, L. et al. Autophagy maintains stemness by preventing senescence. Nature 529, 37–42 (2016).

Sousa-Victor, P. et al. Geriatric muscle stem cells switch reversible quiescence into senescence. Nature 506, 316–321 (2014).

Alfaro, L. A. et al. CD34 promotes satellite cell motility and entry into proliferation to facilitate efficient skeletal muscle regeneration. Stem Cells 29, 2030–2041 (2011).

Lee, J. Y. et al. Clonal isolation of muscle-derived cells capable of enhancing muscle regeneration and bone healing. J. Cell Biol. 150, 1085–1100 (2000).

Reimand, J. et al. Pathway enrichment analysis and visualization of omics data using g:Profiler, GSEA, Cytoscape and EnrichmentMap. Nat. Protoc. 14, 482–517 (2019).

Nichols, J. & Smith, A. Naive and primed pluripotent states. Cell Stem Cell 4, 487–492 (2009).

Abou-Khalil, R. et al. Autocrine and paracrine angiopoietin 1/Tie-2 signaling promotes muscle satellite cell self-renewal. Cell Stem Cell 5, 298–309 (2009).

Kitamoto, T. & Hanaoka, K. Notch3 null mutation in mice causes muscle hyperplasia by repetitive muscle regeneration. Stem Cells 28, 2205–2216 (2010).

Evano, B. & Tajbakhsh, S. Skeletal muscle stem cells in comfort and stress. NPJ Regen. Med. 3, 24 (2018).

Mourikis, P. & Tajbakhsh, S. Distinct contextual roles for notch signalling in skeletal muscle stem cells. BMC Dev. Biol. 14, 2 (2014).

White, R. B., Bierinx, A. S., Gnocchi, V. F. & Zammit, P. S. Dynamics of muscle fibre growth during postnatal mouse development. BMC Dev. Biol. 10, 21 (2010).

Day, K., Shefer, G., Shearer, A. & Yablonka-Reuveni, Z. The depletion of skeletal muscle satellite cells with age is concomitant with reduced capacity of single progenitors to produce reserve progeny. Dev. Biol. 340, 330–343 (2010).

Liu, W. et al. Loss of adult skeletal muscle stem cells drives age-related neuromuscular junction degeneration. eLife 6, e26464 (2017).

Gopinath, S. D., Webb, A. E., Brunet, A. & Rando, T. A. FOXO3 promotes quiescence in adult muscle stem cells during the process of self-renewal. Stem Cell Rep. 2, 414–426 (2014).

Kalamakis, G. et al. Quiescence modulates stem cell maintenance and regenerative capacity in the aging brain. Cell 176, 1407–1419 (2019).

Ravichandran, S., Hartmann, A. & Del Sol, A. SigHotSpotter: scRNA-seq-based computational tool to control cell subpopulation phenotypes for cellular rejuvenation strategies. Bioinformatics https://doi.org/10.1093/bioinformatics/btz827 (2019).

Alessi, D. R. et al. Mechanism of activation of protein kinase B by insulin and IGF-1. EMBO J. 15, 6541–6551 (1996).

Yun, B. G. & Matts, R. L. Hsp90 functions to balance the phosphorylation state of Akt during C2C12 myoblast differentiation. Cell Signal. 17, 1477–1485 (2005).

Stitt, T. N. et al. The IGF-1/PI3K/Akt pathway prevents expression of muscle atrophy-induced ubiquitin ligases by inhibiting FOXO transcription factors. Mol. Cell 14, 395–403 (2004).

Ascenzi, F. et al. Effects of IGF-1 isoforms on muscle growth and sarcopenia. Aging Cell 18, e12954 (2019).

Dell'Orso, S. et al. Correction: single cell analysis of adult mouse skeletal muscle stem cells in homeostatic and regenerative conditions (doi: 10.1242/dev.174177). Development 146, dev.181743 (2019).

Li, Y. et al. A programmable fate decision landscape underlies single-cell aging in yeast. Science 369, 325–329 (2020).

Baghdadi, M. B. et al. Reciprocal signalling by Notch–Collagen V–CALCR retains muscle stem cells in their niche. Nature 557, 714–718 (2018).

Bjornson, C. R. et al. Notch signaling is necessary to maintain quiescence in adult muscle stem cells. Stem Cells 30, 232–242 (2012).

Mourikis, P. et al. A critical requirement for notch signaling in maintenance of the quiescent skeletal muscle stem cell state. Stem Cells 30, 243–252 (2012).

Webb, A. E. et al. FOXO3 shares common targets with ASCL1 genome-wide and inhibits ASCL1-dependent neurogenesis. Cell Rep. 4, 477–491 (2013).

Wilhelm, K. et al. FOXO1 couples metabolic activity and growth state in the vascular endothelium. Nature 529, 216–220 (2016).

Tierney, M. T., Stec, M. J., Rulands, S., Simons, B. D. & Sacco, A. Muscle stem cells exhibit distinct clonal dynamics in response to tissue repair and homeostatic aging. Cell Stem Cell 22, 119–127 (2018).

Alvarez, S. et al. Replication stress caused by low MCM expression limits fetal erythropoiesis and hematopoietic stem cell functionality. Nat. Commun. 6, 8548 (2015).

Sambasivan, R. et al. Distinct regulatory cascades govern extraocular and pharyngeal arch muscle progenitor cell fates. Dev. Cell 16, 810–821 (2009).

Paik, J. H. et al. FoxOs are lineage-restricted redundant tumor suppressors and regulate endothelial cell homeostasis. Cell 128, 309–323 (2007).

Suelves, M. et al. uPA deficiency exacerbates muscular dystrophy in MDX mice. J. Cell Biol. 178, 1039–1051 (2007).

Moyle, L. A. & Zammit, P. S. Isolation, culture and immunostaining of skeletal muscle fibres to study myogenic progression in satellite cells. Methods Mol. Biol. 1210, 63–78 (2014).

Sacco, A. et al. Short telomeres and stem cell exhaustion model Duchenne muscular dystrophy in mdx/mTR mice. Cell 143, 1059–1071 (2010).

Weintraub, H. et al. The myoD gene family: nodal point during specification of the muscle cell lineage. Science 251, 761–766 (1991).

Perdiguero, E., Ruiz-Bonilla, V., Serrano, A. L. & Munoz-Canoves, P. Genetic deficiency of p38α reveals its critical role in myoblast cell cycle exit: the p38α-JNK connection. Cell Cycle 6, 1298–1303 (2007).

Garcia-Prat, L., Munoz-Canoves, P. & Martinez-Vicente, M. Monitoring autophagy in muscle stem cells. Methods Mol. Biol. 1556, 255–280 (2017).

Schindelin, J. et al. Fiji: an open-source platform for biological-image analysis. Nat. Methods 9, 676–682 (2012).

Buenrostro, J. D., Giresi, P. G., Zaba, L. C., Chang, H. Y. & Greenleaf, W. J. Transposition of native chromatin for fast and sensitive epigenomic profiling of open chromatin, DNA-binding proteins and nucleosome position. Nat. Methods 10, 1213–1218 (2013).

Love, M. I., Huber, W. & Anders, S. Moderated estimation of fold change and dispersion for RNA-seq data with DESeq2. Genome Biol. 15, 550 (2014).

Subramanian, A. et al. Gene set enrichment analysis: a knowledge-based approach for interpreting genome-wide expression profiles. Proc. Natl Acad. Sci. USA 102, 15545–15550 (2005).

Kuleshov, M. V. et al. Enrichr: a comprehensive gene set enrichment analysis web server 2016 update. Nucleic Acids Res. 44, W90–W97 (2016).

Shih, H. Y. et al. Developmental acquisition of regulomes underlies innate lymphoid cell functionality. Cell 165, 1120–1133 (2016).

Xu, H. et al. FastUniq: a fast de novo duplicates removal tool for paired short reads. PLoS ONE 7, e52249 (2012).

Zhang, Y. et al. Model-based analysis of ChIP-Seq (MACS). Genome Biol. 9, R137 (2008).

Heinz, S. et al. Simple combinations of lineage-determining transcription factors prime cis-regulatory elements required for macrophage and B cell identities. Mol. Cell 38, 576–589 (2010).

Quinlan, A. R. & Hall, I. M. BEDTools: a flexible suite of utilities for comparing genomic features. Bioinformatics 26, 841–842 (2010).

Shen, L., Shao, N., Liu, X. & Nestler, E. ngs.plot: Quick mining and visualization of next-generation sequencing data by integrating genomic databases. BMC Genomics 15, 284 (2014).
Acknowledgements
We thank C. Keller and M. Capecchi for the Pax-cre mouse lines; A. Webb and A. Brunet for LV-hFoxO3a; E. Andrés, J. Segalés, V. Lukesova, A. Martín, A. Pollán, A. Navarro, J. M. Ballesteros, M. Raya and L. Barberi for their technical contributions; A. Serrano, J. Isern and the members of the P.M.-C. laboratory for their helpful discussions; J. Martín-Caballero and S. Rodríguez-Colilla (PRBB/CNIC Animal Facilities); O. Fornas and M. Montoya (UPF/CRG/CNIC FACS Facilities); A. Dopazo (CNIC-Genomics Facility); J. Rodríguez (qGenomics); Leica Microsystems for IBMB-imaging-platform support; S. Bartlett for editing and W. Link (IIB-CSIC) for FoxO-activation advice. The authors acknowledge funding from MINECO-Spain (grant no. RTI2018-096068), ERC-2016-AdG-741966, LaCaixa-HEALTH-HR17-00040, MDA, UPGRADE-H2020-825825, AFM and DPP-Spain to P.M.-C; María-de-Maeztu-Program for Units of Excellence to UPF (grant no. MDM-2014-0370) and the Severo-Ochoa-Program for Centers of Excellence to CNIC (grant no. SEV-2015-0505). This work was also supported by NIAMS IRP through NIH grants nos AR041126 and AR041164 to V.S. and utilized computational resources of the NIH HPC Biowulf cluster (http://hpc.nih.gov); ASI, Ricerca Finalizzata, Ateneo Sapienza to A.M.; AIRC (grant no. 23257); ASI (grant no. MARS-PRE, DC-VUM-2017-006); H2020-MSCA-RISE-2014 (645648) to M.S. and a FNR core grant (grant no. C15/BM/10397420) to A.d.S. L.G.P. was partially supported by an FPI fellowship and an EMBO fellowship (grant no. ALTF 420-2017); and S.C., X.H. and V.M. by FI, Severo-Ochoa and PFI Fellowships (Spain), respectively.
Ethics declarations
Competing interests
The authors declare no competing interests.
Additional information
Publisher's note Springer Nature remains neutral with regard to jurisdictional claims in published maps and institutional affiliations.
Supplementary information
Supplementary Table 1. List of genes that compose the quiescence core in Fig. 1a. Supplementary Table 2. Lists of genes included in the QSCgenuine and QSCprimed core signatures of Fig. 2e. Supplementary Table 3. Supplementary information on reagents—antibodies, oligos, primers and so on−used in the paper.
About this article
Cite this article
García-Prat, L., Perdiguero, E., Alonso-Martín, S. et al. FoxO maintains a genuine muscle stem-cell quiescent state until geriatric age. Nat Cell Biol 22, 1307–1318 (2020). https://doi.org/10.1038/s41556-020-00593-7
Received:

Accepted:

Published:

Issue Date:

DOI: https://doi.org/10.1038/s41556-020-00593-7