Abstract
Stem cells need to be protected from genotoxic and proteotoxic stress to maintain a healthy pool throughout life1,2,3. Little is known about the proteostasis mechanism that safeguards stem cells. Here we report endoplasmic reticulum-associated degradation (ERAD) as a protein quality checkpoint that controls the haematopoietic stem cell (HSC)–niche interaction and determines the fate of HSCs. The SEL1L–HRD1 complex, the most conserved branch of ERAD4, is highly expressed in HSCs. Deletion of Sel1l led to niche displacement of HSCs and a complete loss of HSC identity, and allowed highly efficient donor-HSC engraftment without irradiation. Mechanistic studies identified MPL, the master regulator of HSC identity5, as a bona fide ERAD substrate that became aggregated in the endoplasmic reticulum following ERAD deficiency. Restoration of MPL signalling with an agonist partially rescued the number and reconstitution capacity of Sel1l-deficient HSCs. Our study defines ERAD as an essential proteostasis mechanism to safeguard a healthy stem cell pool by regulating the stem cell–niche interaction.
Relevant articles
Open Access articles citing this article.
Yewei Ji

,

Yuan Luo

…

Ling Qi

Nature Cell Biology Open Access 04 May 2023

Jin-Song Yan

,

Meng-Ying Yang

…

Ying Lu

Cell Death & Disease Open Access 20 April 2022
Access options
Access Nature and 54 other Nature Portfolio journals
Get Nature+, our best-value online-access subscription
$29.99 / 30 days
cancel any time
Subscribe to this journal
Receive 12 print issues and online access
$209.00 per year
only $17.42 per issue
Rent or buy this article
Get just this article for as long as you need it
$39.95
Prices may be subject to local taxes which are calculated during checkout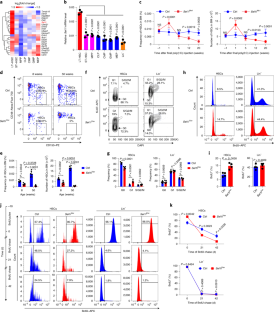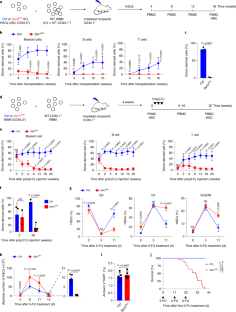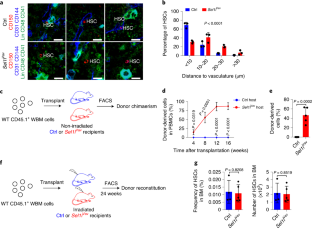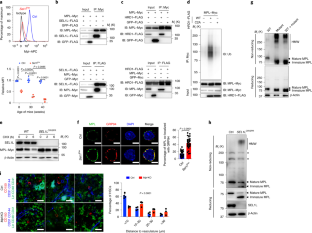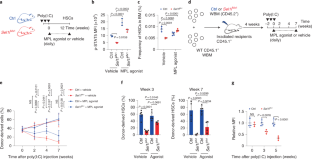 Data availability
Previously published sequencing data that were re-analysed here are available under accession codes GSE60101 for Fig. 1a (ref. 7) and GSE109125 for Extended Data Fig. 2b (ref. 6). All other data supporting the findings of this study are available from the corresponding author on reasonable request. Source data are provided with this paper.
References
Garcia-Prat, L., Sousa-Victor, P. & Munoz-Canoves, P. Proteostatic and metabolic control of stemness. Cell Stem Cell 20, 593–608 (2017).

Vilchez, D., Saez, I. & Dillin, A. The role of protein clearance mechanisms in organismal ageing and age-related diseases. Nat. Commun. 5, 5659 (2014).

Bakker, S. T. & Passegue, E. Resilient and resourceful: genome maintenance strategies in hematopoietic stem cells. Exp. Hematol. 41, 915–923 (2013).

Brodsky, J. L. Cleaning up: ER-associated degradation to the rescue. Cell 151, 1163–1167 (2012).

Morrison, S. J. & Scadden, D. T. The bone marrow niche for haematopoietic stem cells. Nature 505, 327–334 (2014).

Yoshida, H. et al. The cis-regulatory atlas of the mouse immune system. Cell 176, 897–912 (2019).

Lara-Astiaso, D. et al. Chromatin state dynamics during blood formation. Science 345, 943–949 (2014).

Schinzel, R. T. et al. The hyaluronidase, TMEM2, promotes ER homeostasis and longevity independent of the UPRER. Cell 179, 1306–1318 (2019).

Ehninger, A. et al. Loss of SPARC protects hematopoietic stem cells from chemotherapy toxicity by accelerating their return to quiescence. Blood 123, 4054–4063 (2014).

Sigurdsson, V. et al. Bile acids protect expanding hematopoietic stem cells from unfolded protein stress in fetal liver. Cell Stem Cell 18, 522–532 (2016).

van Galen, P. et al. The unfolded protein response governs integrity of the haematopoietic stem-cell pool during stress. Nature 510, 268–272 (2014).

Miharada, K., Sigurdsson, V. & Karlsson, S. Dppa5 improves hematopoietic stem cell activity by reducing endoplasmic reticulum stress. Cell Rep. 7, 1381–1392 (2014).

Karagoz, G. E., Acosta-Alvear, D. & Walter, P. The unfolded protein response: detecting and responding to fluctuations in the protein-folding capacity of the endoplasmic reticulum. Cold Spring Harb. Perspect. Biol. 11, a033886 (2019).

Sun, S. et al. IRE1α is an endogenous substrate of endoplasmic-reticulum-associated degradation. Nat. Cell Biol. 17, 1546–1555 (2015).

Qi, L., Tsai, B. & Arvan, P. New Insights into the physiological role of endoplasmic reticulum-associated degradation. Trends Cell Biol. 27, 430–440 (2017).

Cortez, L. & Sim, V. The therapeutic potential of chemical chaperones in protein folding diseases. Prion 8, 197–202 (2014).

Zhao, N. et al. Pharmacological targeting of MYC-regulated IRE1/XBP1 pathway suppresses MYC-driven breast cancer. J. Clin. Invest. 128, 1283–1299 (2018).

Sidrauski, C. et al. Pharmacological brake-release of mRNA translation enhances cognitive memory. eLife 2, e00498 (2013).

Pinho, S. & Frenette, P. S. Haematopoietic stem cell activity and interactions with the niche. Nat. Rev. Mol. Cell Biol. 20, 303–320 (2019).

Walter, P. & Ron, D. The unfolded protein response: from stress pathway to homeostatic regulation. Science 334, 1081–1086 (2011).

Acar, M. et al. Deep imaging of bone marrow shows non-dividing stem cells are mainly perisinusoidal. Nature 526, 126–130 (2015).

Kunisaki, Y. et al. Arteriolar niches maintain haematopoietic stem cell quiescence. Nature 502, 637–643 (2013).

Ballmaier, M. & Germeshausen, M. Advances in the understanding of congenital amegakaryocytic thrombocytopenia. Br. J. Haematol. 146, 3–16 (2009).

Varghese, L. N., Defour, J. P., Pecquet, C. & Constantinescu, S. N. The thrombopoietin receptor: structural basis of traffic and activation by ligand, mutations, agonists, and mutated calreticulin. Front Endocrinol. 8, 59 (2017).

Fox, N. E., Lim, J., Chen, R. & Geddis, A. E. F104S c-Mpl responds to a transmembrane domain-binding thrombopoietin receptor agonist: proof of concept that selected receptor mutations in congenital amegakaryocytic thrombocytopenia can be stimulated with alternative thrombopoietic agents. Exp. Hematol. 38, 384–391 (2010).

Hidalgo San Jose, L. et al. Modest declines in proteome quality impair hematopoietic stem cell self-renewal. Cell Rep. 30, 69–80 (2020).

Signer, R. A., Magee, J. A., Salic, A. & Morrison, S. J. Haematopoietic stem cells require a highly regulated protein synthesis rate. Nature 509, 49–54 (2014).

Iwawaki, T., Akai, R., Yamanaka, S. & Kohno, K. Function of IRE1 alpha in the placenta is essential for placental development and embryonic viability. Proc. Natl Acad. Sci. USA 106, 16657–16662 (2009).

Lee, A. H., Scapa, E. F., Cohen, D. E. & Glimcher, L. H. Regulation of hepatic lipogenesis by the transcription factor XBP1. Science 320, 1492–1496 (2008).

Sun, S. et al. Sel1L is indispensable for mammalian endoplasmic reticulum-associated degradation, endoplasmic reticulum homeostasis, and survival. Proc. Natl Acad. Sci. USA 111, E582–E591 (2014).

Murone, M., Carpenter, D. A. & de Sauvage, F. J. Hematopoietic deficiencies in c-mpl and TPO knockout mice. Stem Cells 16, 1–6 (1998).

Miller, C. L., Dykstra, B. & Eaves, C. J. Characterization of mouse hematopoietic stem and progenitor cells. Curr. Protoc. Immunol. 80, 22B.22.21–22B.22.31 (2008).

Kankaanpaa, P. et al. BioImageXD: an open, general-purpose and high-throughput image-processing platform. Nat. Methods 9, 683–689 (2012).

Kawamoto, T. Use of a new adhesive film for the preparation of multi-purpose fresh-frozen sections from hard tissues, whole-animals, insects and plants. Arch. Histol. Cytol. 66, 123–143 (2003).

Kumar, S. & Filippi, M. D. An alternative approach for sample preparation with low cell number for TEM analysis. J. Vis. Exp. 12, 54724 (2016).

Fellmann, C. et al. An optimized microRNA backbone for effective single-copy RNAi. Cell Rep. 5, 1704–1713 (2013).

Nakada, D., Saunders, T. L. & Morrison, S. J. Lkb1 regulates cell cycle and energy metabolism in haematopoietic stem cells. Nature 468, 653–658 (2010).

Betts, S., Speed, M. & King, J. in Methods in Enzymology, Vol. 309 (ed. Wetzel, R.) 333–350 (Academic Press, 1999).
Acknowledgements
We thank M. Goodell and K. King for their advice, discussion and critical review of the manuscript. We thank to L. Glimcher for providing the Xbp1flox/flox mice. This work was supported by the National Institutes of Health (grant nos R01HL146642 and R37CA228304 to X.C.; R01DK107413 and R01CA193235 to D.N.; R01CA016303 to J.M.R.; R01CA228140 to W.L.; R01DK115454 to A.C.; R01 AI1143992 and K22CA 218467 to S.A.; R01AR072018 and R21AG064345 to D.P.; R01HL095675 and R01HL133828 to W.T.; and R35GM130292, R01DK120330 and R01DK120047 to L.Q.), US Department of Defense Congressionally Directed Medical Research Programs (grant no. W81XWH1910524 to X.C.), Cancer Prevention and Research Institute of Texas (grant no. RR150009 CPRIT Scholar in Cancer Research award to X.C., RR140038 CPRIT Scholar in Cancer Research award to A.C., and RP160283 Baylor College of Medicine Comprehensive Cancer Training Program award to F.P.), St. Baldrick's Foundation and Alex's Lemonade Stand Foundation (to W.T.). This work was supported by the Cytometry and Cell Sorting Core at the Baylor College of Medicine with funding from the CPRIT Core Facility Support Award (grant no. CPRIT-RP180672), the NIH (grant nos CA125123, S10OD025251 and RR024574) and the assistance of J. M. Sederstrom. Transmission electron microscopy for this project was supported by the High Resolution Electron Microscopy Facility at MD Anderson Cancer Center with funding from NIH (grant no. P30CA016672). Imaging for this work was supported by the Integrated Microscopy Core at the Baylor College of Medicine with funding from NIH (grant nos DK56338 and CA125123) and CPRIT (grant nos RP150578 and RP170719).
Ethics declarations
Competing interests
J.W. is the co-founder of CoActigon Inc. and Chemical Biology Probes LLC. The other authors declare no competing interests.
Additional information
Publisher's note Springer Nature remains neutral with regard to jurisdictional claims in published maps and institutional affiliations.
Supplementary information
About this article
Cite this article
Xu, L., Liu, X., Peng, F. et al. Protein quality control through endoplasmic reticulum-associated degradation maintains haematopoietic stem cell identity and niche interactions. Nat Cell Biol 22, 1162–1169 (2020). https://doi.org/10.1038/s41556-020-00581-x
Received:

Accepted:

Published:

Issue Date:

DOI: https://doi.org/10.1038/s41556-020-00581-x