Abstract
Branched-chain amino acid (BCAA) metabolism is potentially linked with development of pancreatic ductal adenocarcinoma (PDAC)1,2,3,4. BCAA transaminase 2 (BCAT2) was essential for the collateral lethality conferred by deletion of malic enzymes in PDAC and the BCAA–BCAT metabolic pathway contributed to non-small-cell lung carcinomas (NSCLCs) other than PDAC3,4. However, the underlying mechanism remains undefined. Here we reveal that BCAT2 is elevated in mouse models and in human PDAC. Furthermore, pancreatic tissue-specific knockout of Bcat2 impedes progression of pancreatic intraepithelial neoplasia (PanIN) in LSL-KrasG12D/+; Pdx1-Cre (KC) mice. Functionally, BCAT2 enhances BCAA uptake to sustain BCAA catabolism and mitochondrial respiration. Notably, BCAA enhances growth of pancreatic ductal organoids from KC mice in a dose-dependent manner, whereas addition of branched-chain α-keto acid (BCKA) and nucleobases rescues growth of KC organoids that is suppressed by BCAT2 inhibitor. Moreover, KRAS stabilizes BCAT2, which is mediated by spleen tyrosine kinase (SYK) and E3 ligase tripartite-motif-containing protein 21 (TRIM21). In addition, BCAT2 inhibitor ameliorates PanIN formation in KC mice. Of note, a lower-BCAA diet also impedes PDAC development in mouse models of PDAC. Thus, BCAT2-mediated BCAA catabolism is critical for development of PDAC harbouring KRAS mutations. Targeting BCAT2 or lowering dietary BCAA may have translational significance.
Access options
Subscribe to Journal
Get full journal access for 1 year
$209.00
only $17.42 per issue
All prices are NET prices.
VAT will be added later in the checkout.
Rent or Buy article
Get time limited or full article access on ReadCube.
from$8.99
All prices are NET prices.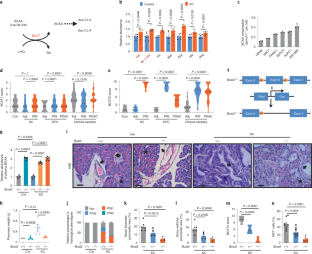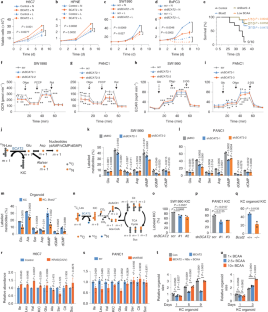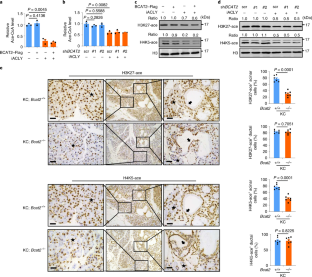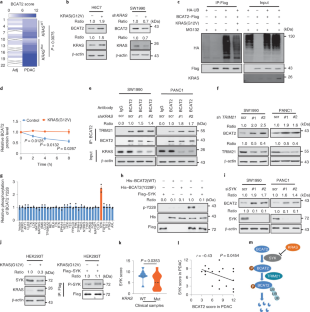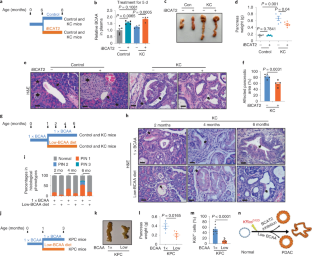 Data availability
Mass spectrometry data have been deposited in ProteomeXchange with the primary accession code PXD016611. All other data supporting the findings of this study are available from the corresponding author on reasonable request. Source data for Figs. 1–5 and Extended Data Figs. 1, 3, 6 and 8–10 are provided with the paper.
References
1.

Halbrook, C. J. & Lyssiotis, C. A. Employing metabolism to improve the diagnosis and treatment of pancreatic cancer. Cancer Cell 31, 5–19 (2017).

2.

Mayers, J. R. et al. Elevation of circulating branched-chain amino acids is an early event in human pancreatic adenocarcinoma development. Nat. Med. 20, 1193–1198 (2014).

3.

Dey, P. et al. Genomic deletion of malic enzyme 2 confers collateral lethality in pancreatic cancer. Nature 542, 119–123 (2017).

4.

Mayers, J. R. et al. Tissue of origin dictates branched-chain amino acid metabolism in mutant Kras-driven cancers. Science 353, 1161–1165 (2016).

5.

Ichihara, A. & Koyama, E. Transaminase of branched chain amino acids. I. Branched chain amino acids-α-ketoglutarate transaminase. J. Biochem. 59, 160–169 (1966).

6.

Taylor, R. T. & Jenkins, W. T. Leucine aminotransferase. II. Purification and characterization. J. Biol. Chem. 241, 4396–4405 (1966).

7.

Shimomura, Y., Murakami, T., Nakai, N., Nagasaki, M. & Harris, R. A. Exercise promotes BCAA catabolism: effects of BCAA supplementation on skeletal muscle during exercise. J. Nutr. 134, 1583S–1587S (2004).

8.

Neinast, M., Murashige, D. & Arany, Z. Branched chain amino acids. Annu Rev Physiol 81, 139–164 (2019).

9.

Adsay, N. V., Basturk, O., Cheng, J. D. & Andea, A. A. Ductal neoplasia of the pancreas: nosologic, clinicopathologic, and biologic aspects. Semin. Radiat. Oncol. 15, 254–264 (2005).

10.

Reichert, M. & Rustgi, A. K. Pancreatic ductal cells in development, regeneration, and neoplasia. J. Clin. Invest. 121, 4572–4578 (2011).

11.

Kopp, J. L. et al. Identification of Sox9-dependent acinar-to-ductal reprogramming as the principal mechanism for initiation of pancreatic ductal adenocarcinoma. Cancer Cell 22, 737–750 (2012).

12.

Deng, H. et al. Discovery and optimization of potent, selective, and in vivo efficacious 2-aryl benzimidazole BCATm inhibitors. ACS Med. Chem. Lett. 7, 379–384 (2016).

13.

Carrer, A. et al. Acetyl-CoA metabolism supports multistep pancreatic tumorigenesis. Cancer Discov. 9, 416–435 (2019).

14.

Hershko, A. & Ciechanover, A. The ubiquitin system. Annu. Rev. Biochem. 67, 425–479 (1998).

15.

Pohl, C. & Dikic, I. Cellular quality control by the ubiquitin-proteasome system and autophagy. Science 366, 818–822 (2019).

16.

Schapira, M., Calabrese, M. F., Bullock, A. N. & Crews, C. M. Targeted protein degradation: expanding the toolbox. Nat. Rev. Drug Discov. 18, 949–963 (2019).

17.

Yang, L. et al. E3 ligase Trim21 ubiquitylates and stabilizes keratin 17 to Induce STAT3 activation in psoriasis. J. Invest. Dermatol. 138, 2568–2577 (2018).

18.

Esposito, D., Koliopoulos, M. G. & Rittinger, K. Structural determinants of TRIM protein function. Biochem. Soc. Trans. 45, 183–191 (2017).

19.

Wallenhammar, A. et al. Solution NMR structure of the TRIM21 B-box2 and identification of residues involved in its interaction with the RING domain. PLoS ONE 12, e0181551 (2017).

20.

Sabile, A. et al. Regulation of p27 degradation and S-phase progression by Ro52 RING finger protein. Mol. Cell. Biol. 26, 5994–6004 (2006).

21.

Chen, V. C., Kristensen, A. R., Foster, L. J. & Naus, C. C. Association of connexin43 with E3 ubiquitin ligase TRIM21 reveals a mechanism for gap junction phosphodegron control. J. Proteome Res. 11, 6134–6146 (2012).

22.

Hornbeck, P. V. et al. PhosphoSitePlus: a comprehensive resource for investigating the structure and function of experimentally determined post-translational modifications in man and mouse. Nucleic Acids Res. 40, D261–D270 (2012).

23.

Hornbeck, P. V. et al. PhosphoSitePlus, 2014: mutations, PTMs and recalibrations. Nucleic Acids Res. 43, D512–D520 (2015).

24.

Ma, T. K., McAdoo, S. P. & Tam, F. W. Spleen tyrosine kinase: a crucial player and potential therapeutic target in renal disease. Nephron 133, 261–269 (2016).

25.

Tang, C. & Zhu, G. Classic and novel signaling pathways involved in cancer: Targeting the NF-κB and Syk signaling pathways. Curr. Stem. Cell Res. Ther. 14, 219–225 (2019).

26.

Solon-Biet, S. M. et al. Branched chain amino acids impact health and lifespan indirectly via amino acid balance and appetite control. Nat. Metab. 1, 532–545 (2019).

27.

Gao, X. et al. Acetate functions as an epigenetic metabolite to promote lipid synthesis under hypoxia. Nat. Commun. 7, 11960 (2016).

28.

Boj, S. F. et al. Organoid models of human and mouse ductal pancreatic cancer. Cell 160, 324–338 (2015).

29.

Yang, X. M. et al. Overexpression of Rac GTPase activating Protein 1 contributes to proliferation of cancer cells by reducing hippo signaling to promote cytokinesis. Gastroenterology 155, 1233–1249, doi:2018.

30.

Hong, J. et al. CHK1 targets spleen tyrosine kinase (L) for proteolysis in hepatocellular carcinoma. J. Clin. Invest. 122, 2165–2175 (2012).

31.

Zhang, Y. et al. Acetylation targets HSD17B4 for degradation via the CMA pathway in response to estrone. Autophagy 13, 538–553 (2017).

32.

Wang, Y. P. et al. Arginine Methylation of MDH1 by CARM1 inhibits glutamine metabolism and suppresses pancreatic cancer. Mol. Cell 64, 673–687 (2016).

33.

Yang, H. B. et al. Acetylation of MAT IIα represses tumour cell growth and is decreased in human hepatocellular cancer. Nat. Commun. 6, 6973 (2015).

34.

Li, F. et al. LKB1 inactivation elicits a redox imbalance to modulate non-small cell lung cancer plasticity and therapeutic response. Cancer Cell 27, 698–711 (2015).
Acknowledgements
We thank J. Cheng (Shanghai Jiaotong University) and H. Ji (Chinese Academy of Sciences, Shanghai, China) for providing Pdx1-Cre and LSL-KrasG12D mouse lines, respectively34; T. Kang (Sun Yat-sen University, Guangzhou, China30) for rabbit anti-human SYK antibody; J. Qin for insightful discussions; members of the Fudan Cancer Metabolism laboratory for discussions throughout this study and the Biomedical Core Facility of Fudan University for technical support. This work was supported by Ministry of Science and Technology (grant no. 2019YFA0801703), National Natural Science Foundation of China (grant no. 81790250, 81790253 and 91959202) and Innovation Program of Shanghai Municipal Education Commission (no. N173606) to Q.-Y.L. and National Natural Science Foundation of China (grant no. 81872240) to M.Y.
Ethics declarations
Competing interests
The authors declare no competing interests.
Additional information
Publisher's note Springer Nature remains neutral with regard to jurisdictional claims in published maps and institutional affiliations.
Supplementary information
Clinical information of PDAC patients, TAP-MS of BCAT2 and detailed P values for related figures.
About this article
Cite this article
Li, JT., Yin, M., Wang, D. et al. BCAT2-mediated BCAA catabolism is critical for development of pancreatic ductal adenocarcinoma. Nat Cell Biol 22, 167–174 (2020). https://doi.org/10.1038/s41556-019-0455-6
Received:

Accepted:

Published:

Issue Date: