Abstract
Multiciliated cells (MCCs) amplify large numbers of centrioles that convert into basal bodies, which are required for producing multiple motile cilia. Most centrioles amplified by MCCs grow on the surface of organelles called deuterosomes, whereas a smaller number grow through the centriolar pathway in association with the two parent centrioles. Here, we show that MCCs lacking deuterosomes amplify the correct number of centrioles with normal step-wise kinetics. This is achieved through a massive production of centrioles on the surface and in the vicinity of parent centrioles. Therefore, deuterosomes may have evolved to relieve, rather than supplement, the centriolar pathway during multiciliogenesis. Remarkably, MCCs lacking parent centrioles and deuterosomes also amplify the appropriate number of centrioles inside a cloud of pericentriolar and fibrogranular material. These data show that the centriole number is set independently of their nucleation platforms and suggest that massive centriole production in MCCs is a robust process that can self-organize.
This is a preview of subscription content
Access options
Subscribe to Nature+
Get immediate online access to the entire Nature family of 50+ journals
Subscribe to Journal
Get full journal access for 1 year
$99.00
only $8.25 per issue
All prices are NET prices.
VAT will be added later in the checkout.
Tax calculation will be finalised during checkout.
Buy article
Get time limited or full article access on ReadCube.
$32.00
All prices are NET prices.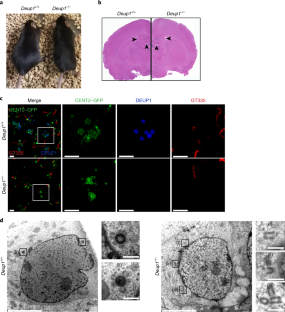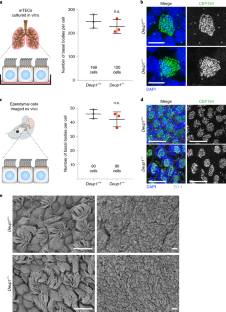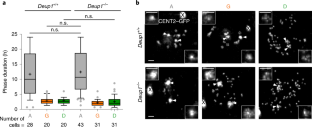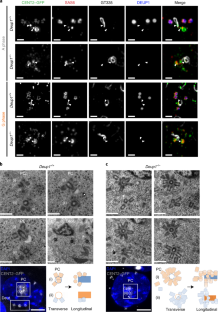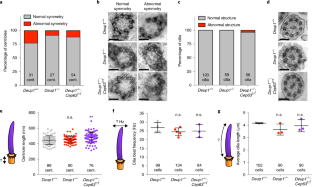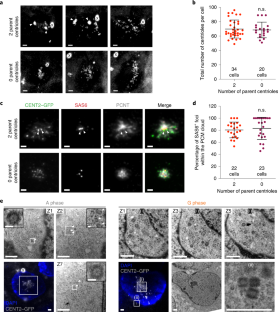 References
Spassky, N. & Meunier, A. The development and functions of multiciliated epithelia. Nat. Rev. Mol. Cell Biol. 18, 423–436 (2017).

Reiter, J. F. & Leroux, M. R. Genes and molecular pathways underpinning ciliopathies. Nat. Rev. Mol. Cell Biol. 18, 533–547 (2017).

Terre, B. et al. Defects in efferent duct multiciliogenesis underlie male infertility in GEMC1-, MCIDAS- or CCNO-deficient mice. Development 146, dev162628 (2019).

Yuan, S. et al. Motile cilia of the male reproductive system require miR-34/miR-449 for development and function to generate luminal turbulence. Proc. Natl Acad. Sci. USA 116, 3584–3593 (2019).

Nigg, E. A. & Holland, A. J. Once and only once: mechanisms of centriole duplication and their deregulation in disease. Nat. Rev. Mol. Cell Biol. 19, 297–312 (2018).

Anderson, R. G. & Brenner, R. M. The formation of basal bodies (centrioles) in the rhesus monkey oviduct. J. Cell Biol. 50, 10–34 (1971).

Brenner, R. M. Renewal of oviduct cilia during the menstrual cycle of the rhesus monkey. Fertil. Steril. 20, 599–611 (1969).

Sorokin, S. P. Reconstructions of centriole formation and ciliogenesis in mammalian lungs. J. Cell Sci. 3, 207–230 (1968).

Steinman, R. M. An electron microscopic study of ciliogenesis in developing epidermis and trachea in the embryo of Xenopus laevis. Am. J. Anat. 122, 19–55 (1968).

Kalnins, V. I. & Porter, K. R. Centriole replication during ciliogenesis in the chick tracheal epithelium. Z. Zellforsch. Mikrosk. Anat. 100, 1–30 (1969).

Revinski, D. R. et al. CDC20B is required for deuterosome-mediated centriole production in multiciliated cells. Nat. Commun. 9, 4668 (2018).

Al Jord, A. et al. Centriole amplification by mother and daughter centrioles differs in multiciliated cells. Nature 516, 104–107 (2014).

Klos Dehring, D. A. et al. Deuterosome-mediated centriole biogenesis. Dev. Cell 27, 103–112 (2013).

Zhao, H. et al. The Cep63 paralogue Deup1 enables massive de novo centriole biogenesis for vertebrate multiciliogenesis. Nat. Cell Biol. 15, 1434–1444 (2013).

Zhao, H. et al. Parental centrioles are dispensable for deuterosome formation and function during basal body amplification. EMBO Rep. 20, e46735 (2019).

Nanjundappa, R. et al. Regulation of cilia abundance in multiciliated cells. eLife 8, e44039 (2019).

Mercey, O. et al. Dynamics of centriole amplification in centrosome-depleted brain multiciliated progenitors. Sci. Rep. 9, 13060 (2019).

Vladar, E. K. & Stearns, T. Molecular characterization of centriole assembly in ciliated epithelial cells. J. Cell Biol. 178, 31–42 (2007).

Al Jord, A. et al. Calibrated mitotic oscillator drives motile ciliogenesis. Science 358, 803–806 (2017).

Wang, L. et al. miR-34b regulates multiciliogenesis during organ formation in zebrafish. Development 140, 2755–2764 (2013).

Ma, L., Quigley, I., Omran, H. & Kintner, C. Multicilin drives centriole biogenesis via E2f proteins. Genes Dev. 28, 1461–1471 (2014).

Tan, F. E. et al. Myb promotes centriole amplification and later steps of the multiciliogenesis program. Development 140, 4277–4286 (2013).

Vladar, E. K. et al. Cyclin-dependent kinase control of motile ciliogenesis. eLife 7, e36375 (2018).

You, Y. & Brody, S. L. Culture and differentiation of mouse tracheal epithelial cells. Methods Mol. Biol. 945, 123–143 (2013).

Delgehyr, N. et al. Ependymal cell differentiation, from monociliated to multiciliated cells. Methods Cell Biol. 127, 19–35 (2015).

Higginbotham, H., Bielas, S., Tanaka, T. & Gleeson, J. G. Transgenic mouse line with green-fluorescent protein-labeled centrin 2 allows visualization of the centrosome in living cells. Transgenic Res. 13, 155–164 (2004).

Leda, M., Holland, A. J. & Goryachev, A. B. Autoamplification and competition drive symmetry breaking: initiation of centriole duplication by the PLK4-STIL network. iScience 8, 222–235 (2018).

Brown, N. J., Marjanovic, M., Luders, J., Stracker, T. H. & Costanzo, V. Cep63 and cep152 cooperate to ensure centriole duplication. PLoS ONE 8, e69986 (2013).

Marjanovic, M. et al. CEP63 deficiency promotes p53-dependent microcephaly and reveals a role for the centrosome in meiotic recombination. Nat. Commun. 6, 7676 (2015).

Wong, Y. L. et al. Cell biology. Reversible centriole depletion with an inhibitor of Polo-like kinase 4. Science 348, 1155–1160 (2015).

Dirksen, E. R. Centriole morphogenesis in developing ciliated epithelium of the mouse oviduct. J. Cell Biol. 51, 286–302 (1971).

Wallmeier, J. et al. Mutations in CCNO result in congenital mucociliary clearance disorder with reduced generation of multiple motile cilia. Nat. Genet. 46, 646–651 (2014).

Amirav, I. et al. Systematic analysis of CCNO variants in a defined population: implications for clinical phenotype and differential diagnosis. Hum. Mutat. 37, 396–405 (2016).

Boon, M. et al. Primary ciliary dyskinesia: critical evaluation of clinical symptoms and diagnosis in patients with normal and abnormal ultrastructure. Orphanet J. Rare Dis. 9, 11 (2014).

Karczewski, K. J. et al. Variation across 141,456 human exomes and genomes reveals the spectrum of loss-of-function intolerance across human protein-coding genes. Preprint at bioRxiv https://doi.org/10.1101/531210 (2019).

Tyler, S. Development of cilia in embryos of the turbellarian Macrostomum. Hydrobiologia 84, 231–239 (1981).

Azimzadeh, J., Wong, M. L., Downhour, D. M., Sanchez Alvarado, A. & Marshall, W. F. Centrosome loss in the evolution of planarians. Science 335, 461–463 (2012).

Ito, D. et al. Pericentrin-mediated SAS-6 recruitment promotes centriole assembly. eLife 8, e41418 (2019).

Kubo, A., Sasaki, H., Yuba-Kubo, A., Tsukita, S. & Shiina, N. Centriolar satellites: molecular characterization, ATP-dependent movement toward centrioles and possible involvement in ciliogenesis. J. Cell Biol. 147, 969–979 (1999).

Gheiratmand, L. et al. Spatial and proteomic profiling reveals centrosome-independent features of centriolar satellites. EMBO J. 38, e101109 (2019).

Quarantotti, V. et al. Centriolar satellites are acentriolar assemblies of centrosomal proteins. EMBO J. 38, e101082 (2019).

Kodani, A. et al. Centriolar satellites assemble centrosomal microcephaly proteins to recruit CDK2 and promote centriole duplication. eLife 4, e07519 (2015).

Firat-Karalar, E. N., Rauniyar, N., Yates, J. R. 3rd & Stearns, T. Proximity interactions among centrosome components identify regulators of centriole duplication. Curr. Biol. 24, 664–670 (2014).

Moyer, T. C., Clutario, K. M., Lambrus, B. G., Daggubati, V. & Holland, A. J. Binding of STIL to Plk4 activates kinase activity to promote centriole assembly. J. Cell Biol. 209, 863–878 (2015).

Mahuzier, A. et al. Ependymal cilia beating induces an actin network to protect centrioles against shear stress. Nat. Commun. 9, 2279 (2018).

Levine, M. S. et al. Centrosome amplification is sufficient to promote spontaneous tumorigenesis in mammals. Dev. Cell 40, 313–322 (2017).
Acknowledgements
We thank all of the members of the Spassky laboratory for their comments and discussions, M. Legendre for identifying the DEUP1 mutation on the gnomAD control database, K. Oegema and A.K. Shiau (Ludwig Institute for Cancer Research) for sharing centrinone, A.-K. Konate and R. Nagalingum for administrative support and the IBENS Animal Facility for animal care. We thank the IBENS Imaging Facility, with grants from Région Ile-de-France (NERF 2011-45), Fondation pour la Recherche Médicale (FRM; DGE 20111123023), and Fédération pour la Recherche sur le Cerveau–Rotary International France (2011). We thank Y. Wang of the Nathans laboratory for technical assistance. The authors would like to thank the Genome Aggregation Database (gnomAD) and the groups that provided the exome and genome variant data to this resource. We are grateful to J. Nathans, A. Rosen and the Johns Hopkins Institute for Basic Biomedical Sciences for providing research support to A.J.H. This work was supported by grants from the National Institutes of Health (R01GM114119 and R01GM133897) and an American Cancer Society Scholar (RSG-16-156-01-CCG) to A.J.H., National Institutes of Health (R01GM089970) to B.M., Agence Nationale de la Recherche (ANR) Investissements d'Avenir (ANR-10-LABX-54 MEMO LIFE and ANR-11-IDEX-0001-02 PSL Research University) to IBENS. The Spassky laboratory is supported by INSERM, CNRS, EcoleNormale Supérieure (ENS), FRM (EquipeFRM grant 20140329547), a European Research Council (ERC Consolidator grant 647466) to N.S. and ANR (ANRJC JC-15- CE13-0005-01) to A.M.
Ethics declarations
Competing interests
The authors declare no competing interests.
Additional information
Publisher's note Springer Nature remains neutral with regard to jurisdictional claims in published maps and institutional affiliations.
Supplementary information
About this article
Cite this article
Mercey, O., Levine, M.S., LoMastro, G.M. et al. Massive centriole production can occur in the absence of deuterosomes in multiciliated cells. Nat Cell Biol 21, 1544–1552 (2019). https://doi.org/10.1038/s41556-019-0427-x
Received:

Accepted:

Published:

Issue Date:

DOI: https://doi.org/10.1038/s41556-019-0427-x
Further reading
Anna Akhmanova
Lukas C. Kapitein

Nature Reviews Molecular Cell Biology (2022)

Huijie Zhao
Qingxia Chen
Xueliang Zhu

Nature Communications (2021)