Abstract
With ageing, intrinsic haematopoietic stem cell (HSC) activity decreases, resulting in impaired tissue homeostasis, reduced engraftment following transplantation and increased susceptibility to diseases. However, whether ageing also affects the HSC niche, and thereby impairs its capacity to support HSC function, is still widely debated. Here, by using in-vivo long-term label-retention assays we demonstrate that aged label-retaining HSCs, which are, in old mice, the most quiescent HSC subpopulation with the highest regenerative capacity and cellular polarity, reside predominantly in perisinusoidal niches. Furthermore, we demonstrate that sinusoidal niches are uniquely preserved in shape, morphology and number on ageing. Finally, we show that myeloablative chemotherapy can selectively disrupt aged sinusoidal niches in the long term, which is linked to the lack of recovery of endothelial Jag2 at sinusoids. Overall, our data characterize the functional alterations of the aged HSC niche and unveil that perisinusoidal niches are uniquely preserved and thereby protect HSCs from ageing.
Access options
Subscribe to Journal
Get full journal access for 1 year
$59.00
only $4.92 per issue
All prices are NET prices.
VAT will be added later in the checkout.
Tax calculation will be finalised during checkout.
Rent or Buy article
Get time limited or full article access on ReadCube.
from$8.99
All prices are NET prices.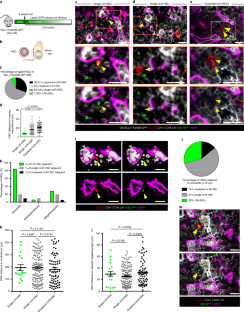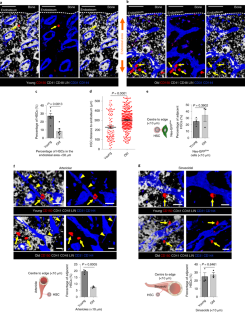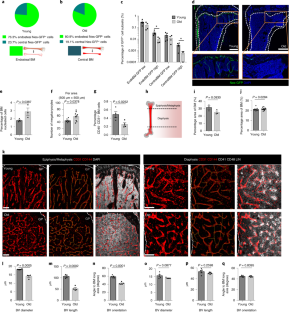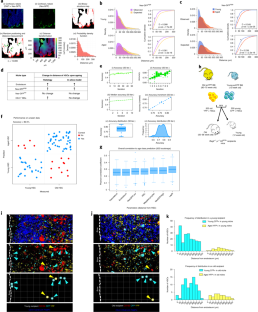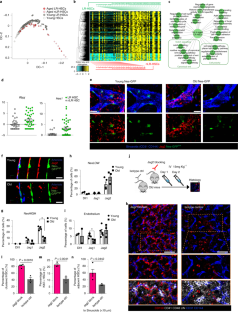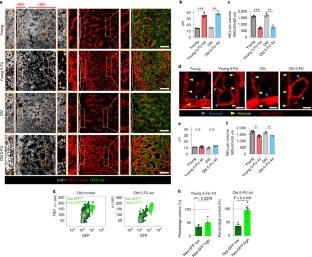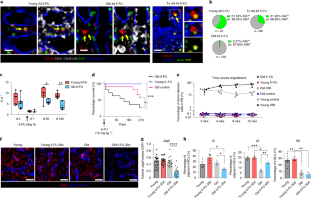 Data availability
RNA-seq data that support the findings of this study have been deposited in the gene expression omnibus under accession code GSE129726. Previously published sequencing data that were re-analysed here are available under ArrayExpress E-MTAB-454723. All other data supporting the findings of this study are available from the corresponding author on reasonable request.
References
1.

Kunisaki, Y. et al. Arteriolar niches maintain haematopoietic stem cell quiescence. Nature 502, 637–643 (2013).

2.

Ding, L., Saunders, T. L., Enikolopov, G. & Morrison, S. J. Endothelial and perivascular cells maintain haematopoietic stem cells. Nature 481, 457–462 (2012).

3.

Acar, M. et al. Deep imaging of bone marrow shows non-dividing stem cells are mainly perisinusoidal. Nature 526, 126–130 (2015).

4.

Itkin, T. et al. Distinct bone marrow blood vessels differentially regulate haematopoiesis. Nature 532, 323–328 (2016).

5.

Chen, J. Y. et al. Hoxb5 marks long-term haematopoietic stem cells and reveals a homogenous perivascular niche. Nature 530, 223–227 (2016).

6.

Calvi, L. M. et al. Osteoblastic cells regulate the haematopoietic stem cell niche. Nature 425, 841–846 (2003).

7.

Guidi, N. et al. Osteopontin attenuates aging-associated phenotypes of hematopoietic stem cells. EMBO J. 36, 840–853 (2017).

8.

Heazlewood, S. Y. et al. Megakaryocytes co-localise with hemopoietic stem cells and release cytokines that up-regulate stem cell proliferation. Stem Cell Res. 11, 782–792 (2013).

9.

Zhao, M. et al. Megakaryocytes maintain homeostatic quiescence and promote post-injury regeneration of hematopoietic stem cells. Nat. Med. 20, 1321–1326 (2014).

10.

Bruns, I. et al. Megakaryocytes regulate hematopoietic stem cell quiescence through CXCL4 secretion. Nat. Med. 20, 1315–1320 (2014).

11.

Mendez-Ferrer, S. et al. Mesenchymal and haematopoietic stem cells form a unique bone marrow niche. Nature 466, 829–834 (2010).

12.

Haylock, D. N. et al. Hemopoietic stem cells with higher hemopoietic potential reside at the bone marrow endosteum. Stem Cells 25, 1062–1069 (2007).

13.

Akunuru, S. & Geiger, H. Aging, Clonality, and Rejuvenation of Hematopoietic Stem Cells. Trends Mol. Med. 22, 701–712 (2016).

14.

Geiger, H., de Haan, G. & Florian, M. C. The ageing haematopoietic stem cell compartment. Nat. Rev. Immunol. 13, 376–389 (2013).

15.

Morrison, S. J., Wandycz, A. M., Akashi, K., Globerson, A. & Weissman, I. L. The aging of hematopoietic stem cells. Nat. Med. 2, 1011–1016 (1996).

16.

Rossi, D. J. et al. Cell intrinsic alterations underlie hematopoietic stem cell aging. Proc. Natl Acad. Sci. USA 102, 9194–9199 (2005).

17.

Kamminga, L. M. et al. Impaired hematopoietic stem cell functioning after serial transplantation and during normal aging. Stem Cells 23, 82–92 (2005).

18.

Beerman, I., Maloney, W. J., Weissmann, I. L. & Rossi, D. J. Stem cells and the aging hematopoietic system. Curr. Opin. Immunol. 22, 500–506 (2010).

19.

Maryanovich, M. et al. Adrenergic nerve degeneration in bone marrow drives aging of the hematopoietic stem cell niche. Nat. Med. 24, 782–791 (2018).

20.

Bockamp, E. et al. Tetracycline-controlled transgenic targeting from the SCL locus directs conditional expression to erythrocytes, megakaryocytes, granulocytes, and c-kit-expressing lineage-negative hematopoietic cells. Blood 108, 1533–1541 (2006).

21.

Wilson, A. et al. Hematopoietic stem cells reversibly switch from dormancy to self-renewal during homeostasis and repair. Cell 135, 1118–1129 (2008).

22.

Walter, D. et al. Exit from dormancy provokes DNA-damage-induced attrition in haematopoietic stem cells. Nature 520, 549–552 (2015).

23.

Cabezas-Wallscheid, N. et al. Vitamin a-retinoic acid signaling regulates hematopoietic stem cell dormancy. Cell 169, 807–823 (2017).

24.

Essers, M. A. et al. IFNalpha activates dormant haematopoietic stem cells in vivo. Nature 458, 904–908 (2009).

25.

Bernitz, J. M., Kim, H. S., MacArthur, B., Sieburg, H. & Moore, K. Hematopoietic stem cells count and remember self-renewal divisions. Cell 167, 1296–1309 (2016).

26.

Waskow, C. et al. Hematopoietic stem cell transplantation without irradiation. Nat. Methods 6, 267–269 (2009).

27.

Florian, M. C. et al. A canonical to non-canonical Wnt signalling switch in haematopoietic stem-cell ageing. Nature 503, 392–396 (2013).

28.

Florian, M. C. et al. Cdc42 activity regulates hematopoietic stem cell aging and rejuvenation. Cell Stem Cell 10, 520–530 (2012).

29.

Grigoryan, A. et al. LaminA/C regulates epigenetic and chromatin architecture changes upon aging of hematopoietic stem cells. Genome Biol. 19, 189 (2018).

30.

Florian, M. C. et al. Aging alters the epigenetic asymmetry of HSC division. PLoS Biol. 16, e2003389 (2018).

31.

Maryanovich, M., Takeishi, S. & Frenette, P. S. Neural regulation of bone and bone marrow. Cold Spring Harb. Perspect. Med. 4, a031344 (2018).

32.

Kusumbe, A. P. et al. Age-dependent modulation of vascular niches for haematopoietic stem cells. Nature 532, 380–384 (2016).

33.

Spencer, J. A. et al. Direct measurement of local oxygen concentration in the bone marrow of live animals. Nature 508, 269–273 (2014).

34.

Zhang, Y. et al. CXCR4/CXCL12 axis counteracts hematopoietic stem cell exhaustion through selective protection against oxidative stress. Sci. Rep. 6, 37827 (2016).

35.

Sugiyama, T., Kohara, H., Noda, M. & Nagasawa, T. Maintenance of the hematopoietic stem cell pool by CXCL12-CXCR4 chemokine signaling in bone marrow stromal cell niches. Immunity 25, 977–988 (2006).

36.

Broxmeyer, H. E. et al. DEK regulates hematopoietic stem engraftment and progenitor cell proliferation. Stem Cells Dev. 21, 1449–1454 (2012).

37.

Solaimani Kartalaei, P. et al. Whole-transcriptome analysis of endothelial to hematopoietic stem cell transition reveals a requirement for Gpr56 in HSC generation. J. Exp. Med. 212, 93–106 (2015).

38.

Holmfeldt, P. et al. Functional screen identifies regulators of murine hematopoietic stem cell repopulation. J. Exp. Med. 213, 433–449 (2016).

39.

Borggrefe, T. & Oswald, F. The Notch signaling pathway: transcriptional regulation at Notch target genes. Cell. Mol. Life Sci. 66, 1631–1646 (2009).

40.

Kojika, S. & Griffin, J. D. Notch receptors and hematopoiesis. Exp. Hematol. 29, 1041–1052 (2001).

41.

Guiu, J. et al. Hes repressors are essential regulators of hematopoietic stem cell development downstream of Notch signaling. J. Exp. Med. 210, 71–84 (2013).

42.

Shimizu, K. et al. Binding of Delta1, Jagged1, and Jagged2 to Notch2 rapidly induces cleavage, nuclear translocation, and hyperphosphorylation of Notch2. Mol. Cell. Biol. 20, 6913–6922 (2000).

43.

Kopp, H. G., Hooper, A. T., Avecilla, S. T. & Rafii, S. Functional heterogeneity of the bone marrow vascular niche. Ann. N. Y. Acad. Sci. 1176, 47–54 (2009).

44.

Kopp, H. G. et al. Tie2 activation contributes to hemangiogenic regeneration after myelosuppression. Blood 106, 505–513 (2005).

45.

Zhou, B. O. et al. Bone marrow adipocytes promote the regeneration of stem cells and haematopoiesis by secreting SCF. Nat. Cell Biol. 19, 891–903 (2017).

46.

Baryawno, N., Severe, N. & Scadden, D. T. Hematopoiesis: reconciling historic controversies about the niche. Cell Stem Cell 20, 590–592 (2017).

47.

Maillard, I. et al. Canonical notch signaling is dispensable for the maintenance of adult hematopoietic stem cells. Cell Stem Cell 2, 356–366 (2008).

48.

Guo, P. et al. Endothelial jagged-2 sustains hematopoietic stem and progenitor reconstitution after myelosuppression. J. Clin. Invest. 127, 4242–4256 (2017).

49.

Mazurier, F. et al. A novel immunodeficient mouse model–RAG2 x common cytokine receptor gamma chain double mutants–requiring exogenous cytokine administration for human hematopoietic stem cell engraftment. J. Interferon Cytokine Res. 19, 533–541 (1999).

50.

Luche, H., Weber, O., Nageswara Rao, T., Blum, C. & Fehling, H. J. Faithful activation of an extra-bright red fluorescent protein in "knock-in" Cre-reporter mice ideally suited for lineage tracing studies. Eur. J. Immunol. 37, 43–53 (2007).

51.

Schwenk, F., Baron, U. & Rajewsky, K. A cre-transgenic mouse strain for the ubiquitous deletion of loxP-flanked gene segments including deletion in germ cells. Nucleic Acids Res. 23, 5080–5081 (1995).

52.

Lis, R. et al. Conversion of adult endothelium to immunocompetent haematopoietic stem cells. Nature 545, 439–445 (2017).

53.

Elyaman, W. et al. Notch receptors and Smad3 signaling cooperate in the induction of interleukin-9-producing T cells. Immunity 36, 623–634 (2012).

54.

Angerer, P. et al. destiny: diffusion maps for large-scale single-cell data in R. Bioinformatics 32, 1241–1243 (2016).

55.

McCarthy, D. J., Campbell, K. R., Lun, A. T. & Wills, Q. F. Scater: pre-processing, quality control, normalization and visualization of single-cell RNA-seq data in R. Bioinformatics 33, 1179–1186 (2017).

56.

Brennecke, P. et al. Accounting for technical noise in single-cell RNA-seq experiments. Nat. Methods 10, 1093–1095 (2013).

57.

Love, M. I., Huber, W. & Anders, S. Moderated estimation of fold change and dispersion for RNA-seq data with DESeq2. Genome Biol. 15, 550 (2014).

58.

Scialdone, A. et al. Computational assignment of cell-cycle stage from single-cell transcriptome data. Methods 85, 54–61 (2015).

59.

Lun, A. T., McCarthy, D. J. & Marioni, J. C. A step-by-step workflow for low-level analysis of single-cell RNA-seq data with Bioconductor. F1000Res 5, 2122 (2016).
Acknowledgements
We thank J. A. Cancelas (Cincinnati Children Hospital Medical Center) for advice and critical reading of the manuscript. We thank H. J. Fehling (Institute of Immunology, Ulm University) for donating AcRFP and AcYFP mice and Y. Zheng (Cincinnati Children's Hospital Medical Center, Cincinnati, Ohio, USA) for donating AcCFP mice. We thank the core facilities at Ulm University, A. Rück (Microscope Facility), for support with confocal and two-photon microscopy, as well as the Cell Sorting Facility and the Tierforschungszentrum (Animal Facility). Work in the laboratory of M.C.F. was supported by an Emmy Noether Grant (DFG) (grant nos. SFB1074 and FOR2674) to M.C.F. M.S. was supported by a PhD Degree Scholarship of the Avicenna-Studienwerk programme.
Ethics declarations
Competing interests
The authors declare no competing interests.
Additional information
Publisher's note Springer Nature remains neutral with regard to jurisdictional claims in published maps and institutional affiliations.
Supplementary information
About this article
Cite this article
Saçma, M., Pospiech, J., Bogeska, R. et al. Haematopoietic stem cells in perisinusoidal niches are protected from ageing. Nat Cell Biol 21, 1309–1320 (2019). https://doi.org/10.1038/s41556-019-0418-y
Received:

Accepted:

Published:

Issue Date: