Abstract
Tendon injuries cause prolonged disability and never recover completely. Current mechanistic understanding of tendon regeneration is limited. Here, we use single-cell transcriptomics to identify a tubulin polymerization-promoting protein family member 3-expressing (Tppp3+) cell population as potential tendon stem cells. Through inducible lineage tracing, we demonstrate that these cells can generate new tenocytes and self-renew upon injury. A fraction of Tppp3+ cells expresses platelet-derived growth factor receptor alpha (Pdfgra). Ectopic platelet-derived growth factor-AA (PDGF-AA) protein induces new tenocyte production while inactivation of Pdgfra in Tppp3+ cells blocks tendon regeneration. These results support Tppp3+Pdgfra+ cells as tendon stem cells. Unexpectedly, Tppp3−Pdgfra+ fibro-adipogenic progenitors coexist in the tendon stem cell niche and give rise to fibrotic cells, revealing a clandestine origin of fibrotic scars in healing tendons. Our results explain why fibrosis occurs in injured tendons and present clinical challenges to enhance tendon regeneration without a concurrent increase in fibrosis by PDGF application.
Relevant articles
Open Access articles citing this article.
Ji-Hye Yea

,

Mario Gomez-Salazar

…

Aaron W. James

Bone Research Open Access 21 July 2023

Kang Lu

,

Mei Zhou

…

Zhongliang Deng

BMC Molecular and Cell Biology Open Access 05 January 2023

Kyota Ishibashi

,

Kentaro Ikegami

…

Katsuto Tamai

Communications Biology Open Access 12 November 2022
Access options
Access Nature and 54 other Nature Portfolio journals
Get Nature+, our best-value online-access subscription
$29.99 / 30 days
cancel any time
Subscribe to this journal
Receive 12 print issues and online access
$209.00 per year
only $17.42 per issue
Rent or buy this article
Prices vary by article type
from$1.95
to$39.95
Prices may be subject to local taxes which are calculated during checkout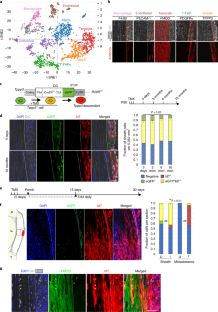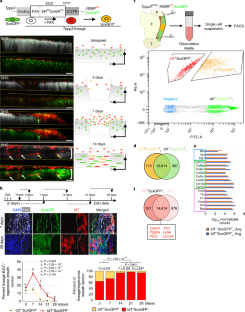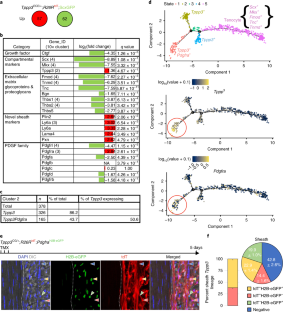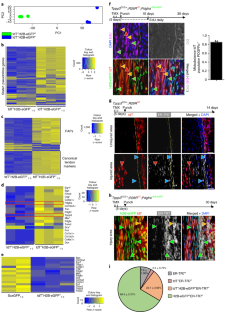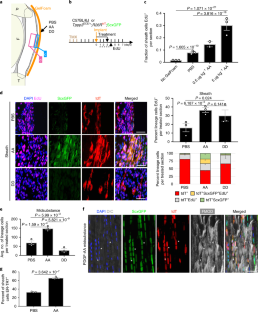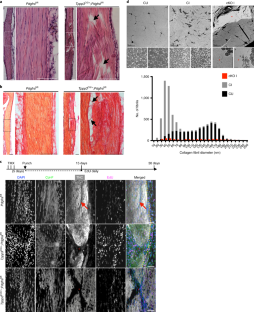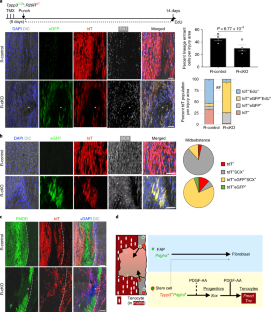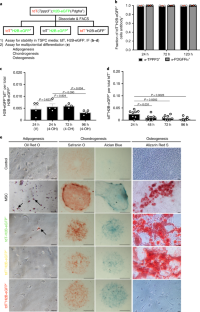 Data availability
RNA–seq and scRNA–seq data that support the findings of this study have been deposited at NCBI under accession code SRA accession: PRJNA506218. Previously published sequencing data that were re-analysed here are available under accession code GSE89633. All other data supporting the findings of this study are available from the corresponding author upon reasonable request.
References
Elliott, D. H. Structure and function of mammalian tendon. Biol. Rev. Camb. Philos. Soc. 40, 392–421 (1965).

Voleti, P. B., Buckley, M. R. & Soslowsky, L. J. Tendon healing: repair and regeneration. Annu. Rev. Biomed. Eng. 14, 47–71 (2012).

Jozsa, L. & Kannus, P. Human Tendons: Anatomy, Physiology and Pathology. (Human Kinetics, 1997).

Harvey, T. & Fan, C.-M. Origins of tendon stem cells in situ. Front. Biol. 13, 263–276 (2018).

Howell, K. et al. Novel model of tendon regeneration reveals distinct cell mechanisms underlying regenerative and fibrotic tendon healing. Sci. Rep. 7, 45238 (2017).

Loiselle, A. E. et al. Remodeling of murine intrasynovial tendon adhesions following injury: MMP and neotendon gene expression. J. Orthop. Res. 27, 833–840 (2009).

Kim, H. M. et al. Technical and biological modifications for enhanced flexor tendon repair. J. Hand Surg. Am. 35, 1031–1037 (2010).

Juneja, S. C., Schwarz, E. M., O'Keefe, R. J. & Awad, H. A. Cellular and molecular factors in flexor tendon repair and adhesions: a histological and gene expression analysis. Connect. Tissue Res. 54, 218–226 (2013).

Manning, C. N. et al. The early inflammatory response after flexor tendon healing: a gene expression and histological analysis. J. Orthop. Res. 32, 645–652 (2014).

Loiselle, A. E., Kelly, M. & Hammert, W. C. Biological augmentation of flexor tendon repair: a challenging cellular landscape. J. Hand Surg. Am. 41, 144–149 (2016).

Lin, T. W., Cardenas, L., Glaser, D. L. & Soslowsky, L. J. Tendon healing in interleukin-4 and interleukin-6 knockout mice. J. Biomech. 39, 61–69 (2006).

Bi, Y. et al. Identification of tendon stem/progenitor cells and the role of the extracellular matrix in their niche. Nat. Med. 13, 1219–1227 (2007).

Dyment, N. A. & Galloway, J. L. Regenerative biology of tendon: mechanisms of renewal and repair. Curr. Mol. Bio. Rep. 1, 124–131 (2015).

Fiel, R., Wagner, J., Metzger, D. & Chambon, P. Regulation of Cre recombinase activity by mutated estrogen receptor ligand-binding domains. Biochem. Biophy. Res. Commun. 237, 752–757 (1997).

Madisen, L. et al. A robust and high-throughput cre reporting and characterization system for the whole mouse brain. Nat. Neurosci. 13, 133–140 (2010).

Dyment, N. A. et al. Lineage tracing of resident tendon progenitors during growth and natural healing. PLoS One 9, e96113 (2014).

Ansorge, H. L., Adams, S., Birk, D. E. & Soslowsky, L. J. Mechanical, compositional and structural properties of the post-natal mouse achilles tendon. Ann. Biomed. Eng. 39, 1904–1913 (2011).

Beason, D. P., Kuntz, A. F., Hsu, J. E., Miller, K. S. & Soslowsky, L. J. Development and evaluation of multiple tendon injury models in mouse. J. Biomech. 45, 1550–1553 (2012).

Staverosky, J. A., Pryce, B. A., Watson, S. S. & Schweitzer, R. Tubulin polymerization-promoting protein family member 3, Tppp3, is a specific marker of the differentiating tendon sheath and synovial joints. Dev. Dyn. 238, 685–692 (2013).

Wang, Y. et al. Osteocalcin expressing cells from tendon sheaths in mice contribute to tendon repair by activating hedgehog signaling. eLife 6, e30474 (2017).

Chen, J., Renia, L. & Ginhoux, F. Constructing cell lineages from single-cell transcriptomes. Mol. Aspects Med. 59, 95–113 (2017).

Uezumi, A., Fukada, S., Yamamoto, N., Takeda, S. & Tsuchida, L. Mesenchymal progenitors distinct from satellite cells contribute to ectopic fat cell formation in skeletal muscle. Nat. Cell Biol. 12, 143–152 (2010).

Joe, A. W. et al. Muscle injury activates resident fibro/adipogenic progenitors that facilitate myogenesis. Nat. Cell Biol. 12, 153–163 (2010).

Ameye, L. et al. Abnormal collagen fibrils in tendons of biglycan/fibromodulin-deficient mice lead to gait impairment, ectopic ossification and osteoarthritis. FASEB J. 16, 673–680 (2002).

Jepsen, K. J. et al. A syndrome of joint laxity and impaired tendon integrity in lumican- and fibromodulin-deficient mice. J. Biol. Chem. 277, 35532–35540 (2002).

Docheva, D., Hunziker, E. B., Fassler, R. & Brandau, O. Tenomodulin is necessary for tenocyte proliferation and tendon maturation. Mol. Cell. Biol. 25, 699–705 (2005).

Hauser, N., Paulsson, M., Kale, A. A. & DiCesare, P. E. Tendon extracellular matrix contains pentameric thrombospondin-4 (TSP-4). FEBS Lett. 368, 307–310 (2003).

Kohrs, R. T. et al. Tendon fascicle gliding in wild type, heterozygous and lubricin knockout mice. J. Orthop. Res. 29, 384–389 (2011).

Evans, C. J. et al. G-TRACE: rapid Gal4-basd cell lineage analysis in Drosophila. Nat. Methods 6, 603–605 (2009).

Pryce, B. A., Brent, A. E., Murchison, N. D., Tabin, C. J. & Schweitzer, R. Generation of transgenic tendon reporters, ScxGFP and ScxAP, using regulatory elements of the scleraxis gene. Dev. Dyn. 236, 1677–1682 (2007).

Dyment, N. A. et al. The paratenon contributes to scleraxis-expressing cells during patellar tendon healing. PLoS One 8, e59944 (2013).

BestK. T. & LoiselleA. E. Scleraxis lineage cells contribute to organized bridging tissue during tendon healing and identify a subpopulation of resident tendon cells. FASEB J. 33, 8578–8587 (2019).

Kishimoto, Y. et al. Wnt/b-catenin signaling suppresses expression of Scx, Mkx and Tnmd in tendon-derived cells. PLoS One 12, e0182051 (2017).

D'Souza, D. & Patel, K. Involvement of long- and short-range signaling during early tendon development. Anat. Embryol. 200, 367–375 (1999).

Dyment, N. A. et al. Gdf5 progenitors give rise to fibrocartilage cells that mineralize via hedgehog signaling to form the zonal enthesis. Dev. Biol. 405, 96–107 (2015).

Schwartz, A. G., Galatz, L. M. & Thomopoulos, S. Enthesis regeneration: a role for Gli+ progenitor cells. Development 144, 1159–1164 (2017).

Heldin, C.-H. & Lennartsson, J. Structural and functional properties of platelet-derived growth factor and stem cell factor receptors. Cold Spring Harb. Perspect. Biol. 5, a009100 (2013).

Qiu, X. et al. Reversed graph embedding resolves complex single-cell trajectories. Nat. Methods 14, 979–982 (2017).

HamiltonT. G., KlinghofferR. A., CorrinP. D. & SorianoP. Evolutionary divergence of platelet-derived growth factor alpha receptor signaling mechanisms. Mol. Cell. Biol. 23, 4013–4025 (2003).

Dominici, M. et al. Minimal criteria for defining multi-potent mesenchymal stromal cells: the international society for cellular therapy position statement. Cytotherapy 8, 315–317 (2006).

Sung, J. H. et al. Isolation and characterization of mouse mesenchymal stem cells. Transplant. Proc. 40, 2649–2654 (2008).

Pittenger, M. F. et al. Multilineage potential of adult human mesenchymal stem cells. Science 284, 143–147 (1999).

Franchi, M., Trire, A., Quaranta, M., Orsini, E. & Ottani, V. Collagen structure of tendon relates to function. Sci. World J. 7, 404–420 (2007).

Richardson, S. H. et al. Tendon development requires regulation of cell condensation and cell shape via cadherin-11-mediated cell–cell junctions. Mol. Cell. Biol. 27, 6218–6228 (2007).

Starborg, T. et al. Using transmission electron microscopy and 3View to determine collagen fibril size and three-dimensional organization. Nat. Protoc. 8, 1433–1448 (2013).

Buschmann, J. & Bürgisser, G. Biomechanics of Tendons and Ligaments: Tissue Reconstruction and Regeneration. (Elsevier, 2017).

Baksh, N., Hannon, C. P., Murawski, C. D., Smyth, N. A. & Kennedy, J. G. Platelet-rich plasma in tendon models: a systematic review of basic science literature. Arthroscopy 29, 596–607 (2013).

Evrova, O. & Buschmann, J. In vitro and in vivo effect of PDGF-BB delivery strategies on tendon healing: a review. Eur. Cell Mater. 34, 15–39 (2017).

Rodriguez, C. I. et al. High-efficiency deleter mice show that FLPe is an alternative to Cre-loxP. Nat. Genet. 25, 139–140 (2000).

Tallquist, M. D. & Soriano, P. Cell autonomous requirement of PDGFRa in populations of cranial and cardiac neural crest cells. Development 130, 507–518 (2003).

Liu, P., Jenkins, N. A. & Copeland, N. G. A highly efficient recombineering-based method for generating conditional knockout mutations. Genome Res. 13, 476–484 (2003).

Wu, S., Ying, G., Wu, Q. & Capecchi, M. R. A protocol for constructing gene targeting vectors: generating knockout mice for the cadherin family and beyond. Nat. Protoc. 3, 1056–1076 (2008).

Matsuda, T. & Cepko, C. L. Controlled expression of transgenes introduced by in vivo electroporation. Proc. Natl Acad. Sci. USA 104, 1027–1032 (2007).

Gronthos, S., Mankani, M., Brahim, J., Robey, P. G. & Shi, S. Postnatal human dental pulp stem cells (DPSCs) in vitro and in vivo. Proc. Natl Acad. Sci. USA 97, 13625–13630 (2000).

Chien et al. Optimizing a 3D model system for molecular manipulation of tenogenesis. Connect. Tissue Res. 4, 295–308 (2018).

Trapnell, C. et al. Differential gene and transcript expression analysis of RNA-seq experiments with TopHat and Cufflinks. Nat. Protoc. 7, 562–578 (2012).

Anders, S. & Huber, W. Differential expression analysis for sequence count data. Genome Biol. 11, R106 (2010).

Satija, R., Farrell, J. A., Gennert, D., Schier, A. F. & Regev, A. Spatial reconstruction of single-cell gene expression. Nat. Biotechnol. 33, 495–502 (2015).
Acknowledgements
We thank the Fan laboratory members and C. Lepper for critical reading of the manuscript. We also thank S. Satchell for technical assistance, C. Lepper and Y. Bai for assistance with FACS and R. Schweitzer for invaluable advice and sharing the ScxGFP mice. This research was supported by the Carnegie Institution for Science. C.-M.F. is supported by the NIH (grants R01AR060042, R01AR071976 and R01AR072644) and the Carnegie Institution for Science.
Ethics declarations
Competing interests
The authors declare no competing interests.
Additional information
Publisher's note Springer Nature remains neutral with regard to jurisdictional claims in published maps and institutional affiliations.
Supplementary information
About this article
Cite this article
Harvey, T., Flamenco, S. & Fan, CM. A Tppp3+Pdgfra+ tendon stem cell population contributes to regeneration and reveals a shared role for PDGF signalling in regeneration and fibrosis. Nat Cell Biol 21, 1490–1503 (2019). https://doi.org/10.1038/s41556-019-0417-z
Received:

Accepted:

Published:

Issue Date:

DOI: https://doi.org/10.1038/s41556-019-0417-z