Abstract
While amino acid restriction remains an attractive strategy for cancer therapy, metabolic adaptations limit its effectiveness. Here we demonstrate a role of translational reprogramming in the survival of asparagine-restricted cancer cells. Asparagine limitation in melanoma and pancreatic cancer cells activates receptor tyrosine kinase–MAPK signalling as part of a feedforward mechanism involving mammalian target of rapamycin complex 1 (mTORC1)-dependent increase in MAPK-interacting kinase 1 (MNK1) and eukaryotic translation initiation factor 4E (eIF4E), resulting in enhanced translation of activating transcription factor 4 (ATF4) mRNA. MAPK inhibition attenuates translational induction of ATF4 and the expression of its target asparagine synthetase (ASNS), sensitizing melanoma and pancreatic tumours to asparagine restriction, reflected in inhibition of their growth. Correspondingly, low ASNS expression is among the top predictors of response to inhibitors of MAPK signalling in patients with melanoma and is associated with favourable prognosis when combined with low MAPK signalling activity. These studies reveal an axis of adaptation to asparagine deprivation and present a rationale for clinical evaluation of MAPK inhibitors in combination with asparagine restriction approaches.
Relevant articles
Open Access articles citing this article.
Christopher J. Halbrook

,

Galloway Thurston

…

Costas A. Lyssiotis

Nature Cancer Open Access 21 November 2022

Hengyu Chen

,

Yuanhang Yu

…

Lei Li

Cell & Bioscience Open Access 23 February 2022

Pawel Strzelczyk

,

Di Zhang

…

Jacek Lubkowski

Scientific Reports Open Access 15 October 2020
Access options
Access Nature and 54 other Nature Portfolio journals
Get Nature+, our best-value online-access subscription
$29.99 per month
cancel any time
Subscribe to this journal
Receive 12 print issues and online access
$209.00 per year
only $17.42 per issue
Rent or buy this article
Get just this article for as long as you need it
$39.95
Prices may be subject to local taxes which are calculated during checkout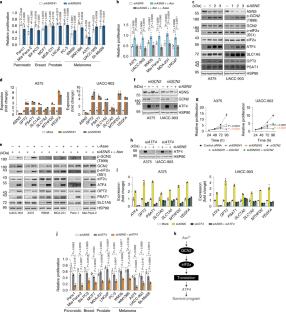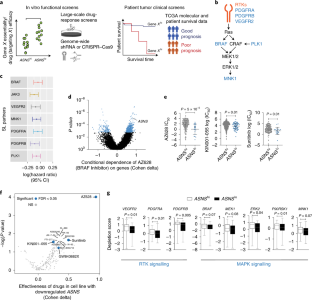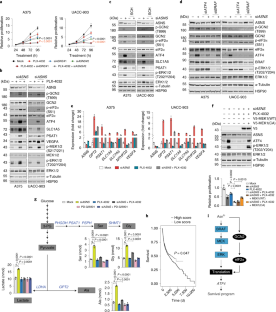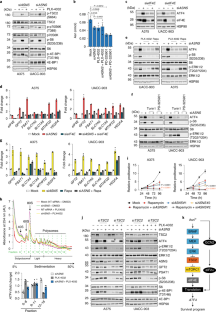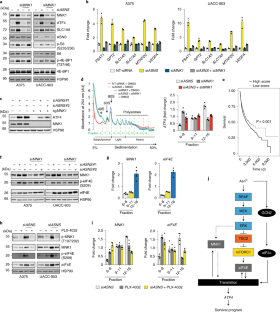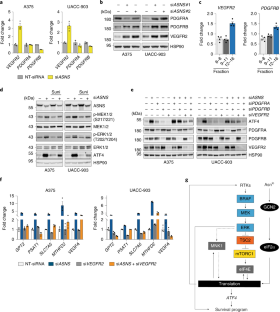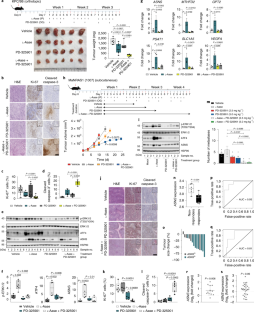 References
Maddocks, O. D. K. et al. Modulating the therapeutic response of tumours to dietary serine and glycine starvation. Nature 544, 372–376 (2017).

Sun, L. et al. cMyc-mediated activation of serine biosynthesis pathway is critical for cancer progression under nutrient deprivation conditions. Cell Res. 25, 429–444 (2015).

Wise, D. R. & Thompson, C. B. Glutamine addiction: a new therapeutic target in cancer. Trends Biochem. Sci. 35, 427–433 (2010).

Altman, B. J., Stine, Z. E. & Dang, C. V. From Krebs to clinic: glutamine metabolism to cancer therapy. Nat. Rev. Cancer 16, 749 (2016).

Pavlova, N. N. et al. As extracellular glutamine levels decline, asparagine becomes an essential amino acid. Cell Metab. 27, 428–438 e425 (2018).

Zhang, J. et al. Asparagine plays a critical role in regulating cellular adaptation to glutamine depletion. Mol. Cell. 56, 205–218 (2014).

Knott, S. R. V. et al. Asparagine bioavailability governs metastasis in a model of breast cancer. Nature 554, 378–381 (2018).

Gwinn, D. M. et al. Oncogenic KRAS regulates amino acid homeostasis and asparagine biosynthesis via ATF4 and alters sensitivity to l-asparaginase. Cancer Cell 33, 91–107 (2018).

Pieters, R. et al. l-Asparaginase treatment in acute lymphoblastic leukemia: a focus on Erwinia asparaginase. Cancer 117, 238–249 (2011).

Stams, W. A. et al. Asparagine synthetase expression is linked with l-asparaginase resistance in TEL–AML1-negative but not TEL–AML1-positive pediatric acute lymphoblastic leukemia. Blood 105, 4223–4225 (2005).

Lessner, H. E., Valenstein, S., Kaplan, R., DeSimone, P. & Yunis, A. Phase II study of l-asparaginase in the treatment of pancreatic carcinoma. Cancer Treat. Rep. 64, 1359–1361 (1980).

Bachet, J. B. et al. Asparagine synthetase expression and phase I study with l-asparaginase encapsulated in red blood cells in patients with pancreatic adenocarcinoma. Pancreas 44, 1141–1147 (2015).

Taylor, C. W., Dorr, R. T., Fanta, P., Hersh, E. M. & Salmon, S. E. A phase I and pharmacodynamic evaluation of polyethylene glycol-conjugated l-asparaginase in patients with advanced solid tumors. Cancer Chemother. Pharmacol. 47, 83–88 (2001).

Kilberg, M. S., Shan, J. & Su, N. ATF4-dependent transcription mediates signaling of amino acid limitation. Trends Endocrinol. Metab. 20, 436–443 (2009).

Nakamura, A. et al. Inhibition of GCN2 sensitizes ASNS-low cancer cells to asparaginase by disrupting the amino acid response. Proc. Natl Acad. Sci. USA 115, E7776–E7785 (2018).

Lee, J. S. et al. Harnessing synthetic lethality to predict the response to cancer treatment. Nat. Commun. 9, 2546 (2018).

Bramham, C. R., Jensen, K. B. & Proud, C. G. Tuning specific translation in cancer metastasis and synaptic memory: control at the MNK–eIF4E axis. Trends Biochem. Sci. 41, 847–858 (2016).

Wu, J., Ivanov, A. I., Fisher, P. B. & Fu, Z. Polo-like kinase 1 induces epithelial-to-mesenchymal transition and promotes epithelial cell motility by activating CRAF/ERK signaling. eLife 5, 10734 (2016).

Eferl, R. & Wagner, E. F. AP-1: a double-edged sword in tumorigenesis. Nat. Rev. Cancer 3, 859–868 (2003).

Sears, R. et al. Multiple Ras-dependent phosphorylation pathways regulate Myc protein stability. Genes Dev. 14, 2501–2514 (2000).

Balgi, A. D. et al. Regulation of mTORC1 signaling by pH. PLoS ONE 6, e21549 (2011).

Roux, P. P. & Topisirovic, I. Signaling pathways involved in the regulation of mRNA translation. Mol. Cell Biol. 38, e00070-18 (2018).

Gandin, V.et al. Polysome fractionation and analysis of mammalian translatomes on a genome-wide scale. J. Vis. Exp, doi:51455 (2014).

Waskiewicz, A. J. et al. Phosphorylation of the cap-binding protein eukaryotic translation initiation factor 4E by protein kinase Mnk1 in vivo. Mol. Cell Biol. 19, 1871–1880 (1999).

Wendel, H. G. et al. Dissecting eIF4E action in tumorigenesis. Genes Dev. 21, 3232–3237 (2007).

Topisirovic, I., Ruiz-Gutierrez, M. & Borden, K. L. Phosphorylation of the eukaryotic translation initiation factor eIF4E contributes to its transformation and mRNA transport activities. Cancer Res. 64, 8639–8642 (2004).

Waskiewicz, A. J., Flynn, A., Proud, C. G. & Cooper, J. A. Mitogen-activated protein kinases activate the serine/threonine kinases Mnk1 and Mnk2. EMBO J. 16, 1909–1920 (1997).

Furic, L. et al. eIF4E phosphorylation promotes tumorigenesis and is associated with prostate cancer progression. Proc. Natl Acad. Sci. USA 107, 14134–14139 (2010).

Webb, T. E., Hughes, A., Smalley, D. S. & Spriggs, K. A. An internal ribosome entry site in the 5' untranslated region of epidermal growth factor receptor allows hypoxic expression. Oncogenesis 4, e134 (2015).

Guan, B. J. et al. A Unique ISR program determines cellular responses to chronic stress. Mol. Cell 68, 885–900 e886 (2017).

de la Parra, C. et al. A widespread alternate form of cap-dependent mRNA translation initiation. Nat. Commun. 9, 3068 (2018).

Liu, S. et al. METTL13 methylation of eEF1A increases translational output to promote tumorigenesis. Cell 176, 491–504 (2019).

Dorard, C. et al. RAF proteins exert both specific and compensatory functions during tumour progression of NRAS-driven melanoma. Nat. Commun. 8, 15262 (2017).

Bhoumik, A. et al. An ATF2-derived peptide sensitizes melanomas to apoptosis and inhibits their growth and metastasis. J. Clin. Invest. 110, 643–650 (2002).

Falletta, P. et al. Translation reprogramming is an evolutionarily conserved driver of phenotypic plasticity and therapeutic resistance in melanoma. Genes Dev. 31, 18–33 (2017).

Kakavand, H. et al. PD-L1 expression and immune escape in melanoma resistance to MAPK inhibitors. Clin. Cancer Res. 23, 6054–6061 (2017).

Rizos, H. et al. BRAF inhibitor resistance mechanisms in metastatic melanoma: spectrum and clinical impact. Clin. Cancer Res. 20, 1965–1977 (2014).

Kwong, L. N. et al. Co-clinical assessment identifies patterns of BRAF inhibitor resistance in melanoma. J. Clin. Invest. 125, 1459–1470 (2015).

Zhang, G. et al. Targeting mitochondrial biogenesis to overcome drug resistance to MAPK inhibitors. J. Clin. Invest. 126, 1834–1856 (2016).

Wek, R. C. Role of eIF2α kinases in translational control and adaptation to cellular stress. Cold Spring Harb. Perspect. Biol. 10, a032870 (2018).

Krall, A. S., Xu, S., Graeber, T. G., Braas, D. & Christofk, H. R. Asparagine promotes cancer cell proliferation through use as an amino acid exchange factor. Nat. Commun. 7, 11457 (2016).

Pathria, G. et al. Targeting the Warburg effect via LDHA inhibition engages ATF4 signaling for cancer cell survival. EMBO J. 37, e99735 (2018).

Young, S. K. & Wek, R. C. Upstream open reading frames differentially regulate gene-specific translation in the integrated stress response. J. Biol. Chem. 291, 16927–16935 (2016).

Chen, R. et al. The general amino acid control pathway regulates mTOR and autophagy during serum/glutamine starvation. J. Cell Biol. 206, 173–182 (2014).

Shin, S. et al. ERK2 mediates metabolic stress response to regulate cell fate. Mol. Cell 59, 382–398 (2015).

Thiaville, M. M. et al. MEK signaling is required for phosphorylation of eIF2alpha following amino acid limitation of HepG2 human hepatoma cells. J. Biol. Chem. 283, 10848–10857 (2008).

Oakes, S. A. & Papa, F. R. The role of endoplasmic reticulum stress in human pathology. Annu. Rev. Pathol. 10, 173–194 (2015).

Fiorese, C. J. et al. The transcription factor ATF5 mediates a mammalian mitochondrial UPR. Curr. Biol. 26, 2037–2043 (2016).

Pereira, E. R., Frudd, K., Awad, W. & Hendershot, L. M. Endoplasmic reticulum (ER) stress and hypoxia response pathways interact to potentiate hypoxia-inducible factor 1 (HIF-1) transcriptional activity on targets like vascular endothelial growth factor (VEGF). J. Biol. Chem. 289, 3352–3364 (2014).

Lu, D., Wolfgang, C. D. & Hai, T. Activating transcription factor 3, a stress-inducible gene, suppresses Ras-stimulated tumorigenesis. J. Biol. Chem. 281, 10473–10481 (2006).

Sang, N. et al. MAPK signaling up-regulates the activity of hypoxia-inducible factors by its effects on p300. J. Biol. Chem. 278, 14013–14019 (2003).

Wethmar, K. et al. Comprehensive translational control of tyrosine kinase expression by upstream open reading frames. Oncogene 35, 1736–1742 (2016).

Calvo, S. E., Pagliarini, D. J. & Mootha, V. K. Upstream open reading frames cause widespread reduction of protein expression and are polymorphic among humans. Proc. Natl Acad. Sci. USA 106, 7507–7512 (2009).

Ingolia, N. T., Lareau, L. F. & Weissman, J. S. Ribosome profiling of mouse embryonic stem cells reveals the complexity and dynamics of mammalian proteomes. Cell 147, 789–802 (2011).

Sidrauski, C., McGeachy, A. M., Ingolia, N. T. & Walter, P. The small molecule ISRIB reverses the effects of eIF2alpha phosphorylation on translation and stress granule assembly. eLife 4, 05033 (2015).

Reddy, K. B., Nabha, S. M. & Atanaskova, N. Role of MAP kinase in tumor progression and invasion. Cancer Metastasis Rev. 22, 395–403 (2003).

Ackermann, J. et al. Metastasizing melanoma formation caused by expression of activated N-RasQ61K on an INK4a-deficient background. Cancer Res. 65, 4005–4011 (2005).

Valérie Petit, V. et al. C57BL/6 congenic mouse NRAS melanoma cell lines are highly sensitive to the combination of Mek and Akt inhibitors in vitro and in vivo. Pigment Cell Melanoma Res. 32, 829–841 (2019).

Ratnikov, B. et al. Glutamate and asparagine cataplerosis underlie glutamine addiction in melanoma. Oncotarget 6, 7379–7389 (2015).

Marcotte, R. et al. Functional genomic landscape of human breast cancer drivers, vulnerabilities, and resistance. Cell 164, 293–309 (2016).

Cowley, G. S. et al. Parallel genome-scale loss of function screens in 216 cancer cell lines for the identification of context-specific genetic dependencies. Sci. Data 1, 140035 (2014).

Marcotte, R. et al. Essential gene profiles in breast, pancreatic, and ovarian cancer cells. Cancer Discov. 2, 172–189 (2012).

Iorio, F. et al. A landscape of pharmacogenomic interactions in cancer. Cell 166, 740–754 (2016).

Sahu, A. D. et al. Genome-wide prediction of synthetic rescue mediators of resistance to targeted and immunotherapy. Mol. Syst. Biol. 15, e8323 (2019).

Bilal, E. et al. Improving breast cancer survival analysis through competition-based multidimensional modeling. PLoS Comput. Biol. 9, e1003047 (2013).

Therneau, T. M. & Grambsch, P. M. Modeling Survival Data: Extending the Cox Model (Springer, 2000).
Acknowledgements
We thank D. Tuveson and members of his laboratory for providing KPC cells, M. Herlyn for providing the melanoma cell lines, members of the L. Larue laboratory for establishing the NRAS mutant melanoma cell line MaNRAS1 (1007), M. Leibovitch for technical assistance, O. Zagnitko for metabolic analyses and members of the Ronai lab for continued discussion. The Cancer Metabolism Core at Sanford Burnham Prebys Medical Discovery Institute is supported by National Cancer Institute Cancer Center Support Grant P30CA030199. I.T. is a scholar of the Fonds de Recherche du Québec-Santé (FRQS; Junior 2). Support from National Cancer Institute grants R35CA197465, P01CA128814 and Hevery Foundation Gift (to Z.A.R.) are gratefully acknowledged.
Ethics declarations
Competing interests
Z.R. is co-founder and serves as scientific advisor to Pangea Therapeutics. E.R. was co-founder (divested) and serves as a non-paid scientific advisor to Pangea Therapeutics.
Additional information
Publisher's note Springer Nature remains neutral with regard to jurisdictional claims in published maps and institutional affiliations.
Supplementary information
About this article
Cite this article
Pathria, G., Lee, J.S., Hasnis, E. et al. Translational reprogramming marks adaptation to asparagine restriction in cancer. Nat Cell Biol 21, 1590–1603 (2019). https://doi.org/10.1038/s41556-019-0415-1
Received:

Accepted:

Published:

Issue Date:

DOI: https://doi.org/10.1038/s41556-019-0415-1