Abstract
While nuclear lamina abnormalities are hallmarks of human diseases, their interplay with epigenetic regulators and precise epigenetic landscape remain poorly understood. Here, we show that loss of the lysine acetyltransferase MOF or its associated NSL-complex members KANSL2 or KANSL3 leads to a stochastic accumulation of nuclear abnormalities with genomic instability patterns including chromothripsis. SILAC-based MOF and KANSL2 acetylomes identified lamin A/C as an acetylation target of MOF. HDAC inhibition or acetylation-mimicking lamin A derivatives rescue nuclear abnormalities observed in MOF-deficient cells. Mechanistically, loss of lamin A/C acetylation resulted in its increased solubility, defective phosphorylation dynamics and impaired nuclear mechanostability. We found that nuclear abnormalities include EZH2-dependent histone H3 Lys 27 trimethylation and loss of nascent transcription. We term this altered epigenetic landscape "heterochromatin enrichment in nuclear abnormalities" (HENA). Collectively, the NSL-complex-dependent lamin A/C acetylation provides a mechanism that maintains nuclear architecture and genome integrity.
Your institute does not have access to this article
Relevant articles
Open Access articles citing this article.
Giuseppina Divisato

,

Andrea M. Chiariello

…

Tommaso Russo

BMC Biology Open Access 02 August 2022

Julia K. Varga

,

Kelsey Diffley

…

Ora Schueler-Furman

Scientific Reports Open Access 02 February 2022

Ya-Hui Chi

,

Wan-Ping Wang

…

Pen-Hsiu Grace Chao

Epigenetics & Chromatin Open Access 04 January 2022
Access options
Subscribe to Nature+
Get immediate online access to the entire Nature family of 50+ journals
Subscribe to Journal
Get full journal access for 1 year
$99.00
only $8.25 per issue
All prices are NET prices.
VAT will be added later in the checkout.
Tax calculation will be finalised during checkout.
Buy article
Get time limited or full article access on ReadCube.
$32.00
All prices are NET prices.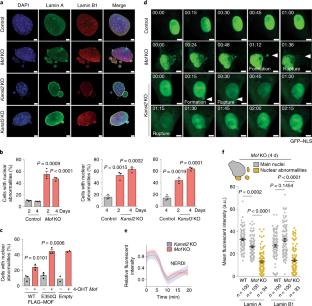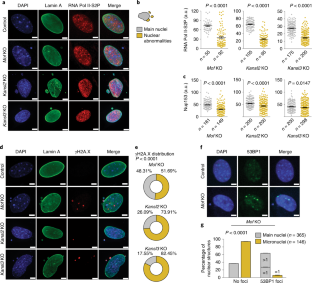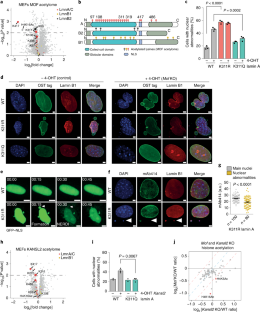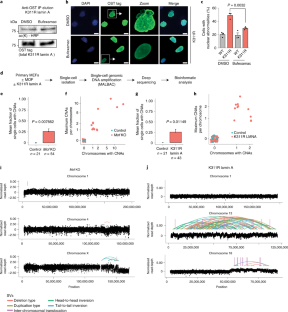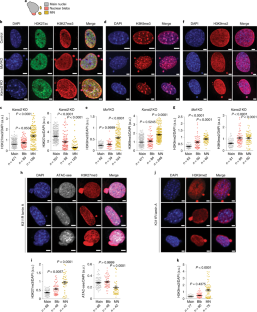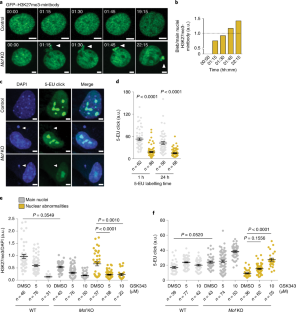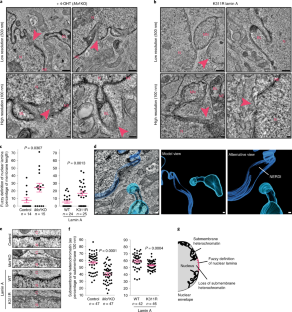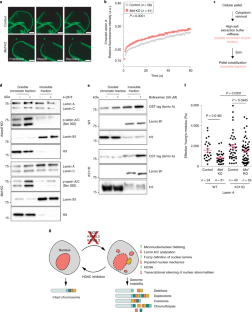 Data availability
The MS proteomics data for Mof KO have been deposited to the ProteomeXchange Consortium (http://proteomecentral.proteomexchange.org) via the PRIDE partner repository (accession number: PXD008539). MALBAC single-cell genomic sequencing data have been deposited to ENA (accession number: PRJEB27801). Source data for all figures in the main paper and its Supplementary Information where statistics were conducted have been provided as Supplementary Table 7. All other data supporting the findings of this study are available from the corresponding author on reasonable request.
References
Allis, C. D. & Jenuwein, T. The molecular hallmarks of epigenetic control. Nat. Rev. Genet. 17, 487–500 (2016).

Burke, B. & Stewart, C. L. The nuclear lamins: flexibility in function. Nat. Rev. Mol. Cell Biol. 14, 13–24 (2013).

Van Steensel, B. & Belmont, A. S. Lamina-associated domains: links with chromosome architecture, heterochromatin, and gene repression. Cell 169, 780–791 (2017).

Raices, M. & D'Angelo, M. A. Nuclear pore complex composition: a new regulator of tissue-specific and developmental functions. Nat. Rev. Mol. Cell Biol. 13, 687–699 (2012).

Hutchison, C. J. & Worman, H. J. A-type lamins: guardians of the soma? Nat. Cell Biol. 6, 1062–1067 (2004).

Liu, B. et al. Genomic instability in laminopathy-based premature aging. Nat. Med. 11, 780–785 (2005).

Dittmer, T. A. et al. The lamin protein family. Genome Biol. 12, 222 (2011).

Bell, E. S. & Lammerding, J. Causes and consequences of nuclear envelope alterations in tumour progression. Eur. J. Cell Biol. 95, 449–464 (2016).

Akhtar, A. & Becker, P. B. Activation of transcription through histone H4 acetylation by MOF, an acetyltransferase essential for dosage compensation in Drosophila. Mol. Cell 5, 367–375 (2000).

Samata, M. & Akhtar, A. Dosage compensation of the X chromosome: a complex epigenetic assignment involving chromatin regulators and long noncoding RNAs. Annu. Rev. Biochem. 87, 323–350 (2018).

Keller, C. I. & Akhtar, A. The MSL complex: juggling RNA–protein interactions for dosage compensation and beyond. Curr. Opin. Genet. Dev. 31, 1–11 (2015).

Chelmicki, T. et al. MOF-associated complexes ensure stem cell identity and Xist repression. Elife 3, e02024 (2014).

Gupta, A. et al. The mammalian ortholog of Drosophila MOF that acetylates histone H4 lysine 16 is essential for embryogenesis and oncogenesis. Mol. Cell. Biol. 28, 397–409 (2008).

Thomas, T., Dixon, M. P., Kueh, A. J. & Voss, A. K. Mof (MYST1 or KAT8) is essential for progression of embryonic development past the blastocyst stage and required for normal chromatin architecture. Mol. Cell. Biol. 28, 5093–5105 (2008).

Sheikh, B. N. et al. MOF maintains transcriptional programs regulating cellular stress response. Oncogene 35, 2698–2710 (2016).

Pfister, S. et al. The histone acetyltransferase hMOF is frequently downregulated in primary breast carcinoma and medulloblastoma and constitutes a biomarker for clinical outcome in medulloblastoma. Int. J. Cancer 122, 1207–1213 (2008).

Fraga, M. F. et al. Loss of acetylation at Lys16 and trimethylation at Lys20 of histone H4 is a common hallmark of human cancer. Nat. Genet. 37, 391–400 (2005).

Sheikh, B. N. & Akhtar, A. The many lives of KATs — detectors, integrators and modulators of the cellular environment. Nat. Rev. Genet. 20, 7–23 (2019).

Chatterjee, A. et al. MOF acetyl transferase regulates transcription and respiration in mitochondria. Cell 167, 722–738.e23 (2016).

Vargas, J. D., Hatch, E. M., Anderson, D. J. & Hetzer, M. W. Transient nuclear envelope rupturing during interphase in human cancer cells. Nucleus 3, 88–100 (2012).

Hatch, E. M. Nuclear envelope rupture: little holes, big openings. Curr. Opin. Cell Biol. 52, 66–72 (2018).

Toda, T. et al. Nup153 interacts with Sox2 to enable bimodal gene regulation and maintenance of neural progenitor cells. Cell Stem Cell 21, 618–634.e7 (2017).

Nanni, S. et al. The nuclear pore protein Nup153 associates with chromatin and regulates cardiac gene expression in dystrophic mdx hearts. Cardiovasc. Res. 112, 555–567 (2016).

Schölz, C. et al. Acetylation site specificities of lysine deacetylase inhibitors in human cells. Nat. Biotechnol. 33, 415–423 (2015).

Kim, S. C. et al. Substrate and functional diversity of lysine acetylation revealed by a proteomics survey. Mol. Cell 23, 607–618 (2006).

Turgay, Y. et al. The molecular architecture of lamins in somatic cells. Nature 543, 261–264 (2017).

Kamieniarz, K. & Schneider, R. Tools to tackle protein acetylation. Chem. Biol. 16, 1027–1029 (2009).

Astejada, M. N. et al. Emerinopathy and laminopathy clinical, pathological and molecular features of muscular dystrophy with nuclear envelopathy in Japan. Acta Myol. 26, 159–164 (2007).

Ben-Harush, K. et al. The supramolecular organization of the C. elegans nuclear lamin filament. J. Mol. Biol. 386, 1392–1402 (2009).

Taimen, P. et al. A progeria mutation reveals functions for lamin A in nuclear assembly, architecture, and chromosome organization. Proc. Natl Acad. Sci. USA 106, 20788–20793 (2009).

Laubach, J. P., Moreau, P., San-Miguel, J. F. & Richardson, P. G. Panobinostat for the treatment of multiple myeloma. Clin. Cancer Res. 21, 4767–4773 (2015).

Bantscheff, M. et al. Chemoproteomics profiling of HDAC inhibitors reveals selective targeting of HDAC complexes. Nat. Biotechnol. 29, 255–265 (2011).

Cho, S., Irianto, J. & Discher, D. E. Mechanosensing by the nucleus: from pathways to scaling relationships. J. Cell Biol. 216, 305–315 (2017).

Denais, C. M. et al. Nuclear envelope rupture and repair during cancer cell migration. Science 352, 353–358 (2016).

Zong, C., Lu, S., Chapman, A. R. & Xie, X. S. Genome-wide detection of single-nucleotide and copy-number variations of a single human cell. Science 338, 1622–1626 (2012).

Zhang, C.-Z. et al. Chromothripsis from DNA damage in micronuclei. Nature 522, 179–184 (2015).

Liu, S. et al. Nuclear envelope assembly defects link mitotic errors to chromothripsis. Nature 561, 551–555 (2018).

Stephens, P. J. et al. Massive genomic rearrangement acquired in a single catastrophic event during cancer development. Cell 144, 27–40 (2011).

Korbel, J. O. & Campbell, P. J. Criteria for inference of chromothripsis in cancer genomes. Cell 152, 1226–1236 (2013).

Chen, X. et al. ATAC-see reveals the accessible genome by transposase-mediated imaging and sequencing. Nat. Methods 13, 1013–1020 (2016).

Sato, Y. et al. Genetically encoded system to track histone modification in vivo. Sci. Rep. 3, 2436 (2013).

Verma, S. K. et al. Identification of potent, selective, cell-active inhibitors of the histone lysine methyltransferase EZH2. ACS Med. Chem. Lett. 3, 1091–1096 (2012).

Torvaldson, E., Kochin, V. & Eriksson, J. E. Phosphorylation of lamins determine their structural properties and signaling functions. Nucleus 6, 166–171 (2015).

Ding, Y., Xu, G. K. & Wang, G. F. On the determination of elastic moduli of cells by AFM based indentation. Sci. Rep. 7, 1–8 (2017).

Shogren-Knaak, M. et al. Histone H4-K16 acetylation controls chromatin structure and protein interactions. Science 311, 844–847 (2006).

Oppikofer, M. et al. A dual role of H4K16 acetylation in the establishment of yeast silent chromatin. EMBO J. 30, 2610–2621 (2011).

Falk, M. et al. Heterochromatin drives compartmentalization of inverted and conventional nuclei. Nature 570, 395–399 (2019).

Wolberg, W. H., Street, W. N. & Mangasarian, O. L. Importance of nuclear morphology in breast cancer prognosis. Clin. Cancer Res. 5, 3542–3548 (1999).

Peleg, S., Feller, C., Ladurner, A. G. & Imhof, A. The metabolic impact on histone acetylation and transcription in ageing. Trends Biochem. Sci. 41, 700–711 (2016).

López-Otín, C., Blasco, Ma, Partridge, L., Serrano, M. & Kroemer, G. The hallmarks of aging. Cell 153, 1194–1217 (2013).

Zhou, Y. et al. Metascape provides a biologist-oriented resource for the analysis of systems-level datasets. Nat. Commun. 10, (2019).

Cox, J. & Mann, M. MaxQuant enables high peptide identification rates, individualized p.p.b.-range mass accuracies and proteome-wide protein quantification. Nat. Biotechnol. 26, 1367–1372 (2008).

Cox, J. et al. Andromeda: a peptide search engine integrated into the MaxQuant environment. J. Proteome Res. 10, 1794–1805 (2011).

Tyanova, S. et al. The Perseus computational platform for comprehensive analysis of (prote)omics data. Nat. Methods 13, 731–740 (2016).

Herrmann, H., Kreplak, L. & Aebi, U. Isolation, characterization, and in vitro assembly of intermediate filaments. Methods Cell Biol. 78, 3–24 (2004).

Makarov, A. A., Rizzotto, A., Meinke, P. & Schirmer, E. C. Purification of Lamins and Soluble Fragments of NETs. Methods Enzymol. 569, 79–100 (2016).

Kubben, N. et al. Identification of differential protein interactors of lamin A and progerin. Nucleus 1, 513–525 (2010).

Li, H. & Durbin, R. Fast and accurate short read alignment with Burrows–Wheeler transform. Bioinformatics 25, 1754–1760 (2009).

Tischler, G. & Leonard, S. biobambam: tools for read pair collation based algorithms on BAM files. Source Code Biol. Med. 9, 13 (2014).

Rausch, T., Hsi-Yang Fritz, M., Korbel, J. O. & Benes, V. Alfred: interactive multi-sample BAM alignment statistics, feature counting and feature annotation for long- and short-read sequencing. Bioinformatics 35, 2489–2491 (2019).

Stegle, O., Parts, L., Piipari, M., Winn, J. & Durbin, R. Using probabilistic estimation of expression residuals (PEER) to obtain increased power and interpretability of gene expression analyses. Nat. Protoc. 7, 500–507 (2012).

Olshen, A. B., Venkatraman, E. S., Lucito, R. & Wigler, M. Circular binary segmentation for the analysis of array-based DNA copy number data. Biostatistics 5, 557–572 (2004).

Rausch, T. et al. DELLY: structural variant discovery by integrated paired-end and split-read analysis. Bioinformatics 28, 333–339 (2012).

Rausch, T. et al. Genome sequencing of pediatric medulloblastoma links catastrophic DNA rearrangements with TP53 mutations. Cell 148, 59–71 (2012).

Thorvaldsdóttir, H., Robinson, J. T. & Mesirov, J. P. Integrative Genomics Viewer (IGV): high-performance genomics data visualization and exploration. Brief. Bioinform. 14, 178–192 (2013).

Jao, C. Y. & Salic, A. Exploring RNA transcription and turnover in vivo by using click chemistry. Proc. Natl Acad. Sci. USA 105, 15779–15784 (2008).

Rapsomaniki, M. A. et al. EasyFRAP: an interactive, easy-to-use tool for qualitative and quantitative analysis of FRAP data. Bioinformatics 28, 1800–1801 (2012).

Koulouras, G. et al. EasyFRAP-web: a web-based tool for the analysis of fluorescence recovery after photobleaching data. Nucleic Acids Res. 46, W467–W472 (2018).

Rog-Zielinska, E. A. et al. Species differences in the morphology of transverse tubule openings in cardiomyocytes. EP Europace 20, 120–124 (2018).

Kremer, J. R., Mastronarde, D. N. & R. M, J. Computer visualization of three-dimensional image data using IMOD. J. Struct. Biol. 76, 71–76 (1996).

Ding, Y., Xu, G. & Wang, G. On the determination of elastic moduli of cells by AFM based indentation. Sci. Rep. 7, 45575 (2017).
Acknowledgements
We are grateful to B. Sheikh, M. Shvedunova, M. Buck, M. Samata, C. Pessoa Rodrigues, S. Lefkopoulos and G. Semplicio for critical reading of the manuscript. We thank E. Trompouki and R. Sawarkar for fruitful discussions and suggestions. We also thank P. Rawat for help with FRAP and M.-F. Basilicata for help with the generation of the Moffl/-, CreT/+ ESCs. The MPI-IE core facilities (for fluorescence-activated cell sorting, deep sequencing, imaging and mouse care), the EMBL IT facilities (for computing) and the EMBL EMCF (for electron microscopy) have been invaluable for this project. This work was supported by CRC992 (A02) and CRC1381 (B3) awarded to A.A., by an ERC Starting Grant awarded to J.O.K. (336045) and the Swiss National Science Foundation (SNSF 31003A_179418, to O.M.). E.A.R.-Z. is an Emmy Noether Fellow (DFG no. 396913060); P.K. acknowledges the ERC Advanced Grant CardioNect (201203).
Ethics declarations
Competing interests
The authors declare no competing interests.
Additional information
Publisher's note Springer Nature remains neutral with regard to jurisdictional claims in published maps and institutional affiliations.
Integrated supplementary information
Supplementary information
About this article
Cite this article
Karoutas, A., Szymanski, W., Rausch, T. et al. The NSL complex maintains nuclear architecture stability via lamin A/C acetylation. Nat Cell Biol 21, 1248–1260 (2019). https://doi.org/10.1038/s41556-019-0397-z
Received:

Accepted:

Published:

Issue Date:

DOI: https://doi.org/10.1038/s41556-019-0397-z