Abstract
The repression of transposons by the Piwi-interacting RNA (piRNA) pathway is essential to protect animal germ cells. In Drosophila, Panoramix enforces transcriptional silencing by binding to the target-engaged Piwi–piRNA complex, although the precise mechanisms by which this occurs remain elusive. Here, we show that Panoramix functions together with a germline-specific paralogue of a nuclear export factor, dNxf2, and its cofactor dNxt1 (p15), to suppress transposon expression. The transposon RNA-binding protein dNxf2 is required for animal fertility and Panoramix-mediated silencing. Transient tethering of dNxf2 to nascent transcripts leads to their nuclear retention. The NTF2 domain of dNxf2 competes dNxf1 (TAP) off nucleoporins, a process required for proper RNA export. Thus, dNxf2 functions in a Panoramix–dNxf2-dependent TAP/p15 silencing (Pandas) complex that counteracts the canonical RNA exporting machinery and restricts transposons to the nuclear peripheries. Our findings may have broader implications for understanding how RNA metabolism modulates heterochromatin formation.
Access options
Subscribe to Journal
Get full journal access for 1 year
$209.00
only $17.42 per issue
All prices are NET prices.
VAT will be added later in the checkout.
Rent or Buy article
Get time limited or full article access on ReadCube.
from$8.99
All prices are NET prices.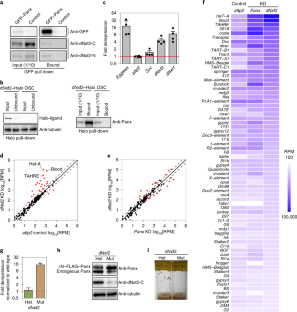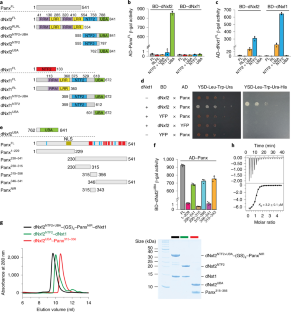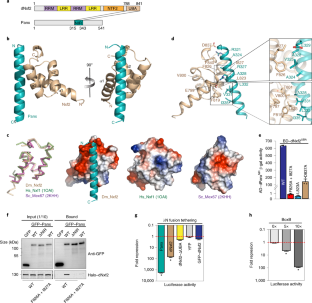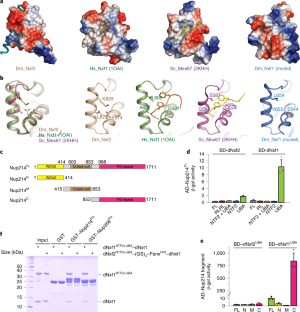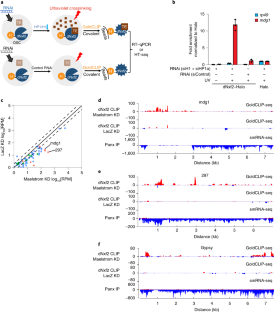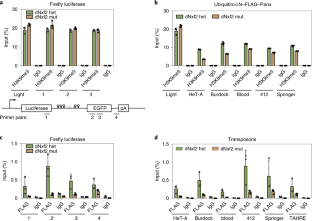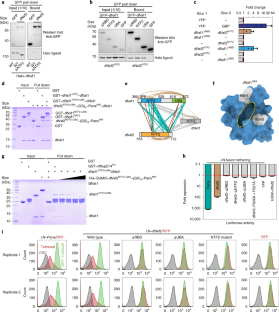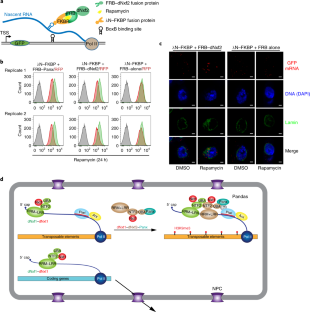 Data availability
The raw files of all sequencing libraries generated for this study have been submitted to the Gene Expression Omnibus under accession number GSE130042. The coordinates for the structures reported in this paper have been deposited in the PDB under accession number 6IEW (dNxt2UBA and PanxNIR complex) and 6IHJ (dNxt1NTF2 and dNxt1 complex). The proteomics data of the binding proteins for Panx and the cross-link mass spectrometry data have been deposited in ProteomeXchange with the primary accession codes PXD014926 and PXD014884.
The structure data collection and refinement statistics have been provided as Supplementary Table 1. The DNA oligo sequences have been provided as Supplementary Table 2. The source data for Figs. 1–7 and Supplementary Figs. 1,2,4,5 have been provided as Supplementary Table 3. All other data supporting the findings of this study are available from the corresponding authors on request.
References
1.

Ge, D. T. & Zamore, P. D. Small RNA-directed silencing: the fly finds its inner fission yeast? Curr. Biol. 23, R318–R320 (2013).

2.

Martienssen, R. & Moazed, D. RNAi and heterochromatin assembly. Cold Spring Harb. Perspect. Biol. 7, a019323 (2015).

3.

Czech, B. & Hannon, G. J. One loop to rule them all: the ping-pong cycle and piRNA-guided silencing. Trends Biochem. Sci. 41, 324–337 (2016).

4.

Ozata, D. M., Gainetdinov, I., Zoch, A., O'Carroll, D. & Zamore, P. D. PIWI-interacting RNAs: small RNAs with big functions. Nat. Rev. Genet. 20, 89–108 (2018).

5.

Gainetdinov, I., Colpan, C., Arif, A., Cecchini, K. & Zamore, P. D. A single mechanism of biogenesis, initiated and directed by PIWI proteins, explains piRNA production in most animals. Mol. Cell 71, 775–790 (2018).

6.

Yu, Y. et al. Panoramix enforces piRNA-dependent cotranscriptional silencing. Science 350, 339–342 (2015).

7.

Sienski, G. et al. Silencio/CG9754 connects the Piwi–piRNA complex to the cellular heterochromatin machinery. Genes Dev. 29, 2258–2271 (2015).

8.

Sienski, G., Dönertas, D. & Brennecke, J. Transcriptional silencing of transposons by Piwi and Maelstrom and its impact on chromatin state and gene expression. Cell 151, 964–980 (2012).

9.

Ohtani, H. et al. DmGTSF1 is necessary for Piwi–piRISC-mediated transcriptional transposon silencing in the Drosophila ovary. Genes Dev. 27, 1656–1661 (2013).

10.

Chang, T. H. et al. Maelstrom represses canonical polymerase II transcription within bi-directional piRNA clusters in Drosophila melanogaster. Mol. Cell 73, 291–303.e6 (2019).

11.

Czech, B., Preall, J. B., McGinn, J. & Hannon, G. J. A transcriptome-wide RNAi screen in the Drosophila ovary reveals factors of the germline piRNA pathway. Mol. Cell 50, 749–761 (2013).

12.

Muerdter, F. et al. A genome-wide RNAi screen draws a genetic framework for transposon control and primary piRNA biogenesis in Drosophila. Mol. Cell 50, 736–748 (2013).

13.

Handler, D. et al. The genetic makeup of the Drosophila piRNA pathway. Mol. Cell 50, 762–777 (2013).

14.

Guruharsha, K. G. et al. A protein complex network of Drosophila melanogaster. Cell 147, 690–703 (2011).

15.

Herold, A., Klymenko, T. & Izaurralde, E. NXF1/p15 heterodimers are essential for mRNA nuclear export in Drosophila. RNA 7, 1768–1780 (2001).

16.

Katahira, J. Nuclear export of messenger RNA. Genes 6, 163–184 (2015).

17.

Port, F., Chen, H.-M., Lee, T. & Bullock, S. L. Optimized CRISPR/Cas tools for efficient germline and somatic genome engineering in Drosophila. Proc. Natl Acad. Sci. USA 111, E2967–E2976 (2014).

18.

Braun, I. C., Herold, A., Rode, M. & Izaurralde, E. Nuclear export of mRNA by TAP/NXF1 requires two nucleoporin-binding sites but not p15. Mol. Cell. Biol. 22, 5405–5418 (2002).

19.

Gu, J. et al. GoldCLIP: gel-omitted ligation-dependent CLIP. Genom. Proteom. Bioinform. 16, 136–143 (2018).

20.

Savic, D. et al. CETCh-seq: CRISPR epitope tagging ChIP-seq of DNA-binding proteins. Genome Res. 25, 1581–1589 (2015).

21.

Iwasaki, Y. W. et al. Piwi modulates chromatin accessibility by regulating multiple factors including histone H1 to repress transposons. Mol. Cell 63, 408–419 (2016).

22.

Batki, J. et al. The nascent RNA binding complex SFiNX licenses piRNA-guided heterochromatin formation. Nat. Struct. Mol. Biol. 26, 720–731 (2019).

23.

Murano, K. et al. Nuclear RNA export factor variant initiates piRNA-guided co-transcriptional silencing. EMBO J. 257, e102870 (2019).

24.

Radion, E. et al. Key role of piRNAs in telomeric chromatin maintenance and telomere nuclear positioning in Drosophila germline. Epigenetics Chromatin 11, 40 (2018).

25.

Chambeyron, S. et al. piRNA-mediated nuclear accumulation of retrotransposon transcripts in the Drosophila female germline. Proc. Natl Acad. Sci. USA 105, 14964–14969 (2008).

26.

Matzat, L. H., Berberoglu, S. & Lévesque, L. Formation of a Tap/NXF1 homotypic complex is mediated through the amino-terminal domain of Tap and enhances interaction with nucleoporins. Mol. Biol. Cell 19, 327–338 (2008).

27.

Aibara, S., Katahira, J., Valkov, E. & Stewart, M. The principal mRNA nuclear export factor NXF1:NXT1 forms a symmetric binding platform that facilitates export of retroviral CTE-RNA. Nucleic Acids Res. 43, 1883–1893 (2015).

28.

Combe, C. W., Fischer, L. & Rappsilber, J. xiNET: cross-link network maps with residue resolution. Mol. Cell Proteom. 14, 1137–1147 (2015).

29.

Fabry, M. H. et al. piRNA-guided co-transcriptional silencing coopts nuclear export factors. eLife 8, e47999 (2019).

30.

Danzer, J. R. & Wallrath, L. L. Mechanisms of HP1-mediated gene silencing in Drosophila. Development 131, 3571–3580 (2004).

31.

Hines, K. A. et al. Domains of heterochromatin protein 1 required for Drosophila melanogaster heterochromatin spreading. Genetics 182, 967–977 (2009).

32.

Li, Y., Danzer, J. R., Alvarez, P., Belmont, A. S. & Wallrath, L. L. Effects of tethering HP1 to euchromatic regions of the Drosophila genome. Development 130, 1817–1824 (2003).

33.

Azzaz, A. M. et al. Human heterochromatin protein 1α promotes nucleosome associations that drive chromatin condensation. J. Biol. Chem. 289, 6850–6861 (2014).

34.

Ilyin, A. A. et al. Piwi interacts with chromatin at nuclear pores and promiscuously binds nuclear transcripts in Drosophila ovarian somatic cells. Nucleic Acids Res. 45, 7666–7680 (2017).

35.

Kerkow, D. E. et al. The structure of the NXF2/NXT1 heterodimeric complex reveals the combined specificity and versatility of the NTF2-like fold. J. Mol. Biol. 415, 649–665 (2012).

36.

van Steensel, B. & Belmont, A. S. Lamina-associated domains: links with chromosome architecture, heterochromatin, and gene repression. Cell 169, 780–791 (2017).

37.

Towbin, B. D., Meister, P. & Gasser, S. M. The nuclear envelope–a scaffold for silencing? Curr. Opin. Genet. Dev. 19, 180–186 (2009).

38.

Chen, C.-K. et al. Xist recruits the X chromosome to the nuclear lamina to enable chromosome-wide silencing. Science 354, 468–472 (2016).

39.

Chen, S. et al. The mRNA export receptor NXF1 coordinates transcriptional dynamics, alternative polyadenylation, and mRNA export. Mol. Cell 74, 118–131.e7 (2019).

40.

Saito, K. et al. A regulatory circuit for piwi by the large Maf gene traffic jam in Drosophila. Nature 461, 1296–1299 (2009).

41.

Kolkhof, P. et al. A luciferase-fragment complementation assay to detect lipid droplet-associated protein–protein interactions. Mol. Cell. Proteom. 16, 329–345 (2017).

42.

Chamberlin, M., McGrath, J. & Waskell, L. New RNA polymerase from Escherichia coli infected with bacteriophage T7. Nature 228, 227–231 (1970).

43.

Van Nostrand, E. L. et al. Robust transcriptome-wide discovery of RNA-binding protein binding sites with enhanced CLIP (eCLIP). Nat. Methods 13, 508–514 (2016).

44.

Armour, C. D. et al. Digital transcriptome profiling using selective hexamer priming for cDNA synthesis. Nat. Methods 6, 647–649 (2009).

45.

Langmead, B., Trapnell, C., Pop, M. & Salzberg, S. L. Ultrafast and memory-efficient alignment of short DNA sequences to the human genome. Genome Biol. 10, R25 (2009).

46.

Dobin, A. et al. STAR: ultrafast universal RNA-seq aligner. Bioinformatics 29, 15–21 (2013).

47.

Ramírez, F. et al. deepTools2: a next generation web server for deep-sequencing data analysis. Nucleic Acids Res. 44, W160–W165 (2016).

48.

Ritchie, M. E. et al. limma powers differential expression analyses for RNA-sequencing and microarray studies. Nucleic Acids Res. 43, e47 (2015).

49.

Purcell, S. et al. PLINK: a tool set for whole-genome association and population-based linkage analyses. Am. J. Hum. Genet. 81, 559–575 (2007).

50.

Lu, S. et al. Mapping native disulfide bonds at a proteome scale. Nat. Methods 12, 329–331 (2015).

51.

Choi, H. M. T., Beck, V. A. & Pierce, N. A. Next-generation in situ hybridization chain reaction: higher gain, lower cost, greater durability. ACS Nano 8, 4284–4294 (2014).

52.

Doublié, S. Preparation of selenomethionyl proteins for phase determination. Methods Enzymol. 276, 523–530 (1997).

53.

Otwinowski, Z. & Minor, W. Processing of X-ray diffraction data collected in oscillation mode. Methods Enzymol. 276, 307–326 (1997).

54.

Adams, P. D. et al. PHENIX: a comprehensive Python-based system for macromolecular structure solution. Acta Crystallogr. D Biol. Crystallogr. 66, 213–221 (2010).

55.

Emsley, P. & Cowtan, K. Coot: model-building tools for molecular graphics. Acta Crystallogr. D Biol. Crystallogr. 60, 2126–2132 (2004).

56.

Waterhouse, A. et al. SWISS-MODEL: homology modelling of protein structures and complexes. Nucleic Acids Res. 46, W296–W303 (2018).

57.

McWilliam, H. et al. Analysis tool web services from the EMBL-EBI. Nucleic Acids Res. 41, W597–W600 (2013).

58.

Robert, X. & Gouet, P. Deciphering key features in protein structures with the new ENDscript server. Nucleic Acids Res. 42, W320–W324 (2014).

59.

Mehla, J., Caufield, J. H., Sakhawalkar, N. & Uetz, P. A comparison of two-hybrid approaches for detecting protein–protein interactions. Methods Enzymol. 586, 333–358 (2017).
Acknowledgements
We thank the National Facility for Protein Science in Shanghai Zhangjiang Lab and the Shanghai Science Research Center for their instrumental support and technical assistance. We thank the staff from the BL19U1 beamline at the Shanghai Synchrotron Radiation Facility for assistance with data collection. We thank S. Li from the Center for Biological Imaging and Y. Wang from the Protein Science Core Facility at the Institute of Biophysics, CAS for their technical support and assistance with data collection. This work was supported in part by grants from the Ministry of Science and Technology of China (grant no. 2017YFA0504200 to Y.Y.), the Strategic Priority Research Program of the Chinese Academy of Sciences (grant no. XDB19000000 to Y.Y.), the National Natural Science Foundation of China (grant nos 91640105 and 31770875 to Y.Y., and 91640102 and 31870741 to Y.H.), the National Postdoctoral Program for Innovative Talents (grant no. BX20190081 to Y.H.Z.) and the China Postdoctoral Science Foundation Grant (grant no. 2019M653166 to J.Q.G.).
Ethics declarations
Competing interests
The authors declare no competing interests.
Additional information
Publisher's note Springer Nature remains neutral with regard to jurisdictional claims in published maps and institutional affiliations.
Integrated supplementary information
Supplementary information
About this article
Cite this article
Zhao, K., Cheng, S., Miao, N. et al. A Pandas complex adapted for piRNA-guided transcriptional silencing and heterochromatin formation. Nat Cell Biol 21, 1261–1272 (2019). https://doi.org/10.1038/s41556-019-0396-0
Received:

Accepted:

Published:

Issue Date: