Tumours elicit an immune attack that can stifle their growth, but they can also recruit inflammatory immune cells that suppress this response. A new study identifies distinct immune subtypes of triple-negative breast cancer with two different inflammatory cell types: macrophages or neutrophils. The immune subtype dictates the response to immunotherapy.
Access options
Subscribe to Journal
Get full journal access for 1 year
$209.00
only $17.42 per issue
All prices are NET prices.
VAT will be added later in the checkout.
Rent or Buy article
Get time limited or full article access on ReadCube.
from$8.99
All prices are NET prices.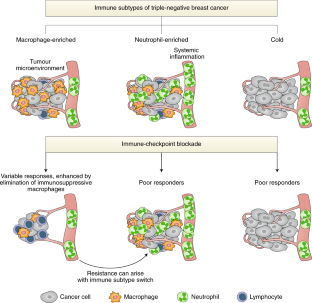 References
1.

Diakos, C. I., Charles, K. A., McMillan, D. C. & Clarke, S. J. Lancet Oncol. 15, e493–e503 (2014).

2.

Galluzzi, L. et al. Oncotarget 5, 12472–12508 (2014).

3.

Kim, I. S. et al. Nat. Cell Biol. https://doi.org/10.1038/s41556-019-0373-7 (2019).

4.

Mao, Y. et al. PLoS One 11, e0152500 (2016).

5.

Schmid, P. et al. N. Engl. J. Med. 379, 2108–2121 (2018).

6.

Noy, R. & Pollard, J. W. Immunity 41, 49–61 (2014).

7.

Ethier, J.-L., Desautels, D., Templeton, A., Shah, P. S. & Amir, E. Breast Cancer Res. 19, 2 (2017).

8.

Wellenstein, M. D. et al. Nature https://doi.org/10.1038/s41586-019-1450-6 (2019).

9.

Dongre, A. et al. Cancer Res. 77, 3982–3989 (2017).

10.

Binnewies, M. et al. Nat. Med. 24, 541–550 (2018).
Ethics declarations
Competing interests
The authors declare no competing interests
About this article
Cite this article
Maiorino, L., Egeblad, M. Tumours pick the path to cancer inflammation. Nat Cell Biol 21, 1055–1057 (2019). https://doi.org/10.1038/s41556-019-0386-2