Abstract
Single-cell measurement of chromatin states, including histone modifications and non-histone protein binding, remains challenging. Here, we present a low-cost, efficient, simultaneous indexing and tagmentation-based ChIP-seq (itChIP-seq) method, compatible with both low cellular input and single cells for profiling chromatin states. itChIP combines chromatin opening, simultaneous cellular indexing and chromatin tagmentation within a single tube, enabling the processing of samples from tens of single cells to, more commonly, thousands of single cells per assay. We demonstrate that single-cell itChIP-seq (sc-itChIP-seq) yields ~9,000 unique reads per cell. Using sc-itChIP-seq to profile H3K27ac, we sufficiently capture the earliest epigenetic priming event during the cell fate transition from naive to primed pluripotency, and reveal the basis for cell-type specific enhancer usage during the differentiation of bipotent cardiac progenitor cells into endothelial cells and cardiomyocytes. Our results demonstrate that itChIP is a widely applicable technology for single-cell chromatin profiling of epigenetically heterogeneous cell populations in many biological processes.
Relevant articles
Open Access articles citing this article.
Zhe Weng

,

Fengying Ruan

…

Chong Tang

Genome Biology Open Access 29 March 2023

Jake Yeung

,

Maria Florescu

…

Alexander van Oudenaarden

Nature Biotechnology Open Access 02 January 2023

Peter Zeller

,

Jake Yeung

…

Alexander van Oudenaarden

Nature Genetics Open Access 20 December 2022
Access options
Access Nature and 54 other Nature Portfolio journals
Get Nature+, our best-value online-access subscription
$29.99 / 30 days
cancel any time
Subscribe to this journal
Receive 12 print issues and online access
$209.00 per year
only $17.42 per issue
Rent or buy this article
Prices vary by article type
from$1.95
to$39.95
Prices may be subject to local taxes which are calculated during checkout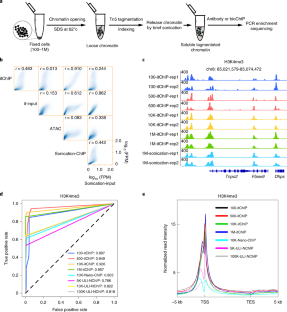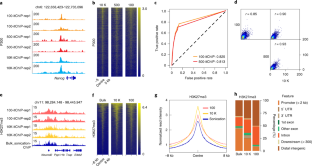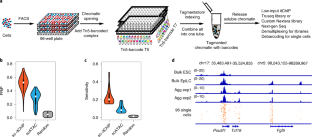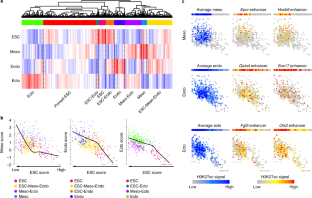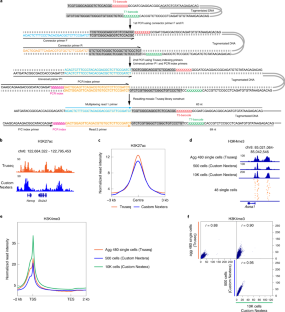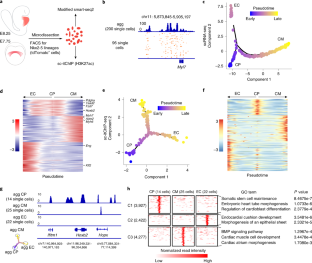 Data availability
All sequencing data have been deposited in the GEO database at accession code GSE109762. Previously published data reanalysed in this work are available under accession codes GSE22075 (Nano-ChIP), GSE63523 (ULI-NChIP), GSE65360 (scATAC-seq H1ESC, Fig. 3b,c), GSE31039 (bulk H3K27ac mESC), GSE56098 (bulk H3K27ac EpiLCs), GSM2474111 (bulk Pol II ChIP), GSM590132 (bulk EZH2 ChIP), GSE70253 (scDrop-ChIP, H3K4me2 profile for mESC), GSE100033 (scATAC-seq, profile at postnatal day (P) 56, Supplementary Table 4), GSE105012 (scChIC-seq, H3K4me3 profile for human white blood cells), GSE111121 (scCUT&RUN, SOX2 ChIP for mESC), GSE124557 (CUT&Tag, H3K4me2 profile for K562 cells) and GSE108963 (scRNA-seq, E7.75 and E8.25 heart). Source data for Figs. 1b,d, 2, 3b,c, 4b and 6c,e and Supplementary Figs. 1b,d,f,h, 2b,c and 4 have been provided in Supplementary Table 7. All other data supporting the findings of this study are available from the corresponding author on reasonable request.
References
Rivera, C. M. & Ren, B. Mapping human epigenomes. Cell 155, 39–55 (2013).

Roh, T.-Y., Ngau, W. C., Cui, K., Landsman, D. & Zhao, K. High-resolution genome-wide mapping of histone modifications. Nat. Biotechnol. 22, 1013–1016 (2004).

Kharchenko, P. V., Tolstorukov, M. Y. & Park, P. J. Design and analysis of ChIP-seq experiments for DNA-binding proteins. Nat. Biotechnol. 26, 1351–1359 (2008).

Stegle, O., Teichmann, S. A. & Marioni, J. C. Computational and analytical challenges in single-cell transcriptomics. Nat. Rev. Genet. 16, 133–145 (2015).

Adli, M. & Bernstein, B. E. Whole-genome chromatin profiling from limited numbers of cells using nano-ChIP-seq. Nat. Protoc. 6, 1656–1668 (2011).

Brind'Amour, J. et al. An ultra-low-input native ChIP-seq protocol for genome-wide profiling of rare cell populations. Nat. Commun. 6, 6033 (2015).

Zheng, H. et al. Resetting epigenetic memory by reprogramming of histone modifications in mammals. Mol. Cell 63, 1066–1079 (2016).

Cao, Z., Chen, C., He, B., Tan, K. & Lu, C. A microfluidic device for epigenomic profiling using 100 cells. Nat. Methods 12, 959–962 (2015).

Skene, P. J., Henikoff, J. G. & Henikoff, S. Targeted in situ genome-wide profiling with high efficiency for low cell numbers. Nat. Protoc. 13, 1006–1019 (2018).

Harada, A. et al. A chromatin integration labelling method enables epigenomic profiling with lower input. Nat. Cell. Biol. 21, 287–296 (2019).

Rotem, A. et al. Single-cell ChIP-seq reveals cell subpopulations defined by chromatin state. Nat. Biotechnol. 33, 1165–1172 (2015).

Schmidl, C., Rendeiro, A. F., Sheffield, N. C. & Bock, C. ChIPmentation: fast, robust, low-input ChIP-seq for histones and transcription factors. Nat. Methods 12, 963–965 (2015).

Buenrostro, J. D., Wu, B., Chang, H. Y. & Greenleaf, W. J. ATAC-seq: a method for assaying chromatin accessibility genome-wide. Curr. Protoc. Mol. Biol. 109, 21.29.1–21.29.9 (2015).

Daley, T. & Smith, A. D. Predicting the molecular complexity of sequencing libraries. Nat. Methods 10, 325–327 (2013).

Lake, B. B. et al. Integrative single-cell analysis of transcriptional and epigenetic states in the human adult brain. Nat. Biotechnol. 36, 70–80 (2018).

Nord, A. S. et al. Rapid and pervasive changes in genome-wide enhancer usage during mammalian development. Cell 155, 1521–1531 (2013).

Zhou, P. et al. Mapping cell type-specific transcriptional enhancers using high affinity, lineage-specific Ep300 bioChIP-seq. Elife 6, e22039 (2017).

Cui, K. R. et al. Chromatin signatures in multipotent human hematopoietic stem cells indicate the fate of bivalent genes during differentiation. Cell Stem Cell 4, 80–93 (2009).

Amini, S. et al. Haplotype-resolved whole-genome sequencing by contiguity-preserving transposition and combinatorial indexing. Nat. Genet. 46, 1343–1349 (2014).

Vitak, S. A. et al. Sequencing thousands of single-cell genomes with combinatorial indexing. Nat. Methods 14, 302–308 (2017).

Kurimoto, K. et al. Quantitative dynamics of chromatin remodeling during germ cell specification from mouse embryonic stem cells. Cell Stem Cell 16, 517–532 (2015).

Buecker, C. et al. Reorganization of enhancer patterns in transition from naive to primed pluripotency. Cell Stem Cell 14, 838–853 (2014).

Preissl, S. et al. Single-nucleus analysis of accessible chromatin in developing mouse forebrain reveals cell-type-specific transcriptional regulation. Nat. Neurosci. 21, 432–439 (2018).

Ibarra-Soria, X. et al. Defining murine organogenesis at single-cell resolution reveals a role for the leukotriene pathway in regulating blood progenitor formation. Nat. Cell Biol. 20, 127–134 (2018).

Loebel, D. A., Watson, C. M., De Young, R. A. & Tam, P. P. Lineage choice and differentiation in mouse embryos and embryonic stem cells. Dev. Biol. 264, 1–14 (2003).

Wu, S. M., Chien, K. R. & Mummery, C. Origins and fates of cardiovascular progenitor cells. Cell 132, 537–543 (2008).

Stanley, E. G. et al. Efficient Cre-mediated deletion in cardiac progenitor cells conferred by a 3'UTR-ires-Cre allele of the homeobox gene Nkx2-5. Int. J. Dev. Biol. 46, 431–439 (2002).

Qiu, X. J. et al. Reversed graph embedding resolves complex single-cell trajectories. Nat. Methods 14, 979–982 (2017).

de Jonge, H. J. M. et al. Evidence based selection of housekeeping genes. PLoS One 2, e898 (2007).

Dix, A. et al. Biomarker-based classification of bacterial and fungal whole-blood infections in a genome-wide expression study. Mycoses 58, 57–58 (2015).

Hainer, S. J., Boskovic, A., McCannell, K. N., Rando, O. J. & Fazzio, T. G. Profiling of pluripotency factors in single cells and early embryos. Cell 177, 1319–1329 (2019).

Ku, W. L. et al. Single-cell chromatin immunocleavage sequencing (scChIC-seq) to profile histone modification. Nat. Methods 16, 323–325 (2019).

Kaya-Okur, H. S. et al. CUT&Tag for efficient epigenomic profiling of small samples and single cells. Nat. Commun. 10, 1930 (2019).

Buenrostro, J. D. et al. Single-cell chromatin accessibility reveals principles of regulatory variation. Nature 523, 486–490 (2015).

Madisen, L. et al. A robust and high-throughput Cre reporting and characterization system for the whole mouse brain. Nat. Neurosci. 13, 133–140 (2010).

Ying, Q. L. et al. The ground state of embryonic stem cell self-renewal. Nature 453, 519–523 (2008).

Islam, S. et al. Highly multiplexed and strand-specific single-cell RNA 5′ end sequencing. Nat. Protoc. 7, 813–828 (2012).

Islam, S. et al. Quantitative single-cell RNA-seq with unique molecular identifiers. Nat. Methods 11, 163–166 (2014).

Xiao, Y. et al. Hippo signaling plays an essential role in cell state transitions during cardiac fibroblast development. Dev. Cell 45, 153–169 (2018).

Ai, S. et al. ItChIP-simultaneous indexing and tagmentation-based ChIP-seq. Protoc. Exch. https://doi.org/10.21203/rs.2.11366/v1 (2019).

Ai, S. et al. EED orchestration of heart maturation through interaction with HDACs is H3K27me3-independent. Elife 6, e24570 (2017).

Picelli, S. et al. Tn5 transposase and tagmentation procedures for massively scaled sequencing projects. Genome Res. 24, 2033–2040 (2014).

Langmead, B. & Salzberg, S. L. Fast gapped-read alignment with Bowtie 2. Nat. Methods 9, 357–359 (2012).

Zhang, Y. et al. Model-based analysis of ChIP-seq (MACS). Genome Biol. 9, R137 (2008).

Ramírez, F. et al. deepTools2: a next generation web server for deep-sequencing data analysis. Nucleic Acids Res. 44, W160–W165 (2016).

Thorvaldsdóttir, H., Robinson, J. T. & Mesirov, J. P. Integrative genomics viewer (IGV): high-performance genomics data visualization and exploration. Brief Bioinform. 14, 178–192 (2013).

Satija, R., Farrell, J. A., Gennert, D., Schier, A. F. & Regev, A. Spatial reconstruction of single-cell gene expression data. Nat. Biotechnol. 33, 495–502 (2015).

Cusanovich, D. A. et al. The cis-regulatory dynamics of embryonic development at single-cell resolution. Nature 555, 538–542 (2018).
Acknowledgements
We thank W.T. Pu at Boston Children's Hospital for the critical and constructive improvement of the manuscript, all members of He laboratory for discussion and the High Performance Computing Platform of the Center for Life Sciences, Peking University. A.H. was supported by grants from the National Basic Research Program of China (2017YFA0103402), the National Natural Science Foundation of China (31571487 and 31771607), Peking-Tsinghua Center for Life Sciences, and the 1000 Youth Talents Program of China.
Ethics declarations
Competing interests
The authors have submitted patent applications (application nos 2018101211756 and 2018101428753) in China based on the results reported in this paper.
Additional information
Publisher's note: Springer Nature remains neutral with regard to jurisdictional claims in published maps and institutional affiliations.
Integrated supplementary information
Supplementary information
About this article
Cite this article
Ai, S., Xiong, H., Li, C.C. et al. Profiling chromatin states using single-cell itChIP-seq. Nat Cell Biol 21, 1164–1172 (2019). https://doi.org/10.1038/s41556-019-0383-5
Received:

Accepted:

Published:

Issue Date:

DOI: https://doi.org/10.1038/s41556-019-0383-5