Abstract
One of the first steps in mitotic spindle assembly is the dissolution of the centrosome linker followed by centrosome separation driven by EG5, a tetrameric plus-end-directed member of the kinesin-5 family. However, even in the absence of the centrosome linker, the two centrosomes are kept together by an ill-defined microtubule-dependent mechanism. Here we show that KIFC3, a minus-end-directed kinesin-14, provides microtubule-based centrosome cohesion. KIFC3 forms a homotetramer that pulls the two centrosomes together via a specific microtubule network. At mitotic onset, KIFC3 activity becomes the main driving force of centrosome cohesion to prevent premature spindle formation after linker dissolution as it counteracts the increasing EG5-driven pushing forces. KIFC3 is eventually inactivated by NEver in mitosis-related Kinase 2 (NEK2) to enable EG5-driven bipolar spindle assembly. We further show that persistent centrosome cohesion in mitosis leads to chromosome mis-segregation. Our findings reveal a mechanism of spindle assembly that is evolutionary conserved from yeast to humans.
Access options
Access options
Subscribe to Journal
Get full journal access for 1 year
$225.00
only $18.75 per issue
All prices are NET prices.
VAT will be added later in the checkout.
Rent or Buy article
Get time limited or full article access on ReadCube.
from$8.99
All prices are NET prices.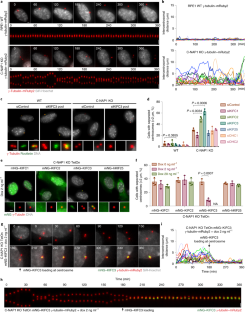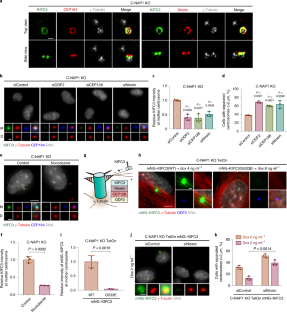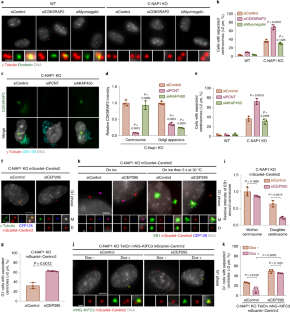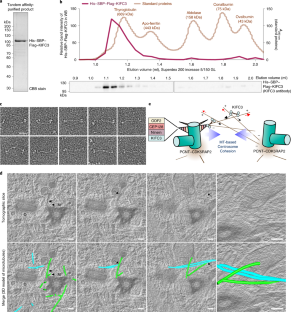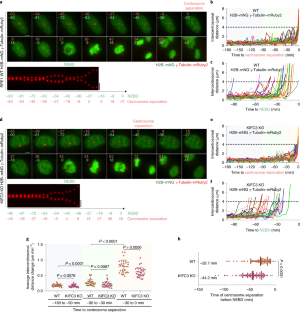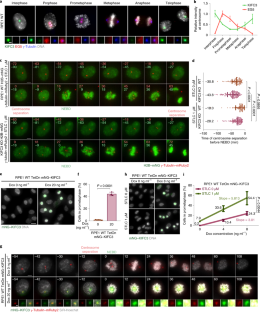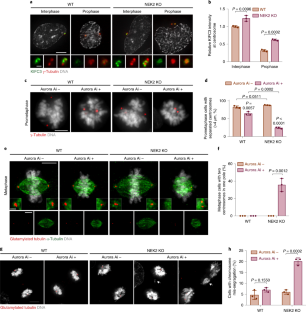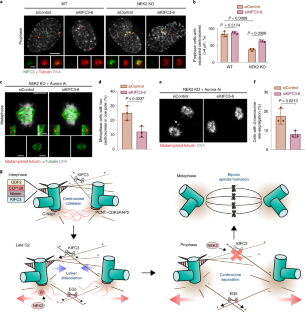 Data availability
Previously published RNA-sequencing data that were reanalysed here are available under accession codes GSE11148538 and GSE6057039. Source data for Figs. 1–3 and 5–8 and Supplementary Figs. 1–8 have been provided in Supplementary Table 1. All other data supporting the findings of this study are available from the corresponding author on reasonable request.
Code availability
The FIJI or ImageJ macros used in this study are available from the corresponding author on request.
References
1.

Bornens, M. Centrosome composition and microtubule anchoring mechanisms. Curr. Opin. Cell Biol. 14, 25–34 (2002).

2.

Wang, W. J., Soni, R. K., Uryu, K. & Tsou, M. F. The conversion of centrioles to centrosomes: essential coupling of duplication with segregation. J. Cell Biol. 193, 727–739 (2011).

3.

Bornens, M. The centrosome in cells and organisms. Science 335, 422–426 (2012).

4.

Tsou, M. F. & Stearns, T. Mechanism limiting centrosome duplication to once per cell cycle. Nature 442, 947–951 (2006).

5.

Schmidt, K. N. et al. Cep164 mediates vesicular docking to the mother centriole during early steps of ciliogenesis. J. Cell Biol. 199, 1083–1101 (2012).

6.

Tanos, B. E. et al. Centriole distal appendages promote membrane docking, leading to cilia initiation. Genes Dev. 27, 163–168 (2013).

7.

Delgehyr, N., Sillibourne, J. & Bornens, M. Microtubule nucleation and anchoring at the centrosome are independent processes linked by ninein function. J. Cell Sci. 118, 1565–1575 (2005).

8.

Bahe, S., Stierhof, Y. D., Wilkinson, C. J., Leiss, F. & Nigg, E. A. Rootletin forms centriole-associated filaments and functions in centrosome cohesion. J. Cell Biol. 171, 27–33 (2005).

9.

Graser, S., Stierhof, Y. D. & Nigg, E. A. Cep68 and Cep215 (Cdk5rap2) are required for centrosome cohesion. J. Cell Sci. 120, 4321–4331 (2007).

10.

Fry, A. M. et al. C-Nap1, a novel centrosomal coiled-coil protein and candidate substrate of the cell cycle-regulated protein kinase Nek2. J. Cell Biol. 141, 1563–1574 (1998).

11.

Vlijm, R. et al. STED nanoscopy of the centrosome linker reveals a CEP68-organized, periodic rootletin network anchored to a C-Nap1 ring at centrioles. Proc. Natl Acad. Sci. USA 115, E2246–E2253 (2018).

12.

Nigg, E. A. & Stearns, T. The centrosome cycle: centriole biogenesis, duplication and inherent asymmetries. Nat. C ell Biol. 13, 1154–1160 (2011).

13.

Panic, M., Hata, S., Neuner, A. & Schiebel, E. The centrosomal linker and microtubules provide dual levels of spatial coordination of centrosomes. PLoS Genet. 11, e1005243 (2015).

14.

Mayor, T., Hacker, U., Stierhof, Y. D. & Nigg, E. A. The mechanism regulating the dissociation of the centrosomal protein C-Nap1 from mitotic spindle poles. J. Cell Sci. 115, 3275–3284 (2002).

15.

Mardin, B. R. et al. Components of the Hippo pathway cooperate with Nek2 kinase to regulate centrosome disjunction. Nat. Cell Biol. 12, 1166–1176 (2010).

16.

Mardin, B. R., Agircan, F. G., Lange, C. & Schiebel, E. Plk1 controls the Nek2A-PP1γ antagonism in centrosome disjunction. Curr. Biol. 21, 1145–1151 (2011).

17.

Sawin, K. E., LeGuellec, K., Philippe, M. & Mitchison, T. J. Mitotic spindle organization by a plus-end-directed microtubule motor. Nature 359, 540–543 (1992).

18.

Nam, H. J. & van Deursen, J. M. Cyclin B2 and p53 control proper timing of centrosome separation. Nat. Cell Biol. 16, 538–549 (2014).

19.

Kaseda, K., McAinsh, A. D. & Cross, R. A. Dual pathway spindle assembly increases both the speed and the fidelity of mitosis. Biol. Open 1, 12–18 (2012).

20.

Blangy, A. et al. Phosphorylation by p34cdc2 regulates spindle association of human Eg5, a kinesin-related motor essential for bipolar spindle formation in vivo. Cell 83, 1159–1169 (1995).

21.

Enos, A. P. & Morris, N. R. Mutation of a gene that encodes a kinesin-like protein blocks nuclear division in A. nidulans. Cell 60, 1019–1027 (1990).

22.

Hagan, I. & Yanagida, M. Novel potential mitotic motor protein encoded by the fission yeast cut7 + gene. Nature 347, 563–566 (1990).

23.

Heck, M. M. et al. The kinesin-like protein KLP61F is essential for mitosis in Drosophila. J. Cell Biol. 123, 665–679 (1993).

24.

Kapitein, L. C. et al. The bipolar mitotic kinesin Eg5 moves on both microtubules that it crosslinks. Nature 435, 114–118 (2005).

25.

Kashina, A. S. et al. A bipolar kinesin. Nature 379, 270–272 (1996).

26.

Saunders, W. S. & Hoyt, M. A. Kinesin-related proteins required for structural integrity of the mitotic spindle. Cell 70, 451–458 (1992).

27.

Pidoux, A. L., LeDizet, M. & Cande, W. Z. Fission yeast pkl1 is a kinesin-related protein involved in mitotic spindle function. Mol. Biol. Cell 7, 1639–1655 (1996).

28.

Saunders, W., Lengyel, V. & Hoyt, M. A. Mitotic spindle function in Saccharomyces cerevisiae requires a balance between different types of kinesin-related motors. Mol. Biol. Cell 8, 1025–1033 (1997).

29.

Yukawa, M. & et al. Two spatially distinct kinesin-14 proteins, Pkl1 and Klp2, generate collaborative inward forces against kinesin-5 Cut7 in S. pombe. J. Cell Sci. 131, 210740 (2018).

30.

Mountain, V. et al. The kinesin-related protein, HSET, opposes the activity of Eg5 and cross-links microtubules in the mammalian mitotic spindle. J. Cell Biol. 147, 351–366 (1999).

31.

Tanenbaum, M. E., Macurek, L., Galjart, N. & Medema, R. H. Dynein, Lis1 and CLIP-170 counteract Eg5-dependent centrosome separation during bipolar spindle assembly. EMBO J. 27, 3235–3245 (2008).

32.

Ferenz, N. P., Paul, R., Fagerstrom, C., Mogilner, A. & Wadsworth, P. Dynein antagonizes eg5 by crosslinking and sliding antiparallel microtubules. Curr. Biol. 19, 1833–1838 (2009).

33.

Florian, S. & Mayer, T. U. The functional antagonism between Eg5 and dynein in spindle bipolarization is not compatible with a simple push-pull model. Cell Rep. 1, 408–416 (2012).

34.

van Heesbeen, R. G., Tanenbaum, M. E. & Medema, R. H. Balanced activity of three mitotic motors is required for bipolar spindle assembly and chromosome segregation. Cell Rep. 8, 948–956 (2014).

35.

Meluh, P. B. & Rose, M. D. KAR3, a kinesin-related gene required for yeast nuclear fusion. Cell 60, 1029–1041 (1990).

36.

Yukawa, M., Ikebe, C. & Toda, T. The Msd1–Wdr8–Pkl1 complex anchors microtubule minus ends to fission yeast spindle pole bodies. J. Cell Biol. 209, 549–562 (2015).

37.

Decarreau, J. et al. The tetrameric kinesin Kif25 suppresses pre-mitotic centrosome separation to establish proper spindle orientation. Nat. Cell Biol. 19, 384–390 (2017).

38.

Liu, Y. et al. Multi-omic measurements of heterogeneity in HeLa cells across laboratories. Nat. Biotechnol. 37, 314–322 (2019).

39.

Santaguida, S., Vasile, E., White, E. & Amon, A. Aneuploidy-induced cellular stresses limit autophagic degradation. Genes Dev. 29, 2010–2021 (2015).

40.

Mazo, G., Soplop, N., Wang, W. J., Uryu, K. & Tsou, M. F. Spatial control of primary ciliogenesis by subdistal appendages alters sensation-associated properties of cilia. Dev. Cell 39, 424–437 (2016).

41.

Noda, Y. et al. KIFC3, a microtubule minus end-directed motor for the apical transport of annexin XIIIb-associated Triton-insoluble membranes. J. Cell Biol. 155, 77–88 (2001).

42.

Choi, Y. K., Liu, P., Sze, S. K., Dai, C. & Qi, R. Z. CDK5RAP2 stimulates microtubule nucleation by the γ-tubulin ring complex. J. Cell. Biol. 191, 1089–1095 (2010).

43.

Wu, J. et al. Molecular pathway of microtubule organization at the Golgi apparatus. Dev. Cell 39, 44–60 (2016).

44.

Barr, A. R., Kilmartin, J. V. & Gergely, F. CDK5RAP2 functions in centrosome to spindle pole attachment and DNA damage response. J. Cell Biol. 189, 23–39 (2010).

45.

Wang, Z. et al. Conserved motif of CDK5RAP2 mediates its localization to centrosomes and the Golgi complex. J. Biol Chem. 285, 22658–22665 (2010).

46.

Izquierdo, D., Wang, W. J., Uryu, K. & Tsou, M. F. Stabilization of cartwheel-less centrioles for duplication requires CEP295-mediated centriole-to-centrosome conversion. Cell Rep. 8, 957–965 (2014).

47.

Acar, S. et al. The bipolar assembly domain of the mitotic motor kinesin-5. Nat. Commun. 4, 1343 (2013).

48.

Magidson, V. et al. The spatial arrangement of chromosomes during prometaphase facilitates spindle assembly. Cell 146, 555–567 (2011).

49.

DeBonis, S. et al. In vitro screening for inhibitors of the human mitotic kinesin Eg5 with antimitotic and antitumor activities. Mol. Cancer Ther. 3, 1079–1090 (2004).

50.

Skoufias, D. A. et al. S-trityl-l-cysteine is a reversible, tight binding inhibitor of the human kinesin Eg5 that specifically blocks mitotic progression. J. Biol. Chem. 281, 17559–17569 (2006).

51.

Mayer, T. U. et al. Small molecule inhibitor of mitotic spindle bipolarity identified in a phenotype-based screen. Science 286, 971–974 (1999).

52.

Rattner, J. B. & Berns, M. W. Centriole behavior in early mitosis of rat kangaroo cells (PTK2). Chromosoma 54, 387–395 (1976).

53.

Toso, A. et al. Kinetochore-generated pushing forces separate centrosomes during bipolar spindle assembly. J. Cell Biol. 184, 365–372 (2009).

54.

Jean, C., Tollon, Y., Raynaud-Messina, B. & Wright, M. The mammalian interphase centrosome: two independent units maintained together by the dynamics of the microtubule cytoskeleton. Eur. J. Cell Biol. 78, 549–560 (1999).

55.

Meraldi, P. & Nigg, E. A. Centrosome cohesion is regulated by a balance of kinase and phosphatase activities. J. Cell Sci. 114, 3749–3757 (2001).

56.

Matsuo, K., Nishimura, T., Hayakawa, A., Ono, Y. & Takahashi, M. Involvement of a centrosomal protein kendrin in the maintenance of centrosome cohesion by modulating Nek2A kinase activity. Biochem. Biophys. Res. Commun. 398, 217–223 (2010).

57.

Prosser, S. L., Sahota, N. K., Pelletier, L., Morrison, C. G. & Fry, A. M. Nek5 promotes centrosome integrity in interphase and loss of centrosome cohesion in mitosis. J. Cell Biol. 209, 339–348 (2015).

58.

Kodani, A., Salome Sirerol-Piquer, M., Seol, A., Garcia-Verdugo, J. M. & Reiter, J. F. Kif3a interacts with dynactin subunit p150 glued to organize centriole subdistal appendages. EMBO J. 32, 597–607 (2013).

59.

Konishi, Y. & Setou, M. Tubulin tyrosination navigates the kinesin-1 motor domain to axons. Nat. Neurosci. 12, 559–567 (2009).

60.

Barisic, M. et al. Microtubule detyrosination guides chromosomes during mitosis. Science 348, 799–803 (2015).

61.

Rapley, J. et al. The NIMA-family kinase Nek6 phosphorylates the kinesin Eg5 at a novel site necessary for mitotic spindle formation. J. Cell Sci. 121, 3912–3921 (2008).

62.

Eibes, S. et al. Nek9 phosphorylation defines a new role for TPX2 in Eg5-dependent centrosome separation before nuclear envelope breakdown. Curr. Biol. 28, 121–129 (2018). e124.

63.

O'Connell, M. J., Meluh, P. B., Rose, M. D. & Morris, N. R. Suppression of the bimC4 mitotic spindle defect by deletion of klpA, a gene encoding a KAR3-related kinesin-like protein in Aspergillus nidulans. J. Cell Biol. 120, 153–162 (1993).

64.

Sharp, D. J. et al. Functional coordination of three mitotic motors in Drosophila embryos. Mol. Biol. Cell 11, 241–253 (2000).

65.

Prosser, S. L. & Pelletier, L. Mitotic spindle assembly in animal cells: a fine balancing act. Nat. Rev. Mol. Cell Biol. 18, 187–201 (2017).

66.

Kuhns, S. et al. The microtubule affinity regulating kinase MARK4 promotes axoneme extension during early ciliogenesis. J. Cell Biol. 200, 505–522 (2013).

67.

Kurtulmus, B. et al. LRRC45 contributes to early steps of axoneme extension. J. Cell Sci. 131, 223594 (2018).

68.

Mastronarde, D. N. Automated electron microscope tomography using robust prediction of specimen movements. J. Struct. Biol. 152, 36–51 (2005).

69.

Kremer, J. R., Mastronarde, D. N. & McIntosh, J. R. Computer visualization of three-dimensional image data using IMOD. J. Struct. Biol. 116, 71–76 (1996).

70.

Marsh, B. J., Mastronarde, D. N., Buttle, K. F., Howell, K. E. & McIntosh, J. R. Organellar relationships in the Golgi region of the pancreatic beta cell line, HIT-T15, visualized by high resolution electron tomography. Proc. Natl Acad. Sci. USA 98, 2399–2406 (2001).
Acknowledgements
We thank A. Neuner and S. Heinze for advice and technical support, B. Kurtulmus for sharing reagents, M. Knop for sharing equipment and helpful discussions, H. Kaessmann for helpful discussions on gene-expression profiles, A. J. Pour and H. Lorenz from the ZMBH Imaging facility for programming plugins and macros used in preliminary data analysis, U. Engel from the Heidelberg University Nikon Imaging Center for support with SIM imaging, M. Langlotz from the ZMBH FACS facility for cell sorting, M. Bornens for the ninein antibody, T. Surrey for the EG5 antibody and J. Pines for the RPE1 FRT/TREx cell line. Electron microscopy and tomography were performed at the Electron Microscopy Core Facility, Heidelberg University. This work was supported by a grant of the German Research Council (Deutsche Forschungsgemeinschaft) DFG-Schi295/6-1 to E.S. and DFG-PE1883-3 and SFB873 to G.P. S.H. was supported by JSPS Research Fellowships for Young Scientists from JSPS, The Naito Grant for studying overseas from The Naito Foundation and Research grant abroad from The Kanae Foundation for the Promotion of Medical Science.
Ethics declarations
Competing interests
The authors declare no competing interests.
Additional information
Publisher's note: Springer Nature remains neutral with regard to jurisdictional claims in published maps and institutional affiliations.
Integrated supplementary information
Supplementary information