Abstract
Tau is an intrinsically disordered protein, which diffuses on microtubules1. In neurodegenerative diseases, collectively termed tauopathies, malfunction of tau and its detachment from axonal microtubules are correlated with axonal degeneration2. Tau can protect microtubules from microtubule-degrading enzymes such as katanin3. However, how tau carries out this regulatory function is still unclear. Here, using in vitro reconstitution, we show that tau molecules on microtubules cooperatively form cohesive islands that are kinetically distinct from tau molecules that individually diffuse on microtubules. Dependent on the tau concentration in solution, the islands reversibly grow or shrink by addition or release of tau molecules at their boundaries. Shielding microtubules from kinesin-1 motors and katanin, the islands exhibit regulatory qualities distinct from a comparably dense layer of diffusible tau. Superprocessive kinesin-8 motors penetrate the islands and cause their disassembly. Our results reveal a microtubule-dependent phase of tau that constitutes an adaptable protective layer on the microtubule surface. We anticipate that other intrinsically disordered axonal proteins display a similar cooperative behaviour and potentially compete with tau in regulating access to the microtubule surface.
Relevant articles
Open Access articles citing this article.
Yongqi Huang

,

Jitao Wen

…

Meng Gao

Nature Communications Open Access 06 September 2023

Beatrice Ramm

,

Dominik Schumacher

…

Lotte Søgaard-Andersen

Nature Communications Open Access 28 June 2023

Prabhu Rajaiah Prince

,

Janine Hochmair

…

Christian Betzel

Scientific Reports Open Access 09 March 2023
Access options
Access Nature and 54 other Nature Portfolio journals
Get Nature+, our best-value online-access subscription
$29.99 / 30 days
cancel any time
Subscribe to this journal
Receive 12 print issues and online access
$209.00 per year
only $17.42 per issue
Rent or buy this article
Prices vary by article type
from$1.95
to$39.95
Prices may be subject to local taxes which are calculated during checkout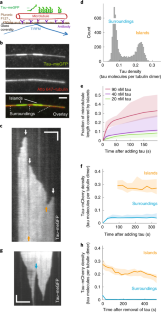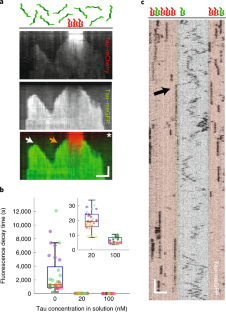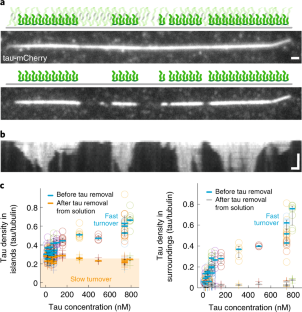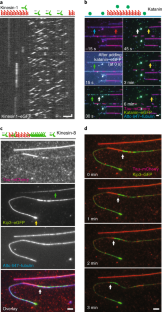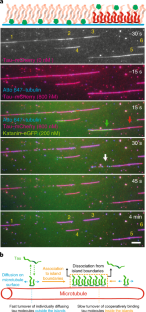 Data availability
Source data for Figs. 1–5 and quantifications given in the main text (island density) have been provided as Supplementary Table 1. Example raw videos are available at BioStudies with accession number S-BSST266. All other data supporting the findings of this study are available from the corresponding authors on reasonable request.
Code availability
Code used to determine single-molecule intensities (GNU General Public License v.3, for further information see repository) is available at https://doi.org/10.5281/zenodo.3270568. Code used to create kymographs (MIT license, for further information see repository) is available at https://doi.org/10.5281/zenodo.3270572. All other custom written code is available from the corresponding authors on request.
References
Hinrichs, M. H. et al. Tau protein diffuses along the microtubule lattice. J. Biol. Chem. 287, 38559–38568 (2012).

Kneynsberg, A., Combs, B., Christensen, K., Morfini, G. & Kanaan, N. M. Axonal degeneration in tauopathies: disease relevance and underlying mechanisms. Front. Neurosci. 11, 572 (2017).

Qiang, L. Tau protects microtubules in the axon from severing by katanin. J. Neurosci. 26, 3120–3129 (2006).

Morris, M., Maeda, S., Vossel, K. & Mucke, L. The many faces of tau. Neuron 70, 410–426 (2011).

Gao, Y.-L. et al. Tau in neurodegenerative disease. Ann. Transl. Med. 6, 175–175 (2018).

Iqbal, K., Liu, F. & Gong, C.-X. Tau and neurodegenerative disease: the story so far. Nat. Rev. Neurol. 12, 15–27 (2016).

Drechsel, D. N., Hyman, A. A., Cobb, M. H. & Kirschner, M. W. Modulation of the dynamic instability of tubulin assembly by the microtubule-associated protein tau. Mol. Biol. Cell 3, 1141–1154 (1992).

Chaudhary, A. R., Berger, F., Berger, C. L. & Hendricks, A. G. Tau directs intracellular trafficking by regulating the forces exerted by kinesin and dynein teams. Traffic 19, 111–121 (2018).

Dixit, R., Ross, J. L., Goldman, Y. E. & Holzbaur, E. L. F. Differential regulation of dynein and kinesin motor proteins by Tau. Science 319, 1086–1089 (2008).

Vershinin, M., Carter, B. C., Razafsky, D. S., King, S. J. & Gross, S. P. Multiple-motor based transport and its regulation by Tau. Proc. Natl Acad. Sci. USA 104, 87–92 (2007).

Seitz, A. et al. Single-molecule investigation of the interference between kinesin, tau and MAP2c. EMBO J. 21, 4896–4905 (2002).

Trinczek, B., Ebneth, A., Mandelkow, E. M. & Mandelkow, E. Tau regulates the attachment/detachment but not the speed of motors in microtubule-dependent transport of single vesicles and organelles. J. Cell Sci. 112, 2355–2367 (1999).

Ebneth, A. et al. Overexpression of tau protein inhibits kinesin-dependent trafficking of vesicles, mitochondria, and endoplasmic reticulum: implications for Alzheimer's disease. J. Cell Biol. 143, 777–794 (1998).

Gamblin, T. C., Berry, R. W. & Binder, L. I. Tau polymerization: role of the amino terminus. Biochemistry 42, 2252–2257 (2003).

Tan, R. et al. Microtubules gate tau condensation to spatially regulate microtubule functions. Nat. Cell Biol. https://doi.org/10.1038/s41556-019-0375-5 (2019).

Makrides, V., Massie, M. R., Feinstein, S. C. & Lew, J. Evidence for two distinct binding sites for tau on microtubules. Proc. Natl Acad. Sci. USA 101, 6746–6751 (2004).

Wegmann, S. et al. Tau protein liquid–liquid phase separation can initiate tau aggregation. EMBO J. 37, e98049 (2018).

Schneider, R., Korten, T., Walter, W. J. & Diez, S. Kinesin-1 motors can circumvent permanent roadblocks by side-shifting to neighboring protofilaments. Biophys. J. 108, 2249–2257 (2015).

Telley, I. A., Bieling, P. & Surrey, T. Obstacles on the microtubule reduce the processivity of Kinesin-1 in a minimal in vitro system and in cell extract. Biophys. J. 96, 3341–3353 (2009).

Jiang, K. et al. Microtubule minus-end regulation at spindle poles by an ASPM–katanin complex. Nat. Cell Biol. 19, 480–492 (2017).

Varga, V., Leduc, C., Bormuth, V., Diez, S. & Howard, J. Kinesin-8 motors act cooperatively to mediate length-dependent microtubule depolymerization. Cell 138, 1174–1183 (2009).

Leduc, C. et al. Molecular crowding creates traffic jams of kinesin motors on microtubules. Proc. Natl Acad. Sci. USA 109, 6100–6105 (2012).

Kellogg, E. H. et al. Near-atomic model of microtubule–tau interactions. Science 360, 1242–1246 (2018).

McVicker, D. P., Hoeprich, G. J., Thompson, A. R. & Berger, C. L. Tau interconverts between diffusive and stable populations on the microtubule surface in an isoform and lattice specific manner. Cytoskeleton 71, 184–194 (2014).

Hernández-Vega, A. et al. Local nucleation of microtubule bundles through tubulin concentration into a condensed Tau phase. Cell Rep. 20, 2304–2312 (2017).

Bechstedt, S. & Brouhard, G. J. Doublecortin recognizes the 13-protofilament microtubule cooperatively and tracks microtubule ends. Dev. Cell 23, 181–192 (2012).

Sing, C. E., Olvera de la Cruz, M. & Marko, J. F. Multiple-binding-site mechanism explains concentration-dependent unbinding rates of DNA-binding proteins. Nucleic Acids Res. 42, 3783–3791 (2014).

Lansky, Z. et al. Diffusible crosslinkers generate directed forces in microtubule networks. Cell 160, 1159–1168 (2015).

Samsonov, A., Yu, J.-Z., Rasenick, M. & Popov, S. V. Tau interaction with microtubules in vivo. J. Cell Sci. 117, 6129–6141 (2004).

Bechstedt, S., Lu, K. & Brouhard, G. J. Doublecortin recognizes the longitudinal curvature of the microtubule end and lattice. Curr. Biol. 24, 2366–2375 (2014).

Monroy, B. Y. et al. Competition between microtubule-associated proteins directs motor transport. Nat. Commun. 9, 1714 (2018).

Mitra, A., Ruhnow, F., Girardo, S. & Diez, S. Directionally biased sidestepping of Kip3/kinesin-8 is regulated by ATP waiting time and motor-microtubule interaction strength. Proc. Natl Acad. Sci. USA 115, E7950–E7959 (2018).

Nitzsche, B. et al. Studying kinesin motors by optical 3D-nanometry in gliding motility assays. Methods Cell Biol. 95, 247–271 (2010).

Braun, M. et al. Adaptive braking by Ase1 prevents overlapping microtubules from sliding completely apart. Nat. Cell Biol. 13, 1259–1264 (2011).

Schindelin, J. et al. Fiji: an open-source platform for biological-image analysis. Nat. Methods 9, 676–682 (2012).

Ruhnow, F., Zwicker, D. & Diez, S. Tracking single particles and elongated filaments with nanometer precision. Biophys. J. 100, 2820–2828 (2011).
Acknowledgements
We thank A. Akhmanova and K. Jiang for the generous gift of the katanin plasmid, R. McKenney for feedback and sharing of data, V. Henrichs, I. Zhernov and L. Grycova for help with protein preparation, and Y. Bobrova, S. Dijkstra and C. Bräuer for technical support. We acknowledge the financial support from the Czech Science Foundation (grant no. 18-08304S to Z.L. and 17-12496Y to M.B.), the Introduction of New Research Methods to BIOCEV (CZ.1.05/2.1.00/19.0390) project from the ERDF, the institutional support from the CAS (RVO: 86652036) and the Imaging Methods Core Facility at BIOCEV, an institution supported by the Czech-BioImaging large RI projects (LM2015062 and CZ.02.1.01/0.0/0.0/16_013/0001775, funded by MEYS CR) for their support in obtaining imaging data presented in this paper.
Ethics declarations
Competing interests
The authors declare no competing interests.
Additional information
Publisher's note Springer Nature remains neutral with regard to jurisdictional claims in published maps and institutional affiliations.
Integrated supplementary information
Supplementary information
About this article
Cite this article
Siahaan, V., Krattenmacher, J., Hyman, A.A. et al. Kinetically distinct phases of tau on microtubules regulate kinesin motors and severing enzymes. Nat Cell Biol 21, 1086–1092 (2019). https://doi.org/10.1038/s41556-019-0374-6
Received:

Accepted:

Published:

Issue Date:

DOI: https://doi.org/10.1038/s41556-019-0374-6