Abstract
The sebaceous gland (SG) is an essential component of the skin, and SG dysfunction is debilitating1,2. Yet, the cellular bases for its origin, development and subsequent maintenance remain poorly understood. Here, we apply large-scale quantitative fate mapping to define the patterns of cell fate behaviour during SG development and maintenance. We show that the SG develops from a defined number of lineage-restricted progenitors that undergo a programme of independent and stochastic cell fate decisions. Following an expansion phase, equipotent progenitors transition into a phase of homeostatic turnover, which is correlated with changes in the mechanical properties of the stroma and spatial restrictions on gland size. Expression of the oncogene KrasG12D results in a release from these constraints and unbridled gland expansion. Quantitative clonal fate analysis reveals that, during this phase, the primary effect of the Kras oncogene is to drive a constant fate bias with little effect on cell division rates. These findings provide insight into the developmental programme of the SG, as well as the mechanisms that drive tumour progression and gland dysfunction.
This is a preview of subscription content
Access options
Subscribe to Nature+
Get immediate online access to the entire Nature family of 50+ journals
Subscribe to Journal
Get full journal access for 1 year
$99.00
only $8.25 per issue
All prices are NET prices.
VAT will be added later in the checkout.
Tax calculation will be finalised during checkout.
Buy article
Get time limited or full article access on ReadCube.
$32.00
All prices are NET prices.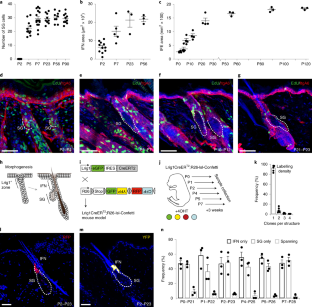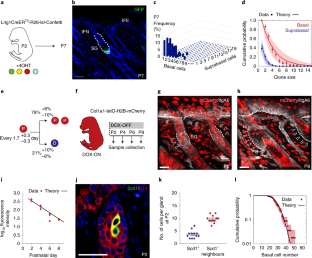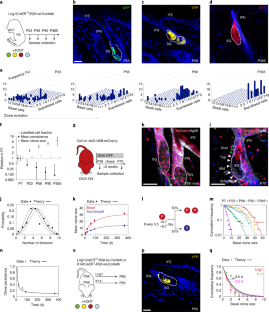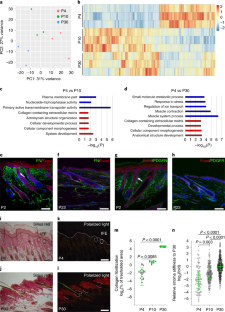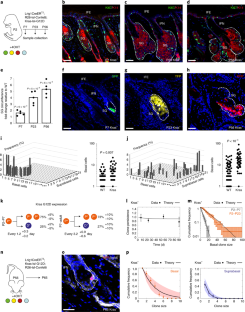 Data availability
RNA sequencing data that support the findings of this study have been deposited in the Gene Expression Omnibus (GEO) under accession code GSE126491. Raw data for Figs. 1–5 and Supplementary Figs. 1–5 have been provided as Supplementary Table 3. All other data supporting the findings of this study are available from the corresponding authors on reasonable request.
References
Zouboulis, C. C. et al. Beyond acne: current aspects of sebaceous gland biology and function. Rev. Endocr. Metab. Disord. 17, 319–334 (2016).

Ehrmann, C. & Schneider, M. R. Genetically modified laboratory mice with sebaceous glands abnormalities. Cell. Mol. Life Sci. 73, 4623–4642 (2016).

Paus, R. et al. A comprehensive guide for the recognition and classification of distinct stages of hair follicle morphogenesis. J. Invest. Dermatol. 113, 523–532 (1999).

Fuchs, E. Skin stem cells: rising to the surface. J. Cell Biol. 180, 273–284 (2008).

Page, M. E., Lombard, P., Ng, F., Gottgens, B. & Jensen, K. B. The epidermis comprises autonomous compartments maintained by distinct stem cell populations. Cell Stem Cell 13, 471–482 (2013).

Horsley, V. et al. Blimp1 defines a progenitor population that governs cellular input to the sebaceous gland. Cell 126, 597–609 (2006).

Fullgrabe, A. et al. Dynamics of Lgr6+ progenitor cells in the hair follicle, sebaceous gland, and interfollicular epidermis. Stem Cell Rep. 5, 843–855 (2015).

Petersson, M. et al. TCF/Lef1 activity controls establishment of diverse stem and progenitor cell compartments in mouse epidermis. EMBO J. 30, 3004–3018 (2011).

Snippert, H. J. et al. Lgr6 marks stem cells in the hair follicle that generate all cell lineages of the skin. Science 327, 1385–1389 (2010).

Frances, D. & Niemann, C. Stem cell dynamics in sebaceous gland morphogenesis in mouse skin. Dev. Biol. 363, 138–146 (2012).

Ghazizadeh, S. & Taichman, L. B. Multiple classes of stem cells in cutaneous epithelium: a lineage analysis of adult mouse skin. EMBO J. 20, 1215–1222 (2001).

Oules, B. et al. Mutant Lef1 controls Gata6 in sebaceous gland development and cancer. EMBO J. 38, e100526 (2019).

Driskell, R. R., Giangreco, A., Jensen, K. B., Mulder, K. W. & Watt, F. M. Sox2-positive dermal papilla cells specify hair follicle type in mammalian epidermis. Development 136, 2815–2823 (2009).

Jensen, K. B. et al. Lrig1 expression defines a distinct multipotent stem cell population in mammalian epidermis. Cell Stem Cell 4, 427–439 (2009).

Snippert, H. J. et al. Intestinal crypt homeostasis results from neutral competition between symmetrically dividing Lgr5 stem cells. Cell 143, 134–144 (2010).

Guiu, J. et al. Tracing the origin of adult intestinal stem cells. Nature 570, 107–111 (2019).

Van Keymeulen, A. et al. Lineage-restricted mammary stem cells sustain the development, homeostasis, and regeneration of the estrogen receptor positive lineage. Cell Rep. 20, 1525–1532 (2017).

Wuidart, A. et al. Early lineage segregation of multipotent embryonic mammary gland progenitors. Nat. Cell Biol. 20, 666–676 (2018).

Blanpain, C. & Simons, B. D. Unravelling stem cell dynamics by lineage tracing. Nat. Rev. Mol. Cell Biol. 14, 489–502 (2013).

Clayton, E. et al. A single type of progenitor cell maintains normal epidermis. Nature 446, 185–189 (2007).

Mascre, G. et al. Distinct contribution of stem and progenitor cells to epidermal maintenance. Nature 489, 257–262 (2012).

Donati, G. et al. Wounding induces dedifferentiation of epidermal Gata6+ cells and acquisition of stem cell properties. Nat. Cell Biol. 19, 603–613 (2017).

Ponder, B. A. et al. Derivation of mouse intestinal crypts from single progenitor cells. Nature 313, 689–691 (1985).

Klein, A. M. & Simons, B. D. Universal patterns of stem cell fate in cycling adult tissues. Development 138, 3103–3111 (2011).

Mesa, K. R. et al. Homeostatic epidermal stem cell self-renewal is driven by local differentiation. Cell Stem Cell 23, 677–686.e4 (2018).

Cottle, D. L. et al. c-MYC-induced sebaceous gland differentiation is controlled by an androgen receptor/p53 axis. Cell Rep. 3, 427–441 (2013).

Jackson, E. L. et al. Analysis of lung tumor initiation and progression using conditional expression of oncogenic K-ras. Genes Dev. 15, 3243–3248 (2001).

Bonnans, C., Chou, J. & Werb, Z. Remodelling the extracellular matrix in development and disease. Nat. Rev. Mol. Cell Biol. 15, 786–801 (2014).

Wickstrom, S. A. & Niessen, C. M. Cell adhesion and mechanics as drivers of tissue organization and differentiation: local cues for large scale organization. Curr. Opin. Cell Biol. 54, 89–97 (2018).

Sanchez-Danes, A. et al. Defining the clonal dynamics leading to mouse skin tumour initiation. Nature 536, 298–303 (2016).

Driessens, G., Beck, B., Caauwe, A., Simons, B. D. & Blanpain, C. Defining the mode of tumour growth by clonal analysis. Nature 488, 527–530 (2012).

Groth, A. & Willumsen, B. M. High-density growth arrest in Ras-transformed cells: low Cdk kinase activities in spite of absence of p27Kip Cdk-complexes. Cell. Signal. 17, 1063–1073 (2005).

Vermeulen, L. et al. Defining stem cell dynamics in models of intestinal tumor initiation. Science 342, 995–998 (2013).

Clevers, H., Loh, K. M. & Nusse, R. Stem cell signaling. An integral program for tissue renewal and regeneration: Wnt signaling and stem cell control. Science 346, 1248012 (2014).

Niemann, C., Owens, D. M., Hulsken, J., Birchmeier, W. & Watt, F. M. Expression of ΔNLef1 in mouse epidermis results in differentiation of hair follicles into squamous epidermal cysts and formation of skin tumours. Development 129, 95–109 (2002).

Merrill, B. J., Gat, U., DasGupta, R. & Fuchs, E. Tcf3 and Lef1 regulate lineage differentiation of multipotent stem cells in skin. Genes Dev. 15, 1688–1705 (2001).

Vasioukhin, V., Degenstein, L., Wise, B. & Fuchs, E. The magical touch: genome targeting in epidermal stem cells induced by tamoxifen application to mouse skin. Proc. Natl Acad. Sci. USA 96, 8551–8556 (1999).

Beard, C., Hochedlinger, K., Plath, K., Wutz, A. & Jaenisch, R. Efficient method to generate single-copy transgenic mice by site-specific integration in embryonic stem cells. Genesis 44, 23–28 (2006).

Mehlem, A., Hagberg, C. E., Muhl, L., Eriksson, U. & Falkevall, A. Imaging of neutral lipids by oil red O for analyzing the metabolic status in health and disease. Nat. Protoc. 8, 1149–1154 (2013).

Moestrup, K. S., Andersen, M. S. & Jensen, K. B. Isolation and in vitro characterization of epidermal stem cells. Methods Mol. Biol. 1553, 67–83 (2017).
Acknowledgements
We thank members of the Jensen and Simons lab for comments and suggestions; B. Porse, University of Copenhagen, Denmark, and H. Clevers, Hubrecht Institute, Netherlands, for animal models; and CAB, University of Copenhagen for experimental support. This work was supported by Leo Pharma Research Foundation (to K.B.J.), Lundbeck Foundation (R105-A9755 to K.B.J.), the Novo Nordisk Foundation (NNF14OC0012927 to K.B.J.), EMBO Young Investigator programme (to K.B.J.) and the Wellcome Trust (grant number 098357/Z/12/Z to B.D.S.). B.D.S. is supported by a Royal Society E P Abraham Professorship (RP/R1/180165). This project has received funding from the European Union's Horizon 2020 research and innovation programme (grant agreements STEMHEALTH ERCCoG682665 and INTENS 668294 to K.B.J.). The Novo Nordisk Foundation Center for Stem Cell Biology is supported by a Novo Nordisk Foundation grant number NNF17CC0027852. S.E., C.C.F. and S.P. are supported by la Fondation ARC (R18020AA). We acknowledge the IRCAN PICMI core facility, which is supported by grants from the Conseil Général 06, the FEDER, the Ministère de l'Enseignement Supérieur, the Région Provence Alpes-Côte d'Azur, the Canceropole PACA and INSERM.
Ethics declarations
Competing interests
The authors declare no competing interests.
Additional information
Publisher's note: Springer Nature remains neutral with regard to jurisdictional claims in published maps and institutional affiliations.
Integrated supplementary information
Supplementary Information
About this article
Cite this article
Andersen, M.S., Hannezo, E., Ulyanchenko, S. et al. Tracing the cellular dynamics of sebaceous gland development in normal and perturbed states. Nat Cell Biol 21, 924–932 (2019). https://doi.org/10.1038/s41556-019-0362-x
Received:

Accepted:

Published:

Issue Date:

DOI: https://doi.org/10.1038/s41556-019-0362-x
Further reading
Calum Gabbutt
Ryan O. Schenck
Darryl Shibata

Nature Biotechnology (2022)

Jamie McGinn
Adrien Hallou
Maria P. Alcolea

Nature Cell Biology (2021)

Qing Nie
Maksim V. Plikus

Nature Cell Biology (2019)