Abstract
Breaking the anterior–posterior symmetry in mammals occurs at gastrulation. Much of the signalling network underlying this process has been elucidated in the mouse; however, there is no direct molecular evidence of events driving axis formation in humans. Here, we use human embryonic stem cells to generate an in vitro three-dimensional model of a human epiblast whose size, cell polarity and gene expression are similar to a day 10 human epiblast. A defined dose of BMP4 spontaneously breaks axial symmetry, and induces markers of the primitive streak and epithelial-to-mesenchymal transition. We show that WNT signalling and its inhibitor DKK1 play key roles in this process downstream of BMP4. Our work demonstrates that a model human epiblast can break axial symmetry despite the absence of asymmetry in the initial signal and of extra-embryonic tissues or maternal cues. Our three-dimensional model is an assay for the molecular events underlying human axial symmetry breaking.
Access options
Subscribe to Journal
Get full journal access for 1 year
$209.00
only $17.42 per issue
All prices are NET prices.
VAT will be added later in the checkout.
Rent or Buy article
Get time limited or full article access on ReadCube.
from$8.99
All prices are NET prices.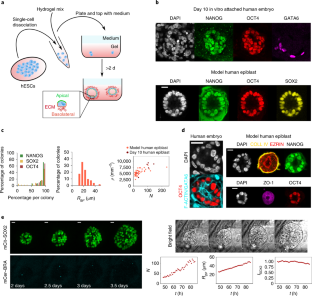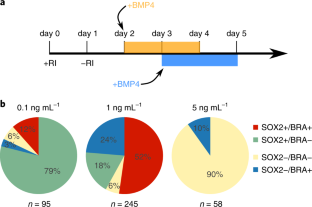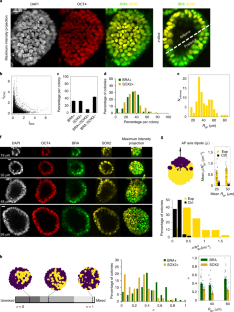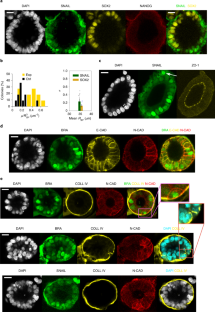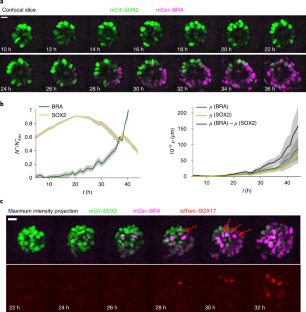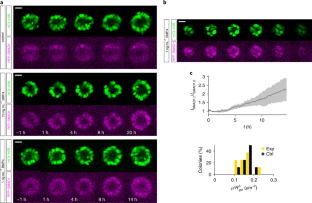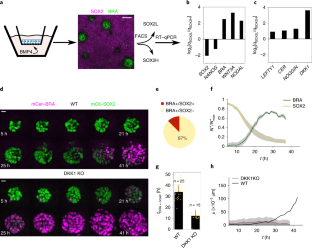 Data availability
The numerical source data for all figures have been provided as Supplementary Table 2. All other data supporting the findings of this study are available from the corresponding author on reasonable request.
Code availability
The code used for cell segmentation in this work is available from the corresponding author on request.
References
1.

Benazeraf, B. & Pourquie, O. Formation and segmentation of the vertebrate body axis. Annu. Rev. Cell Dev. Biol. 29, 1–26 (2013).

2.

Stern, C. Gastrulation: From Cells To Embryo (Cold Spring Harbor Press, 2004).

3.

O'Rahilly, R. & Muller, F. Developmental stages in human embryos: revised and new measurements. Cells Tissues Organs 192, 73–84 (2010).

4.

Arnold, S. J. & Robertson, E. J. Making a commitment: cell lineage allocation and axis patterning in the early mouse embryo. Nat. Rev. Mol. Cell Biol. 10, 91–103 (2009).

5.

Migeotte, I., Omelchenko, T., Hall, A. & Anderson, K. V. Rac1-dependent collective cell migration is required for specification of the anterior-posterior body axis of the mouse. PLoS Biol. 8, e1000442 (2010).

6.

Nowotschin, S. et al. The T-box transcription factor Eomesodermin is essential for AVE induction in the mouse embryo. Genes Dev. 27, 997–1002 (2013).

7.

Mukhopadhyay, M. et al. Dickkopf1 is required for embryonic head induction and limb morphogenesis in the mouse. Dev. Cell 1, 423–434 (2001).

8.

ten Berge, D. et al. Wnt signaling mediates self-organization and axis formation in embryoid bodies. Cell Stem Cell 3, 508–518 (2008).

9.

van den Brink, S. C. et al. Symmetry breaking, germ layer specification and axial organisation in aggregates of mouse embryonic stem cells. Development 141, 4231–4242 (2014).

10.

Turner, D. A. et al. Anteroposterior polarity and elongation in the absence of extraembryonic tissues and spatially localised signalling in gastruloids, mammalian embryonic organoids. Development 144, 3894–3906 (2017).

11.

Beccari, L. et al. Multi-axial self-organization properties of mouse embryonic stem cells into gastruloids. Nature 562, 272–276 (2018).

12.

Harrison, S. E., Sozen, B., Christodoulou, N., Kyprianou, C. & Zernicka-Goetz, M. Assembly of embryonic and extraembryonic stem cells to mimic embryogenesis in vitro. Science 356, eaal1810 (2017).

13.

Sozen, B. et al. Self-assembly of embryonic and two extra-embryonic stem cell types into gastrulating embryo-like structures. Nat. Cell Biol. 20, 979–989 (2018).

14.

Zhang, S. P. et al. Implantation initiation of self-assembled embryolike structures generated using three types of mouse blastocyst-derived stem cells. Nat. Comm. 10, 496 (2019).

15.

National Research Council and Institute of Medicine. Final Report of the National Academies' Human Embryonic Stem Cell Research Advisory Committee and 2010 Amendments to the National Academies' Guidelines for Human Embryonic Stem Cell Research (National Academies Press, 2010).

16.

Shao, Y. et al. A pluripotent stem cell-based model for post-implantation human amniotic sac development. Nat. Commun. 8, 208 (2017).

17.

Shao, Y. et al. Self-organized amniogenesis by human pluripotent stem cells in a biomimetic implantation-like niche. Nat. Mater. 16, 419–425 (2016).

18.

Ben-Haim, N. et al. The nodal precursor acting via activin receptors induces mesoderm by maintaining a source of its convertases and BMP4. Dev. Cell 11, 313–323 (2006).

19.

Warmflash, A., Sorre, B., Etoc, F., Siggia, E. D. & Brivanlou, A. H. A method to recapitulate early embryonic spatial patterning in human embryonic stem cells. Nat. Methods 11, 847–854 (2014).

20.

Lee, L. H. et al. Micropatterning of human embryonic stem cells dissects the mesoderm and endoderm lineages. Stem Cell Res. 2, 155–162 (2009).

21.

Deglincerti, A. et al. Self-organization of the in vitro attached human embryo. Nature 533, 251–254 (2016).

22.

Shahbazi, M. N. et al. Self-organization of the human embryo in the absence of maternal tissues. Nat. Cell Biol. 18, 700–708 (2016).

23.

Taniguchi, K. et al. Lumen formation is an intrinsic property of isolated human pluripotent stem cells. Stem Cell Rep. 5, 954–962 (2015).

24.

Lei, Y. & Schaffer, D. V. A fully defined and scalable 3D culture system for human pluripotent stem cell expansion and differentiation. Proc. Natl Acad. Sci. USA 110, E5039–E5048 (2013).

25.

Alakpa, E. V. et al. Tunable supramolecular hydrogels for selection of lineage-guiding metabolites in stem cell cultures. Chem 1, 298–319 (2016).

26.

Martyn, I., Kanno, T. Y., Ruzo, A., Siggia, E. D. & Brivanlou, A. H. Self-organization of a human organizer by combined Wnt and nodal signalling. Nature 558, 132–135 (2018).

27.

Nakamura, T. et al. Single-cell transcriptome of early embryos and cultured embryonic stem cells of cynomolgus monkeys. Sci. Data 4, 170067 (2017).

28.

Sasaki, K. et al. The germ cell fate of cynomolgus monkeys is specified in the nascent amnion. Dev. Cell 39, 169–185 (2016).

29.

Amita, M. et al. Complete and unidirectional conversion of human embryonic stem cells to trophoblast by BMP4. Proc. Natl Acad. Sci. USA 110, E1212–E1221 (2013).

30.

Carver, E. A., Jiang, R., Lan, Y., Oram, K. F. & Gridley, T. The mouse Snail gene encodes a key regulator of the epithelial–mesenchymal transition. Mol. Cell. Biol. 21, 8184–8188 (2001).

31.

Cano, A. et al. The transcription factor Snail controls epithelial–mesenchymal transitions by repressing E-cadherin expression. Nat. Cell Biol. 2, 76–83 (2000).

32.

Ullmann, U. et al. Epithelial–mesenchymal transition process in human embryonic stem cells cultured in feeder-free conditions. Mol. Hum. Reprod. 13, 21–32 (2007).

33.

Williams, M., Burdsal, C., Periasamy, A., Lewandoski, M. & Sutherland, A. Mouse primitive streak forms in situ by initiation of epithelial to mesenchymal transition without migration of a cell population. Dev. Dyn. 241, 270–283 (2012).

34.

Etoc, F. et al. A balance between secreted inhibitors and edge sensing controls gastruloid self-organization. Dev. Cell 39, 302–315 (2016).

35.

Yoney, A. et al. WNT signaling memory is required for ACTIVIN to function as a morphogen in human gastruloids. eLife 7, e38279 (2018).

36.

Martyn, I., Brivanlou, A. H. & Siggia, E. D. A wave of WNT signaling balanced by secreted inhibitors controls primitive streak formation in micropattern colonies of human embryonic stem cells. Development 146, dev172791 (2019).

37.

Sasai, Y., Eiraku, M. & Suga, H. In vitro organogenesis in three dimensions: self-organising stem cells. Development 139, 4111–4121 (2012).

38.

Srinivas, S., Rodriguez, T., Clements, M., Smith, J. C. & Beddington, R. S. Active cell migration drives the unilateral movements of the anterior visceral endoderm. Development 131, 1157–1164 (2004).

39.

Perea-Gomez, A. et al. Nodal antagonists in the anterior visceral endoderm prevent the formation of multiple primitive streaks. Dev. Cell 3, 745–756 (2002).

40.

Yoon, Y. et al. Extra-embryonic Wnt3 regulates the establishment of the primitive streak in mice. Dev. Biol. 403, 80–88 (2015).

41.

Peng, G. et al. Spatial transcriptome for the molecular annotation of lineage fates and cell identity in mid-gastrula mouse embryo. Dev. Cell 36, 681–697 (2016).

42.

Idkowiak, J., Weisheit, G., Plitzner, J. & Viebahn, C. Hypoblast controls mesoderm generation and axial patterning in the gastrulating rabbit embryo. Dev. Genes Evol. 214, 591–605 (2004).

43.

Meinhardt, H. Models of biological pattern formation: from elementary steps to the organization of embryonic axes. Curr. Top. Dev. Biol. 81, 1–63 (2008).

44.

Simunovic, M., Brivanlou, A. H. & Siggia, E. D. BMP4-induced symmetry breaking in a 3D model of the human epiblast. Protoc. Exch. https://doi.org/10.21203/rs.2.9730/v1 (2019).
Acknowledgements
M.S. is a Junior Fellow of the Simons Society of Fellows. We were supported by the NIH grant nos R01 HD080699 and R01 GM101653 (to A.H.B. and E.D.S), and NSF PHY grant no. 1502151 (to E.D.S). Imaging was performed at The Rockefeller University Bio-Imaging Resource Center. We thank S. Morgani (MSKCC) and the members of the Siggia and Brivanlou laboratories for their helpful discussions and for critically reading the manuscript.
Ethics declarations
Competing interests
The authors declare no competing interests.
Additional information
Publisher's note: Springer Nature remains neutral with regard to jurisdictional claims in published maps and institutional affiliations.
Integrated supplementary information
Supplementary information
About this article
Cite this article
Simunovic, M., Metzger, J.J., Etoc, F. et al. A 3D model of a human epiblast reveals BMP4-driven symmetry breaking. Nat Cell Biol 21, 900–910 (2019). https://doi.org/10.1038/s41556-019-0349-7
Received:

Accepted:

Published:

Issue Date: