Abstract
Most human tumours are heterogeneous, composed of cellular clones with different properties present at variable frequencies. Highly heterogeneous tumours have poor clinical outcomes, yet the underlying mechanism remains poorly understood. Here, we show that minor subclones of breast cancer cells expressing IL11 and FIGF (VEGFD) cooperate to promote metastatic progression and generate polyclonal metastases composed of driver and neutral subclones. Expression profiling of the epithelial and stromal compartments of monoclonal and polyclonal primary and metastatic lesions revealed that this cooperation is indirect, mediated through the local and systemic microenvironments. We identified neutrophils as a leukocyte population stimulated by the IL11-expressing minor subclone and showed that the depletion of neutrophils prevents metastatic outgrowth. Single-cell RNA-seq of CD45+ cell populations from primary tumours, blood and lungs demonstrated that IL11 acts on bone-marrow-derived mesenchymal stromal cells, which induce pro-tumorigenic and pro-metastatic neutrophils. Our results indicate key roles for non-cell-autonomous drivers and minor subclones in metastasis.
Access options
Subscribe to Journal
Get full journal access for 1 year
$225.00
only $18.75 per issue
All prices are NET prices.
VAT will be added later in the checkout.
Rent or Buy article
Get time limited or full article access on ReadCube.
from$8.99
All prices are NET prices.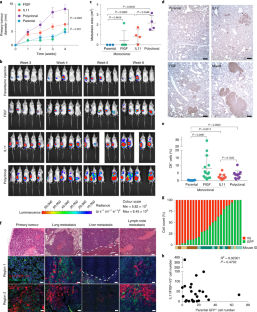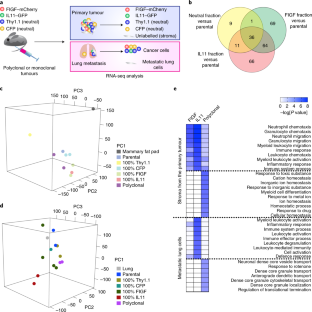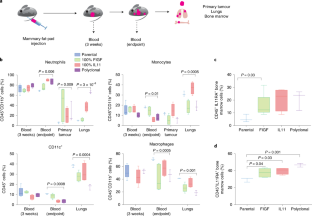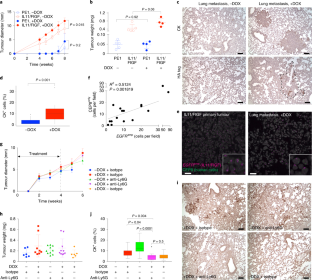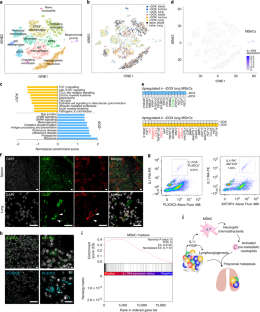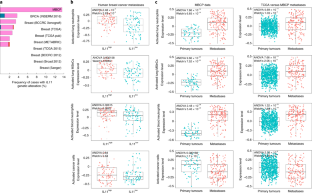 Data availability
RNA-seq and scRNA-seq data have been deposited in the NCBI GEO database with the accession number GSE109281. The publicly available subset of the MBCP RNA-seq data can be found in GEO database with the accession number GSE121411. Primary breast cancer data, where indicated, were derived from the TCGA dataset (http://cancergenome.nih.gov/). The source data for Figs. 1,3,4,6 and Supplementary Fig. 1–6 have been provided as Supplementary Table 1. All data supporting the findings in this study are available from the corresponding author on request.
Code availability
The mathematical modelling code is available from the corresponding author on request.
References
1.

Marusyk, A., Almendro, V. & Polyak, K. Intra-tumour heterogeneity: a looking glass for cancer? Nat. Rev. Cancer 12, 323–334 (2012).

2.

Burrell, R. A. & Swanton, C. Re-evaluating clonal dominance in cancer evolution. Trends Cancer 2, 263–276 (2016).

3.

Yates, L. R. et al. Genomic evolution of breast cancer metastasis and relapse. Cancer Cell 32, 169–184 (2017).

4.

Brastianos, P. K. et al. Genomic characterization of brain metastases reveals branched evolution and potential therapeutic targets. Cancer Discov. 5, 1164–1177 (2015).

5.

Peinado, H. et al. Pre-metastatic niches: organ-specific homes for metastases. Nat. Rev. Cancer 17, 302–317 (2017).

6.

McAllister, S. S. & Weinberg, R. A. The tumour-induced systemic environment as a critical regulator of cancer progression and metastasis. Nat. Cell Biol. 16, 717–727 (2014).

7.

Marusyk, A. et al. Non-cell-autonomous driving of tumour growth supports sub-clonal heterogeneity. Nature 514, 54–58 (2014).

8.

Chen, Q., Sun, L. & Chen, Z. J. Regulation and function of the cGAS–STING pathway of cytosolic DNA sensing. Nat Immunol. 17, 1142–1149 (2016).

9.

Nikolsky, Y., Nikolskaya, T. & Bugrim, A. Biological networks and analysis of experimental data in drug discovery. Drug Discov. Today 10, 653–662 (2005).

10.

Ernst, M. & Putoczki, T. L. Molecular pathways: IL11 as a tumor-promoting cytokine-translational implications for cancers. Clin. Cancer Res. 20, 5579–5588 (2014).

11.

Retsky, M., Demicheli, R., Hrushesky, W., Baum, M. & Gukas, I. Surgery triggers outgrowth of latent distant disease in breast cancer: an inconvenient truth? Cancers 2, 305–337 (2010).

12.

Tohme, S., Simmons, R. L. & Tsung, A. Surgery for cancer: a trigger for metastases. Cancer Res. 77, 1548–1552 (2017).

13.

Daley, J. M., Thomay, A. A., Connolly, M. D., Reichner, J. S. & Albina, J. E. Use of Ly6G-specific monoclonal antibody to deplete neutrophils in mice. J. Leukoc. Biol. 83, 64–70 (2008).

14.

Turley, S. J., Cremasco, V. & Astarita, J. L. Immunological hallmarks of stromal cells in the tumour microenvironment. Nat. Rev. Immunol. 15, 669–682 (2015).

15.

Cerami, E. et al. The cBio cancer genomics portal: an open platform for exploring multidimensional cancer genomics data. Cancer Discov. 2, 401–404 (2012).

16.

Gao, J. et al. Integrative analysis of complex cancer genomics and clinical profiles using the cBioPortal. Sci. Signal. 6, pl1 (2013).

17.

Jeselsohn, R. et al. Allele-specific chromatin recruitment and therapeutic vulnerabilities of ESR1 activating mutations. Cancer Cell 33, 173–186 (2018).

18.

Siegel, M. B. et al. Integrated RNA and DNA sequencing reveals early drivers of metastatic breast cancer. J. Clin. Invest. 128, 1371–1383 (2018).

19.

Hoadley, K. A. et al. Tumor evolution in two patients with basal-like breast cancer: a retrospective genomics study of multiple metastases. PLoS Med. 13, e1002174 (2016).

20.

Onnis, B., Fer, N., Rapisarda, A., Perez, V. S. & Melillo, G. Autocrine production of IL-11 mediates tumorigenicity in hypoxic cancer cells. J. Clin. Invest. 123, 1615–1629 (2013).

21.

Putoczki, T. L. et al. Interleukin-11 is the dominant IL-6 family cytokine during gastrointestinal tumorigenesis and can be targeted therapeutically. Cancer Cell 24, 257–271 (2013).

22.

Bockhorn, J. et al. MicroRNA-30c inhibits human breast tumour chemotherapy resistance by regulating TWF1 and IL-11. Nat. Commun. 4, 1393 (2013).

23.

Kang, Y. et al. A multigenic program mediating breast cancer metastasis to bone. Cancer Cell 3, 537–549 (2003).

24.

Hanavadi, S., Martin, T. A., Watkins, G., Mansel, R. E. & Jiang, W. G. Expression of interleukin 11 and its receptor and their prognostic value in human breast cancer. Ann. Surg. Oncol. 13, 802–808 (2006).

25.

Bower, N. I. et al. Vegfd modulates both angiogenesis and lymphangiogenesis during zebrafish embryonic development. Development 144, 507–518 (2017).

26.

Van den Eynden, G. G. et al. Comparison of molecular determinants of angiogenesis and lymphangiogenesis in lymph node metastases and in primary tumours of patients with breast cancer. J. Pathol. 213, 56–64 (2007).

27.

Leach, J., Morton, J. P. & Sansom, O. J. Neutrophils: homing in on the myeloid mechanisms of metastasis. Mol. Immunol. 110, 69–76 (2017).

28.

Wculek, S. K. & Malanchi, I. Neutrophils support lung colonization of metastasis-initiating breast cancer cells. Nature 528, 413–417 (2015).

29.

Coffelt, S. B. et al. IL-17-producing γδ T cells and neutrophils conspire to promote breast cancer metastasis. Nature 522, 345–348 (2015).

30.

Fridlender, Z. G. et al. Polarization of tumor-associated neutrophil phenotype by TGF-beta: "N1" versus "N2" TAN. Cancer Cell 16, 183–194 (2009).

31.

Castano, Z. et al. IL-1β inflammatory response driven by primary breast cancer prevents metastasis-initiating cell colonization. Nat. Cell Biol. 20, 1084–1097 (2018).

32.

Krenn-Pilko, S. et al. The elevated preoperative derived neutrophil-to-lymphocyte ratio predicts poor clinical outcome in breast cancer patients. Tumour Biol. 37, 361–368 (2016).

33.

Granot, Z. et al. Tumor entrained neutrophils inhibit seeding in the premetastatic lung. Cancer Cell 20, 300–314 (2011).

34.

Finisguerra, V. et al. MET is required for the recruitment of anti-tumoural neutrophils. Nature 522, 349–353 (2015).

35.

Voloshin, T. et al. Blocking IL1β pathway following paclitaxel chemotherapy slightly inhibits primary tumor growth but promotes spontaneous metastasis. Mol. Cancer Ther. 14, 1385–1394 (2015).

36.

Kersten, K. et al. Mammary tumor-derived CCL2 enhances pro-metastatic systemic inflammation through upregulation of IL1β in tumor-associated macrophages. Oncoimmunology 6, e1334744 (2017).

37.

St Croix, B. et al. Genes expressed in human tumor endothelium. Science 289, 1197–1202 (2000).

38.

Carson-Walter, E. B. et al. Cell surface tumor endothelial markers are conserved in mice and humans. Cancer Res. 61, 6649–6655 (2001).

39.

Pan, X. et al. Two methods for full-length RNA sequencing for low quantities of cells and single cells. Proc. Natl Acad. Sci. USA 110, 594–599 (2013).

40.

Guo, S. et al. Nonstochastic reprogramming from a privileged somatic cell state. Cell 156, 649–662 (2014).

41.

Satija, R., Farrell, J. A., Gennert, D., Schier, A. F. & Regev, A. Spatial reconstruction of single-cell gene expression data. Nat. Biotechnol. 33, 495–502 (2015).

42.

Heng, T. S. et al. The Immunological Genome Project: networks of gene expression in immune cells. Nat. Immunol. 9, 1091–1094 (2008).

43.

McDonald, T. O. & Michor, F. SIApopr: a computational method to simulate evolutionary branching trees for analysis of tumor clonal evolution. Bioinformatics 33, 2221–2223 (2017).

44.

Haeno, H. et al. Computational modeling of pancreatic cancer reveals kinetics of metastasis suggesting optimum treatment strategies. Cell 148, 362–375 (2012).

45.

Chen, R. et al. Robust transcriptional tumor signatures applicable to both formalin-fixed paraffin-embedded and fresh-frozen samples. Oncotarget 8, 6652–6662 (2017).

46.

Dobin, A. et al. STAR: ultrafast universal RNA-seq aligner. Bioinformatics 29, 15–21 (2013).

47.

Trapnell, C. et al. Transcript assembly and quantification by RNA-Seq reveals unannotated transcripts and isoform switching during cell differentiation. Nat. Biotechnol. 28, 511–515 (2010).

48.

Wang, L., Wang, S. & Li, W. RSeQC: quality control of RNA-seq experiments. Bioinformatics 28, 2184–2185 (2012).

49.

Hanzelmann, S., Castelo, R. & Guinney, J. GSVA: gene set variation analysis for microarray and RNA-seq data. BMC Bioinform. 14, 7 (2013).
Acknowledgements
We thank the members of the Polyak and Michor laboratories for their critical reading of this manuscript and useful discussions. We thank L. Cameron from the DFCI Confocal Microscopy and Z. Herbert from the DFCI Molecular Biology Core Facility for their dedication and technical expertise. We also thank the staff of the DFCI Animal Facility for their help with the imaging studies. This work was supported by the Dana–Farber Cancer Institute Physical Sciences–Oncology Center (grant no. U54CA143798 to F.M. and K.P.) and Center for Cancer Evolution (F.M. and K.P.), CDRMP Breast Cancer Research Program (grant nos W81XWH-09-1-0561 (A.M.) and W81XWH-14-1-0191 (S.S.M)), Swiss National Science Foundation project no. P2EZP2 175139 (S.C.), NIH (grant nos K99/R00 CA201606-01A1 (M.J.) and R35CA197623 (K.P.)), the Ludwig Center at Harvard (F.M. and K.P.), Novartis Oncology (K.P.), and the Breast Cancer Research Foundation (K.P.).
Ethics declarations
Competing interests
The authors declare competing financial interests. K.P. received research support from and was a consultant to Novartis Oncology during the execution of this study. K.P. also serves on the Scientific Advisory Board of Mitra Biotech.
Additional information
Publisher's note: Springer Nature remains neutral with regard to jurisdictional claims in published maps and institutional affiliations.
Integrated supplementary information
Supplementary information
About this article
Cite this article
Janiszewska, M., Tabassum, D.P., Castaño, Z. et al. Subclonal cooperation drives metastasis by modulating local and systemic immune microenvironments. Nat Cell Biol 21, 879–888 (2019) doi:10.1038/s41556-019-0346-x
Received

Accepted

Published

Issue Date
Further reading
Maša Alečković

,

Sandra S. McAllister

&

Kornelia Polyak

Biochimica et Biophysica Acta (BBA) - Reviews on Cancer (2019)

Yochai Wolf

,

Osnat Bartok

,

Sushant Patkar

,

Gitit Bar Eli

,

Sapir Cohen

,

Kevin Litchfield

,

Ronen Levy

,

Alejandro Jiménez-Sánchez

,

Sophie Trabish

,

Joo Sang Lee

,

Hiren Karathia

,

Eilon Barnea

,

Chi-Ping Day

,

Einat Cinnamon

,

Ilan Stein

,

Adam Solomon

,

Lital Bitton

,

Eva Pérez-Guijarro

,

Tania Dubovik

,

Shai S. Shen-Orr

,

Martin L. Miller

,

Glenn Merlino

,

Yishai Levin

,

Eli Pikarsky

,

Lea Eisenbach

,

Arie Admon

,

Charles Swanton

,

Eytan Ruppin

&

Yardena Samuels

Cell (2019)

Luigi Ombrato

&

Ilaria Malanchi

Nature Cell Biology (2019)