Abstract
Phosphorylation networks intimately regulate mechanisms of response to therapies. Mapping the phospho-catalytic profile of kinases in cells or tissues remains a challenge. Here, we introduce a practical high-throughput system to measure the enzymatic activity of kinases using biological peptide targets as phospho-sensors to reveal kinase dependencies in tumour biopsies and cell lines. A 228-peptide screen was developed to detect the activity of >60 kinases, including ABLs, AKTs, CDKs and MAPKs. Focusing on BRAFV600E tumours, we found mechanisms of intrinsic resistance to BRAFV600E-targeted therapy in colorectal cancer, including targetable parallel activation of PDPK1 and PRKCA. Furthermore, mapping the phospho-catalytic signatures of melanoma specimens identifies RPS6KB1 and PIM1 as emerging druggable vulnerabilities predictive of poor outcome in BRAFV600E patients. The results show that therapeutic resistance can be caused by the concerted upregulation of interdependent pathways. Our kinase activity-mapping system is a versatile strategy that innovates the exploration of actionable kinases for precision medicine.
Access options
Subscribe to Journal
Get full journal access for 1 year
$99.00
only $8.25 per issue
All prices are NET prices.
VAT will be added later in the checkout.
Tax calculation will be finalised during checkout.
Rent or Buy article
Get time limited or full article access on ReadCube.
from$8.99
All prices are NET prices.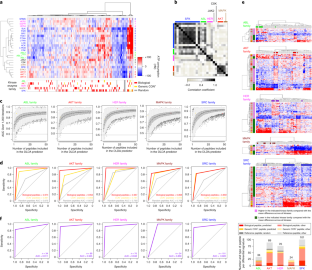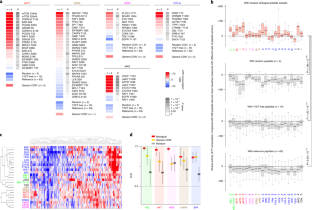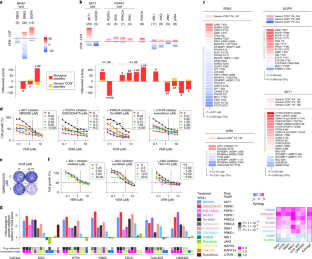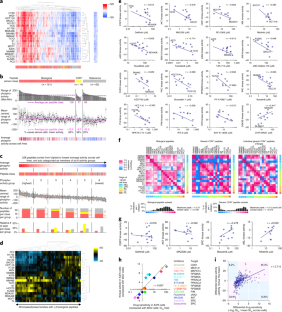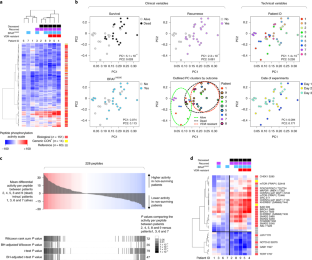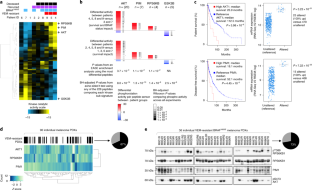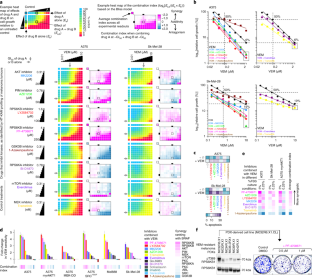 Data availability
The human melanoma data were derived from the TCGA Research Network (http://cancergenome.nih.gov/). The RNA-Seq dataset derived from this resource that supports the findings of this study is available in the TCGA, Skin Cutaneous Melanoma repository accessed and analysed online using cBioPortal (http://www.cbioportal.org). RNA-Seq data that support the findings of this study have been deposited in the Gene Expression Omnibus under accession code GSE129127. Source data for Figs. 1, 2, 3a, 4a,b, 5a, 6a and 7d and Supplementary Figs. 1e–h, 1k,l, 2–5, 6d–f and 7c have been provided as Supplementary Table 26. All other data supporting the findings of this study are available from the corresponding author on reasonable request.
References
1.

Petricoin, E. F., Zoon, K. C., Kohn, E. C., Barrett, J. C. & Liotta, L. A. Clinical proteomics: translating benchside promise into bedside reality. Nat. Rev. Drug Discov. 1, 683–695 (2002).

2.

Blume-Jensen, P. & Hunter, T. Oncogenic kinase signalling. Nature 411, 355–365 (2001).

3.

Fleuren, E. D., Zhang, L., Wu, J. & Daly, R. J. The kinome 'at large' in cancer. Nat. Rev. Cancer 16, 83–98 (2016).

4.

Johnson, S. A. & Hunter, T. Kinomics: methods for deciphering the kinome. Nat. Methods 2, 17–25 (2005).

5.

Krogan, N. J., Lippman, S., Agard, D. A., Ashworth, A. & Ideker, T. The Cancer Cell Map Initiative: defining the hallmark networks of cancer. Mol. Cell 58, 690–698 (2015).

6.

Hoadley, K. A. et al. Multiplatform analysis of 12 cancer types reveals molecular classification within and across tissues of origin. Cell 158, 929–944 (2014).

7.

Akbani, R. et al. A pan-cancer proteomic perspective on The Cancer Genome Atlas. Nat. Commun. 5, 3887 (2014).

8.

Chandarlapaty, S. et al. AKT inhibition relieves feedback suppression of receptor tyrosine kinase expression and activity. Cancer Cell 19, 58–71 (2011).

9.

Coppe, J. P. et al. Senescence-associated secretory phenotypes reveal cell-nonautonomous functions of oncogenic RAS and the p53 tumor suppressor. PLoS Biol. 6, 2853–2868 (2008).

10.

Huttlin, E. L. et al. The BioPlex Network: a systematic exploration of the human interactome. Cell 162, 425–440 (2015).

11.

Rikova, K. et al. Global survey of phosphotyrosine signaling identifies oncogenic kinases in lung cancer. Cell 131, 1190–1203 (2007).

12.

Zhang, B. et al. Proteogenomic characterization of human colon and rectal cancer. Nature 513, 382–387 (2014).

13.

Uhlen, M. et al. Proteomics. Tissue-based map of the human proteome. Science 347, 1260419 (2015).

14.

Drake, J. M. et al. Phosphoproteome integration reveals patient-specific networks in prostate. Cancer Cell 166, 1041–1054 (2016).

15.

Sharma, K. et al. Ultradeep human phosphoproteome reveals a distinct regulatory nature of Tyr and Ser/Thr-based signaling. Cell Rep. 8, 1583–1594 (2014).

16.

Duncan, J. S. et al. Dynamic reprogramming of the kinome in response to targeted MEK inhibition in triple-negative breast cancer. Cell 149, 307–321 (2012).

17.

Sos, M. L. et al. Oncogene mimicry as a mechanism of primary resistance to BRAF inhibitors. Cell Rep. 8, 1037–1048 (2014).

18.

Bantscheff, M. et al. Quantitative chemical proteomics reveals mechanisms of action of clinical ABL kinase inhibitors. Nat. Biotechnol. 25, 1035–1044 (2007).

19.

Daub, H. et al. Kinase-selective enrichment enables quantitative phosphoproteomics of the kinome across the cell cycle. Mol. Cell 31, 438–448 (2008).

20.

Kubota, K. et al. Sensitive multiplexed analysis of kinase activities and activity-based kinase identification. Nat. Biotechnol. 27, 933–940 (2009).

21.

Nomura, D. K., Dix, M. M. & Cravatt, B. F. Activity-based protein profiling for biochemical pathway discovery in cancer. Nat. Rev. Cancer 10, 630–638 (2010).

22.

Ren, W., Damayanti, N. P., Wang, X. & Irudayaraj, J. M. Kinase phosphorylation monitoring with i-motif DNA cross-linked SERS probes. Chem. Commun. (Camb.) 52, 410–413 (2016).

23.

Anastassiadis, T., Deacon, S. W., Devarajan, K., Ma, H. & Peterson, J. R. Comprehensive assay of kinase catalytic activity reveals features of kinase inhibitor selectivity. Nat. Biotechnol. 29, 1039–1045 (2011).

24.

Houseman, B. T., Huh, J. H., Kron, S. J. & Mrksich, M. Peptide chips for the quantitative evaluation of protein kinase activity. Nat. Biotechnol. 20, 270–274 (2002).

25.

Karaman, M. W. et al. A quantitative analysis of kinase inhibitor selectivity. Nat. Biotechnol. 26, 127–132 (2008).

26.

Fang, C. et al. Integrated microfluidic and imaging platform for a kinase activity radioassay to analyze minute patient cancer samples. Cancer Res. 70, 8299–8308 (2010).

27.

Li, X. et al. The reverse in-gel kinase assay to profile physiological kinase substrates. Nat. Methods 4, 957–962 (2007).

28.

Wu, J., Barbero, R., Vajjhala, S. & O'Connor, S. D. Real-time analysis of enzyme kinetics via micro parallel liquid chromatography. Assay Drug Dev. Technol. 4, 653–660 (2006).

29.

Sanz, A. et al. Analysis of Jak2 catalytic function by peptide microarrays: the role of the JH2 domain and V617F mutation. PLoS ONE 6, e18522 (2011).

30.

Olow, A. et al. An atlas of the human kinome reveals the mutational landscape underlying dysregulated phosphorylation cascades in cancer. Cancer Res. 76, 1733–1745 (2016).

31.

Hornbeck, P. V. et al. PhosphoSitePlus, 2014: mutations, PTMs and recalibrations. Nucleic Acids Res. 43, D512–D520 (2015).

32.

Yang, X. et al. Widespread expansion of protein interaction capabilities by alternative splicing. Cell 164, 805–817 (2016).

33.

Prahallad, A. et al. Unresponsiveness of colon cancer to BRAF(V600E) inhibition through feedback activation of EGFR. Nature 483, 100–103 (2012).

34.

Corcoran, R. B. et al. EGFR-mediated re-activation of MAPK signaling contributes to insensitivity of BRAF mutant colorectal cancers to RAF inhibition with vemurafenib. Cancer Discov. 2, 227–235 (2012).

35.

Yang, H. et al. Antitumor activity of BRAF inhibitor vemurafenib in preclinical models of BRAF-mutant colorectal cancer. Cancer Res. 72, 779–789 (2012).

36.

Van Geel, R. M., Beijnen, J. H., Bernards, R. & Schellens, J. H. Treatment individualization in colorectal cancer. Curr. Colorectal Cancer Rep. 11, 335–344 (2015).

37.

Corcoran, R. B. et al. Combined BRAF, EGFR, and MEK inhibition in patients with BRAF(V600E)-mutant colorectal cancer. Cancer Discov. 8, 428–443 (2018).

38.

Ursem, C., Atreya, C. E. & Van Loon, K. Emerging treatment options for BRAF-mutant colorectal cancer. Gastrointest. Cancer 8, 13–23 (2018).

39.

Bernards, R. A missing link in genotype-directed cancer therapy. Cell 151, 465–468 (2012).

40.

Flaherty, K. T. et al. Combined BRAF and MEK inhibition in melanoma with BRAF V600 mutations. N. Eng. J. Med. 367, 1694–1703 (2012).

41.

Larkin, J. et al. Combined vemurafenib and cobimetinib in BRAF-mutated melanoma. N. Eng. J. Med. 371, 1867–1876 (2014).

42.

Van Allen, E. M. et al. The genetic landscape of clinical resistance to RAF inhibition in metastatic melanoma. Cancer Discov. 4, 94–109 (2014).

43.

Wagle, N. et al. MAP kinase pathway alterations in BRAF-mutant melanoma patients with acquired resistance to combined RAF/MEK inhibition. Cancer Discov. 4, 61–68 (2014).

44.

Cancer Genome Atlas Network. Genomic classification of cutaneous melanoma. Cell 161, 1681–1696 (2015).

45.

Kemper, K. et al. BRAF(V600E) kinase domain duplication identified in therapy-refractory melanoma patient-derived xenografts. Cell Rep. 16, 263–277 (2016).

46.

Johannessen, C. M. et al. COT drives resistance to RAF inhibition through MAP kinase pathway reactivation. Nature 468, 968–972 (2010).

47.

Janne, P. A., Gray, N. & Settleman, J. Factors underlying sensitivity of cancers to small-molecule kinase inhibitors. Nat. Rev. Drug Discov. 8, 709–723 (2009).

48.

Ruiz-Saenz, A. & Moasser, M. M. Targeting HER2 by combination therapies. J. Clin. Oncol. 36, 808–811 (2018).

49.

Cohen, R. L. & Settleman, J. From cancer genomics to precision oncology—tissue's still an issue. Cell 157, 1509–1514 (2014).

50.

Holohan, C., Van Schaeybroeck, S., Longley, D. B. & Johnston, P. G. Cancer drug resistance: an evolving paradigm. Nat. Rev. Cancer 13, 714–726 (2013).

51.

Brunen, D. et al. TGF-β: an emerging player in drug resistance. Cell Cycle 12, 2960–2968 (2013).

52.

Garnett, M. J. et al. Systematic identification of genomic markers of drug sensitivity in cancer cells. Nature 483, 570–575 (2012).

53.

Kemper, K. et al. Intra- and inter-tumor heterogeneity in a vemurafenib-resistant melanoma patient and derived xenografts. EMBO Mol. Med. 7, 1104–1118 (2015).

54.

Breitinger, H.-G. Drug Synergy—Mechanisms and Methods of Analysis (InTech, 2012).

55.

Chou, T. C. & Talalay, P. Quantitative analysis of dose–effect relationships: the combined effects of multiple drugs or enzyme inhibitors. Adv. Enzyme Regul. 22, 27–55 (1984).

56.

Berenbaum, M. C. Synergy, additivism and antagonism in immunosuppression. A critical review. Clin. Exp. Immunol. 28, 1–18 (1977).

57.

Foucquier, J. & Guedj, M. Analysis of drug combinations: current methodological landscape. Pharmacol. Res. Perspect. 3, e00149 (2015).

58.

Berenbaum, M. C. What is synergy? Pharmacol. Rev. 41, 93–141 (1989).

59.

Bliss, W. L. Early man in western and northwestern Canada. Science 89, 365–366 (1939).

60.

Arao, T. et al. Small in-frame deletion in the epidermal growth factor receptor as a target for ZD6474. Cancer Res. 64, 9101–9104 (2004).

61.

Yang, W. et al. Genomics of Drug Sensitivity in Cancer (GDSC): a resource for therapeutic biomarker discovery in cancer cells. Nucleic Acids Res. 41, D955–D961 (2013).

62.

Daemen, A. et al. Modeling precision treatment of breast cancer. Genome Biol. 14, R110 (2013).

63.

Moasser, M. M., Srethapakdi, M., Sachar, K. S., Kraker, A. J. & Rosen, N. Inhibition of Src kinases by a selective tyrosine kinase inhibitor causes mitotic arrest. Cancer Res. 59, 6145–6152 (1999).

64.

Nazarian, R. et al. Melanomas acquire resistance to B-RAF(V600E) inhibition by RTK or N-RAS upregulation. Nature 468, 973–977 (2010).

65.

Sun, C. et al. Reversible and adaptive resistance to BRAF(V600E) inhibition in melanoma. Nature 508, 118–122 (2014).

66.

Girotti, M. R. et al. Paradox-breaking RAF inhibitors that also target SRC are effective in drug-resistant BRAF mutant melanoma. Cancer Cell 27, 85–96 (2015).

67.

Poulikakos, P. I., Zhang, C., Bollag, G., Shokat, K. M. & Rosen, N. RAF inhibitors transactivate RAF dimers and ERK signalling in cells with wild-type BRAF. Nature 464, 427–430 (2010).

68.

Ahronian, L. G. et al. Clinical acquired resistance to RAF inhibitor combinations in BRAF-mutant colorectal cancer through MAPK pathway alterations. Cancer Discov. 5, 358–367 (2015).

69.

Mori, M., Pan, B. & Coppé, J. P. High-throughput kinase activity mapping (HT-KAM) system: biochemical assay. Nat. Protoc. Exch. https://doi.org/10.1038/protex.2019.029 (2019).

70.

Yau, C., Wolf, D. M. & Coppé, J. P. High-throughput kinase activity mapping (HT-KAM) system: analysis of phospho-catalytic profiles. Nat. Protoc. Exch. https://doi.org/10.1038/protex.2019.030 (2019).
Acknowledgements
We thank E. Chow at the Center for Advanced Technologies at UCSF for technical support with setting up the liquid assay automation, as well as T. Kuwayama, S. Ortiz-Urda, A. Daud, L. Brown-Swigart, N. Koemans, C. van der Borden, J. Zhu, N. Choy and L. Sean for operational support, and C. Atreya for constructive feedback. This work was supported by grants from the US National Institute of Health (NIH U54CA209891, NIH TR000005 T1 Catalyst Award to J.-P.C. and NIH R01CA122216 to M.M.M.), Give Breast Cancer The Boot programme (to J.-P.C.), Friends for an Earlier Breast Cancer Test programme (to J.-P.C.), Tri-Valley SOCKs (to J.-P.C.), Natural Science Foundation of China (grant number 81001183 to B.P.), Dutch Cancer Society (KWF to R.B., and NKI-2013–5799 to D.S.P. and K.K.), Breast Cancer Research Foundation (to L.J.v.'tV.), and Angela and Shu Kai Chan Endowed Chair (to L.J.v.'tV.).
Ethics declarations
Competing interests
The authors declare no competing interests.
Additional information
Publisher's note: Springer Nature remains neutral with regard to jurisdictional claims in published maps and institutional affiliations.
Integrated supplementary information
Supplementary information
About this article
Cite this article
Coppé, JP., Mori, M., Pan, B. et al. Mapping phospho-catalytic dependencies of therapy-resistant tumours reveals actionable vulnerabilities. Nat Cell Biol 21, 778–790 (2019). https://doi.org/10.1038/s41556-019-0328-z
Received:

Accepted:

Published:

Issue Date:
Further reading
Christian M. Smolko

&

Kevin A. Janes

Scientific Reports (2019)