Abstract
How disseminated tumour cells engage specific stromal components in distant organs for survival and outgrowth is a critical but poorly understood step of the metastatic cascade. Previous studies have demonstrated the importance of the epithelial–mesenchymal transition in promoting the cancer stem cell properties needed for metastasis initiation, whereas the reverse process of mesenchymal–epithelial transition is required for metastatic outgrowth. Here we report that this paradoxical requirement for the simultaneous induction of both mesenchymal–epithelial transition and cancer stem cell traits in disseminated tumour cells is provided by bone vascular niche E-selectin, whose direct binding to cancer cells promotes bone metastasis by inducing mesenchymal–epithelial transition and activating Wnt signalling. E-selectin binding activity mediated by the α1-3 fucosyltransferases Fut3/Fut6 and Glg1 are instrumental to the formation of bone metastasis. These findings provide unique insights into the functional role of E-selectin as a component of the vascular niche critical for metastatic colonization in bone.
Relevant articles
Open Access articles citing this article.
Fubing Li

,

Huichun Liang

…

Ceshi Chen

Signal Transduction and Targeted Therapy Open Access 03 August 2022

Zhi Li

,

Hai-Yan Yang

…

Qiang Ding

Journal of Experimental & Clinical Cancer Research Open Access 07 May 2022

Tsunaki Hongu

,

Maren Pein

…

Thordur Oskarsson

Nature Cancer Open Access 25 April 2022
Access options
Subscribe to Nature+
Get immediate online access to Nature and 55 other Nature journal
Subscribe to Journal
Get full journal access for 1 year
$99.00
only $8.25 per issue
All prices are NET prices.
VAT will be added later in the checkout.
Tax calculation will be finalised during checkout.
Buy article
Get time limited or full article access on ReadCube.
$32.00
All prices are NET prices.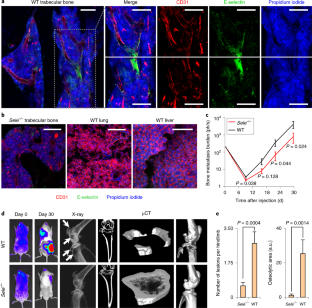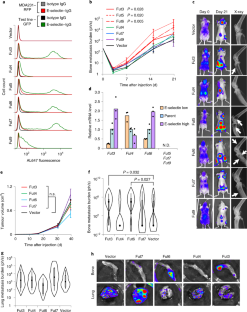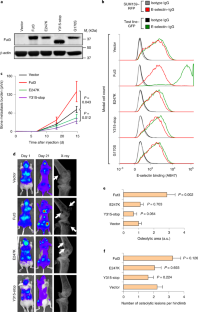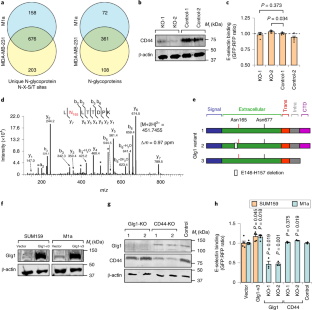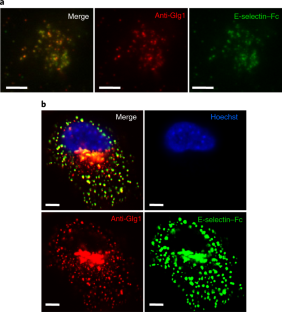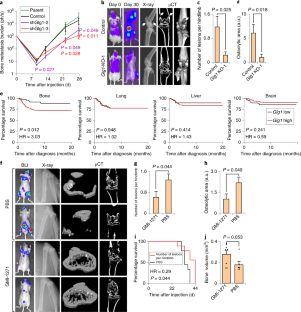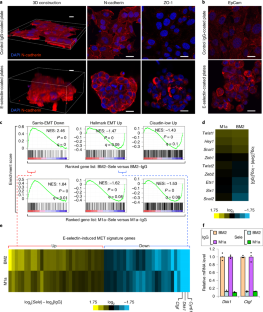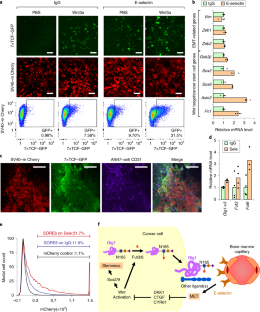 Data availability
The microarray data that support the findings of this study have been deposited in the Gene Expression Omnibus (GEO) under the accession code GSE96754 and the mass spectrometry proteomics data have been deposited to the ProteomeXchange Consortium via the PRIDE partner repository with the dataset identifier PXD012942; the mass spectrometry data is further available in Supplementary Table 2. The human clinical breast cancer data are not available in GEO; these were derived from the TCGA Research Network and the dataset derived from this resource that supports the findings of this study is available in https://xenabrowser.net/datapages/?cohort=GDC%20TCGA%20Breast%20Cancer%20(BRCA). The human breast cancer data were also derived from the NKI-295 dataset47, which is available at https://xenabrowser.net/datapages/?cohort=Breast%20Cancer%20. Finally, the human breast cancer data from the EMC-MSK dataset is available in the publication by Bos and colleagues69. The source data relevant for the clinical data analyses performed in this study are available in Supplementary Table 9. Unprocessed western blot images are provided as Supplementary Fig. 9. The source data supporting the findings of this study are provided in Supplementary Table 9. All protocols, cell lines and reagents are available from the corresponding author on request.
References
Valastyan, S. & Weinberg, R. A. Tumor metastasis: molecular insights and evolving paradigms. Cell 147, 275–292 (2011).

Massague, J. & Obenauf, A. C. Metastatic colonization by circulating tumour cells. Nature 529, 298–306 (2016).

Yang, J. & Weinberg, R. A. Epithelial-mesenchymal transition: at the crossroads of development and tumor metastasis. Dev. Cell 14, 818–829 (2008).

Nieto, M. A., Huang, R. Y., Jackson, R. A. & Thiery, J. P. EMT: 2016. Cell 166, 21–45 (2016).

Esposito, M., Guise, T. & Kang, Y. The biology of bone metastasis. Cold Spring Harb. Perspect. Med. 8, a031252 (2018).

Oskarsson, T., Batlle, E. & Massague, J. Metastatic stem cells: sources, niches, and vital pathways. Cell Stem Cell 14, 306–321 (2014).

Yang, J. et al. Twist, a master regulator of morphogenesis, plays an essential role in tumor metastasis. Cell 117, 927–939 (2004).

Mani, S. A. et al. The epithelial-mesenchymal transition generates cells with properties of stem cells. Cell 133, 704–715 (2008).

Labelle, M., Begum, S. & Hynes, R. O. Direct signaling between platelets and cancer cells induces an epithelial-mesenchymal-like transition and promotes metastasis. Cancer Cell 20, 576–590 (2011).

Brabletz, T. et al. Variable β-catenin expression in colorectal cancers indicates tumor progression driven by the tumor environment. Proc. Natl Acad. Sci. USA 98, 10356–10361 (2001).

Ocana, O. H. et al. Metastatic colonization requires the repression of the epithelial-mesenchymal transition inducer Prrx1. Cancer Cell 22, 709–724 (2012).

Tsai, J. H., Donaher, J. L., Murphy, D. A., Chau, S. & Yang, J. Spatiotemporal regulation of epithelial-mesenchymal transition is essential for squamous cell carcinoma metastasis. Cancer Cell 22, 725–736 (2012).

Korpal, M. et al. Direct targeting of Sec23a by miR-200s influences cancer cell secretome and promotes metastatic colonization. Nat. Med. 17, 1101–1108 (2011).

Celia-Terrassa, T. et al. Epithelial-mesenchymal transition can suppress major attributes of human epithelial tumor-initiating cells. J. Clin. Invest. 122, 1849–1868 (2012).

Liu, Y. et al. Mouse fibroblasts lacking RB1 function form spheres and undergo reprogramming to a cancer stem cell phenotype. Cell Stem Cell 4, 336–347 (2009).

Chiou, S. H. et al. Coexpression of Oct4 and Nanog enhances malignancy in lung adenocarcinoma by inducing cancer stem cell-like properties and epithelial-mesenchymal transdifferentiation. Cancer Res. 70, 10433–10444 (2010).

Shiozawa, Y. et al. Human prostate cancer metastases target the hematopoietic stem cell niche to establish footholds in mouse bone marrow. J. Clin. Invest. 121, 1298–1312 (2011).

Ghajar, C. M. et al. The perivascular niche regulates breast tumour dormancy. Nat. Cell Biol. 15, 807–817 (2013).

Walz, G., Aruffo, A., Kolanus, W., Bevilacqua, M. & Seed, B. Recognition by ELAM-1 of the sialyl-Lex determinant on myeloid and tumor cells. Science 250, 1132–1135 (1990).

Frenette, P. S., Mayadas, T. N., Rayburn, H., Hynes, R. O. & Wagner, D. D. Double knockout highlights value of endothelial selectins. Immunol. Today 17, 205 (1996).

Dimitroff, C. J., Lee, J. Y., Rafii, S., Fuhlbrigge, R. C. & Sackstein, R. CD44 is a major E-selectin ligand on human hematopoietic progenitor cells. J. Cell Biol. 153, 1277–1286 (2001).

Winkler, I. G. et al. Vascular niche E-selectin regulates hematopoietic stem cell dormancy, self renewal and chemoresistance. Nat. Med. 18, 1651–1657 (2012).

Dimitroff, C. J. et al. Identification of leukocyte E-selectin ligands, P-selectin glycoprotein ligand-1 and E-selectin ligand-1, on human metastatic prostate tumor cells. Cancer Res. 65, 5750–5760 (2005).

Hanley, W. D., Burdick, M. M., Konstantopoulos, K. & Sackstein, R. CD44 on LS174T colon carcinoma cells possesses E-selectin ligand activity. Cancer Res. 65, 5812–5817 (2005).

Kang, Y. et al. A multigenic program mediating breast cancer metastasis to bone. Cancer Cell 3, 537–549 (2003).

Minn, A. J. et al. Genes that mediate breast cancer metastasis to lung. Nature 436, 518–524 (2005).

Laubli, H. & Borsig, L. Selectins as mediators of lung metastasis. Cancer Microenviron. 3, 97–105 (2010).

Taverna, D. et al. Increased primary tumor growth in mice null for β3- or β3/β5-integrins or selectins. Proc. Natl Acad. Sci. USA 101, 763–768 (2004).

Labow, M. A. et al. Characterization of E-selectin-deficient mice: demonstration of overlapping function of the endothelial selectins. Immunity 1, 709–720 (1994).

Khatib, A. M. et al. Rapid induction of cytokine and E-selectin expression in the liver in response to metastatic tumor cells. Cancer Res. 59, 1356–1361 (1999).

Lowe, J. B. Glycan-dependent leukocyte adhesion and recruitment in inflammation. Curr. Opin. Cell Biol. 15, 531–538 (2003).

Mondal, N. et al. Distinct human α(1,3)-fucosyltransferases drive Lewis-X/sialyl Lewis-X assembly in human cells. J. Biol. Chem. 293, 7300–7314 (2018).

Mollicone, R. et al. Molecular basis for Lewis α(1,3/1,4)-fucosyltransferase gene deficiency (FUT3) found in Lewis-negative Indonesian pedigrees. J. Biol. Chem. 269, 20987–20994 (1994).

Oulmouden, A. et al. Molecular cloning and expression of a bovine α(1,3)-fucosyltransferase gene homologous to a putative ancestor gene of the human FUT3-FUT5-FUT6 cluster. J. Biol. Chem. 272, 8764–8773 (1997).

Goelz, S. E. et al. ELFT: a gene that directs the expression of an ELAM-1 ligand. Cell 63, 1349–1356 (1990).

Buffone, A. et al. Silencing α1,3-fucosyltransferases in human leukocytes reveals a role for FUT9 enzyme during E-selectin-mediated cell adhesion. J. Biol. Chem. 288, 1620–1633 (2013).

Costache, M. et al. Evolution of fucosyltransferase genes in vertebrates. J. Biol. Chem. 272, 29721–29728 (1997).

Li, J. et al. Human fucosyltransferase 6 enables prostate cancer metastasis to bone. Br. J. Cancer 109, 3014–3022 (2013).

Sackstein, R. et al. Ex vivo glycan engineering of CD44 programs human multipotent mesenchymal stromal cell trafficking to bone. Nat. Med. 14, 181–187 (2008).

Ossola, R. et al. Biomarker validation in blood specimens by selected reaction monitoring mass spectrometry of N-glycosites. Methods Mol. Biol. 728, 179–194 (2011).

Weekes, M. P. et al. Proteomic plasma membrane profiling reveals an essential role for gp96 in the cell surface expression of LDLR family members, including the LDL receptor and LRP6. J. Proteome Res. 11, 1475–1484 (2012).

Price, T. T. et al. Dormant breast cancer micrometastases reside in specific bone marrow niches that regulate their transit to and from bone. Sci. Transl. Med. 8, 340ra373 (2016).

Morita, Y. et al. E-selectin targeting PEGylated-thioaptamer prevents breast cancer metastases. Mol. Ther. Nucleic Acids 5, e399 (2016).

Sreeramkumar, V. et al. Coordinated and unique functions of the E-selectin ligand ESL-1 during inflammatory and hematopoietic recruitment in mice. Blood 122, 3993–4001 (2013).

Yasmin-Karim, S., King, M. R., Messing, E. M. & Lee, Y. F. E-selectin ligand-1 controls circulating prostate cancer cell rolling/adhesion and metastasis. Oncotarget 5, 12097–12110 (2014).

Barthel, S. R. et al. Definition of molecular determinants of prostate cancer cell bone extravasation. Cancer Res. 73, 942–952 (2013).

van de Vijver, M. J. et al. A gene-expression signature as a predictor of survival in breast cancer. N. Engl. J. Med. 347, 1999–2009 (2002).

Wang, Y. et al. Gene-expression profiles to predict distant metastasis of lymph-node-negative primary breast cancer. Lancet 365, 671–679 (2005).

Winkler, I. G. et al. Positioning of bone marrow hematopoietic and stromal cells relative to blood flow in vivo: serially reconstituting hematopoietic stem cells reside in distinct nonperfused niches. Blood 116, 375–385 (2010).

Pries, A. R. & Kuebler, W. M. in Handbook of Experimental Pharmacology, Vol. 176/I (eds Moncada, S. & Higgs, A.) 1–40 (Springer, 2006).

Bixel, M. G. et al. Flow dynamics and HSPC homing in bone marrow microvessels. Cell Rep. 18, 1804–1816 (2017).

Macdonald, B. T., Semenov, M. V. & He, X. SnapShot: Wnt/β-catenin signaling. Cell 131, 1204 (2007).

Tang, B. et al. A flexible reporter system for direct observation and isolation of cancer stem cells. Stem Cell Rep. 4, 155–169 (2015).

Fuerer, C. & Nusse, R. Lentiviral vectors to probe and manipulate the Wnt signaling pathway. PLoS One 5, e9370 (2010).

Holst, S. et al. N-glycosylation profiling of colorectal cancer cell lines reveals association of fucosylation with differentiation and caudal type homebox 1 (CDX1)/Villin mRNA expression. Mol. Cell. Proteomics 15, 124–140 (2016).

Stone, K. R., Mickey, D. D., Wunderli, H., Mickey, G. H. & Paulson, D. F. Isolation of a human prostate carcinoma cell line (DU 145). Int J. Cancer 21, 274–281 (1978).

Korpal, M., Lee, E. S., Hu, G. & Kang, Y. The miR-200 family inhibits epithelial-mesenchymal transition and cancer cell migration by direct targeting of E-cadherin transcriptional repressors ZEB1 and ZEB2. J. Biol. Chem. 283, 14910–14914 (2008).

Anastas, J. N. & Moon, R. T. WNT signalling pathways as therapeutic targets in cancer. Nat. Rev. Cancer 13, 11–26 (2013).

Sipkins, D. A. et al. In vivo imaging of specialized bone marrow endothelial microdomains for tumour engraftment. Nature 435, 969–973 (2005).

Biancone, L., Araki, M., Araki, K., Vassalli, P. & Stamenkovic, I. Redirection of tumor metastasis by expression of E-selectin in vivo. J. Exp. Med. 183, 581–587 (1996).

Herschkowitz, J. I. et al. Identification of conserved gene expression features between murine mammary carcinoma models and human breast tumors. Genome Biol. 8, R76 (2007).

Forozan, F. et al. Molecular cytogenetic analysis of 11 new breast cancer cell lines. Br. J. Cancer 81, 1328–1334 (1999).

Ell, B. et al. Tumor-induced osteoclast miRNA changes as regulators and biomarkers of osteolytic bone metastasis. Cancer Cell 24, 542–556 (2013).

Koda, Y., Kimura, H. & Mekada, E. Analysis of Lewis fucosyltransferase genes from the human gastric mucosa of Lewis-positive and -negative individuals. Blood 82, 2915–2919 (1993).

Sanjana, N. E., Shalem, O. & Zhang, F. Improved vectors and genome-wide libraries for CRISPR screening. Nat. Methods 11, 783–784 (2014).

Diner, B. A. et al. The functional interactome of PYHIN immune regulators reveals IFIX is a sensor of viral DNA. Mol. Syst. Biol. 11, 787 (2015).

Giguere, S. S. et al. The proteomic profile of deleted in breast cancer 1 (DBC1) interactions points to a multifaceted regulation of gene expression. Mol. Cell. Proteomics 15, 791–809 (2016).

Blick, T. et al. Epithelial mesenchymal transition traits in human breast cancer cell lines parallel the CD44hi/CD24lo/- stem cell phenotype in human breast cancer. J. Mammary Gland Biol. Neoplasia 15, 235–252 (2010).

Bos, P. D. et al. Genes that mediate breast cancer metastasis to the brain. Nature 459, 1005–1009 (2009).
Acknowledgements
We thank L. M. Wakefield for providing the SORE6–mCherry stemness reporter, R. Nusse for providing the 7×TCF–GFP Wnt reporter, G. Laevsky for assistance with microscopy and C. DeCoste for assistance with flow cytometry. This work was supported by fellowships from the NIH (grant no. F31CA192461) and NJCCR to M.E., the National Institutes of Health NHLBI (grant no. PO1 HL107146), the Program of Excellence in Glycosciences and the Team Jobie Fund to R.S., and grants from the Susan G. Komen Foundation (grant no. SAC160067), Glycomimetics Inc., Brewster Foundation, Department of Defense (grant no. BC123187) and the National Institutes of Health (grant no. R01CA141062) to Y.K. This research was also supported by the Preclinical Imaging, Genomic Editing and Flow Cytometry Shared Resources of the Rutgers Cancer Institute of New Jersey (grant no. P30CA072720).
Ethics declarations
Competing interests
J.L.M. is the Vice President and Chief Scientific Officer of Glycomimetics, Inc., which owns the patent to GMI-1271. Y.K. received research support from Glycomimetics Inc. for experiments using GMI-1271. No other authors declare any conflicts of interest.
Additional information
Publisher's note: Springer Nature remains neutral with regard to jurisdictional claims in published maps and institutional affiliations.
Integrated supplementary information
Supplementary information
About this article
Cite this article
Esposito, M., Mondal, N., Greco, T.M. et al. Bone vascular niche E-selectin induces mesenchymal–epithelial transition and Wnt activation in cancer cells to promote bone metastasis. Nat Cell Biol 21, 627–639 (2019). https://doi.org/10.1038/s41556-019-0309-2
Received:

Accepted:

Published:

Issue Date:

DOI: https://doi.org/10.1038/s41556-019-0309-2