Abstract
The capacity of cells to alter bioenergetics in response to the demands of various biological processes is essential for normal physiology. The coordination of energy sensing and production with highly energy-demanding cellular processes, such as cell division, is poorly understood. Here, we show that a cell cycle-dependent mitochondrial Ca2+ transient connects energy sensing to mitochondrial activity for mitotic progression. The mitochondrial Ca2+ uniporter (MCU) mediates a rapid mitochondrial Ca2+ transient during mitosis. Inhibition of mitochondrial Ca2+ transients via MCU depletion causes spindle checkpoint-dependent mitotic delay. Cellular ATP levels drop during early mitosis, and the mitochondrial Ca2+ transients boost mitochondrial respiration to restore energy homeostasis. This is achieved through mitosis-specific MCU phosphorylation and activation by the mitochondrial translocation of energy sensor AMP-activated protein kinase (AMPK). Our results establish a critical role for AMPK- and MCU-dependent mitochondrial Ca2+ signalling in mitosis and reveal a mechanism of mitochondrial metabolic adaptation to acute cellular energy stress.
This is a preview of subscription content
Access options
Subscribe to Nature+
Get immediate online access to the entire Nature family of 50+ journals
Subscribe to Journal
Get full journal access for 1 year
$99.00
only $8.25 per issue
All prices are NET prices.
VAT will be added later in the checkout.
Tax calculation will be finalised during checkout.
Buy article
Get time limited or full article access on ReadCube.
$32.00
All prices are NET prices.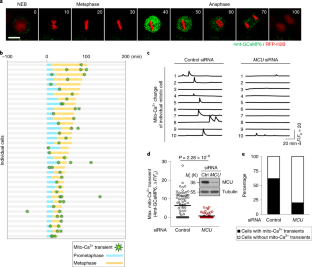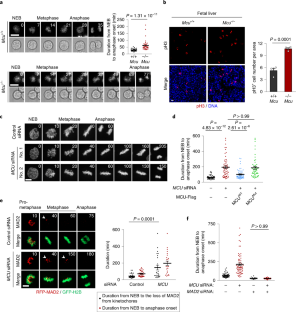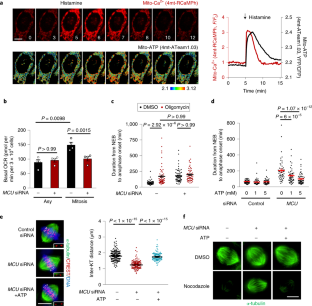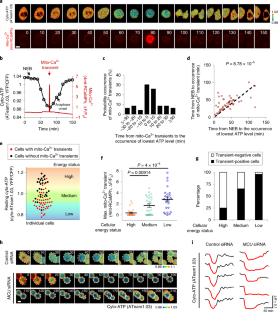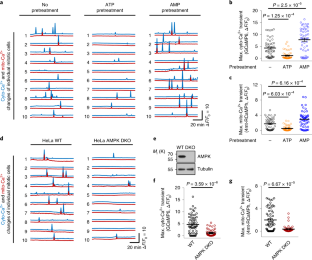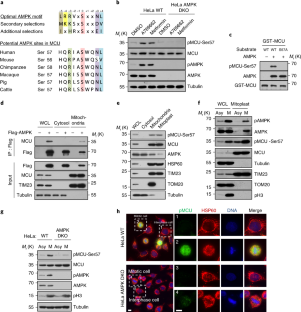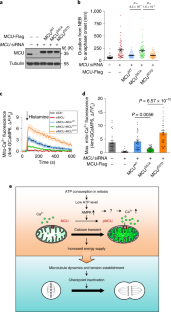 References
Lee, I. H. & Finkel, T. Metabolic regulation of the cell cycle. Curr. Opin. Cell Biol. 25, 724–729 (2013).

Buchakjian, M. R. & Kornbluth, S. The engine driving the ship: metabolic steering of cell proliferation and death. Nat. Rev. Mol. Cell Biol. 11, 715–727 (2010).

Salazar-Roa, M. & Malumbres, M. Fueling the cell division cycle. Trends Cell Biol. 27, 69–81 (2017).

Almeida, A., Bolanos, J. P. & Moncada, S. E3 ubiquitin ligase APC/C-Cdh1 accounts for the Warburg effect by linking glycolysis to cell proliferation. Proc. Natl Acad. Sci. USA 107, 738–741 (2010).

Harbauer, A. B. et al. Mitochondria. Cell cycle-dependent regulation of mitochondrial preprotein translocase. Science 346, 1109–1113 (2014).

Jones, R. G. et al. AMP-activated protein kinase induces a p53-dependent metabolic checkpoint. Mol. Cell 18, 283–293 (2005).

Mandal, S., Guptan, P., Owusu-Ansah, E. & Banerjee, U. Mitochondrial regulation of cell cycle progression during development as revealed by the tenured mutation in Drosophila. Dev. Cell 9, 843–854 (2005).

Lee, I. H. et al. Atg7 modulates p53 activity to regulate cell cycle and survival during metabolic stress. Science 336, 225–228 (2012).

DiGregorio, P. J., Ubersax, J. A. & O'Farrell, P. H. Hypoxia and nitric oxide induce a rapid, reversible cell cycle arrest of the Drosophila syncytial divisions. J. Biol. Chem. 276, 1930–1937 (2001).

Hardie, D. G., Ross, F. A. & Hawley, S. A. AMPK: a nutrient and energy sensor that maintains energy homeostasis. Nat. Rev. Mol. Cell Biol. 13, 251–262 (2012).

Banko, M. R. et al. Chemical genetic screen for AMPKalpha2 substrates uncovers a network of proteins involved in mitosis. Mol. Cell 44, 878–892 (2011).

Vazquez-Martin, A., Oliveras-Ferraros, C. & Menendez, J. A. The active form of the metabolic sensor: AMP-activated protein kinase (AMPK) directly binds the mitotic apparatus and travels from centrosomes to the spindle midzone during mitosis and cytokinesis. Cell Cycle 8, 2385–2398 (2009).

Domenech, E. et al. AMPK and PFKFB3 mediate glycolysis and survival in response to mitophagy during mitotic arrest. Nat. Cell Biol. 17, 1304–1316 (2015).

Poenie, M., Alderton, J., Steinhardt, R. & Tsien, R. Calcium rises abruptly and briefly throughout the cell at the onset of anaphase. Science 233, 886–889 (1986).

Ratan, R. R., Maxfield, F. R. & Shelanski, M. L. Long-lasting and rapid calcium changes during mitosis. J. Cell Biol. 107, 993–999 (1988).

Poenie, M., Alderton, J., Tsien, R. Y. & Steinhardt, R. A. Changes of free calcium levels with stages of the cell division cycle. Nature 315, 147–149 (1985).

Izant, J. G. The role of calcium ions during mitosis. Calcium participates in the anaphase trigger. Chromosoma 88, 1–10 (1983).

Tombes, R. M. & Borisy, G. G. Intracellular free calcium and mitosis in mammalian cells: anaphase onset is calcium modulated, but is not triggered by a brief transient. J. Cell Biol. 109, 627–636 (1989).

Lorca, T. et al. Calmodulin-dependent protein kinase II mediates inactivation of MPF and CSF upon fertilization of Xenopus eggs. Nature 366, 270–273 (1993).

Rauh, N. R., Schmidt, A., Bormann, J., Nigg, E. A. & Mayer, T. U. Calcium triggers exit from meiosis II by targeting the APC/C inhibitor XErp1 for degradation. Nature 437, 1048–1052 (2005).

Finkel, T. et al. The ins and outs of mitochondrial calcium. Circ. Res. 116, 1810–1819 (2015).

Kamer, K. J. & Mootha, V. K. The molecular era of the mitochondrial calcium uniporter. Nat. Rev. Mol. Cell Biol. 16, 545–553 (2015).

De Stefani, D., Rizzuto, R. & Pozzan, T. Enjoy the trip: calcium in mitochondria back and forth. Annu. Rev. Biochem. 85, 161–192 (2016).

De Stefani, D., Raffaello, A., Teardo, E., Szabo, I. & Rizzuto, R. A forty-kilodalton protein of the inner membrane is the mitochondrial calcium uniporter. Nature 476, 336–340 (2011).

Baughman, J. M. et al. Integrative genomics identifies MCU as an essential component of the mitochondrial calcium uniporter. Nature 476, 341–345 (2011).

Chaudhuri, D., Sancak, Y., Mootha, V. K. & Clapham, D. E. MCU encodes the pore conducting mitochondrial calcium currents. eLife 2, e00704 (2013).

Mammucari, C. et al. Mitochondrial calcium uptake in organ physiology: from molecular mechanism to animal models. Pflugers Archiv. 470, 1165–1179 (2018).

Mammucari, C. et al. The mitochondrial calcium uniporter controls skeletal muscle trophism in vivo. Cell Rep. 10, 1269–1279 (2015).

Pan, X. et al. The physiological role of mitochondrial calcium revealed by mice lacking the mitochondrial calcium uniporter. Nat. Cell Biol. 15, 1464–1472 (2013).

Tosatto, A. et al. The mitochondrial calcium uniporter regulates breast cancer progression via HIF-1α. EMBO Mol. Med. 8, 569–585 (2016).

Chen, T. W. et al. Ultrasensitive fluorescent proteins for imaging neuronal activity. Nature 499, 295–300 (2013).

Etemad, B. & Kops, G. J. Attachment issues: kinetochore transformations and spindle checkpoint silencing. Curr. Opin. Cell Biol. 39, 101–108 (2016).

London, N. & Biggins, S. Signalling dynamics in the spindle checkpoint response. Nat. Rev. Mol. Cell Biol. 15, 736–747 (2014).

Cardenas, C. et al. Selective vulnerability of cancer cells by inhibition of Ca2+ transfer from endoplasmic reticulum to mitochondria. Cell Rep. 14, 2313–2324 (2016).

Murphy, E. et al. Unresolved questions from the analysis of mice lacking MCU expression. Biochem. Biophys. Res. Commun. 449, 384–385 (2014).

Montemurro, C. et al. Cell cycle-related metabolism and mitochondrial dynamics in a replication-competent pancreatic beta-cell line. Cell Cycle 16, 2086–2099 (2017).

Wang, Z. et al. Cyclin B1/Cdk1 coordinates mitochondrial respiration for cell-cycle G2/M progression. Dev. Cell 29, 217–232 (2014).

Qian, Y. et al. Extracellular ATP is internalized by macropinocytosis and induces intracellular ATP increase and drug resistance in cancer cells. Cancer Lett. 351, 242–251 (2014).

Nakada, D., Saunders, T. L. & Morrison, S. J. Lkb1 regulates cell cycle and energy metabolism in haematopoietic stem cells. Nature 468, 653–658 (2010).

Nogales, E. & Ramey, V. H. Structure–function insights into the yeast Dam1 kinetochore complex. J. Cell Sci. 122, 3831–3836 (2009).

Desai, A., Verma, S., Mitchison, T. J. & Walczak, C. E. Kin I kinesins are microtubule-destabilizing enzymes. Cell 96, 69–78 (1999).

Hartman, J. J. & Vale, R. D. Microtubule disassembly by ATP-dependent oligomerization of the AAA enzyme katanin. Science 286, 782–785 (1999).

Bershadsky, A. D. & Gelfand, V. I. ATP-dependent regulation of cytoplasmic microtubule disassembly. Proc. Natl Acad. Sci. USA 78, 3610–3613 (1981).

Koshland, D. E., Mitchison, T. J. & Kirschner, M. W. Polewards chromosome movement driven by microtubule depolymerization in vitro. Nature 331, 499–504 (1988).

Chaudry, I. H. & Gould, M. K. Evidence for the uptake of ATP by rat soleus muscle in vitro. Biochim. Biophys. Acta 196, 320–326 (1970).

Kolassa, N. & Pfleger, K. Adenosine uptake by erythrocytes of man, rat and guinea-pig and its inhibition by hexobendine and dipyridamole. Biochem. Pharmacol. 24, 154–156 (1975).

Joiner, M. L. et al. CaMKII determines mitochondrial stress responses in heart. Nature 491, 269–273 (2012).

Zhang, Y. et al. Metformin interacts with AMPK through binding to gamma subunit. Mol. Cell. Biochem. 368, 69–76 (2012).

Toyama, E. Q. et al. Metabolism. AMP-activated protein kinase mediates mitochondrial fission in response to energy stress. Science 351, 275–281 (2016).

Moreau, B., Nelson, C. & Parekh, A. B. Biphasic regulation of mitochondrial Ca2+ uptake by cytosolic Ca2+ concentration. Curr. Biol. 16, 1672–1677 (2006).

Herzig, S. & Shaw, R. J. AMPK: guardian of metabolism and mitochondrial homeostasis. Nat. Rev. Mol. Cell Biol. 19, 121–135 (2018).

Abu-Elheiga, L. et al. The subcellular localization of acetyl-CoA carboxylase 2. Proc. Natl Acad. Sci. USA 97, 1444–1449 (2000).

Watanabe, S. et al. Loss of a Rho-regulated actin nucleator, mDia2, impairs cytokinesis during mouse fetal erythropoiesis. Cell Rep. 5, 926–932 (2013).

Akerboom, J. et al. Genetically encoded calcium indicators for multi-color neural activity imaging and combination with optogenetics. Front. Mol. Neurosci. 6, 2 (2013).

Bermejo, C., Haerizadeh, F., Takanaga, H., Chermak, D. & Frommer, W. B. Dynamic analysis of cytosolic glucose and ATP levels in yeast using optical sensors. Biochem. J. 432, 399–406 (2010).

Imamura, H. et al. Visualization of ATP levels inside single living cells with fluorescence resonance energy transfer-based genetically encoded indicators. Proc. Natl Acad. Sci. USA 106, 15651–15656 (2009).

Wang, L. et al. Structural and mechanistic insights into MICU1 regulation of mitochondrial calcium uptake. EMBO J. 33, 594–604 (2014).

Dong, Z. et al. Mitochondrial Ca2+ uniporter is a mitochondrial luminal redox sensor that augments MCU channel activity. Mol. Cell 65, 1014–1028 (2017).

Fang, L., Seki, A. & Fang, G. SKAP associates with kinetochores and promotes the metaphase-to-anaphase transition. Cell Cycle 8, 2819–2827 (2009).

Gao, Y. F. et al. Cdk1-phosphorylated CUEDC2 promotes spindle checkpoint inactivation and chromosomal instability. Nat. Cell Biol. 13, 924–933 (2011).

Li, T. et al. SUMOylated NKAP is essential for chromosome alignment by anchoring CENP-E to kinetochores. Nat. Commun. 7, 12969 (2016).
Acknowledgements
The authors thank Y.X. Zheng, H.T. Yu and Z.G. Liu for discussions and critical reading of the manuscript. They also thank D.D. Stefani for providing 4mt-GCaMP6 plasmids, Y.Q. Shen for the mtAequorin plasmid, and K. Wang and X. Xu for assistance with microscopy assays. This work was supported by the National Natural Science Foundation of China (grant numbers 81522034, 31570840, 81521064, 31571419, 31370915 and 81790252), the China National Basic Research Program (2014CB910603), the International S&T Cooperation Program of China (2015DFA31610), Beijing Nova Program (Z151100000315085, Z161100004916166), Beijing Talents Foundation (2016000021223ZK24), National Key Research and Development Program (2017YFC1601100) and a NIH grant (R01HL142589).
Ethics declarations
Competing interests
The authors declare no competing interests.
Additional information
Publisher's note: Springer Nature remains neutral with regard to jurisdictional claims in published maps and institutional affiliations.
Integrated supplementary information
Supplementary information
About this article
Cite this article
Zhao, H., Li, T., Wang, K. et al. AMPK-mediated activation of MCU stimulates mitochondrial Ca2+ entry to promote mitotic progression. Nat Cell Biol 21, 476–486 (2019). https://doi.org/10.1038/s41556-019-0296-3
Received:

Accepted:

Published:

Issue Date:

DOI: https://doi.org/10.1038/s41556-019-0296-3