Abstract
The cytosolic accumulation of mitochondrial precursors is hazardous to cellular fitness and is associated with a number of diseases. However, it is not observed under physiological conditions. Individual mechanisms that allow cells to avoid cytosolic accumulation of mitochondrial precursors have recently been discovered, but their interplay and regulation remain elusive. Here, we show that cells rapidly launch a global transcriptional programme to restore cellular proteostasis after induction of a 'clogger' protein that reduces the number of available mitochondrial import sites. Cells upregulate the protein folding and proteolytic systems in the cytosol and downregulate both the cytosolic translation machinery and many mitochondrial metabolic enzymes, presumably to relieve the workload of the overstrained mitochondrial import system. We show that this transcriptional remodelling is a combination of a 'wideband' core response regulated by the transcription factors Hsf1 and Rpn4 and a unique mitoprotein-induced downregulation of the oxidative phosphorylation components, mediated by an inactivation of the HAP complex.
Your institute does not have access to this article
Relevant articles
Open Access articles citing this article.
Caroline E. Dewar

,

Silke Oeljeklaus

…

André Schneider

Nature Communications Open Access 02 June 2022

Evelyn Fessler

,

Luisa Krumwiede

&

Lucas T. Jae

Nature Communications Open Access 06 April 2022

Alba Roca-Portoles

&

Stephen W. G. Tait

Cellular and Molecular Life Sciences Open Access 29 March 2021
Access options
Subscribe to Nature+
Get immediate online access to the entire Nature family of 50+ journals
Subscribe to Journal
Get full journal access for 1 year
$99.00
only $8.25 per issue
All prices are NET prices.
VAT will be added later in the checkout.
Tax calculation will be finalised during checkout.
Buy article
Get time limited or full article access on ReadCube.
$32.00
All prices are NET prices.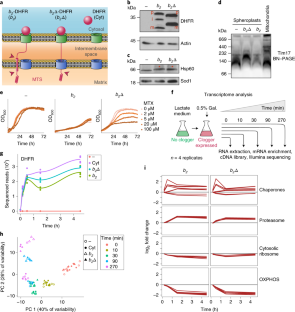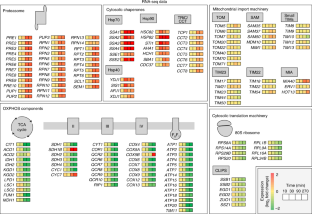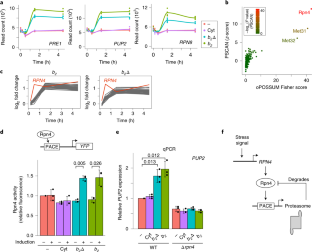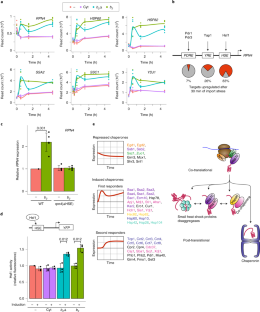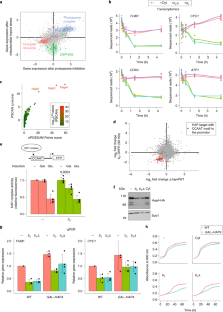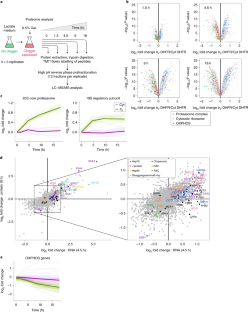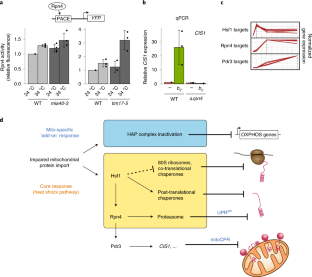 Code availability
Custom code used for data analysis is available from the authors upon reasonable request.
Data availability
The data generated or analysed for the current study are included in this published article and its Supplementary Information. All numerical source data used for statistical analyses and graphical representations for Figs. 1–7 and Supplementary Figs. 1–7 are provided in Supplementary Table 9. The deep-sequencing (RNA-seq) raw data have been deposited into GEO with the accession number GSE116749. The MS proteomics data have been deposited to the ProteomeXchange Consortium via the PRIDE58 partner repository with the dataset identifier PXD011789. Visualizations of all RNA-seq and proteomics data are deposited into Figshare at https://doi.org/10.6084/m9.figshare.7611107. Previously published gene expression datasets59,60,61,62,63,64,65,66,67,68,69,70 (PMID numbers 11830665, 23643537, 18604275,18212068, 12740579, 26391581, 23222101, 16209719, 17327914, 11102521, 24952590, 12820961, 18753408) were downloaded from the SPELL database and are available at https://downloads.yeastgenome.org/expression/microarray/.
References
Gold, V. A., Chroscicki, P., Bragoszewski, P. & Chacinska, A. Visualization of cytosolic ribosomes on the surface of mitochondria by electron cryo-tomography. EMBO Rep. 18, 1786–1800 (2017).

Costa, E. A., Subramanian, K., Nunnari, J. & Weissman, J. S. Defining the physiological role of SRP in protein-targeting efficiency and specificity. Science 359, 689–692 (2018).

Young, J. C., Hoogenraad, N. J. & Hartl, F. U. Molecular chaperones Hsp90 and Hsp70 deliver preproteins to the mitochondrial import receptor Tom70. Cell 112, 41–50 (2003).

Deshaies, R. J., Koch, B. D., Werner-Washburne, M., Craig, E. A. & Schekman, R. A subfamily of stress proteins facilitates translocation of secretory and mitochondrial precursor polypeptides. Nature 332, 800–805 (1988).

Hoseini, H. et al. The cytosolic cochaperone Sti1 is relevant for mitochondrial biogenesis and morphology. FEBS J. 283, 3338–3352 (2016).

Kim, H. E. et al. Lipid biosynthesis coordinates a mitochondrial-to-cytosolic stress response. Cell 166, 1539–1552 (2016).

Eisner, V., Picard, M. & Hajnoczky, G. Mitochondrial dynamics in adaptive and maladaptive cellular stress responses. Nat. Cell Biol. 20, 755–765 (2018).

Wrobel, L. et al. Mistargeted mitochondrial proteins activate a proteostatic response in the cytosol. Nature 524, 485–488 (2015).

Wang, X. & Chen, X. J. A cytosolic network suppressing mitochondria-mediated proteostatic stress and cell death. Nature 524, 481–484 (2015).

Weidberg, H., . & Amon, A. MitoCPR-A surveillance pathway that protects mitochondria in response to protein import stress. Science 360, eaan4146 (2018).

Eilers, M. & Schatz, G. Binding of a specific ligand inhibits import of a purified precursor protein into mitochondria. Nature 322, 228–232 (1986).

Xie, Y. & Varshavsky, A. RPN4 is a ligand, substrate, and transcriptional regulator of the 26S proteasome: a negative feedback circuit. Proc. Natl Acad. Sci. USA 98, 3056–3061 (2001).

Steffen, J., Seeger, M., Koch, A. & Kruger, E. Proteasomal degradation is transcriptionally controlled by TCF11 via an ERAD-dependent feedback loop. Mol. Cell 40, 147–158 (2010).

Owsianik, G., Balzi l, L. & Ghislain, M. Control of 26S proteasome expression by transcription factors regulating multidrug resistance in Saccharomyces cerevisiae. Mol. Microbiol. 43, 1295–1308 (2002).

Hahn, J. S., Neef, D. W. & Thiele, D. J. A stress regulatory network for co-ordinated activation of proteasome expression mediated by yeast heat shock transcription factor. Mol. Microbiol. 60, 240–251 (2006).

Zheng, X. et al. Dynamic control of Hsf1 during heat shock by a chaperone switch and phosphorylation. eLife 5, e18638 (2016).

Sontag, E. M., Samant, R. S. & Frydman, J. Mechanisms and functions of spatial protein quality control. Annu. Rev. Biochem. 86, 97–122 (2017).

Albanese, V., Yam, A. Y., Baughman, J., Parnot, C. & Frydman, J. Systems analyses reveal two chaperone networks with distinct functions in eukaryotic cells. Cell 124, 75–88 (2006).

Doring, K. et al. Profiling Ssb-nascent chain interactions reveals principles of Hsp70-assisted folding. Cell 170, 298–311 (2017).

Hibbs, M. A. et al. Exploring the functional landscape of gene expression: directed search of large microarray compendia. Bioinformatics 23, 2692–2699 (2007).

Morgenstern, M. et al. Definition of a high-confidence mitochondrial proteome at quantitative scale. Cell Rep. 19, 2836–2852 (2017).

Werner, T. et al. Ion coalescence of neutron encoded TMT 10-plex reporter ions. Anal. Chem. 86, 3594–3601 (2014).

Couvillion, M. T., Soto, I. C., Shipkovenska, G. & Churchman, L. S. Synchronized mitochondrial and cytosolic translation programs. Nature 533, 499–503 (2016).

Münch, C. & Harper, J. W. Mitochondrial unfolded protein response controls matrix pre-RNA processing and translation. Nature 534, 710–713 (2016).

Krakowiak, K. et al. Hsf1 and Hsp70 constitute a two-component feedback loop that regulates the yeast heat shock response. eLife 7, e31668 (2018).

Nargund, A. M., Pellegrino, M. W., Fiorese, C. J., Baker, B. M. & Haynes, C. M. Mitochondrial import efficiency of ATFS-1 regulates mitochondrial UPR activation. Science 337, 587–590 (2012).

Zambelli, F., Pesole, G. & Pavesi, G. Pscan: finding over-represented transcription factor binding site motifs in sequences from co-regulated or co-expressed genes. Nucleic Acids Res. 37, W247–W252 (2009).

Fleming, J. A., Lightcap, E. S., Sadis, S., Thoroddsen, V., Bulawa, C. E. & Blackman, R. K. Complementary whole-genome technologies reveal the cellular response to proteasome inhibition by PS-341. Proc. Natl Acad. Sci. USA 99, 1461–1466 (2002).

Buschlen, S., Amillet, J.-M., Guiard, B., Fournier, A., Marcireau, C. & Bolotin-Fukuhara, M. The S. cerevisiae HAP complex, a key regulator of mitochondrial function, coordinates nuclear and mitochondrial gene expression. Comp. Funct. Genomics 4, 37–46 (2003).

Woellhaf, M. W., Sommer, F., Schroda, M. & Herrmann, J. M. Proteomic profiling of the mitochondrial ribosome identifies Atp25 as a composite mitochondrial precursor protein. Mol. Biol. Cell 27, 3031–3039 (2016).

Brachmann, C. B. et al. Designer deletion strains derived from Saccharomyces cerevisiae S288C: a useful set of strains and plasmids for PCR-mediated gene disruption and other applications. Yeast 14, 115–132 (1998).

Thomas, B. J. & Rothstein, R. Elevated recombination rates in transcriptionally active DNA. Cell 56, 619–630 (1989).

Chacinska, A. et al. Essential role of Mia40 in import and assembly of mitochondrial intermembrane space proteins. EMBO J. 23, 3735–3746 (2004).

Chacinska, A. et al. Mitochondrial presequence translocase: switching between TOM tethering and motor recruitment involves Tim21 and Tim17. Cell 120, 817–829 (2005).

Janke, C. et al. A versatile toolbox for PCR-based tagging of yeast genes: new fluorescent proteins, more markers and promoter substitution cassettes. Yeast 21, 947–962 (2004).

Ryan, M. T., Voos, W. & Pfanner, N. Assaying protein import into mitochondria. Methods Cell Biol. 65, 189–215 (2001).

Schmitt, M. E., Brown, T. A. & Trumpower, B. L. A rapid and simple method for preparation of RNA from Saccharomyces cerevisiae. Nucleic Acids Res. 18, 3091–3092 (1990).

Teste, M. A., Duquenne, M., Francois, J. M. & Parrou, J. L. Validation of reference genes for quantitative expression analysis by real-time RT-PCR in Saccharomyces cerevisiae. BMC Mol. Biol. 10, 99 (2009).

Livak, K. J. & Schmittgen, T. D. Analysis of relative gene expression data using real-time quantitative PCR and the 2–ΔΔCT method. Methods 25, 402–408 (2001).

Bolger, A. M., Lohse, M. & Usadel, B. Trimmomatic: a flexible trimmer for Illumina sequence data. Bioinformatics 30, 2114–2120 (2014).

Dobin, A. et al. STAR: ultrafast universal RNA-seq aligner. Bioinformatics 29, 15–21 (2013).

Li, H. et al. The sequence alignment/map format and SAMtools. Bioinformatics 25, 2078–2079 (2009).

Anders, S., Pyl, P. T. & Huber, W. HTSeq—a Python framework to work with high-throughput sequencing data. Bioinformatics 31, 166–169 (2015).

Love, M. I., Huber, W. & Anders, S. Moderated estimation of fold change and dispersion for RNA-seq data with DESeq2. Genome Biol. 15, 550 (2014).

Yu, G., Wang, L. G., Han, Y. & He, Q. Y. clusterProfiler: an R package for comparing biological themes among gene clusters. OMICS 16, 284–287 (2012).

Benjamini, Y. & Hochberg, Y. Controlling the false discovery rate: a practical and powerful approach to multiple testing. J. Roy. Stat. Soc. B Met. 57, 289–300 (1995).

Yu, F. et al. Structural basis of intramitochondrial phosphatidic acid transport mediated by Ups1–Mdm35 complex. EMBO Rep. 16, 813–823 (2015).

Kwon, A. T., Arenillas, D. J., Worsley Hunt, R. & Wasserman, W. W. oPOSSUM-3: advanced analysis of regulatory motif over-representation across genes or ChIP-Seq datasets. G3 (Bethesda) 2, 987–1002 (2012).

Khan, A. et al. JASPAR 2018: update of the open-access database of transcription factor binding profiles and its web framework. Nucleic Acids Res. 46, D260–D266 (2018).

Hughes, C. S. et al. Ultrasensitive proteome analysis using paramagnetic bead technology. Mol. Syst. Biol. 10, 757 (2014).

Moggridge, S., Sorensen, P. H., Morin, G. B. & Hughes, C. S. Extending the compatibility of the sp3 paramagnetic bead processing approach for proteomics. J. Proteome Res. 17, 1730–1740 (2018).

Becher, I. et al. Pervasive protein thermal stability variation during the cell cycle. Cell 173, 1495–1507 (2018).

Franken, H. et al. Thermal proteome profiling for unbiased identification of direct and indirect drug targets using multiplexed quantitative mass spectrometry. Nat. Protoc. 10, 1567–1593 (2015).

Savitski, M. M., Wilhelm, M., Hahne, H., Kuster, B. & Bantscheff, M. A scalable approach for protein false discovery rate estimation in large proteomic data sets. Mol. Cell. Proteomics 14, 2394–2404 (2015).

Ritchie, M. E. et al. limma powers differential expression analyses for RNA-sequencing and microarray studies. Nucleic Acids Res. 43, e47 (2015).

Huber, W., von Heydebreck, A., Sultmann, H., Poustka, A. & Vingron, M. Variance stabilization applied to microarray data calibration and to the quantification of differential expression. Bioinformatics 18, S96–S104 (2002).

Joe, H. & Ward, J. Hierarchical grouping to optimize an objective function. J. Am. Stat. Assoc. 58, 236–244 (1963).

Vizcaino, J. A. et al. 2016 update of the PRIDE database and its related tools. Nucleic Acids Res. 44, D447–D456 (2016).

Worley, J., Luo, X. & Capaldi, A. P. Inositol pyrophosphates regulate cell growth and the environmental stress response by activating the HDAC Rpd3L. Cell Rep. 3, 1476–1482 (2013).

Willis, I. M. et al. Genetic interactions of MAF1 identify a role for Med20 in transcriptional repression of ribosomal protein genes. PLoS Genet. 4, e1000112 (2008).

Shivaswamy, S. & Iyer, V. R. Stress-dependent dynamics of global chromatin remodeling in yeast: dual role for SWI/SNF in the heat shock stress response. Mol. Cell. Biol. 28, 2221–2234 (2008).

Segal, E. et al. Module networks: identifying regulatory modules and their condition-specific regulators from gene expression data. Nat. Genet. 34, 166–176 (2003).

Oromendia, A. B., Dodgson, S. E. & Amon, A. Aneuploidy causes proteotoxic stress in yeast. Genes Dev. 26, 2696–2708 (2012).

Pastor-Flores, D. et al. Depletion of yeast PDK1 orthologs triggers a stress-like transcriptional response. BMC Genomics 16, 719 (2015).

Levy, S. et al. Strategy of transcription regulation in the budding yeast. PLoS One 2, e250 (2007).

Gasch, A. P. et al. Genomic expression programs in the response of yeast cells to environmental changes. Mol. Cell Biol. 11, 4241–4257 (2000).

O'Duibhir, E. et al. Cell cycle population effects in perturbation studies. Mol. Syst. Biol. 10, 732–732 (2014).

Düvel, K., Santhanam, A., Garrett, S., Schneper, L. & Broach, J. R. Multiple roles of Tap42 in mediating rapamycin-induced transcriptional changes in yeast. Mol. Cell 11, 1467–1478 (2003).

Berry, D. B., Gasch, A. P. & Weissman, J. S. Stress-activated genomic expression changes serve a preparative role for impending stress in yeast. Mol. Biol. Cell 19, 4580–4587 (2008).

Matsumoto, R., Akama, K., Rakwal, R. & Iwahashi, H. The stress response against denatured proteins in the deletion of cytosolic chaperones SSA1/2 is different from heat-shock response in Saccharomyces cerevisiae. BMC Genomics 6, 141 (2005).
Acknowledgements
The authors thank the following individuals: K. Hansen, S. Backes, J. Laborenz, K. Knoeringer, S. Knaus, A. Trinkaus, J. Pistolic and J. Provaznik for help with the experiments; M. Schuldiner, D. Pincus, S. Schuck, D. Wolf, G. Kramer, K. Morano, D. Thiele, M. Bolotin-Fukuhara and T. Becker for reagents and strains; and B. Morgan, S. Schuck and M. Schuldiner for comments on the manuscript. The authors acknowledge the Deutsche Forschungsgemeinschaft (DIP MitoBalance, IRTG1830 and HE2803/8-2 to J.M.H.; SFB 894 and IRTG 1830 to M.v.d.L.), the Joachim Herz Stiftung (to F.B.), the Forschungsinitiative Rheinland Pfalz BioComp (to J.M.H.) and the Boehringer Ingelheim Fonds (predoctoral fellowship to F.W.) for funding.
Ethics declarations
Competing interests
The authors declare no competing interests.
Additional information
Publisher's note: Springer Nature remains neutral with regard to jurisdictional claims in published maps and institutional affiliations.
Integrated supplementary information
Supplementary information
About this article
Cite this article
Boos, F., Krämer, L., Groh, C. et al. Mitochondrial protein-induced stress triggers a global adaptive transcriptional programme. Nat Cell Biol 21, 442–451 (2019). https://doi.org/10.1038/s41556-019-0294-5
Received:

Accepted:

Published:

Issue Date:

DOI: https://doi.org/10.1038/s41556-019-0294-5