Abstract
Loss of apical–basal polarity and activation of epithelial–mesenchymal transition (EMT) both contribute to carcinoma progression and metastasis. Here, we report that apical–basal polarity inhibits EMT to suppress metastatic dissemination. Using mouse and human epithelial three-dimensional organoid cultures, we show that the PAR–atypical protein kinase C (aPKC) polarity complex inhibits EMT and invasion by promoting degradation of the SNAIL family protein SNAI1. Under intact apical–basal polarity, aPKC kinases phosphorylate S249 of SNAI1, which leads to protein degradation. Loss of apical–basal polarity prevents aPKC-mediated SNAI1 phosphorylation and stabilizes the SNAI1 protein to promote EMT and invasion. In human breast tumour xenografts, inhibition of the PAR-complex-mediated SNAI1 degradation mechanism promotes tumour invasion and metastasis. Analyses of human breast tissue samples reveal negative correlations between PAR3 and SNAI1 protein levels. Our results demonstrate that apical–basal polarity functions as a critical checkpoint of EMT to precisely control epithelial–mesenchymal plasticity during tumour metastasis.
Access options
Subscribe to Journal
Get full journal access for 1 year
$225.00
only $18.75 per issue
All prices are NET prices.
VAT will be added later in the checkout.
Rent or Buy article
Get time limited or full article access on ReadCube.
from$8.99
All prices are NET prices.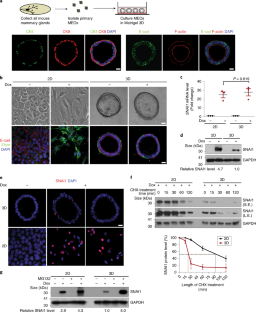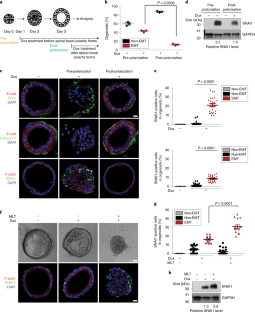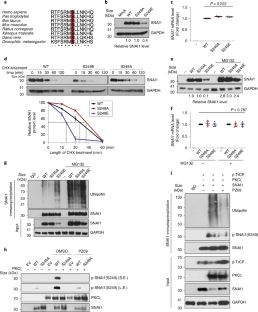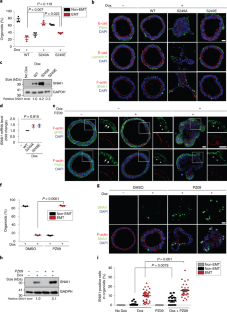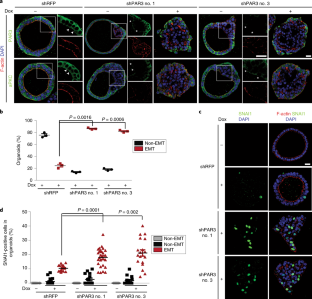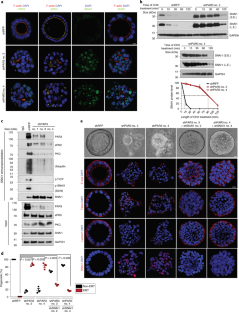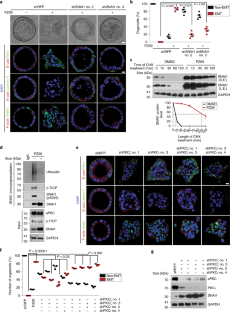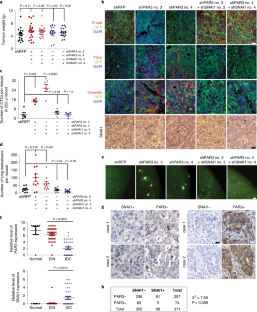 References
1.

Royer, C. & Lu, X. Epithelial cell polarity: a major gatekeeper against cancer? Cell Death Differ. 18, 1470–1477 (2011).

2.

Zen, K. et al. Defective expression of polarity protein PAR-3 gene (PARD3) in esophageal squamous cell carcinoma. Oncogene 28, 2910–2918 (2009).

3.

Assemat, E., Bazellieres, E., Pallesi-Pocachard, E., Le Bivic, A. & Massey-Harroche, D. Polarity complex proteins. Biochim. Biophys. Acta 1778, 614–630 (2008).

4.

Lee, M. & Vasioukhin, V. Cell polarity and cancer—cell and tissue polarity as a non-canonical tumor suppressor. J. Cell Sci. 121, 1141–1150 (2008).

5.

Ngok, S. P., Lin, W. H. & Anastasiadis, P. Z. Establishment of epithelial polarity—GEF who's minding the GAP? J. Cell Sci. 127, 3205–3215 (2014).

6.

Horikoshi, Y. et al. Interaction between PAR-3 and the aPKC–PAR-6 complex is indispensable for apical domain development of epithelial cells. J. Cell Sci. 122, 1595–1606 (2009).

7.

Goldstein, B. & Macara, I. G. The PAR proteins: fundamental players in animal cell polarization. Dev. Cell 13, 609–622 (2007).

8.

Nagai-Tamai, Y., Mizuno, K., Hirose, T., Suzuki, A. & Ohno, S. Regulated protein–protein interaction between aPKC and PAR-3 plays an essential role in the polarization of epithelial cells. Genes Cells 7, 1161–1171 (2002).

9.

Graybill, C., Wee, B., Atwood, S. X. & Prehoda, K. E. Partitioning-defective protein 6 (Par-6) activates atypical protein kinase C (aPKC) by pseudosubstrate displacement. J. Biol. Chem. 287, 21003–21011 (2012).

10.

McCaffrey, L. M., Montalbano, J., Mihai, C. & Macara, I. G. Loss of the Par3 polarity protein promotes breast tumorigenesis and metastasis. Cancer Cell 22, 601–614 (2012).

11.

McCaffrey, L. M. & Macara, I. G. Signaling pathways in cell polarity. Cold Spring Harb. Perspect. Biol. 4, a009654 (2012).

12.

Xue, B., Krishnamurthy, K., Allred, D. C. & Muthuswamy, S. K. Loss of Par3 promotes breast cancer metastasis by compromising cell–cell cohesion. Nat. Cell Biol. 15, 189–200 (2013).

13.

Iden, S. et al. Tumor type-dependent function of the Par3 polarity protein in skin tumorigenesis. Cancer Cell 22, 389–403 (2012).

14.

Brabletz, T. To differentiate or not—routes towards metastasis. Nat. Rev. Cancer 12, 425–436 (2012).

15.

Tsai, J. H. & Yang, J. Epithelial–mesenchymal plasticity in carcinoma metastasis. Genes Dev. 27, 2192–2206 (2013).

16.

Nieto, M. A., Huang, R. Y., Jackson, R. A. & Thiery, J. P. EMT: 2016. Cell 166, 21–45 (2016).

17.

Kalluri, R. & Weinberg, R. A. The basics of epithelial–mesenchymal transition. J. Clin. Invest. 119, 1420–1428 (2009).

18.

Lamouille, S., Xu, J. & Derynck, R. Molecular mechanisms of epithelial–mesenchymal transition. Nat. Rev. Mol. Cell Biol. 15, 178–196 (2014).

19.

De Craene, B. & Berx, G. Regulatory networks defining EMT during cancer initiation and progression. Nat. Rev. Cancer 13, 97–110 (2013).

20.

Yang, J. & Weinberg, R. A. Epithelial–mesenchymal transition: at the crossroads of development and tumor metastasis. Dev. Cell 14, 818–829 (2008).

21.

Barrallo-Gimeno, A. & Nieto, M. A. The Snail genes as inducers of cell movement and survival: implications in development and cancer. Development 132, 3151–3161 (2005).

22.

Moreno-Bueno, G., Portillo, F. & Cano, A. Transcriptional regulation of cell polarity in EMT and cancer. Oncogene 27, 6958–6969 (2008).

23.

de Herreros, A. G., Peiro, S., Nassour, M. & Savagner, P. Snail family regulation and epithelial mesenchymal transitions in breast cancer progression. J. Mammary Gland Biol. Neoplas. 15, 135–147 (2010).

24.

Ocana, O. H. et al. Metastatic colonization requires the repression of the epithelial–mesenchymal transition inducer Prrx1. Cancer Cell 22, 709–724 (2012).

25.

Tsai, J. H., Donaher, J. L., Murphy, D. A., Chau, S. & Yang, J. Spatiotemporal regulation of epithelial–mesenchymal transition is essential for squamous cell carcinoma metastasis. Cancer Cell 22, 725–736 (2012).

26.

Tran, H. D. et al. Transient SNAIL1 expression is necessary for metastatic competence in breast cancer. Cancer Res. 74, 6330–6340 (2014).

27.

Jung, H. Y., Fattet, L. & Yang, J. Molecular pathways: linking tumor microenvironment to epithelial–mesenchymal transition in metastasis. Clin. Cancer Res. 21, 962–968 (2015).

28.

Wei, S. C. et al. Matrix stiffness drives epithelial–mesenchymal transition and tumour metastasis through a TWIST1–G3BP2 mechanotransduction pathway. Nat. Cell Biol. 17, 678–688 (2015).

29.

Ewald, A. J. Isolation of mouse mammary organoids for long-term time-lapse imaging. Cold Spring Harb. Protoc. 2013, 130–133 (2013).

30.

Shamir, E. R. et al. Twist1-induced dissemination preserves epithelial identity and requires E-cadherin. J. Cell. Biol. 204, 839–856 (2014).

31.

Ewald, A. J., Brenot, A., Duong, M., Chan, B. S. & Werb, Z. Collective epithelial migration and cell rearrangements drive mammary branching morphogenesis. Dev. Cell 14, 570–581 (2008).

32.

Lou, S. S., Diz-Munoz, A., Weiner, O. D., Fletcher, D. A. & Theriot, J. A. Myosin light chain kinase regulates cell polarization independently of membrane tension or Rho kinase. J. Cell Biol. 209, 275–288 (2015).

33.

Peinado, H., Olmeda, D. & Cano, A. Snail, Zeb and bHLH factors in tumour progression: an alliance against the epithelial phenotype? Nat. Rev. Cancer 7, 415–428 (2007).

34.

Zhou, B. P. et al. Dual regulation of Snail by GSK-3β-mediated phosphorylation in control of epithelial–mesenchymal transition. Nat. Cell Biol. 6, 931–940 (2004).

35.

Joberty, G., Petersen, C., Gao, L. & Macara, I. G. The cell-polarity protein Par6 links Par3 and atypical protein kinase C to Cdc42. Nat. Cell Biol. 2, 531–539 (2000).

36.

Tobias, I. S. et al. Protein kinase Cζ exhibits constitutive phosphorylation and phosphatidylinositol-3,4,5-triphosphate-independent regulation. Biochem. J. 473, 509–523 (2016).

37.

Durgan, J., Kaji, N., Jin, D. & Hall, A. Par6B and atypical PKC regulate mitotic spindle orientation during epithelial morphogenesis. J. Biol. Chem. 286, 12461–12474 (2011).

38.

Tobias, I. S. & Newton, A. C. Protein scaffolds control localized protein kinase Cζ activity. J. Biol. Chem. 291, 13809–13822 (2016).

39.

Martinez-Estrada, O. M. et al. The transcription factors Slug and Snail act as repressors of Claudin-1 expression in epithelial cells. Biochem. J. 394, 449–457 (2006).

40.

Aigner, K. et al. The transcription factor ZEB1 (δEF1) promotes tumour cell dedifferentiation by repressing master regulators of epithelial polarity. Oncogene 26, 6979–6988 (2007).

41.

Spaderna, S. et al. The transcriptional repressor ZEB1 promotes metastasis and loss of cell polarity in cancer. Cancer Res. 68, 537–544 (2008).

42.

Whiteman, E. L., Liu, C. J., Fearon, E. R. & Margolis, B. The transcription factor snail represses Crumbs3 expression and disrupts apico-basal polarity complexes. Oncogene 27, 3875–3879 (2008).

43.

Rothenberg, S. M. et al. A genome-wide screen for microdeletions reveals disruption of polarity complex genes in diverse human cancers. Cancer Res. 70, 2158–2164 (2010).

44.

Chatterjee, S. J. & McCaffrey, L. Emerging role of cell polarity proteins in breast cancer progression and metastasis. Breast Cancer 6, 15–27 (2014).

45.

Muthuswamy, S. K. & Xue, B. Cell polarity as a regulator of cancer cell behavior plasticity. Annu. Rev. Cell Dev. Biol. 28, 599–625 (2012).

46.

Parker, P. J., Justilien, V., Riou, P., Linch, M. & Fields, A. P. Atypical protein kinase Cι as a human oncogene and therapeutic target. Biochem. Pharmacol. 88, 1–11 (2014).

47.

Gunaratne, A., Thai, B. L. & Di Guglielmo, G. M. Atypical protein kinase C phosphorylates Par6 and facilitates transforming growth factor β-induced epithelial-to-mesenchymal transition. Mol. Cell. Biol. 33, 874–886 (2013).

48.

Guyer, R. A. & Macara, I. G. Loss of the polarity protein PAR3 activates STAT3 signaling via an atypical protein kinase C (aPKC)/NF-κB/interleukin-6 (IL-6) axis in mouse mammary cells. J. Biol. Chem. 290, 8457–8468 (2015).

49.

Rosse, C. et al. Control of MT1-MMP transport by atypical PKC during breast-cancer progression. Proc. Natl Acad. Sci. USA 111, E1872–E1879 (2014).

50.

Diaz-Meco, M. T. & Moscat, J. The atypical PKCs in inflammation: NF-κB and beyond. Immunol. Rev. 246, 154–167 (2012).

51.

Debnath, J., Muthuswamy, S. K. & Brugge, J. S. Morphogenesis and oncogenesis of MCF-10A mammary epithelial acini grown in three-dimensional basement membrane cultures. Methods 30, 256–268 (2003).

52.

Beard, C., Hochedlinger, K., Plath, K., Wutz, A. & Jaenisch, R. Efficient method to generate single-copy transgenic mice by site-specific integration in embryonic stem cells. Genesis 44, 23–28 (2006).

53.

Fata, J. E. et al. The MAPK(ERK-1,2) pathway integrates distinct and antagonistic signals from TGFα and FGF7 in morphogenesis of mouse mammary epithelium. Dev. Biol. 306, 193–207 (2007).

54.

Lee, G. Y., Kenny, P. A., Lee, E. H. & Bissell, M. J. Three-dimensional culture models of normal and malignant breast epithelial cells. Nat. Methods 4, 359–365 (2007).

55.

Yin, J. et al. Association of PKCζ expression with clinicopathological characteristics of breast cancer. PLoS ONE 9, e90811 (2014).

56.

Amaral, T., McKenna, S. J., Robertson, K. & Thompson, A. Classification and immunohistochemical scoring of breast tissue microarray spots. IEEE Trans. Biomed. Eng. 60, 2806–2814 (2013).
Acknowledgements
We thank the members of the Yang lab for helpful discussions and especially T. Lee for mouse colony maintenance, J. Callender for technical help and K. Yeung for constructive comments. We thank A. G. de Herreros for the SNAI1 EC3 antibody, M. Aumailley for the anti-laminin V antibody, A. Ewald for advice on mouse primary mammary organoid isolation and I. Macara for the pLV-shPAR3-Venus construct used in pilot experiments. We thank the UCSD Shared Microscope Facility and UCSD Cancer Centre Support Grant (grant no. P30 CA23100 from the NCI). This work was supported by grants from the ACS (grant no. RSG-09-282-01-CSM) and NCI (grant nos 1RO1CA168689, 1R01CA174869, 1R01CA206880 and 1R21CA191442) to J.Y., and the NIH (grant nos NIH R35 GM122523 and NIH P01 DK054441) to A.C.N.
Ethics declarations
Competing interests
The authors declare no competing interests.
Additional information
Publisher's note: Springer Nature remains neutral with regard to jurisdictional claims in published maps and institutional affiliations.
Integrated supplementary information
Supplementary information
About this article
Cite this article
Jung, H., Fattet, L., Tsai, J.H. et al. Apical–basal polarity inhibits epithelial–mesenchymal transition and tumour metastasis by PAR-complex-mediated SNAI1 degradation. Nat Cell Biol 21, 359–371 (2019). https://doi.org/10.1038/s41556-019-0291-8
Received:

Accepted:

Published:

Issue Date: