Abstract
Over their lifetime, long-term haematopoietic stem cells (HSC) are exposed to a variety of stress conditions that they must endure. Many stresses, such as infection/inflammation, reactive oxygen species, nutritional deprivation and hypoxia, activate unfolded protein response signalling, which induces either adaptive changes to resolve the stress or apoptosis to clear the damaged cell. Whether unfolded-protein-response signalling plays any role in HSC regulation remains to be established. Here, we report that the adaptive signalling of the unfolded protein response, IRE1α–XBP1, protects HSCs from endoplasmic reticulum stress-induced apoptosis. IRE1α knockout leads to reduced reconstitution of HSCs. Furthermore, we show that oncogenic N-RasG12D activates IRE1α–XBP1, through MEK–GSK3β, to promote HSC survival under endoplasmic reticulum stress. Inhibiting IRE1α–XBP1 abolished N-RasG12D-mediated survival under endoplasmic reticulum stress and diminished the competitive advantage of NrasG12D HSCs in transplant recipients. Our studies illuminate how the adaptive endoplasmic reticulum stress response is advantageous in sustaining self-renewal of HSCs and promoting pre-leukaemic clonal dominance.
Access options
Subscribe to Journal
Get full journal access for 1 year
$209.00
only $17.42 per issue
All prices are NET prices.
VAT will be added later in the checkout.
Rent or Buy article
Get time limited or full article access on ReadCube.
from$8.99
All prices are NET prices.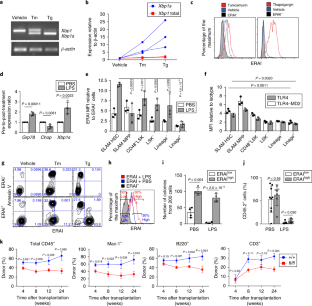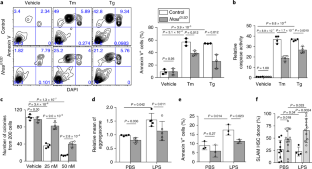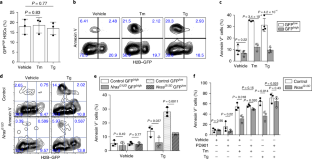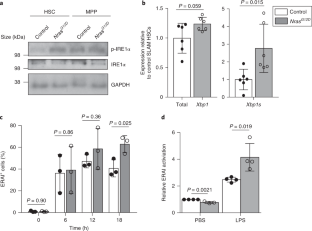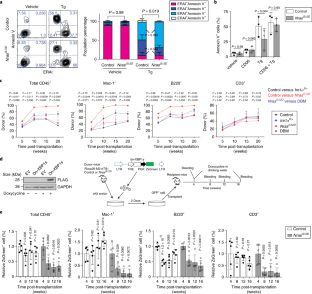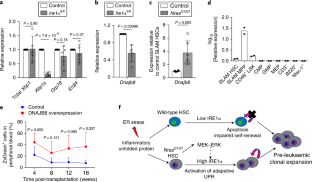 References
1.

Hetz, C. The unfolded protein response: controlling cell fate decisions under ER stress and beyond. Nat. Rev. Mol. Cell Biol. 13, 89–102 (2012).

2.

Ron, D. & Walter, P. Signal integration in the endoplasmic reticulum unfolded protein response. Nat. Rev. Mol. Cell Biol. 8, 519–529 (2007).

3.

Signer, R. A., Magee, J. A., Salic, A. & Morrison, S. J. Haematopoietic stem cells require a highly regulated protein synthesis rate. Nature 509, 49–54 (2014).

4.

Wey, S., Luo, B. & Lee, A. S. Acute inducible ablation of GRP78 reveals its role in hematopoietic stem cell survival, lymphogenesis and regulation of stress signaling. PLoS ONE 7, e39047 (2012).

5.

Miharada, K., Sigurdsson, V. & Karlsson, S. Dppa5 improves hematopoietic stem cell activity by reducing endoplasmic reticulum stress. Cell Rep. 7, 1381–1392 (2014).

6.

Sigurdsson, V. et al. Bile acids protect expanding hematopoietic stem cells from unfolded protein stress in fetal liver. Cell Stem Cell 18, 522–532 (2016).

7.

van Galen, P. et al. The unfolded protein response governs integrity of the haematopoietic stem-cell pool during stress. Nature 510, 268–272 (2014).

8.

Kiel, M. J., Yilmaz, O. H., Iwashita, T., Terhorst, C. & Morrison, S. J. SLAM family receptors distinguish hematopoietic stem and progenitor cells and reveal endothelial niches for stem cells. Cell 121, 1109–1121 (2005).

9.

Oslowski, C. M. & Urano, F. in Methods in Enzymology Vol. 490 (ed. Conn, P. M.) 71–92 (Academic Press, Cambridge, 2011).

10.

Yoshida, H., Matsui, T., Yamamoto, A., Okada, T. & Mori, K. XBP1 mRNA is induced by ATF6 and spliced by IRE1 in response to ER stress to produce a highly active transcription factor. Cell 107, 881–891 (2001).

11.

Iwawaki, T., Akai, R., Kohno, K. & Miura, M. A transgenic mouse model for monitoring endoplasmic reticulum stress. Nat. Med. 10, 98–102 (2004).

12.

Osorio, F. et al. The unfolded-protein-response sensor IRE-1α regulates the function of CD8α+ dendritic cells. Nat. Immunol. 15, 248–257 (2014).

13.

Ghosh, R. et al. Allosteric inhibition of the IRE1α RNase preserves cell viability and function during endoplasmic reticulum stress. Cell 158, 534–548 (2014).

14.

Iwawaki, T., Akai, R., Yamanaka, S. & Kohno, K. Function of IRE1 alpha in the placenta is essential for placental development and embryonic viability. Proc. Natl Acad. Sci. USA 106, 16657–16662 (2009).

15.

Raetz, C. R. & Whitfield, C. Lipopolysaccharide endotoxins. Annu. Rev. Biochem. 71, 635–700 (2002).

16.

Takizawa, H. et al. Pathogen-induced TLR4-TRIF innate immune signaling in hematopoietic stem cells promotes proliferation but reduces competitive fitness. Cell Stem Cell 21, 225–240.e5 (2017).

17.

Zhang, H. et al. Sepsis induces hematopoietic stem cell exhaustion and myelosuppression through distinct contributions of TRIF and MYD88. Stem Cell Rep. 6, 940–956 (2016).

18.

Li, S. et al. Lipopolysaccharide induces autophagic cell death through the PERK-dependent ranch of the unfolded protein response in human alveolar epithelial A549 cells. Cell. Physiol. Biochem. 36, 2403–2417 (2015).

19.

Martinon, F., Chen, X., Lee, A. H. & Glimcher, L. H. TLR activation of the transcription factor XBP1 regulates innate immune responses in macrophages. Nat. Immunol. 11, 411–418 (2010).

20.

Chen, Y. & Brandizzi, F. IRE1: ER stress sensor and cell fate executor. Trends Cell Biol. 23, 547–555 (2013).

21.

Notta, F. et al. Evolution of human BCR-ABL1 lymphoblastic leukaemia-initiating cells. Nature 469, 362–367 (2011).

22.

Rossi, D. J., Jamieson, C. H. & Weissman, I. L. Stems cells and the pathways to aging and cancer. Cell 132, 681–696 (2008).

23.

Welch, J. S. et al. The origin and evolution of mutations in acute myeloid leukemia. Cell 150, 264–278 (2012).

24.

Pandolfi, A., Barreyro, L. & Steidl, U. Concise review: preleukemic stem cells: molecular biology and clinical implications of the precursors to leukemia stem cells. Stem Cells Transl. Med. 2, 143–150 (2013).

25.

Li, Q. et al. Oncogenic Nras has bimodal effects on stem cells that sustainably increase competitiveness. Nature 504, 143–147 (2013).

26.

Li, Q. et al. Hematopoiesis and leukemogenesis in mice expressing oncogenic Nras G12D from the endogenous locus. Blood 117, 2022–2032 (2011).

27.

Cai, X. et al. Runx1 deficiency decreases ribosome biogenesis and confers stress resistance to hematopoietic stem and progenitor cells. Cell Stem Cell 17, 165–177 (2015).

28.

Foudi, A. et al. Analysis of histone 2B-GFP retention reveals slowly cycling hematopoietic stem cells. Nat. Biotechnol. 27, 84–90 (2009).

29.

Ding, Q. et al. Erk associates with and primes GSK-3β for its inactivation resulting in upregulation of β-catenin. Mol. Cell 19, 159–170 (2005).

30.

Song, L., De Sarno, P. & Jope, R. S. Central role of glycogen synthase kinase-3β in endoplasmic reticulum stress-induced caspase-3 activation. J. Biol. Chem. 277, 44701–44708 (2002).

31.

Cui, Y. et al. Inactivation of Stat5 in mouse mammary epithelium during pregnancy reveals distinct functions in cell proliferation, survival, and differentiation. Mol. Cell. Biol. 24, 8037–8047 (2004).

32.

Metcalf, D. et al. Gigantism in mice lacking suppressor of cytokine signalling-2. Nature 405, 1069–1073 (2000).

33.

Ranatunga, S. et al. Synthesis of novel tricyclic chromenone-based inhibitors of IRE-1 RNase activity. J. Med. Chem. 57, 4289–4301 (2014).

34.

Tang, C. H. et al. Inhibition of ER stress-associated IRE-1/XBP-1 pathway reduces leukemic cell survival. J. Clin. Invest. 124, 2585–2598 (2014).

35.

Lee, A. H., Iwakoshi, N. N. & Glimcher, L. H. XBP-1 regulates a subset of endoplasmic reticulum resident chaperone genes in the unfolded protein response. Mol. Cell. Biol. 23, 7448–7459 (2003).

36.

Megias, J. et al. Direct Toll-like receptor-mediated stimulation of hematopoietic stem and progenitor cells occurs in vivo and promotes differentiation toward macrophages. Stem Cells 30, 1486–1495 (2012).

37.

Esplin, B. L. et al. Chronic exposure to a TLR ligand injures hematopoietic stem cells. J. Immunol. 186, 5367–5375 (2011).

38.

Zismanov, V. et al. Phosphorylation of eIF2α is a translational control mechanism regulating muscle stem cell quiescence and self-renewal. Cell Stem Cell 18, 79–90 (2016).

39.

Nguyen, H. G. et al. Development of a stress response therapy targeting aggressive prostate cancer. Sci. Trans. Med. 10, eaar2036 (2018).

40.

Ma, Y. & Hendershot, L. M. The role of the unfolded protein response in tumour development: friend or foe? Nat. Rev. Cancer 4, 966–977 (2004).

41.

Tay, K. H. et al. Sustained IRE1 and ATF6 signaling is important for survival of melanoma cells undergoing ER stress. Cell. Signal. 26, 287–294 (2014).

42.

Moran-Crusio, K. et al. Tet2 loss leads to increased hematopoietic stem cell self-renewal and myeloid transformation. Cancer Cell. 20, 11–24 (2011).
Acknowledgements
This work was supported by the University of Michigan Protein Folding Disease Initiative. Q.L. was supported by the NIH/NHLBI (grant no. 1R01HL132392), American Cancer Society (grant no. 125080-RSG-13-253-01-LIB), V Foundation for Cancer Research, Gabrielle's Angel Foundation and Leukemia Research Foundation. J.D.V. is supported by the NIH (grant no. R01CA190860). Thanks to K. Haigis, T. Jacks, H. Hock, L. Hennighausen and M. Miura for providing LoxP-STOP-LoxP-NrasG12D, Col1α1-H2B-GFP; Rosa26-M2−rtTA, Stat5abfl and ERAI mice. We thank Z. Huang for the cloning vector for the ATF4 reporter constructs. We thank R. Signer (UCSD) for the critical reading and insightful feedback of our manuscript.
Ethics declarations
Competing interests
The authors declare no competing interests.
Additional information
Publisher's note: Springer Nature remains neutral with regard to jurisdictional claims in published maps and institutional affiliations.
Integrated supplementary information
Supplementary information
About this article
Cite this article
Liu, L., Zhao, M., Jin, X. et al. Adaptive endoplasmic reticulum stress signalling via IRE1α–XBP1 preserves self-renewal of haematopoietic and pre-leukaemic stem cells. Nat Cell Biol 21, 328–337 (2019). https://doi.org/10.1038/s41556-019-0285-6
Received:

Accepted:

Published:

Issue Date: