Abstract
Vertebrate tissues exhibit mechanical homeostasis, showing stable stiffness and tension over time and recovery after changes in mechanical stress. However, the regulatory pathways that mediate these effects are unknown. A comprehensive identification of Argonaute 2-associated microRNAs and mRNAs in endothelial cells identified a network of 122 microRNA families that target 73 mRNAs encoding cytoskeletal, contractile, adhesive and extracellular matrix (CAM) proteins. The level of these microRNAs increased in cells plated on stiff versus soft substrates, consistent with homeostasis, and suppressed targets via microRNA recognition elements within the 3′ untranslated regions of CAM mRNAs. Inhibition of DROSHA or Argonaute 2, or disruption of microRNA recognition elements within individual target mRNAs, such as connective tissue growth factor, induced hyper-adhesive, hyper-contractile phenotypes in endothelial and fibroblast cells in vitro, and increased tissue stiffness, contractility and extracellular matrix deposition in the zebrafish fin fold in vivo. Thus, a network of microRNAs buffers CAM expression to mediate tissue mechanical homeostasis.
Relevant articles
Open Access articles citing this article.
Aditya Kshirsagar

,

Svetlana Maslov Doroshev

…

Orly Reiner

Nature Communications Open Access 06 June 2023

Fabian Philipp Kreutzer

,

Anna Meinecke

…

Thomas Thum

Basic Research in Cardiology Open Access 02 March 2022

Susanna E. Riley

,

Yi Feng

&

Carsten Gram Hansen

npj Regenerative Medicine Open Access 27 January 2022
Access options
Access Nature and 54 other Nature Portfolio journals
Get Nature+, our best-value online-access subscription
$29.99 / 30 days
cancel any time
Subscribe to this journal
Receive 12 print issues and online access
$209.00 per year
only $17.42 per issue
Rent or buy this article
Prices vary by article type
from$1.95
to$39.95
Prices may be subject to local taxes which are calculated during checkout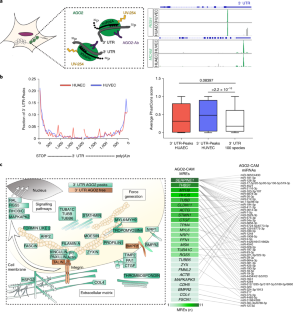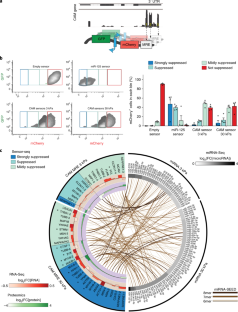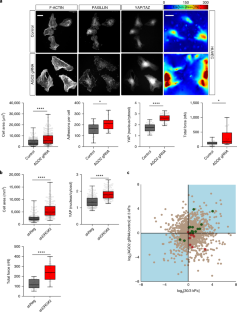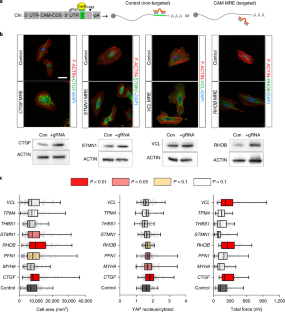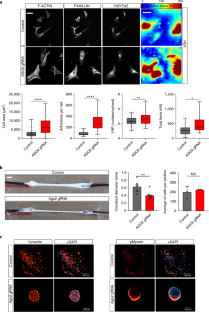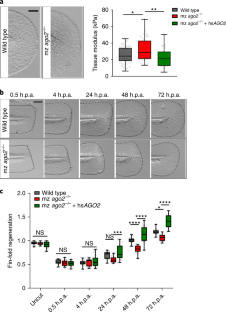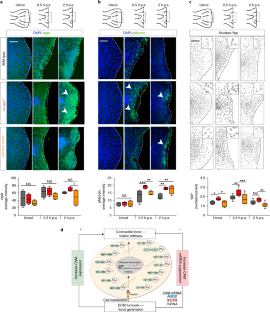 Data availability
RNA-seq and small RNA-seq data for endothelial cells that support the findings of this study have been deposited in the GEO under accession codes GSE99686 and GSE11021. Small RNA-seq data for HDF have been deposited in the GEO under accession code GSE123008. HITS-CLIP data have been deposited in the Sequence Read Archive (SRA) under accession code PRJNA507245. Proteomics data have been uploaded to the PRIDE depository (PXD011882) and results are summarized in Supplementary Table 5. Source data for all figures and supplementary figures have been provided as Supplementary Table 8.
References
Cyron, C. J. & Humphrey, J. D. Growth and remodeling of load-bearing biological soft tissues. Meccanica 52, 645–664 (2017).

Gilbert, P. M. & Weaver, V. M. Cellular adaptation to biomechanical stress across length scales in tissue homeostasis and disease. Semin. Cell Dev. Biol. 67, 141–152 (2017).

Humphrey, J. D., Dufresne, E. R. & Schwartz, M. A. Mechanotransduction and extracellular matrix homeostasis. Nat. Rev. Mol. Cell Biol. 15, 802–812 (2014).

Humphrey, J. D. Vascular adaptation and mechanical homeostasis at tissue, cellular, and sub-cellular levels. Cell Biochem. Biophys. 50, 53–78 (2008).

Seki, E. & Brenner, D. A. Recent advancement of molecular mechanisms of liver fibrosis. J. Hepatobiliary Pancreat. Sci. 22, 512–518 (2015).

Huang, S. & Ingber, D. E. Cell tension, matrix mechanics, and cancer development. Cancer Cell 8, 175–176 (2005).

Sun, Z., Guo, S. S. & Fassler, R. Integrin-mediated mechanotransduction. J. Cell Biol. 215, 445–456 (2016).

Pasquinelli, A. E. MicroRNAs and their targets: recognition, regulation and an emerging reciprocal relationship. Nat. Rev. Genet. 13, 271–282 (2012).

Hafner, M. et al. Transcriptome-wide identification of RNA-binding protein and microRNA target sites by PAR-CLIP. Cell 141, 129–141 (2010).

Herranz, H. & Cohen, S. M. MicroRNAs and gene regulatory networks: managing the impact of noise in biological systems. Genes Dev. 24, 1339–1344 (2010).

Tsang, J., Zhu, J. & van Oudenaarden, A. MicroRNA-mediated feedback and feedforward loops are recurrent network motifs in mammals. Mol. Cell 26, 753–767 (2007).

Kasper, D. M. et al. MicroRNAs establish uniform traits during the architecture of vertebrate embryos. Dev. Cell 40, 552–565.e5 (2017).

Chi, S. W., Zang, J. B., Mele, A. & Darnell, R. B. Argonaute HITS-CLIP decodes microRNA–mRNA interaction maps. Nature 460, 479–486 (2009).

Byfield, F. J., Reen, R. K., Shentu, T. P., Levitan, I. & Gooch, K. J. Endothelial actin and cell stiffness is modulated by substrate stiffness in 2D and 3D. J. Biomech. 42, 1114–1119 (2009).

Grimson, A. et al. MicroRNA targeting specificity in mammals: determinants beyond seed pairing. Mol. Cell 27, 91–105 (2007).

Saphirstein, R. J. & Morgan, K. G. The contribution of vascular smooth muscle to aortic stiffness across length scales. Microcirculation 21, 201–207 (2014).

Mullokandov, G. et al. High-throughput assessment of microRNA activity and function using microRNA sensor and decoy libraries. Nat. Methods 9, 840–846 (2012).

Kamata, M., Liang, M., Liu, S., Nagaoka, Y. & Chen, I. S. Live cell monitoring of hiPSC generation and differentiation using differential expression of endogenous microRNAs. PLoS ONE 5, e11834 (2010).

Discher, D. E., Janmey, P. & Wang, Y. L. Tissue cells feel and respond to the stiffness of their substrate. Science 310, 1139–1143 (2005).

Kim, Y. K., Kim, B. & Kim, V. N. Re-evaluation of the roles of DROSHA, Export in 5, and DICER in microRNA biogenesis. Proc. Natl Acad. Sci. USA 113, E1881–E1889 (2016).

Dupont, S. et al. Role of YAP/TAZ in mechanotransduction. Nature 474, 179–183 (2011).

Kumar, A. et al. Talin tension sensor reveals novel features of focal adhesion force transmission and mechanosensitivity. J. Cell Biol. 213, 371–383 (2016).

Bassett, A. R. et al. Understanding functional miRNA–target interactions in vivo by site-specific genome engineering. Nat. Commun. 5, 4640 (2014).

Shi-Wen, X., Leask, A. & Abraham, D. Regulation and function of connective tissue growth factor/CCN2 in tissue repair, scarring and fibrosis. Cytokine Growth Factor Rev. 19, 133–144 (2008).

Kawakami, A., Fukazawa, T. & Takeda, H. Early fin primordia of zebrafish larvae regenerate by a similar growth control mechanism with adult regeneration. Dev. Dyn. 231, 693–699 (2004).

Mathew, L. K. et al. Comparative expression profiling reveals an essential role for raldh2 in epimorphic regeneration. J. Biol. Chem. 284, 33642–33653 (2009).

Mateus, R. et al. In vivo cell and tissue dynamics underlying zebrafish fin fold regeneration. PLoS ONE 7, e51766 (2012).

Cifuentes, D. et al. A novel miRNA processing pathway independent of Dicer requires Argonaute2 catalytic activity. Science 328, 1694–1698 (2010).

Amelio, I. et al. miR-24 triggers epidermal differentiation by controlling actin adhesion and cell migration. J. Cell Biol. 199, 347–363 (2012).

Nechiporuk, A. & Keating, M. T. A proliferation gradient between proximal and msxb-expressing distal blastema directs zebrafish fin regeneration. Development 129, 2607–2617 (2002).

Hasegawa, T. et al. Transient inflammatory response mediated by interleukin-1β is required for proper regeneration in zebrafish fin fold. eLife 6, e22716 (2017).

Mateus, R. et al. Control of tissue growth by Yap relies on cell density and F-actin in zebrafish fin regeneration. Development 142, 2752–2763 (2015).

Mori, M. et al. Hippo signaling regulates microprocessor and links cell-density-dependent miRNA biogenesis to cancer. Cell 156, 893–906 (2014).

Chaulk, S. G., Lattanzi, V. J., Hiemer, S. E., Fahlman, R. P. & Varelas, X. The Hippo pathway effectors TAZ/YAP regulate dicer expression and microRNA biogenesis through Let-7. J. Biol. Chem. 289, 1886–1891 (2014).

Davis, B. N., Hilyard, A. C., Lagna, G. & Hata, A. SMAD proteins control DROSHA-mediated microRNA maturation. Nature 454, 56–61 (2008).

Felix, M. A. & Wagner, A. Robustness and evolution: concepts, insights and challenges from a developmental model system. Heredity (Edinb.) 100, 132–140 (2008).

Mouw, J. K. et al. Tissue mechanics modulate microRNA-dependent PTEN expression to regulate malignant progression. Nat. Med. 20, 360–367 (2014).

Liu, G. et al. miR-21 mediates fibrogenic activation of pulmonary fibroblasts and lung fibrosis. J. Exp. Med. 207, 1589–1597 (2010).

Cushing, L. et al. miR-29 is a major regulator of genes associated with pulmonary fibrosis. Am. J. Respir. Cell Mol. Biol. 45, 287–294 (2011).

Herrera, J. et al. Dicer1 deficiency in the idiopathic pulmonary fibrosis fibroblastic focus promotes fibrosis by suppressing microRNA biogenesis. Am. J. Respir. Crit. Care Med. 198, 486–496 (2018).

Parker, M. W. et al. Fibrotic extracellular matrix activates a profibrotic positive feedback loop. J. Clin. Invest. 124, 1622–1635 (2014).

Pandit, K. V. & Milosevic, J. MicroRNA regulatory networks in idiopathic pulmonary fibrosis. Biochem. Cell Biol. 93, 129–137 (2015).

Wynn, T. A. & Ramalingam, T. R. Mechanisms of fibrosis: therapeutic translation for fibrotic disease. Nat. Med. 18, 1028–1040 (2012).

Liu, J. et al. Argonaute2 is the catalytic engine of mammalian RNAi. Science 305, 1437–1441 (2004).

McCall, M. N. et al. MicroRNA profiling of diverse endothelial cell types. BMC Med. Genomics 4, 78 (2011).

Krzywinski, M. et al. Circos: an information aesthetic for comparative genomics. Genome Res. 19, 1639–1645 (2009).

Dobin, A. et al. STAR: ultrafast universal RNA-seq aligner. Bioinformatics 29, 15–21 (2013).

Li, H. et al. The Sequence Alignment/Map format and SAMtools. Bioinformatics 25, 2078–2079 (2009).

Kozomara, A. & Griffiths-Jones, S. miRBase: annotating high confidence microRNAs using deep sequencing data. Nucleic Acids Res. 42, D68–D73 (2014).

Agarwal, V., Bell, G. W., Nam, J. W. & Bartel, D. P. Predicting effective microRNA target sites in mammalian mRNAs. eLife 4, e05005 (2015).

Aranguren, X. L. et al. Unraveling a novel transcription factor code determining the human arterial-specific endothelial cell signature. Blood 122, 3982–3992 (2013).

Ritchie, M. E. et al. limma powers differential expression analyses for RNA-sequencing and microarray studies. Nucleic Acids Res. 43, e47 (2015).

Bodenhofer, U., Bonatesta, E., Horejs-Kainrath, C. & Hochreiter, S. msa: an R package for multiple sequence alignment. Bioinformatics 31, 3997–3999 (2015).

Elosegui-Artola, A. et al. Mechanical regulation of a molecular clutch defines force transmission and transduction in response to matrix rigidity. Nat. Cell Biol. 18, 540–548 (2016).

Robinson, M. D., McCarthy, D. J. & Smyth, G. K. edgeR: a Bioconductor package for differential expression analysis of digital gene expression data. Bioinformatics 26, 139–140 (2010).

McCarthy, D. J., Chen, Y. & Smyth, G. K. Differential expression analysis of multifactor RNA-seq experiments with respect to biological variation. Nucleic Acids Res. 40, 4288–4297 (2012).

Goeminne, L. J., Gevaert, K. & Clement, L. Peptide-level robust ridge regression improves estimation, sensitivity, and specificity in data-dependent quantitative label-free shotgun proteomics. Mol. Cell. Proteomics 15, 657–668 (2016).

Tyanova, S. et al. The Perseus computational platform for comprehensive analysis of (prote)omics data. Nat. Methods 13, 731–740 (2016).

Smyth, G. K. Linear models and empirical Bayes methods for assessing differential expression in microarray experiments. Stat. Appl. Genet. Mol. Biol. 3, Article3 (2004).

Berginski, M. E. & Gomez, S. M. The Focal Adhesion Analysis Server: a web tool for analyzing focal adhesion dynamics. F1000Res. 2, 68 (2013).

Gutierrez, E. & Groisman, A. Measurements of elastic moduli of silicone gel substrates with a microfluidic device. PLoS ONE 6, e25534 (2011).

Han, S. J., Oak, Y., Groisman, A. & Danuser, G. Traction microscopy to identify force modulation in subresolution adhesions. Nat. Methods 12, 653–656 (2015).

Kapacee, Z. et al. Tension is required for fibripositor formation. Matrix Biol. 27, 371–375 (2008).

Narayanan, A. et al. In vivo mutagenesis of miRNA gene families using a scalable multiplexed CRISPR/Cas9 nuclease system. Sci. Rep. 6, 32386 (2016).

Schindelin, J. et al. Fiji: an open-source platform for biological-image analysis. Nat. Methods 9, 676–682 (2012).

Le Guyader, D. et al. Origins and unconventional behavior of neutrophils in developing zebrafish. Blood 111, 132–141 (2008).

Sneddon, I. N. The relation between load and penetration in the axisymmetric boussinesq problem for a punch of arbitrary profile. Int. J. Eng. Sci. 3, 47–57 (1965).

Uren, P. J. et al. Site identification in high-throughput RNA–protein interaction data. Bioinformatics 28, 3013–3020 (2012).
Acknowledgements
We thank M. Cavanaugh for help with zebrafish husbandry. We thank the Wellcome Trust Centre for Cell-Matrix Research for technical support with tissue culture assays. We thank M. Trombly and A. Andersen, Life Science Editors, for proofreading the manuscript, and J. Humphrey and V. Greco for critical reading. We thank B. Coon for assistance during the preparation of the CRISPR–Cas9 experiment. We thank J. Lu's laboratory for providing miRNA reporter lentiviral plasmid. We thank A. Giraldez's laboratory (Genetics Department, Yale University) for providing the zebrafish ago2 mutant. J.S. was funded by a Biotechnology and Biological Sciences Research Council (BBSRC) David Phillips Fellowship (BB/L024551/1). D.M.K. was supported by F32HL132475, U54DK106857 and 1K99HL141687. V.M. was partially supported by a studentship from the Sir Richard Stapley Educational Trust. Mass spectrometry was carried out at the Wellcome Trust Centre for Cell-Matrix Research (203128/Z/16/Z) Proteomics Core Facility. This work was supported by the USPHS grant RO1 GM47214 to M.S. and RO1 HL130246 and AHA 17GRNT33460426 to S.N.
Ethics declarations
Competing interests
The authors declare no competing interests.
Additional information
Publisher's note: Springer Nature remains neutral with regard to jurisdictional claims in published maps and institutional affiliations.
Integrated supplementary information
Supplementary information
About this article
Cite this article
Moro, A., Driscoll, T.P., Boraas, L.C. et al. MicroRNA-dependent regulation of biomechanical genes establishes tissue stiffness homeostasis. Nat Cell Biol 21, 348–358 (2019). https://doi.org/10.1038/s41556-019-0272-y
Received:

Accepted:

Published:

Issue Date:

DOI: https://doi.org/10.1038/s41556-019-0272-y