Abstract
Cytotoxic chemotherapy is an effective treatment for invasive breast cancer. However, experimental studies in mice also suggest that chemotherapy has pro-metastatic effects. Primary tumours release extracellular vesicles (EVs), including exosomes, that can facilitate the seeding and growth of metastatic cancer cells in distant organs, but the effects of chemotherapy on tumour-derived EVs remain unclear. Here we show that two classes of cytotoxic drugs broadly employed in pre-operative (neoadjuvant) breast cancer therapy, taxanes and anthracyclines, elicit tumour-derived EVs with enhanced pro-metastatic capacity. Chemotherapy-elicited EVs are enriched in annexin A6 (ANXA6), a Ca2+-dependent protein that promotes NF-κB-dependent endothelial cell activation, Ccl2 induction and Ly6C+CCR2+ monocyte expansion in the pulmonary pre-metastatic niche to facilitate the establishment of lung metastasis. Genetic inactivation of Anxa6 in cancer cells or Ccr2 in host cells blunts the pro-metastatic effects of chemotherapy-elicited EVs. ANXA6 is detected, and potentially enriched, in the circulating EVs of breast cancer patients undergoing neoadjuvant chemotherapy.
Access options
Subscribe to Journal
Get full journal access for 1 year
$225.00
only $18.75 per issue
All prices are NET prices.
VAT will be added later in the checkout.
Rent or Buy article
Get time limited or full article access on ReadCube.
from$8.99
All prices are NET prices.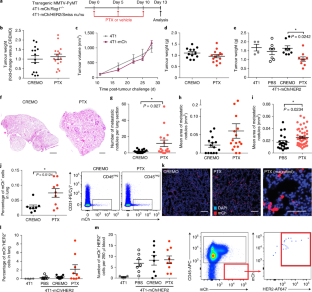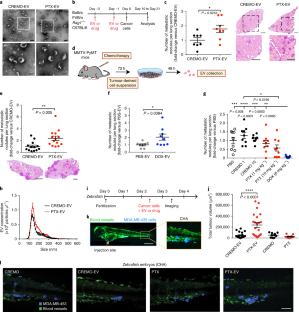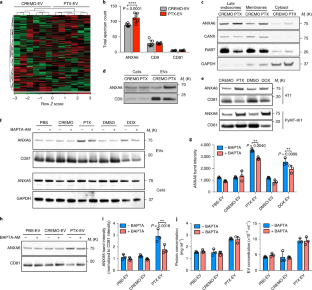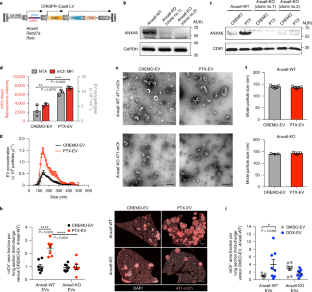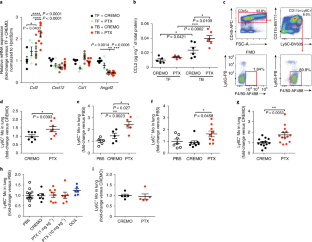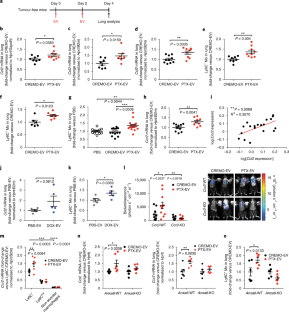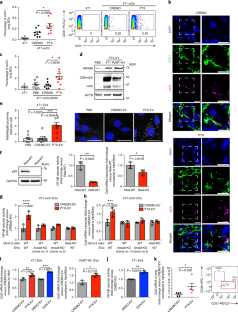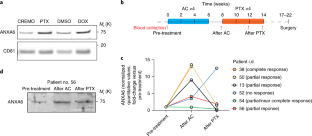 Data availability
Uncropped and replicate western blots that are not shown in the figures are provided in Supplementary Fig 9. The 4T1-EV data have been submitted to the EV-TRACK knowledgebase (EV-TRACK ID: EV180041; ref. 69). The mass spectrometry proteomics data have been deposited to the ProteomeXchange Consortium via the PRIDE partner repository70 with the following dataset identifiers: PXD010362 (accession) and 10.6019/PXD010362 (DOI) for the 4T1 EV data and PXD010292 (accession) and 10.6019/PXD010292 (DOI) for the human EV data. The source data for all graphical representations are provided as Supplementary Tables 3 and 5. All other data supporting the findings of this study are available from the corresponding authors on request.
References
1.

Rastogi, P. et al. Preoperative chemotherapy: updates of National Surgical Adjuvant Breast and Bowel Project Protocols B-18 and B-27. J. Clin. Oncol. 26, 778–785 (2008).

2.

Fisher, E. R. et al. Pathobiology of preoperative chemotherapy: findings from the National Surgical Adjuvant Breast and Bowel (NSABP) protocol B-18. Cancer 95, 681–695 (2002).

3.

DeMichele, A., Yee, D. & Esserman, L. Mechanisms of resistance to neoadjuvant chemotherapy in breast cancer. N. Engl. J. Med. 377, 2287–2289 (2017).

4.

Spring, L. et al. Pathologic complete response after neoadjuvant chemotherapy and long-term outcomes among young women with breast cancer. J. Natl Compr. Canc. Netw. 15, 1216–1223 (2017).

5.

Zardavas, D. & Piccart, M. Neoadjuvant therapy for breast cancer. Annu. Rev. Med. 66, 31–48 (2015).

6.

Gampenrieder, S. P., Rinnerthaler, G. & Greil, R. Neoadjuvant chemotherapy and targeted therapy in breast cancer: past, present, and future. J. Oncol. 2013, 732047 (2013).

7.

Shaked, Y. Balancing efficacy of and host immune responses to cancer therapy: the yin and yang effects. Nat. Rev. Clin. Oncol. 13, 611–626 (2016).

8.

Karagiannis, G. S. et al. Neoadjuvant chemotherapy induces breast cancer metastasis through a TMEM-mediated mechanism. Sci. Transl. Med. 9, eaan0026 (2017).

9.

Voloshin, T. et al. Blocking IL1β pathway following paclitaxel chemotherapy slightly inhibits primary tumor growth but promotes spontaneous metastasis. Mol. Cancer Ther. 14, 1385–1394 (2015).

10.

Volk-Draper, L. et al. Paclitaxel therapy promotes breast cancer metastasis in a TLR4-dependent manner. Cancer Res. 74, 5421–5434 (2014).

11.

Liu, G. et al. Specific chemotherapeutic agents induce metastatic behaviour through stromal- and tumour-derived cytokine and angiogenic factor signalling. J. Pathol. 237, 190–202 (2015).

12.

Chang, Y. S., Jalgaonkar, S. P., Middleton, J. D. & Hai, T. Stress-inducible gene Atf3 in the noncancer host cells contributes to chemotherapy-exacerbated breast cancer metastasis. Proc. Natl Acad. Sci. USA 114, E7159–E7168 (2017).

13.

Daenen, L. G. et al. Chemotherapy enhances metastasis formation via VEGFR-1-expressing endothelial cells. Cancer Res. 71, 6976–6985 (2011).

14.

De Palma, M., Biziato, D. & Petrova, T. V. Microenvironmental regulation of tumour angiogenesis. Nat. Rev. Cancer 17, 457–474 (2017).

15.

De Palma, M. et al. Tie2 identifies a hematopoietic lineage of proangiogenic monocytes required for tumor vessel formation and a mesenchymal population of pericyte progenitors. Cancer Cell. 8, 211–226 (2005).

16.

Harney, A. S. et al. Real-time imaging reveals local, transient vascular permeability, and tumor cell intravasation stimulated by TIE2hi macrophage-derived VEGFA. Cancer Discov. 5, 932–943 (2015).

17.

Costa-Silva, B. et al. Pancreatic cancer exosomes initiate pre-metastatic niche formation in the liver. Nat. Cell Biol. 17, 816–826 (2015).

18.

Becker, A. et al. Extracellular vesicles in cancer: cell-to-cell mediators of metastasis. Cancer Cell. 30, 836–848 (2016).

19.

Tkach, M. & Thery, C. Communication by extracellular vesicles: where we are and where we need to go. Cell 164, 1226–1232 (2016).

20.

Hoshino, A. et al. Tumour exosome integrins determine organotropic metastasis. Nature 527, 329–335 (2015).

21.

Yokoi, A. et al. Malignant extracellular vesicles carrying MMP1 mRNA facilitate peritoneal dissemination in ovarian cancer. Nat. Commun. 8, 14470 (2017).

22.

Zhou, W. et al. Cancer-secreted miR-105 destroys vascular endothelial barriers to promote metastasis. Cancer Cell. 25, 501–515 (2014).

23.

Kalluri, R. The biology and function of exosomes in cancer. J. Clin. Invest. 126, 1208–1215 (2016).

24.

Peinado, H. et al. Pre-metastatic niches: organ-specific homes for metastases. Nat. Rev. Cancer 17, 302–317 (2017).

25.

Guy, C. T., Cardiff, R. D. & Muller, W. J. Induction of mammary tumors by expression of polyomavirus middle T oncogene: a transgenic mouse model for metastatic disease. Mol. Cell. Biol. 12, 954–961 (1992).

26.

Lin, E. Y. et al. Progression to malignancy in the polyoma middle T oncoprotein mouse breast cancer model provides a reliable model for human diseases. Am. J. Pathol. 163, 2113–2126 (2003).

27.

DeNardo, D. G. et al. Leukocyte complexity predicts breast cancer survival and functionally regulates response to chemotherapy. Cancer Discov. 1, 54–67 (2011).

28.

Pulaski, B. A. & Ostrand-Rosenberg, S. Mouse 4T1 breast tumor model. Curr. Protoc. Immunol. 39, 20.2.1–20.2.16 (2001).

29.

Squadrito, M. L., Cianciaruso, C., Hansen, S. K. & De Palma, M. EVIR: chimeric receptors that enhance dendritic cell cross-dressing with tumor antigens. Nat. Methods 15, 183–186 (2018).

30.

Kowal, J. et al. Proteomic comparison defines novel markers to characterize heterogeneous populations of extracellular vesicle subtypes. Proc. Natl Acad. Sci. USA 113, E968–E977 (2016).

31.

Thery, C., Amigorena, S., Raposo, G. & Clayton, A. Isolation and characterization of exosomes from cell culture supernatants and biological fluids. Curr. Protoc. Cell Biol. 30, 3.22.1–3.22.29 (2006).

32.

Montermini, L. et al. Inhibition of oncogenic epidermal growth factor receptor kinase triggers release of exosome-like extracellular vesicles and impacts their phosphoprotein and DNA content. J. Biol. Chem. 290, 24534–24546 (2015).

33.

Nakasone, E. S. et al. Imaging tumor-stroma interactions during chemotherapy reveals contributions of the microenvironment to resistance. Cancer Cell 21, 488–503 (2012).

34.

White, R., Rose, K. & Zon, L. Zebrafish cancer: the state of the art and the path forward. Nat. Rev. Cancer 13, 624–636 (2013).

35.

Teng, Y. et al. Evaluating human cancer cell metastasis in zebrafish. BMC Cancer 13, 453 (2013).

36.

Bobrie, A. et al. Rab27a supports exosome-dependent and -independent mechanisms that modify the tumor microenvironment and can promote tumor progression. Cancer Res. 72, 4920–4930 (2012).

37.

Ostrowski, M. et al. Rab27a and Rab27b control different steps of the exosome secretion pathway. Nat. Cell Biol. 12, 19–30 (2010).

38.

van Niel, G., D'Angelo, G. & Raposo, G. Shedding light on the cell biology of extracellular vesicles. Nat. Rev. Mol. Cell Biol. 19, 213–228 (2018).

39.

Gerke, V. & Moss, S. E. Annexins: from structure to function. Physiol. Rev. 82, 331–371 (2002).

40.

Qi, H. et al. Role of annexin A6 in cancer. Oncol. Lett. 10, 1947–1952 (2015).

41.

Sakwe, A. M., Koumangoye, R., Guillory, B. & Ochieng, J. Annexin A6 contributes to the invasiveness of breast carcinoma cells by influencing the organization and localization of functional focal adhesions. Exp. Cell Res. 317, 823–837 (2011).

42.

Leca, J. et al. Cancer-associated fibroblast-derived annexin A6+ extracellular vesicles support pancreatic cancer aggressiveness. J. Clin. Invest. 126, 4140–4156 (2016).

43.

Kidd, J. F. et al. Paclitaxel affects cytosolic calcium signals by opening the mitochondrial permeability transition pore. J. Biol. Chem. 277, 6504–6510 (2002).

44.

Octavia, Y. et al. Doxorubicin-induced cardiomyopathy: from molecular mechanisms to therapeutic strategies. J. Mol. Cell. Cardiol. 52, 1213–1225 (2012).

45.

Steeg, P. S. Targeting metastasis. Nat. Rev. Cancer 16, 201–218 (2016).

46.

Qian, B. Z. et al. CCL2 recruits inflammatory monocytes to facilitate breast-tumour metastasis. Nature 475, 222–225 (2011).

47.

Bonapace, L. et al. Cessation of CCL2 inhibition accelerates breast cancer metastasis by promoting angiogenesis. Nature 515, 130–133 (2014).

48.

Doak, G. R., Schwertfeger, K. L. & Wood, D. K. Distant relations: macrophage functions in the metastatic niche. Trends Cancer 4, 445–459 (2018).

49.

Kitamura, T. et al. CCL2-induced chemokine cascade promotes breast cancer metastasis by enhancing retention of metastasis-associated macrophages. J. Exp. Med. 212, 1043–1059 (2015).

50.

Hiratsuka, S. et al. Primary tumours modulate innate immune signalling to create pre-metastatic vascular hyperpermeability foci. Nat. Commun 4, 1853 (2013).

51.

Yanez-Mo, M. et al. Biological properties of extracellular vesicles and their physiological functions. J. Extracell. Vesicles 4, 27066 (2015).

52.

Campbell, K. A. et al. Annexin A6 interacts with p65 and stimulates NF-κB activity and catabolic events in articular chondrocytes. Arthritis Rheum. 65, 3120-3129 (2013).

53.

Ueda, A. et al. NF-kappa B and Sp1 regulate transcription of the human monocyte chemoattractant protein-1 gene. J. Immunol. 153, 2052–2063 (1994).

54.

Srivastava, K. et al. Postsurgical adjuvant tumor therapy by combining anti-angiopoietin-2 and metronomic chemotherapy limits metastatic growth. Cancer Cell. 26, 880–895 (2014).

55.

Incio, J. et al. Obesity promotes resistance to anti-VEGF therapy in breast cancer by up-regulating IL-6 and potentially FGF-2. Sci. Transl. Med. 10, eaag0945 (2018).

56.

Zhang, H. et al. Circulating tumor microparticles promote lung metastasis by reprogramming inflammatory and mechanical niches via a macrophage-dependent pathway. Cancer Immunol. Res. 6, 1046–1056 (2018).

57.

Schwich, E. & Rebmann, V. The inner and outer qualities of extracellular vesicles for translational purposes in breast cancer. Front. Immunol. 9, 584 (2018).

58.

Kitamura, T. et al. Monocytes differentiate to immune suppressive precursors of metastasis-associated macrophages in mouse models of metastatic breast cancer. Front. Immunol. 8, 2004 (2017).

59.

Xu, J. Preparation, culture, and immortalization of mouse embryonic fibroblasts. Curr. Protoc. Mol. Biol. 70, 28.1.1–28.1.8 (2005)..

60.

Squadrito, M. L. et al. Endogenous RNAs modulate microRNA sorting to exosomes and transfer to acceptor cells. Cell Rep. 8, 1432–1446 (2014).

61.

De Palma, M. & Naldini, L. Transduction of a gene expression cassette using advanced generation lentiviral vectors. Methods Enzymol. 346, 514–529 (2002).

62.

Cianciaruso, C. et al. Primary human and rat beta-cells release the intracellular autoantigens gad65, ia-2, and proinsulin in exosomes together with cytokine-induced enhancers of immunity. Diabetes 66, 460–473 (2017).

63.

Chiou, N. -T. & Ansel, M. K. Improved exosome isolation by sucrose gradient fractionation of ultracentrifuged crude exosome pellets. Protoc. Exch. https://doi.org/10.1038/protex.2016.057 (2016).

64.

Gray, C. et al. Simultaneous intravital imaging of macrophage and neutrophil behaviour during inflammation using a novel transgenic zebrafish. Thromb. Haemost. 105, 811–819 (2011).

65.

Motoike, T. et al. Universal GFP reporter for the study of vascular development. Genesis 28, 75–81 (2000).

66.

Keklikoglou, I. et al. Periostin limits tumor response to VEGFA inhibition. Cell Rep. 22, 2530–2540 (2018).

67.

de Araujo, M. E., Lamberti, G. & Huber, L. A. Isolation of early and late endosomes by density gradient centrifugation. Cold Spring Harb. Protoc. 2015, 1013–10164 (2015).

68.

Chopra, T. et al. Quantitative mass spectrometry reveals plasticity of metabolic networks in Mycobacterium smegmatis. Mol. Cell. Proteomics 13, 3014–3028 (2014).

69.

Consortium, E.-T. et al. EV-TRACK: transparent reporting and centralizing knowledge in extracellular vesicle research. Nat. Methods 14, 228–232 (2017).

70.

Vizcaino, J. A. et al. 2016 update of the PRIDE database and its related tools. Nucleic Acids Res. 44, 11033 (2016).
Acknowledgements
We thank C. Rmili-Wyser, A. Bellotti, B. Torchia, D. Laoui (M.D.P.'s laboratory) and M. Duquette (R.K.J.'s laboratory) for help with some experiments; T. Kitamura (University of Edinburgh) for advice on lung colonization assays and for providing E0771-LG and E0771-LG:Fl cells and H.G. Augustin (DKFZ) for critical comments on the manuscript. The EPFL core facilities of flow cytometry (FCCF), histology (HCF) and bioimaging/optics platform (BIOp) are acknowledged for skilled technical assistance; R. Hamelin and M. Moniatte of the proteomics facility (PCF, EPFL) for performing LC–MS/MS on EVs; T.J. Chico for providing access to zebrafish lines in the aquarium at the University Sheffield and R. Klemke for the kind gift of CFP-MDA-MB-435 cells. This work was primarily funded by grants from the Swiss Cancer League (grant no. KFS-3007-08-2012), Swiss National Science Foundation (grant no. SNF 31003A-165963) and European Research Council (grant no. ERC EVOLVE-72505) to M.D.P. L.M.S. was supported by NIH grant no. KL2 TR001100. C.E.L. acknowledges support from Cancer Research UK (grant no. C11712/A13028), Yorkshire Cancer Research (grant no. S382) and Breast Cancer Now (grant nos 2016MayPR746 and 2016NovPCC003). M.L.I.-A. was supported by NIH (NCI 1R01CA197943). L.M.C. acknowledges support from a DOD BCRP Era of Hope Scholar Expansion Award (grant no. W81XWH-08-PRMRP-IIRA), Susan B Komen Foundation (grant no. KG110560) and Breast Cancer Research Foundation. A.B. was supported by Susan B Komen Foundation (grant no. CCR15224703). R.K.J. acknowledges support from the Ludwig Center at Harvard, National Foundation for Cancer Research and NCI (grant no. R35CA197743). J.W.P. was supported by the Wellcome Trust (grant no. 101067/Z/13/Z) and MRC (grant no. MR/N022556/1).
Ethics declarations
Competing interests
L.M.S. reports consulting fees from Novartis. L.M.C. is a paid consultant for Cell Signaling Technologies, received reagent support from Plexxikon and NanoString Technologies and is a member of the Scientific Advisory Boards of Syndax Pharmaceuticals, Carisma Therapeutics and Verseau Therapeutics. A.B. reports consulting fees from Genentech/Roche, Immunomedics, Novartis, Pfizer, Merck, Radius Health, Spectrum Pharma and Taiho Pharma and received a research grant from Biothernostics. R.K.J. received honoraria from Amgen and consultancy fees from Merck, Ophthotech, Pfizer, SPARC, SynDevRx, and XTuit, owns equity in Enlight, Ophthotech, SynDevRx and serves on the Boards of Trustees of Tekla Healthcare Investors, Tekla Life Sciences Investors, Tekla Healthcare Opportunities Fund and Tekla World Healthcare Fund. M.D.P. reports honoraria from Merck and Sanofi/Regeneron Pharmaceuticals, received sponsored research grants from Hoffmann La-Roche, MedImmune and Deciphera Pharmaceuticals and serves on the Scientific Advisory Boards of Deciphera Pharmaceuticals and Genenta. The other authors declare no competing interests. Neither materials nor funding from the above organizations were used in this study.
Additional information
Publisher's note: Springer Nature remains neutral with regard to jurisdictional claims in published maps and institutional affiliations.
Integrated supplementary information
Supplementary information
About this article
Cite this article
Keklikoglou, I., Cianciaruso, C., Güç, E. et al. Chemotherapy elicits pro-metastatic extracellular vesicles in breast cancer models. Nat Cell Biol 21, 190–202 (2019). https://doi.org/10.1038/s41556-018-0256-3
Received:

Accepted:

Published:

Issue Date: