Abstract
Induced pluripotent stem cells (iPSCs) are generated via the expression of the transcription factors OCT4 (also known as POU5F1), SOX2, KLF4 and cMYC (OSKM) in somatic cells. In contrast to murine naive iPSCs, conventional human iPSCs are in a more developmentally advanced state called primed pluripotency. Here, we report that human naive iPSCs (niPSCs) can be generated directly from fewer than 1,000 primary human somatic cells, without requiring stable genetic manipulation, via the delivery of modified messenger RNAs using microfluidics. Expression of the OSKM factors in combination with NANOG for 12 days generates niPSCs that are free of transgenes, karyotypically normal and display transcriptional, epigenetic and metabolic features indicative of the naive state. Importantly, niPSCs efficiently differentiate into all three germ layers. While niPSCs can be generated at low frequency under conventional conditions, our microfluidics approach enables the robust and cost-effective production of patient-specific niPSCs for regenerative medicine applications, including disease modelling and drug screening.
Access options
Subscribe to Journal
Get full journal access for 1 year
$225.00
only $18.75 per issue
All prices are NET prices.
VAT will be added later in the checkout.
Rent or Buy article
Get time limited or full article access on ReadCube.
from$8.99
All prices are NET prices.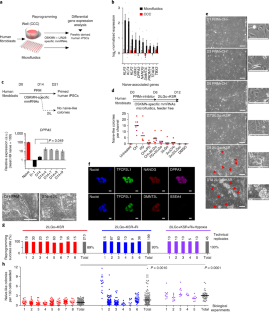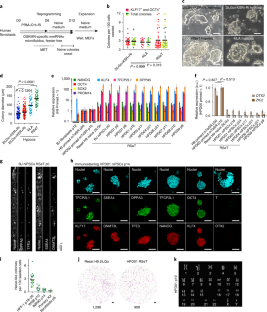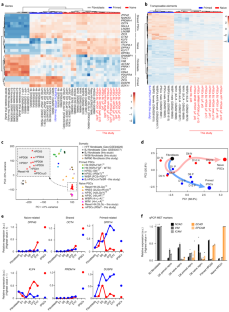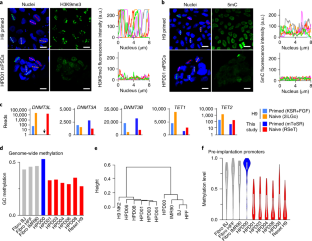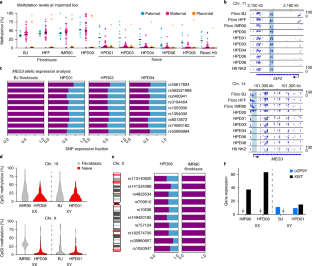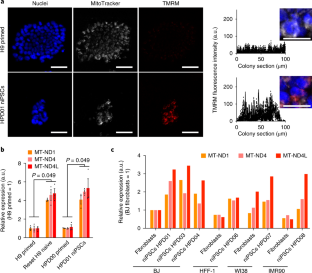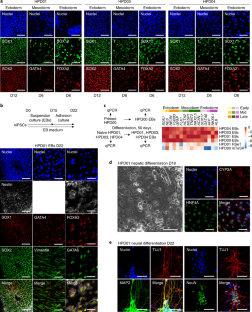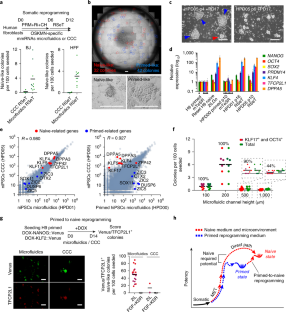 Data availability
RNA-seq and RRBS data of this study have been deposited in the Sequence Read Archive (SRA) under BioProject number PRJNA381757 and GEO under accession code GSE110377. Accession numbers of other published datasets are reported in each figure plotting RNA-seq data and in Supplementary Table 2. Source data of all repeats of all experiments are provided in Supplementary Table 5. For figure panels showing representative images of morphologies or immunostainings, images from additional independent repeats are available at Figshare (https://doi.org/10.6084/m9.figshare.c.4250195). All other data supporting the findings of this study are available from the corresponding author upon reasonable request.
References
1.

Evans, M. J. & Kaufman, M. H. Establishment in culture of pluripotential cells from mouse embryos. Nature 292, 154–156 (1981).

2.

Thomson, J. A. et al. Embryonic stem cell lines derived from human blastocysts. Science 282, 1145–1147 (1998).

3.

Takahashi, K. et al. Induction of pluripotent stem cells from adult human fibroblasts by defined factors. Cell 131, 861–872 (2007).

4.

Hackett, J. A. & Surani, M. A. Regulatory principles of pluripotency: from the ground state up. Cell Stem Cell 15, 416–430 (2014).

5.

Davidson, K. C., Mason, E. A. & Pera, M. F. The pluripotent state in mouse and human. Development 142, 3090–3099 (2015).

6.

Osafune, K. et al. Marked differences in differentiation propensity among human embryonic stem cell lines. Nat. Biotechnol. 26, 313–315 (2008).

7.

Weinberger, L., Ayyash, M., Novershtern, N. & Hanna, J. H. Dynamic stem cell states: naive to primed pluripotency in rodents and humans. Nat. Rev. Mol. Cell Biol. 17, 155–169 (2016).

8.

Luni, C. et al. High-efficiency cellular reprogramming with microfluidics. Nat. Methods 13, 446–452 (2016).

9.

Zhang, J. et al. LIN28 regulates stem cell metabolism and conversion to primed pluripotency. Cell Stem Cell 19, 66–80 (2016).

10.

Takashima, Y. et al. Resetting transcription factor control circuitry toward ground-state pluripotency in. Hum. Cell 158, 1254–1269 (2014).

11.

Theunissen, T. W. et al. Systematic identification of culture conditions for induction and maintenance of naive human pluripotency. Cell Stem Cell 15, 471–487 (2014).

12.

Warren, L. et al. Highly efficient reprogramming to pluripotency and directed differentiation of human cells with synthetic modified mRNA. Cell Stem Cell 7, 618–630 (2010).

13.

Gafni, O. et al. Derivation of novel human ground state naive pluripotent stem cells. Nature 504, 282–286 (2013).

14.

Pastor, W. A. et al. Naive human pluripotent cells feature a methylation landscape devoid of blastocyst or germline memory. Cell Stem Cell 18, 323–329 (2016).

15.

Yoshida, Y., Takahashi, K., Okita, K., Ichisaka, T. & Yamanaka, S. Hypoxia enhances the generation of induced pluripotent stem cells. Cell Stem Cell 5, 237–241 (2009).

16.

Watanabe, K. et al. A ROCK inhibitor permits survival of dissociated human embryonic stem cells. Nat Biotechnol. 6, 681–686 (2007).

17.

Theunissen, T. W. et al. Molecular criteria for defining the naive human pluripotent state. Cell Stem Cell 19, 502–515 (2016).

18.

Guo, G. et al. Naive pluripotent stem cells derived directly from isolated cells of the human inner cell mass. Stem Cell Rep. 6, 437–446 (2016).

19.

Liu, X. et al. Comprehensive characterization of distinct states of human naive pluripotency generated by reprogramming. Nat. Methods 14, 1055–1062 (2017).

20.

Kilens, S. et al. Parallel derivation of isogenic human primed and naive induced pluripotent stem cells. Nat. Commun. 9, 360 (2018).

21.

Cacchiarelli, D. et al. Integrative analyses of human reprogramming reveal dynamic nature of induced pluripotency. Cell 162, 412–424 (2015).

22.

Smith, Z. D. et al. DNA methylation dynamics of the human preimplantation embryo. Nature 511, 611 (2014).

23.

Okae, H. et al. Genome-wide analysis of DNA methylation dynamics during early human development. PLoS Genet. 10, e1004868 (2014).

24.

Sahakyan, A. et al. Human naive pluripotent stem cells model X chromosome dampening and X inactivation. Cell Stem Cell 20, 87–101 (2017).

25.

Carbognin, E., Betto, R. M., Soriano, M. E., Smith, A. G. & Martello, G. Stat3 promotes mitochondrial transcription and oxidative respiration during maintenance and induction of naive pluripotency. EMBO J. 35, 618–634 (2016).

26.

Lee, J.-H. et al. Lineage-specific differentiation is influenced by state of human pluripotency. Cell Rep. 19, 20–35 (2017).

27.

Warrier, S. et al. Direct comparison of distinct naive pluripotent states in human embryonic stem cells. Nat. Commun. 8, 15055 (2017).

28.

Hay, D. C. et al. Efficient differentiation of hepatocytes from human embryonic stem cells exhibiting markers recapitulating liver development in vivo. Stem Cells 26, 894–902 (2008).

29.

Errichelli, L. et al. FUS affects circular RNA expression in murine embryonic stem cell-derived motor neurons. Nat. Commun. 8, 14741 (2017).

30.

Schlaeger, T. M. et al. A comparison of non-integrating reprogramming methods. Nat. Biotechnol. 33, 58–63 (2014).

31.

Nakagawa, M. et al. Generation of induced pluripotent stem cells without Myc from mouse and human fibroblasts. Nat. Biotechnol. 26, 101–106 (2007).

32.

Wang, Y. et al. Unique molecular events during reprogramming of human somatic cells to induced pluripotent stem cells (iPSCs) at naïve state. eLife 7, e29518 (2018).

33.

Urbach, A., Bar-Nur, O., Daley, G. Q. & Benvenisty, N. Differential modeling of fragile X syndrome by human embryonic stem cells and induced pluripotent stem cells. Cell Stem Cell 6, 407–411 (2010).

34.

Blakeley, P. et al. Defining the three cell lineages of the human blastocyst by single-cell RNA-seq. Dev. Camb. Engl. 142, 3151–3165 (2015).

35.

Quintanilla, R. H. Jr, Asprer, J. S. T., Vaz, C., Tanavde, V. & Lakshmipathy, U. CD44 is a negative cell surface marker for pluripotent stem cell identification during human fibroblast reprogramming. PLoS ONE 9, e85419 (2014).

36.

Li, B. & Dewey, C. N. RSEM: accurate transcript quantification from RNA-Seq data with or without a reference genome. BMC Bioinformatics 12, 323 (2011).

37.

Dobin, A. et al. STAR: ultrafast universal RNA-seq aligner. Bioinforma. Oxf. Engl. 29, 15–21 (2013).

38.

Robinson, M. D., McCarthy, D. J. & Smyth, G. K. edgeR: a Bioconductor package for differential expression analysis of digital gene expression data. Bioinforma. Oxf. Engl. 26, 139–140 (2010).

39.

Risso, D., Schwartz, K., Sherlock, G. & Dudoit, S. GC-content normalization for RNA-Seq data. BMC Bioinformatics 12, 480 (2011).

40.

Krueger, F. & Andrews, S. R. Bismark: a flexible aligner and methylation caller for Bisulfite-Seq applications. Bioinforma. Oxf. Engl. 27, 1571–1572 (2011).

41.

Akalin, A. et al. methylKit: a comprehensive R package for the analysis of genome-wide DNA methylation profiles. Genome Biol. 13, R87 (2012).
Acknowledgements
The authors thank M. Montagner and S. Dupont for critical reading of the manuscript, and the Martello Laboratory for discussions and suggestions. Thanks are also given to the following: the Smith Laboratory for sharing reset H9 cells and plasmids; Miltenyi Biotec for providing mmRNAs; A. Rosa and R. De Santis for their help with the neuronal differentiation of niPSCs; and A. Manfredi, TIGEM NGS and the Bioinformatics Core for their technical support on library generation and data processing. The authors are indebted to P. Brun for providing primary skin fibroblasts. G.M.'s Laboratory is supported by grants from the Giovanni Armenise–Harvard Foundation, the Telethon Foundation (TCP13013) and an ERC Starting Grant (MetEpiStem). D.C.'s Laboratory is supported by grants from the Giovanni Armenise–Harvard Foundation, the Telethon Foundation, the Rita Levi Montalcini programme from MIUR and an ERC Starting Grant (CellKarma). C.R.'s Laboratory is supported by the Italian Association for Cancer Research (IG17185). M.J.Z. is supported by a BMBF eMed grant (01ZX1504) and the Max Planck Society. N.E.'s Laboratory is supported by grants from the University of Padova (TRANSAC and PRAT), the CaRiPaRo Foundation, the Telethon Foundation (GGP15275), an Oak Foundation Award (W1095/OCAY-14-19) and the NIHR GOSH BRC. The views expressed are those of the authors and not necessarily those of the NHS, the NIHR or the Department of Health.
Ethics declarations
Competing interests
S.G., M.P., N.E and G.M. are co-inventors on a patent filing describing the generation of human naive iPSCs from somatic cells. All other authors declare no competing interests.
Additional information
Publisher's note: Springer Nature remains neutral with regard to jurisdictional claims in published maps and institutional affiliations.
Integrated supplementary information
Supplementary information
About this article
Cite this article
Giulitti, S., Pellegrini, M., Zorzan, I. et al. Direct generation of human naive induced pluripotent stem cells from somatic cells in microfluidics. Nat Cell Biol 21, 275–286 (2019). https://doi.org/10.1038/s41556-018-0254-5
Received:

Accepted:

Published:

Issue Date: