Abstract
Chromatin plays a crucial role in gene regulation, and chromatin immunoprecipitation followed by sequencing (ChIP–seq) has been the standard technique for examining protein–DNA interactions across the whole genome. However, it is difficult to obtain epigenomic information from limited numbers of cells by ChIP–seq because of sample loss during chromatin preparation and inefficient immunoprecipitation. In this study, we established an immunoprecipitation-free epigenomic profiling method named chromatin integration labelling (ChIL), which enables the amplification of genomic sequences closely associated with the target molecules before cell lysis. Using ChIL followed by sequencing (ChIL–seq), we reliably detected the distributions of histone modifications and DNA-binding factors in 100–1,000 cells. In addition, ChIL–seq successfully detected genomic regions associated with histone marks at the single-cell level. Thus, ChIL–seq offers an alternative method to ChIP–seq for epigenomic profiling using small numbers of cells, in particular, those attached to culture plates and after immunofluorescence.
Access options
Subscribe to Journal
Get full journal access for 1 year
$99.00
only $8.25 per issue
All prices are NET prices.
VAT will be added later in the checkout.
Tax calculation will be finalised during checkout.
Rent or Buy article
Get time limited or full article access on ReadCube.
from$8.99
All prices are NET prices.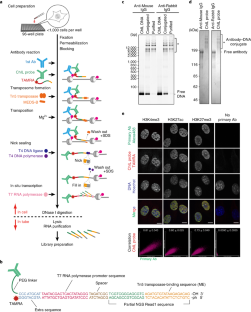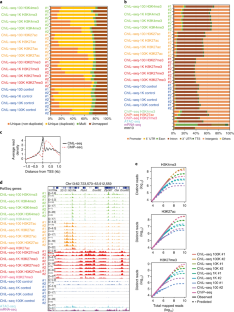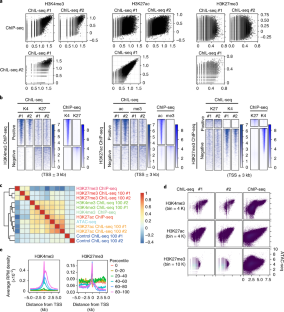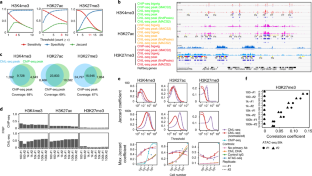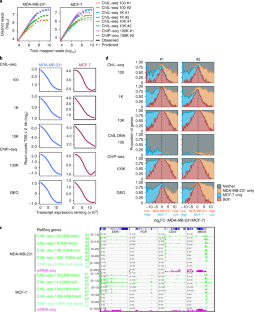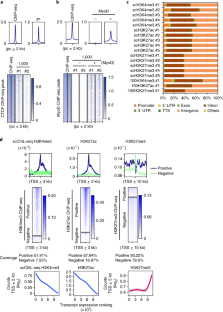 Data availability
Deep-sequencing (ChIP–seq and ChIL–seq) data in this study have been deposited in the Gene Expression Omnibus (GEO) under the accession code GSE115047. Previously published ChIP–seq, ATAC-seq and mRNA-seq data reanalysed in this work are available under accession codes GSE36023 (ChIP–seq C2C12 cells; H3K4me3 and H3K27me3), GSE65493 (ChIP–seq C2C12 cells; H3K9me3), GSE36024 (ChIP–seq C2C12 cells; CTCF and MyoD), GSE37525 (ChIP–seq C2C12 cells; H3K27ac), GSE89977 (ChIP–seq C2C12 cells; H3K4me3, H3K27ac and H3K27me3), GSE75169 (ChIP–seq MCF-7 cells; H3K4me3; ChIP–seq MDA-MB-231cells; H3K4me3), GSE63523 (ULI-NChIP TT2 cells; H3K4me3 for 5K, 10K and 100K cells)7, GSE74359 (Mint-ChIP K562 cells; H3K4me3 for 500, 1K, 10K and 100K cells)14, GSE72784 (Micro-ChIP E14 cells; H3K4me3 for 500, 1K, 10K and 100K cells)13, GSE71434 (STAR-ChIP R1 cells; H3K4me3 for 200 and 5K cells)15 and GSE104389 (ATAC-seq and mRNA-seq for C2C12 growth cells). Source data for Figs. 1e, 2a,b, 3c, 4d–f and 6c and Supplementary Figs. 1g, 3a, 4a,c,e, 5b and 6a,c have been provided as Supplementary Table 7. All other data supporting the findings of this work are available from the corresponding authors upon reasonable request.
References
1.

Mardis, E. R. ChIP–seq: welcome to the new frontier. Nat. Methods 4, 613–614 (2007).

2.

Park, P. J. ChIP–seq: advantages and challenges of a maturing technology. Nat. Rev. Genet. 10, 669–680 (2009).

3.

Hitchler, M. J. & Rice, J. C. Genome-wide epigenetic analysis of human pluripotent stem cells by ChIP and ChIP–seq. Methods Mol. Biol. 767, 253–267 (2011).

4.

Gilfillan, G. D. et al. Limitations and possibilities of low cell number ChIP–seq. BMC Genomics 13, 645 (2012).

5.

Shankaranarayanan, P. et al. Single-tube linear DNA amplification (LinDA) for robust ChIP–seq. Nat. Methods 8, 565–567 (2011).

6.

Zwart, W. et al. A carrier-assisted ChIP–seq method for estrogen receptor-chromatin interactions from breast cancer core needle biopsy samples. BMC Genomics 14, 232 (2013).

7.

Brind'Amour, J. et al. An ultra-low-input native ChIP–seq protocol for genome-wide profiling of rare cell populations. Nat. Commun. 6, 6033 (2015).

8.

Cao, Z. N., Chen, C. Y., He, B., Tan, K. & Lu, C. A microfluidic device for epigenomic profiling using 100 cells. Nat. Methods 12, 959–962 (2015).

9.

Jakobsen, J. S. et al. Amplification of pico-scale DNA mediated by bacterial carrier DNA for small-cell-number transcription factor ChIP–seq. BMC Genomics 16, 46 (2015).

10.

Rotem, A. et al. Single-cell ChIP–seq reveals cell subpopulations defined by chromatin state. Nat. Biotechnol. 33, 1165–1172 (2015).

11.

Schmidt, C., Rendeiro, A. F., Sheffield, N. C. & Bock, C. ChIPmentation: fast, robust, low-input ChIP–seq for histones and transcription factors. Nat. Methods 12, 963–965 (2015).

12.

Zheng, X. B. et al. Low-cell-number epigenome profiling aids the study of lens aging and hematopoiesis. Cell Rep. 13, 1505–1518 (2015).

13.

Dahl, J. A. et al. Broad histone H3K4me3 domains in mouse oocytes modulate maternal-to-zygotic transition. Nature 537, 548–552 (2016).

14.

van Galen, P. et al. A multiplexed system for quantitative comparisons of chromatin landscapes. Mol. Cell 61, 170–180 (2016).

15.

Zhang, B. J. et al. Allelic reprogramming of the histone modification H3K4me3 in early mammalian development. Nature 537, 553–557 (2016).

16.

Skene, P. J. & Henikoff, S. An efficient targeted nuclease strategy for high-resolution mapping of DNA binding sites. eLife 6, e21856 (2017).

17.

Skene, P. J., Henikoff, J. G. & Henikoff, S. Targeted in situ genome-wide profiling with high efficiency for low cell numbers. Nat. Protoc. 13, 1006–1019 (2018).

18.

Zarnegar, M. A., Reinitz, F., Newman, A. M. & Clarke, M. F. Targeted chromatin ligation, a robust epigenetic profiling technique for small cell numbers. Nucleic Acids Res. 45, e153 (2017).

19.

Schmid, M., Durussel, T. & Laemmli, U. K. ChIC and ChEC; genomic mapping of chromatin proteins. Mol. Cell 16, 147–157 (2004).

20.

Kazane, S. A. et al. Site-specific DNA-antibody conjugates for specific and sensitive immuno-PCR. Proc. Natl Acad. Sci. USA 109, 3731–3736 (2012).

21.

Sos, B. C. et al. Characterization of chromatin accessibility with a transposome hypersensitive sites sequencing (THS-seq) assay. Genome Biol. 17, 20 (2016).

22.

Buenrostro, J. D., Giresi, P. G., Zaba, L. C., Chang, H. Y. & Greenleaf, W. J. Transposition of native chromatin for fast and sensitive epigenomic profiling of open chromatin, DNA-binding proteins and nucleosome position. Nat. Methods 10, 1213–1218 (2013).

23.

Mikkelsen, T. S. et al. Genome-wide maps of chromatin state in pluripotent and lineage-committed cells. Nature 448, 553–560 (2007).

24.

Daley, T. & Smith, A. D. Predicting the molecular complexity of sequencing libraries. Nat. Methods 10, 325–327 (2013).

25.

Heinz, S. et al. Simple combinations of lineage-determining transcription factors prime cis-regulatory elements required for macrophage and B cell identities. Mol. Cell 38, 576–589 (2010).

26.

McLean, C. Y. et al. GREAT improves functional interpretation of cis-regulatory regions. Nat. Biotechnol. 28, 495–501 (2010).

27.

Holliday, D. L. & Speirs, V. Choosing the right cell line for breast cancer research. Breast Cancer Res. 13, 215 (2011).

28.

Lara-Astiaso, D. et al. Chromatin state dynamics during blood formation. Science 345, 943–949 (2014).

29.

Chen, X. Q. et al. ATAC-see reveals the accessible genome by transposase-mediated imaging and sequencing. Nat. Methods 13, 1013–1020 (2016).

30.

Stahl, P. L. et al. Visualization and analysis of gene expression in tissue sections by spatial transcriptomics. Science 353, 78–82 (2016).

31.

Stoeckius, M. et al. Simultaneous epitope and transcriptome measurement in single cells. Nat. Methods 14, 865–868 (2017).

32.

Harada, A. et al. Incorporation of histone H3.1 suppresses the lineage potential of skeletal muscle. Nucleic Acids Res. 43, 775–786 (2015).

33.

Kimura, H., Hayashi-Takanaka, Y., Goto, Y., Takizawa, N. & Nozaki, N. The organization of histone H3 modifications as revealed by a panel of specific monoclonal antibodies. Cell Struct. Funct. 33, 61–73 (2008).

34.

Hayashi-Takanaka, Y. et al. Tracking epigenetic histone modifications in single cells using Fab-based live endogenous modification labeling. Nucleic Acids Res. 39, 6475–6488 (2011).

35.

Picelli, S. et al. Tn5 transposase and tagmentation procedures for massively scaled sequencing projects. Genome Res. 24, 2033–2040 (2014).

36.

Handa, T., Harada, A., Maehara, K., Ohkawa, Y. & Kimura, H. Detailed protocol—chromatin integration labeling. Protoc. Exch. https://doi.org/10.1038/protex.2018.122 (2018).

37.

Kim, D., Landmead, B. & Salzberg, S. L. HISAT: a fast spliced aligner with low memory requirements. Nat. Methods 12, 357–360 (2015).

38.

Ramirez, F., Dundar, F., Diehl, S., Gruning, B. A. & Manke, T. deepTools: a flexible platform for exploring deep-sequencing data. Nucleic Acids Res. 42, W187–W191 (2014).

39.

Maehara, K. & Ohkawa, Y. agplus: A rapid and flexible tool for aggregation plots. Bioinformatics 31, 3046–3047 (2015).

40.

Zuo, C. & Keles, S. A statistical framework for power calculations in ChIP–seq experiments. Bioinformatics 30, 753–760 (2014).
Acknowledgements
We are grateful to the staff of Ohkawa Lab and S. Sekine (Waseda University, Tokyo, Japan) for technical supports, and Y. Sato (Tokyo Tech, Yokohama, Japan) for discussion and drawing the ChIL scheme illustrations. We also thank the Advanced Computational Scientific Program of the Research Institute for Information Technology, Kyushu University and the National Institute of Genetics, for providing high-performance computing resources. This work was in part supported by MEXT/JSPS KAKENHI (JP25116010, JP17H03608, JP17K19356, JP18H04802 and JP18H05527 to Y.O., JP16H01219, JP15K18457 and JP18K19432 to A.H., JP16K18479, JP16H01577, JP16H01550 and JP18H04904 to K.M., JP25116002, JP17H01408 and JP18H05534 to H.Kurumizaka and JP25116005, JP26291071, JP17H01417 and JP18H05527 to H.Kimura), JST CREST (JPMJCR16G1 to Y.O., H.Kurumizaka, and H.Kimura), the Platform for Drug Discovery, Informatics, and Structural Life Science, and the Platform Project for Supporting Drug Discovery and Life Science Research from the Japan Agency for Medical Research and Development (to K.S., H.Kimura and H.Kurumizaka). H.Kurumizaka was also supported by the Waseda Research Institute for Science and Engineering and by programs of Waseda University.
Ethics declarations
Competing interests
A.H., T.H., Y.H.-T., H.Kurumizaka, H.Kimura and Y.O. are involved in a pending patent related to ChIL technology. All other authors declare no competing interests.
Additional information
Publisher's note: Springer Nature remains neutral with regard to jurisdictional claims in published maps and institutional affiliations.
Integrated supplementary information
Supplementary information
About this article
Cite this article
Harada, A., Maehara, K., Handa, T. et al. A chromatin integration labelling method enables epigenomic profiling with lower input. Nat Cell Biol 21, 287–296 (2019). https://doi.org/10.1038/s41556-018-0248-3
Received:

Accepted:

Published:

Issue Date: