Abstract
Tissue morphogenesis is driven by mechanical forces that elicit changes in cell size, shape and motion. The extent by which forces deform tissues critically depends on the rheological properties of the recipient tissue. Yet, whether and how dynamic changes in tissue rheology affect tissue morphogenesis and how they are regulated within the developing organism remain unclear. Here, we show that blastoderm spreading at the onset of zebrafish morphogenesis relies on a rapid, pronounced and spatially patterned tissue fluidization. Blastoderm fluidization is temporally controlled by mitotic cell rounding-dependent cell–cell contact disassembly during the last rounds of cell cleavages. Moreover, fluidization is spatially restricted to the central blastoderm by local activation of non-canonical Wnt signalling within the blastoderm margin, increasing cell cohesion and thereby counteracting the effect of mitotic rounding on contact disassembly. Overall, our results identify a fluidity transition mediated by loss of cell cohesion as a critical regulator of embryo morphogenesis.
Relevant articles
Open Access articles citing this article.
Laura Bocanegra-Moreno

,

Amrita Singh

…

Anna Kicheva

Nature Physics Open Access 06 April 2023

Timo Kuhn

,

Amit N. Landge

…

J. Christof M. Gebhardt

Nature Communications Open Access 15 October 2022

Maria Jussila

,

Curtis W. Boswell

…

Brian Ciruna

Nature Communications Open Access 23 September 2022
Access options
Access Nature and 54 other Nature Portfolio journals
Get Nature+, our best-value online-access subscription
$29.99 / 30 days
cancel any time
Subscribe to this journal
Receive 12 print issues and online access
$209.00 per year
only $17.42 per issue
Rent or buy this article
Prices vary by article type
from$1.95
to$39.95
Prices may be subject to local taxes which are calculated during checkout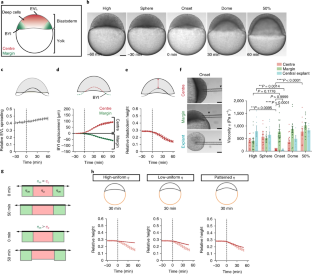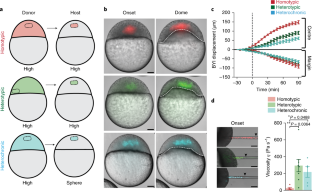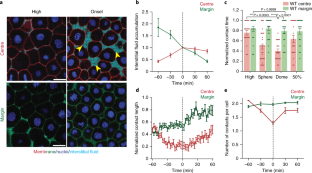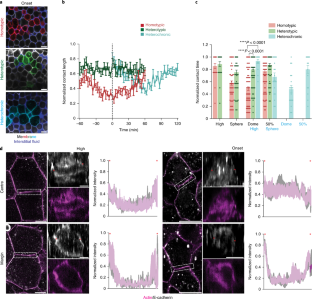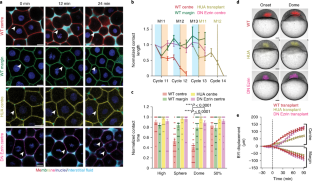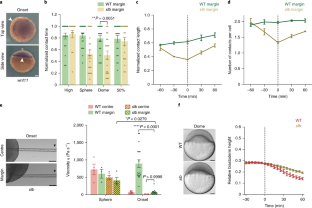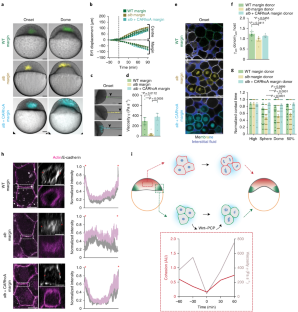 Data availability
Source data for Figs. 1c–f, 2c,d, 3b–e, 4b–d, 5b,c,e, 6b–f and 7b,d,f–h and Supplementary Figs. 1b–g, 2a,b,d, 3b,c, 4, 5a–d,f, 6b–e,h,i and 7a,d–f,h,i have been provided as Supplementary Table 3. All other data supporting the findings of this study are available from the corresponding author upon request.
References
Heisenberg, C. P. & Bellaïche, Y. Forces in tissue morphogenesis and patterning. Cell 153, 948–962 (2013).

Petridou, N. I., Spiró, Z. & Heisenberg, C. P. Multiscale force sensing in development. Nat. Cell Biol. 19, 581–588 (2017).

Gonzalez-Rodriguez, D., Guevorkian, K., Douezan, S. & Brochard-Wyart, F. Soft matter models of developing tissues and tumors. Science 338, 910–917 (2012).

Forgacs, G., Foty, R. A., Shafrir, Y. & Steinberg, M. S. Viscoelastic properties of living embryonic tissues: a quantitative study. Biophys. J. 74, 2227–2234 (1998).

Lawton, A. K. et al. Regulated tissue fluidity steers zebrafish body elongation. Development 140, 573–582 (2013).

Mongera, A. et al. A fluid-to-solid jamming transition underlies vertebrate body axis elongation. Nature 561, 401–405 (2018).

Serwane, F. et al. In vivo quantification of spatially varying mechanical properties in developing tissues. Nat. Methods 14, 181–186 (2017).

Moore, S. W., Keller, R. E. & Koehl, M. A. The dorsal involuting marginal zone stiffens anisotropically during its convergent extension in the gastrula of Xenopus laevis. Development 121, 3131–3140 (1995).

Shook, D. R., Kasprowicz, E. M., Davidson, L. A. & Keller, R. Large, long range tensile forces drive convergence during Xenopus blastopore closure and body axis elongation. eLife 7, e26944 (2018).

David, R. et al. Tissue cohesion and the mechanics of cell rearrangement. Development 141, 3672–3682 (2014).

Ranft, J. et al. Fluidization of tissues by cell division and apoptosis. Proc. Natl Acad. Sci. USA 107, 20863–20868 (2010).

Stirbat, T. V. et al. Fine tuning of tissues' viscosity and surface tension through contractility suggests a new role for α-catenin. PLoS ONE 8, e52554 (2013).

Bi, D., Lopez, J. H., Schwarz, J. M. & Manning, M. L. A density-independent rigidity transition in biological tissues. Nat. Phys. 11, 1074–1079 (2015).

Bi, D., Yang, X., Marchetti, M. C. & Manning, M. L. Motility-driven glass and jamming transitions in biological tissues. Phys. Rev. X 6, 1–13 (2016).

Angelini, T. E. et al. Glass-like dynamics of collective cell migration. Proc. Natl Acad. Sci. USA 108, 4714–4719 (2011).

Sadati, M., Taheri Qazvini, N., Krishnan, R., Park, C. Y. & Fredberg, J. J. Collective migration and cell jamming. Differentiation 86, 121–125 (2013).

Bruce, A. E. E. Zebrafish epiboly: spreading thin over the yolk. Dev. Dyn. 245, 244–258 (2016).

Lepage, S. E. & Bruce, A. E. E. Zebrafish epiboly: mechanics and mechanisms. Int. J. Dev. Biol. 54, 1213–1228 (2010).

Morita, H. et al. The physical basis of coordinated tissue spreading in zebrafish gastrulation. Dev. Cell 40, 354–366.e4 (2017).

Davidson, L. A. Embryo mechanics: balancing force production with elastic resistance during morphogenesis. Curr. Top. Dev. Biol. 95, 215–241 (2011).

Guevorkian, K., Colbert, M. J., Durth, M., Dufour, S. & Brochard-Wyart, F. Aspiration of biological viscoelastic drops. Phys. Rev. Lett. 104, 1–4 (2010).

Guevorkian, K. & Maître, J. L. Micropipette aspiration: a unique tool for exploring cell and tissue mechanics in vivo. Methods Cell Biol. 139, 187–201 (2017).

Fukazawa, C. et al. poky/chuk/ikk1 is required for differentiation of the zebrafish embryonic epidermis. Dev. Biol. 346, 272–283 (2010).

Song, S. et al. Pou5f1-dependent EGF expression controls E-cadherin endocytosis, cell adhesion, and zebrafish epiboly movements. Dev. Cell 24, 486–507 (2013).

Shimizu, T. et al. E-cadherin is required for gastrulation cell movements in zebrafish. Mech. Dev. 122, 747–763 (2005).

Maitre, J.-L. et al. Adhesion functions in cell sorting by mechanically coupling the cortices of adhering cells. Science 338, 253–256 (2012).

Mendieta-Serrano, M. A., Schnabel, D., Lomelí, H. & Salas-Vidal, E. Cell proliferation patterns in early zebrafish development. Anat. Rec. 296, 759–773 (2013).

Kimmel, C. B., Ballard, W. W., Kimmel, S. R., Ullmann, B. & Schilling, T. F. Stages of embryonic development of the zebrafish. Dev. Dyn. 203, 253–310 (1995).

Sorce, B. et al. Mitotic cells contract actomyosin cortex and generate pressure to round against or escape epithelial confinement. Nat. Commun. 6, 8872 (2015).

Stewart, M. P. et al. Hydrostatic pressure and the actomyosin cortex drive mitotic cell rounding. Nature 469, 226–231 (2011).

Théry, M. & Bornens, M. Get round and stiff for mitosis. HFSP J. 2, 65–71 (2008).

Rosenblatt, J. Mitosis: moesin and the importance of being round. Curr. Biol. 18, 1–6 (2015).

Carreno, S. et al. Moesin and its activating kinase Slik are required for cortical stability and microtubule organization in mitotic cells. J. Cell Biol. 180, 739–746 (2008).

Tachibana, K., Haghparast, S. M. A. & Miyake, J. Inhibition of cell adhesion by phosphorylated ezrin/radixin/moesin. Cell Adhes. Migr. 9, 502–512 (2015).

Makita, R., Mizuno, T., Koshida, S., Kuroiwa, A. & Takeda, H. Zebrafish wnt11: pattern and regulation of the expression by the yolk cell and no tail activity. Mech. Dev. 71, 165–176 (1998).

Witzel, S., Zimyanin, V., Carreira-Barbosa, F., Tada, M. & Heisenberg, C. P. Wnt11 controls cell contact persistence by local accumulation of Frizzled 7 at the plasma membrane. J. Cell Biol. 175, 791–802 (2006).

Heisenberg, C.-P. et al. Silberblick/Wnt11 mediates convergent extension movements during zebrafish gastrulation. Nature 405, 76–81 (2000).

Ulrich, F. et al. Slb/Wnt11 controls hypoblast cell migration and morphogenesis at the onset of zebrafish gastrulation. Development 130, 5375–5384 (2003).

Dzamba, B. J., Jakab, K. R., Marsden, M., Schwartz, M. A. & DeSimone, D. W. Cadherin adhesion, tissue tension, and noncanonical Wnt signaling regulate fibronectin matrix organization. Dev. Cell 16, 421–432 (2009).

Brodland, G. W. et al. CellFIT: a cellular force-inference toolkit using curvilinear cell boundaries. PLoS ONE 9, e99116 (2014).

Firmino, J., Rocancourt, D., Saadaoui, M., Moreau, C. & Gros, J. Cell division drives epithelial cell rearrangements during gastrulation in chick. Dev. Cell 36, 249–261 (2016).

Meilhac, S. M. et al. Active cell movements coupled to positional induction are involved in lineage segregation in the mouse blastocyst. Dev. Biol. 331, 210–221 (2009).

Xenopoulos, P., Kang, M. & Hadjantonakis, A.-K. Cell lineage allocation within the inner cell mass of the mouse blastocyst. Results Probl. Cell Differ. 55, 185–202 (2012).

Ulrich, F. et al. Wnt11 functions in gastrulation by controlling cell cohesion through Rab5c and E-cadherin. Dev. Cell 9, 555–564 (2005).

Schoetz, E.-M., Lanio, M., Talbot, J. A. & Manning, M. L. Glassy dynamics in three-dimensional embryonic tissues. J. R. Soc. Interface 10, 20130726 (2013).

Detrich, W. H. I., Westerfield, M. & Zon, L. I. (eds) The Zebrafish: Biology (Academic Press, Cambridge, 1999).

Behrndt, M. et al. Forces driving epithelial spreading in zebrafish gastrulation. Science 338, 257–260 (2012).

Quesada-Hernández, E. et al. Stereotypical cell division orientation controls neural rod midline formation in zebrafish. Curr. Biol. 20, 1966–1972 (2010).

Wagner, D. S., Dosch, R., Mintzer, K. A., Wiemelt, A. P. & Mullins, M. C. Maternal control of development at the midblastula transition and beyond: mutants from the zebrafish II. Dev. Cell 6, 781–790 (2004).

Kimmel, C. B. & Law, R. D. Cell lineage of zebrafish blastomeres. I. Cleavage pattern and cytoplasmic bridges between cells. Dev. Biol. 108, 78–85 (1985).

Kimmel, R. A. & Meyer, D. Molecular regulation of pancreas development in zebrafish. Methods Cell Biol. 100, 261–280 (2010).

Iioka, H., Ueno, N. & Kinoshita, N. Essential role of MARCKS in cortical actin dynamics during gastrulation movements. J. Cell Biol. 164, 169–174 (2004).

Arboleda-Estudillo, Y. et al. Movement directionality in collective migration of germ layer progenitors. Curr. Biol. 20, 161–169 (2010).

Keller, P. J., Schmidt, A. D., Wittbrodt, J. & Stelzer, E. H. K. Reconstruction of zebrafish early embryonic development by scanned light sheet microscopy. Science 322, 1065–1069 (2008).

Ruprecht, V. et al. Cortical contractility triggers a stochastic switch to fast amoeboid cell motility. Cell 160, 673–685 (2015).

Jopling, C. & den Hertog, J. Fyn/Yes and non-canonical Wnt signalling converge on RhoA in vertebrate gastrulation cell movements. EMBO Rep. 6, 426–431 (2005).

Krens, S. F. G. et al. Interstitial fluid osmolarity modulates the action of differential tissue surface tension in progenitor cell segregation during gastrulation. Development 144, 1798–1806 (2017).

Brodland, G. W. et al. Video force microscopy reveals the mechanics of ventral furrow invagination in Drosophila. Proc. Natl Acad. Sci. USA 107, 22111–22116 (2010).

Thisse, C., Thisse, B., Halpern, M. E. & Postlethwait, J. H. Goosecoid expression in neurectoderm and mesendoderm is disrupted in zebrafish cyclops gastrulas. Dev. Biol. 164, 420–429 (1994).
Acknowledgements
We thank O. Campas and members of the Heisenberg laboratory for technical advice and discussions, and the Bioimaging and zebrafish facilities of the IST Austria for continuous support. This work was supported by a postdoctoral fellowship from EMBO Long-term fellowships to N.I.P. (ALTF-534 2016) and an ERC Advanced Grant (MECSPEC) to C.-P.H. S.G. and G.S. were supported by The Francis Crick Institute, which receives its core funding from Cancer Research UK (FC001317), the UK Medical Research Council (FC001317) and the Wellcome Trust (FC001317).
Ethics declarations
Competing interests
The authors declare no competing interests.
Additional information
Publisher's note: Springer Nature remains neutral with regard to jurisdictional claims in published maps and institutional affiliations.
Integrated supplementary information
Supplementary information
About this article
Cite this article
Petridou, N.I., Grigolon, S., Salbreux, G. et al. Fluidization-mediated tissue spreading by mitotic cell rounding and non-canonical Wnt signalling. Nat Cell Biol 21, 169–178 (2019). https://doi.org/10.1038/s41556-018-0247-4
Received:

Accepted:

Published:

Issue Date:

DOI: https://doi.org/10.1038/s41556-018-0247-4