Abstract
N6-methyldeoxyadenine (6mA), a major type of DNA methylation in bacteria, represents a part of restriction-modification systems to discriminate host genome from invader DNA1. With the recent advent of more sensitive detection techniques, 6mA has also been detected in some eukaryotes2,3,4,5,6,7,8. However, the physiological function of this epigenetic mark in eukaryotes remains elusive. Heritable changes in DNA 5mC methylation have been associated with transgenerational inheritance of responses to a high-fat diet9, thus raising the exciting possibility that 6mA may also be transmitted across generations and serve as a carrier of inheritable information. Using Caenorhabditis elegans as a model, here we report that histone H3K4me3 and DNA 6mA modifications are required for the transmission of mitochondrial stress adaptations to progeny. Intriguingly, the global DNA 6mA level is significantly elevated following mitochondrial perturbation. N6-methyldeoxyadenine marks mitochondrial stress response genes and promotes their transcription to alleviate mitochondrial stress in progeny. These findings suggest that 6mA is a precisely regulated epigenetic mark that modulates stress response and signals transgenerational inheritance in C. elegans.
Access options
Subscribe to Journal
Get full journal access for 1 year
$225.00
only $18.75 per issue
All prices are NET prices.
VAT will be added later in the checkout.
Rent or Buy article
Get time limited or full article access on ReadCube.
from$8.99
All prices are NET prices.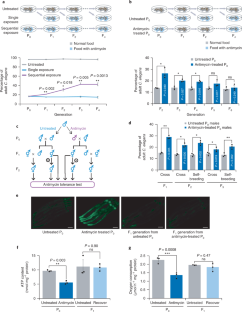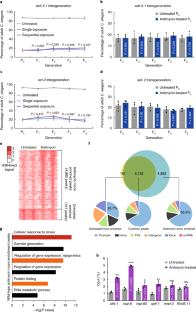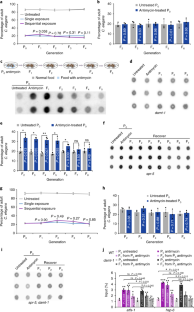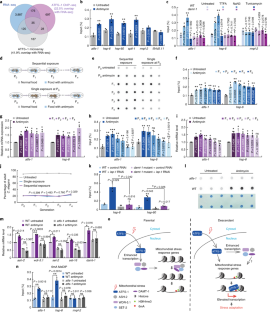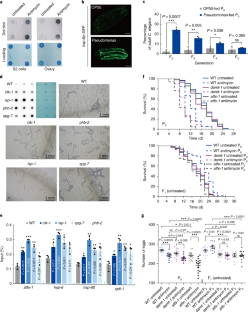 Data availability
Deep-sequencing (ChIP-seq, MeDIP-seq and RNA-seq) data that support the findings of this study have been deposited in the GEO under accession codes GSE85835 (H3K4me3 ChIP-seq), GSE118268 (6mA MeDIP-seq) and GSE118175 (RNA-seq). Previously published ATFS-1 ChIP-seq and atfs-1 mutant microarray data that were re-analysed here are under the accession codes GSE63803 (ATFS-1 ChIP-seq)13 and GSE38196 (atfs-1 mutant microarray)17.
References
1.

Heyn, H. & Esteller, M. An adenine code for DNA: a second life for N6-methyladenine. Cell 161, 710–713 (2015).

2.

Greer, E. L. et al. DNA methylation on N6-adenine in C. elegans. Cell 161, 868–878 (2015).

3.

Zhang, G. et al. N6-methyladenine DNA modification in Drosophila. Cell 161, 893–906 (2015).

4.

Koziol, M. J. et al. Identification of methylated deoxyadenosines in vertebrates reveals diversity in DNA modifications. Nat. Struct. Mol. Biol. 23, 24–30 (2016).

5.

Wu, T. P. et al. DNA methylation on N(6)-adenine in mammalian embryonic stem cells. Nature 532, 329–333 (2016).

6.

Liu, J. et al. Abundant DNA 6mA methylation during early embryogenesis of zebrafish and pig. Nat. Commun. 7, 13052 (2016).

7.

Yao, B. et al. DNA N6-methyladenine is dynamically regulated in the mouse brain following environmental stress. Nat. Commun. 8, 1122 (2017).

8.

Xiao, C. L. et al. N(6)-methyladenine DNA modification in the human genome. Mol. Cell 71, 306–318.e307 (2018).

9.

Ng, S. F. et al. Chronic high-fat diet in fathers programs beta-cell dysfunction in female rat offspring. Nature 467, 963–966 (2010).

10.

Wang, S. & Kaufman, R. J. The impact of the unfolded protein response on human disease. J. Cell Biol. 197, 857–867 (2012).

11.

Yoneda, T. et al. Compartment-specific perturbation of protein handling activates genes encoding mitochondrial chaperones. J. Cell Sci. 117, 4055–4066 (2004).

12.

Houtkooper, R. H. et al. Mitonuclear protein imbalance as a conserved longevity mechanism. Nature 497, 451–457 (2013).

13.

Nargund, A. M., Fiorese, C. J., Pellegrino, M. W., Deng, P. & Haynes, C. M. Mitochondrial and nuclear accumulation of the transcription factor ATFS-1 promotes OXPHOS recovery during the UPR(mt). Mol. Cell 58, 123–133 (2015).

14.

Liu, Y., Samuel, B. S., Breen, P. C. & Ruvkun, G. Caenorhabditis elegans pathways that surveil and defend mitochondria. Nature 508, 406–410 (2014).

15.

Greer, E. L. et al. Transgenerational epigenetic inheritance of longevity in Caenorhabditis elegans. Nature 479, 365–371 (2011).

16.

Greer, E. L. et al. Members of the H3K4 trimethylation complex regulate lifespan in a germline-dependent manner in C. elegans. Nature 466, 383–387 (2010).

17.

Nargund, A. M., Pellegrino, M. W., Fiorese, C. J., Baker, B. M. & Haynes, C. M. Mitochondrial import efficiency of ATFS-1 regulates mitochondrial UPR activation. Science 337, 587–590 (2012).

18.

R Core Team R: A Language and Environment for Statistical Computing (R Foundation for Statistical Computing, 2013).

19.

Stouder, C. & Paoloni-Giacobino, A. Transgenerational effects of the endocrine disruptor vinclozolin on the methylation pattern of imprinted genes in the mouse sperm. Reproduction 139, 373–379 (2010).

20.

Burdge, G. C. et al. Dietary protein restriction of pregnant rats in the F0 generation induces altered methylation of hepatic gene promoters in the adult male offspring in the F1 and F2 generations. Br. J. Nutr. 97, 435–439 (2007).

21.

Marinus, M. G. & Morris, N. R. Isolation of deoxyribonucleic acid methylase mutants of Escherichia coli K-12. J. Bacteriol. 114, 1143–1150 (1973).

22.

Christensen, J. et al. RBP2 belongs to a family of demethylases, specific for tri-and dimethylated lysine 4 on histone 3. Cell 128, 1063–1076 (2007).

23.

Dillin, A. et al. Rates of behavior and aging specified by mitochondrial function during development. Science 298, 2398–2401 (2002).

24.

Lee, S. S. et al. A systematic RNAi screen identifies a critical role for mitochondria in C. elegans longevity. Nat. Genet. 33, 40–48 (2003).

25.

Copeland, J. M. et al. Extension of Drosophila life span by RNAi of the mitochondrial respiratory chain. Curr. Biol. 19, 1591–1598 (2009).

26.

Liu, X. et al. Evolutionary conservation of the clk-1-dependent mechanism of longevity: loss of mclk1 increases cellular fitness and lifespan in mice. Genes Dev. 19, 2424–2434 (2005).

27.

Melo, J. A. & Ruvkun, G. Inactivation of conserved C. elegans genes engages pathogen- and xenobiotic-associated defenses. Cell 149, 452–466 (2012).

28.

Bolger, A. M., Lohse, M. & Usadel, B. Trimmomatic: a flexible trimmer for Illumina sequence data. Bioinformatics 30, 2114–2120 (2014).

29.

Langmead, B. & Salzberg, S. L. Fast gapped-read alignment with Bowtie 2. Nat. Methods 9, 357–359 (2012).

30.

Zhang, Y. et al. Model-based analysis of ChIP-Seq (MACS). Genome Biol. 9, R137 (2008).

31.

Ramirez, F., Dundar, F., Diehl, S., Gruning, B. A. & Manke, T. deepTools: a flexible platform for exploring deep-sequencing data. Nucleic Acids Res. 42, W187–W191 (2014).

32.

Robinson, J. T. et al. Integrative genomics viewer. Nat. Biotechnol. 29, 24–26 (2011).

33.

Heinz, S. et al. Simple combinations of lineage-determining transcription factors prime cis-regulatory elements required for macrophage and B cell identities. Mol. Cell 38, 576–589 (2010).

34.

Eden, E., Navon, R., Steinfeld, I., Lipson, D. & Yakhini, Z. GOrilla: a tool for discovery and visualization of enriched GO terms in ranked gene lists. BMC Bioinform. 10, 48 (2009).

35.

Wickham, H. ggplot2: Elegant Graphics For Data Analysis (Springer, New York, 2009).
Acknowledgements
We thank G. Ruvkun and Q. Liu for critical suggestions and proofreading. We thank J. Zhu for providing cell line and technical support, C. Haynes, the National Bio-Resource Project and the Caenorhabditis Genetics Center (funded by NIH Office of Research Infrastructure Programs grant no. P40 OD010440) for providing strains. This work was supported by the National Natural Science Foundation of China (grant nos.91854205, 31422033, and 31471381) the Ministry of Science and Technology of China (National Key Research and Development Program of China grant no. 2017YFA0504000973 and 973 grant no. 2013CB910104), Peking-Tsinghua Center for Life Sciences and an HHMI International Research Scholar Award (grant no. 55008739) to Y.Liu. C. Ma is supported in part by the Postdoctoral Fellowship of Peking-Tsinghua Center for Life Sciences.
Ethics declarations
Competing interests
The authors declare no competing interests.
Additional information
Publisher's note: Springer Nature remains neutral with regard to jurisdictional claims in published maps and institutional affiliations.
Integrated supplementary information
Supplementary information
About this article
Cite this article
Ma, C., Niu, R., Huang, T. et al. N6-methyldeoxyadenine is a transgenerational epigenetic signal for mitochondrial stress adaptation. Nat Cell Biol 21, 319–327 (2019). https://doi.org/10.1038/s41556-018-0238-5
Received:

Accepted:

Published:

Issue Date: