Abstract
Mutations in, and the altered expression of, epigenetic modifiers are pervasive in human tumours, making epigenetic factors attractive antitumour targets. The open-versus-closed chromatin state within the cells-of-origin of cancer correlates with the uneven distribution of mutations. However, the long-term effect of targeting epigenetic modifiers on mutability in patients with cancer is unclear. Here, we increased chromatin accessibility by deleting the histone H3 lysine 9 (H3K9) methyltransferase G9a in murine epidermis and show that this does not alter the single nucleotide variant burden or global genomic distribution in chemical mutagen-induced squamous tumours. G9a-depleted tumours develop after a prolonged latency compared with their wild-type counterparts, but are more aggressive and have an expanded cancer progenitor pool, pronounced genomic instability and frequent loss-of-function p53 mutations. Thus, we call for caution when assessing long-term therapeutic benefits of chromatin modifier inhibitors, which may promote more aggressive disease.
This is a preview of subscription content
Access options
Subscribe to Journal
Get full journal access for 1 year
$99.00
only $8.25 per issue
All prices are NET prices.
VAT will be added later in the checkout.
Tax calculation will be finalised during checkout.
Rent or Buy article
Get time limited or full article access on ReadCube.
from$8.99
All prices are NET prices.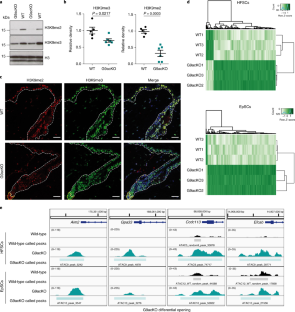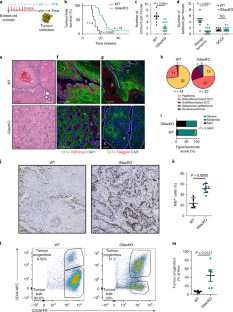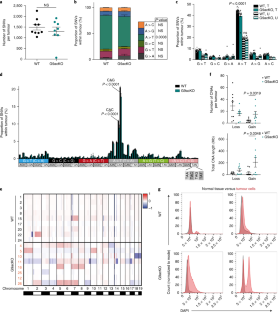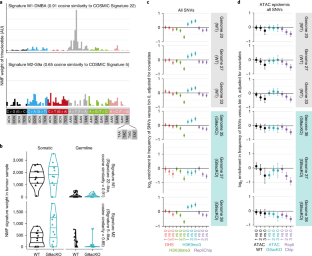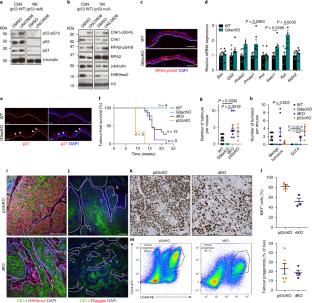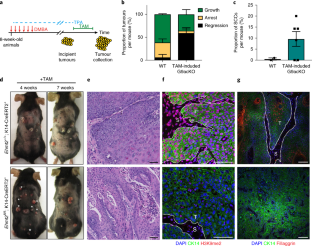 Data availability
Whole-genome expression, ATAC-seq and WES data that support the findings of this study have been deposited in the Gene Expression Omnibus (GEO) under accession code GSE99956. WGS data that support the findings of this study are available from the Sequence Read Archive (SRA) under accession code SRP133918. The epigenomic data for seven normal tissues (epidermis, heart, intestine, kidney, liver, lung and stomach) that describe local levels of various histone marks and DNase hypersensitivity were downloaded from https://www.encodeproject.org. Secondary accessions are as follows: DHS (ENCFF513QAB, ENCFF650OFZ, ENCFF299KAN, ENCFF890IPV, ENCFF540VTK, ENCFF417SAZ, ENCFF197TQR); H3K36me3 (ENCFF256PWZ, ENCFF085HHF, ENCFF103TPF, ENCFF706SAT, ENCFF555EBK, ENCFF165DVJ, ENCFF307IYH); H3K9me3 (ENCFF485MEK, ENCFF363IUI, ENCFF664YAD, ENCFF033IOU, ENCFF040LFN, ENCFF399KQJ, ENCFF591NXE). Replication time data were from ReplicationDomain.com (Int52769503, Ext42528275, Int20705995, Int61896107) and https://www.encodeproject.org (ENCFF001JTQ, ENCFF001JTL, ENCFF001JVQ). Source data for Figs. 1–6 and Supplementary Figs. 1–4 and 6 have been provided as Supplementary Table 8. All other data supporting the findings of this study are available from the corresponding authors upon reasonable request.
References
1.

Laugesen, A. & Helin, K. Chromatin repressive complexes in stem cells, development, and cancer. Cell Stem Cell 14, 735–751 (2014).

2.

Vavouri, T. & Lehner, B. Human genes with CpG island promoters have a distinct transcription-associated chromatin organization. Genome Biol. 13, R110 (2012).

3.

Avgustinova, A. & Benitah, S. A. Epigenetic control of adult stem cell function. Nat. Rev. Mol. Cell Biol. 17, 643–658 (2016).

4.

Ezhkova, E. et al. EZH1 and EZH2 cogovern histone H3K27 trimethylation and are essential for hair follicle homeostasis and wound repair. Gene Dev. 25, 485–498 (2011).

5.

Adam, R. C. et al. Pioneer factors govern super-enhancer dynamics in stem cell plasticity and lineage choice. Nature 521, 366–370 (2015).

6.

Ge, Y. et al. Stem cell lineage infidelity drives wound repair and cancer. Cell 169, 636–650 (2017).

7.

Tough, D. F., Lewis, H. D., Rioja, I., Lindon, M. J. & Prinjha, R. K. Epigenetic pathway targets for the treatment of disease: accelerating progress in the development of pharmacological tools: IUPHAR Review 11. Br. J. Pharmacol. 171, 4981–5010 (2014).

8.

Ahuja, N., Sharma, A. R. & Baylin, S. B. Epigenetic therapeutics: a new weapon in the war against cancer. Annu. Rev. Med. 67, 73–89 (2016).

9.

Avgustinova, A. & Benitah, S. A. The epigenetics of tumour initiation: cancer stem cells and their chromatin. Curr. Opin. Genet. Dev. 36, 8–15 (2016).

10.

You, J. S. & Jones, P. A. Cancer genetics and epigenetics: two sides of the same coin? Cancer Cell. 22, 9–20 (2012).

11.

Mohammad, F. et al. EZH2 is a potential therapeutic target for H3K27M-mutant pediatric gliomas. Nat. Med. 23, 483–492 (2017).

12.

Piunti, A. et al. Therapeutic targeting of polycomb and BET bromodomain proteins in diffuse intrinsic pontine gliomas. Nat. Med. 23, 493–500 (2017).

13.

Dawson, M. A. et al. Inhibition of BET recruitment to chromatin as an effective treatment for MLL-fusion leukaemia. Nature 478, 529–533 (2011).

14.

Rathert, P. et al. Transcriptional plasticity promotes primary and acquired resistance to BET inhibition. Nature 525, 543–547 (2015).

15.

Zuber, J. et al. RNAi screen identifies Brd4 as a therapeutic target in acute myeloid leukaemia. Nature 478, 524–528 (2011).

16.

Filippakopoulos, P. & Knapp, S. Targeting bromodomains: epigenetic readers of lysine acetylation. Nat. Rev. Drug Discov. 13, 337–356 (2014).

17.

Schuster-Bockler, B. & Lehner, B. Chromatin organization is a major influence on regional mutation rates in human cancer cells. Nature 488, 504–507 (2012).

18.

Polak, P. et al. Reduced local mutation density in regulatory DNA of cancer genomes is linked to DNA repair. Nat. Biotechnol. 32, 71–75 (2014).

19.

Polak, P. et al. Cell-of-origin chromatin organization shapes the mutational landscape of cancer. Nature 518, 360–364 (2015).

20.

Woo, Y. H. & Li, W. H. DNA replication timing and selection shape the landscape of nucleotide variation in cancer genomes. Nat. Commun. 3, 1004 (2012).

21.

Supek, F. & Lehner, B. Differential DNA mismatch repair underlies mutation rate variation across the human genome. Nature 521, 81–84 (2015).

22.

Liu, L., De, S. & Michor, F. DNA replication timing and higher-order nuclear organization determine single-nucleotide substitution patterns in cancer genomes. Nat. Commun. 4, 1502 (2013).

23.

Wen, B., Wu, H., Shinkai, Y., Irizarry, R. A. & Feinberg, A. P. Large histone H3 lysine 9 dimethylated chromatin blocks distinguish differentiated from embryonic stem cells. Nat. Genet. 41, 246–250 (2009).

24.

Sampath, S. C. et al. Methylation of a histone mimic within the histone methyltransferase G9a regulates protein complex assembly. Mol. Cell 27, 596–608 (2007).

25.

Schaefer, A. et al. Control of cognition and adaptive behavior by the GLP/G9a epigenetic suppressor complex. Neuron 64, 678–691 (2009).

26.

Chen, X. et al. G9a/GLP-dependent histone H3K9me2 patterning during human hematopoietic stem cell lineage commitment. Gene Dev. 26, 2499–2511 (2012).

27.

Mozzetta, C. et al. The histone H3 lysine 9 methyltransferases G9a and GLP regulate polycomb repressive complex 2-mediated gene silencing. Mol. Cell 53, 277–289 (2014).

28.

Lehnertz, B. et al. The methyltransferase G9a regulates HoxA9-dependent transcription in AML. Gene Dev. 28, 317–327 (2014).

29.

Dong, C. et al. Loss of FBP1 by Snail-mediated repression provides metabolic advantages in basal-like breast cancer. Cancer Cell 23, 316–331 (2013).

30.

Hua, K. T. et al. The H3K9 methyltransferase G9a is a marker of aggressive ovarian cancer that promotes peritoneal metastasis. Mol. Cancer 13, 189 (2014).

31.

Dong, C. et al. G9a interacts with Snail and is critical for Snail-mediated E-cadherin repression in human breast cancer. J. Clin. Invest. 122, 1469–1486 (2012).

32.

Chen, M. W. et al. H3K9 histone methyltransferase G9a promotes lung cancer invasion and metastasis by silencing the cell adhesion molecule Ep-CAM. Cancer Res. 70, 7830–7840 (2010).

33.

Liu, S. et al. G9a is essential for EMT-mediated metastasis and maintenance of cancer stem cell-like characters in head and neck squamous cell carcinoma. Oncotarget 6, 6887–6901 (2015).

34.

Latil, M. et al. Cell-type-specific chromatin states differentially prime squamous cell carcinoma tumor-initiating cells for epithelial to mesenchymal transition. Cell Stem Cell 20, 191–204 (2017).

35.

Malanchi, I. et al. Interactions between cancer stem cells and their niche govern metastatic colonization. Nature 481, 85–89 (2011).

36.

Lapouge, G. et al. Identifying the cellular origin of squamous skin tumors. Proc. Natl Acad. Sci. USA 108, 7431–7436 (2011).

37.

Schober, M. & Fuchs, E. Tumor-initiating stem cells of squamous cell carcinomas and their control by TGF-beta and integrin/focal adhesion kinase (FAK) signaling. Proc. Natl Acad. Sci. USA 108, 10544–10549 (2011).

38.

Nassar, D., Latil, M., Boeckx, B., Lambrechts, D. & Blanpain, C. Genomic landscape of carcinogen-induced and genetically induced mouse skin squamous cell carcinoma. Nat. Med. 21, 946–954 (2015).

39.

McCreery, M. Q. et al. Evolution of metastasis revealed by mutational landscapes of chemically induced skin cancers. Nat. Med. 21, 1514–1520 (2015).

40.

Pickering, C. R. et al. Mutational landscape of aggressive cutaneous squamous cell carcinoma. Clin. Cancer Res. 20, 6582–6592 (2014).

41.

Alexandrov, L. B. et al. Signatures of mutational processes in human cancer. Nature 500, 415–421 (2013).

42.

Alexandrov, L. B., Nik-Zainal, S., Wedge, D. C., Campbell, P. J. & Stratton, M. R. Deciphering signatures of mutational processes operative in human cancer. Cell Rep. 3, 246–259 (2013).

43.

Hoang, M. L. et al. Mutational signature of aristolochic acid exposure as revealed by whole-exome sequencing. Sci. Transl Med. 5, 197ra102 (2013).

44.

Schmeiser, H. H., Bieler, C. A., Wiessler, M., van Ypersele de Strihou, C. & Cosyns, J. P. Detection of DNA adducts formed by aristolochic acid in renal tissue from patients with Chinese herbs nephropathy. Cancer Res. 56, 2025–2028 (1996).

45.

Chakravarti, D., Pelling, J. C., Cavalieri, E. L. & Rogan, E. G. Relating aromatic hydrocarbon-induced DNA adducts and c-H-ras mutations in mouse skin papillomas: the role of apurinic sites. Proc. Natl Acad. Sci. USA 92, 10422–10426 (1995).

46.

Alexandrov, L. B. et al. Clock-like mutational processes in human somatic cells. Nat. Genet. 47, 1402–1407 (2015).

47.

Kim, J. et al. Somatic ERCC2 mutations are associated with a distinct genomic signature in urothelial tumors. Nat. Genet. 48, 600–606 (2016).

48.

Supek, F. & Lehner, B. Clustered mutation signatures reveal that error-prone DNA repair targets mutations to active genes. Cell 170, 534–547 (2017).

49.

Zheng, C. L. et al. Transcription restores DNA repair to heterochromatin, determining regional mutation rates in cancer genomes. Cell Rep. 9, 1228–1234 (2014).

50.

Li, F. et al. The histone mark H3K36me3 regulates human DNA mismatch repair through its interaction with MutSalpha. Cell 153, 590–600 (2013).

51.

Boumahdi, S. et al. SOX2 controls tumour initiation and cancer stem-cell functions in squamous-cell carcinoma. Nature 511, 246–250 (2014).

52.

Huang, Y., Gu, L. & Li, G. M. H3K36me3-mediated mismatch repair preferentially protects actively transcribed genes from mutation. J. Biol. Chem. 293, 7811–7823 (2018).

53.

Linardopoulos, S. et al. Deletion and altered regulation of p16INK4a and p15INK4b in undifferentiated mouse skin tumors. Cancer Res. 55, 5168–5172 (1995).

54.

Rinaldi, L. et al. Loss of Dnmt3a and Dnmt3b does not affect epidermal homeostasis but promotes squamous transformation through PPAR-gamma.eLife 6, e21697 (2017).

55.

Abel, E. L., Angel, J. M., Kiguchi, K. & DiGiovanni, J. Multi-stage chemical carcinogenesis in mouse skin: fundamentals and applications. Nat. Protoc. 4, 1350–1362 (2009).

56.

Jensen, K. B., Driskell, R. R. & Watt, F. M. Assaying proliferation and differentiation capacity of stem cells using disaggregated adult mouse epidermis. Nat. Protoc. 5, 898–911 (2010).

57.

Buenrostro, J. D., Giresi, P. G., Zaba, L. C., Chang, H. Y. & Greenleaf, W. J. Transposition of native chromatin for fast and sensitive epigenomic profiling of open chromatin, DNA-binding proteins and nucleosome position. Nat. Methods 10, 1213–1218 (2013).

58.

Sugiura, M. et al. Induced pluripotent stem cell generation-associated point mutations arise during the initial stages of the conversion of these cells. Stem Cell Reports 2, 52–63 (2014).

59.

Bouaoun, L. et al. TP53 variations in human cancers: new lessons from the IARC TP53 database and genomics data. Hum. Mutat. 37, 865–876 (2016).

60.

Gonzalez-Roca, E. et al. Accurate expression profiling of very small cell populations. PLoS ONE 5, e14418 (2010).
Acknowledgements
The S.A.B. Lab is supported by the European Research Council (ERC), the Government of Cataluña (via a SGR grant), the Government of Spain (MINECO), and the Fundación Botín and Banco Santander through Santander Universities. A.A. was supported by a Marie-Curie Actions Cofound postdoctoral fellowship, and A.S. was supported by a MINECO grant. F.S. is funded by the Ramon y Cajal fellowship of MINECO and by the ERC grant HYPER-INSIGHT. The IRB Barcelona is the recipient of a Severo Ochoa Award of Excellence from MINECO (Government of Spain). The authors thank V. Raker for manuscript editing.
Ethics declarations
Competing interests
The authors declare no competing interests.
Additional information
Publisher's note: Springer Nature remains neutral with regard to jurisdictional claims in published maps and institutional affiliations.
Integrated supplementary information
Supplementary information
About this article
Cite this article
Avgustinova, A., Symeonidi, A., Castellanos, A. et al. Loss of G9a preserves mutation patterns but increases chromatin accessibility, genomic instability and aggressiveness in skin tumours. Nat Cell Biol 20, 1400–1409 (2018). https://doi.org/10.1038/s41556-018-0233-x
Received:

Accepted:

Published:

Issue Date: