Abstract
The mechanisms that restrict regeneration and maintain cell identity following injury are poorly characterized in higher vertebrates. Following β-cell loss, 1–2% of the glucagon-producing α-cells spontaneously engage in insulin production in mice. Here we explore the mechanisms inhibiting α-cell plasticity. We show that adaptive α-cell identity changes are constrained by intra-islet insulin- and Smoothened-mediated signalling, among others. The combination of β-cell loss or insulin-signalling inhibition, with Smoothened inactivation in α- or δ-cells, stimulates insulin production in more α-cells. These findings suggest that the removal of constitutive 'brake signals' is crucial to neutralize the refractoriness to adaptive cell-fate changes. It appears that the maintenance of cell identity is an active process mediated by repressive signals, which are released by neighbouring cells and curb an intrinsic trend of differentiated cells to change.
Relevant articles
Open Access articles citing this article.
Yuka Wakabayashi

,

Takeshi Miyatsuka

…

Hirotaka Watada

Scientific Reports Open Access 10 December 2022

Preksha Bhagchandani

,

Charles A. Chang

…

Seung K. Kim

Scientific Reports Open Access 31 May 2022

Daniel Oropeza

,

Valentina Cigliola

…

Pedro L. Herrera

BMC Genomics Open Access 02 August 2021
Access options
Access Nature and 54 other Nature Portfolio journals
Get Nature+, our best-value online-access subscription
$29.99 / 30 days
cancel any time
Subscribe to this journal
Receive 12 print issues and online access
$209.00 per year
only $17.42 per issue
Rent or buy this article
Get just this article for as long as you need it
$39.95
Prices may be subject to local taxes which are calculated during checkout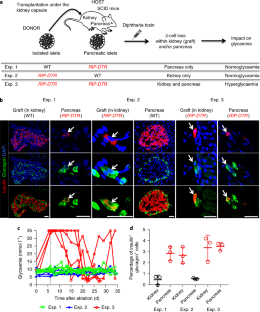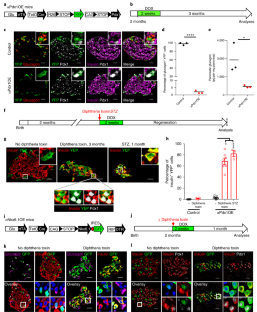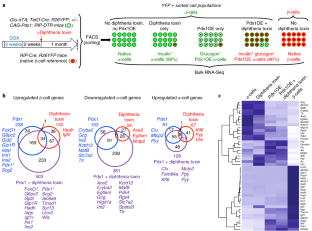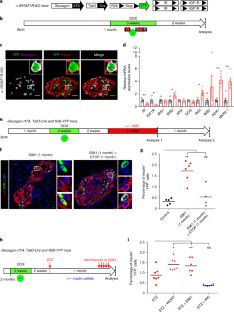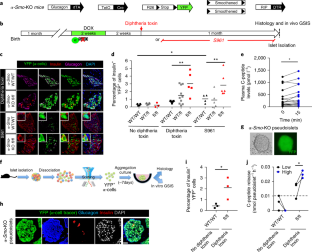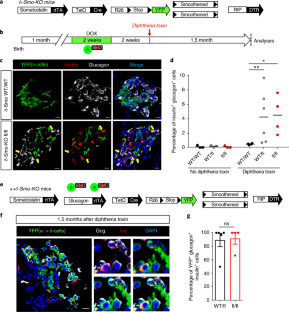 Data availability
The RNA-Seq data generated in this study have been deposited in the NCBI GEO database under accession number GSE109285. Source data for Figs. 1–6 and Supplementary Figs. 1,2,4–6 are provided as Supplementary Table 1 and RNA analyses are provided in Supplementary Table 2. All other data supporting the findings of this study are available from the corresponding author on reasonable request.
References
Holmberg, J. & Perlmann, T. Maintaining differentiated cellular identity. Nat. Rev. Genet. 13, 429–439 (2012).

Thowfeequ, S., Myatt, E. J. & Tosh, D. Transdifferentiation in developmental biology, disease, and in therapy. Dev. Dynam. 236, 3208–3217 (2007).

Chera, S. & Herrera, P. L. Regeneration of pancreatic insulin-producing cells by in situ adaptive cell conversion. Curr. Opin. Genet. Dev. 40, 1–10 (2016).

Pasque, V., Jullien, J., Miyamoto, K., Halley-Stott, R. P. & Gurdon, J. B. Epigenetic factors influencing resistance to nuclear reprogramming. Trends Genet. 27, 516–525 (2011).

Natoli, G. Maintaining cell identity through global control of genomic organization. Immunity 33, 12–24 (2010).

Barrero, M. J., Boue, S. & Izpisua Belmonte, J. C. Epigenetic mechanisms that regulate cell identity. Cell Stem Cell 7, 565–570 (2010).

Szabat, M. et al. Maintenance of beta-cell maturity and plasticity in the adult pancreas: developmental biology concepts in adult physiology. Diabetes 61, 1365–1371 (2012).

Eade, K. T. & Allan, D. W. Neuronal phenotype in the mature nervous system is maintained by persistent retrograde bone morphogenetic protein signaling. J. Neurosci. 29, 3852–3864 (2009).

Lopez-Coviella, I., Berse, B., Krauss, R., Thies, R. S. & Blusztajn, J. K. Induction and maintenance of the neuronal cholinergic phenotype in the central nervous system by BMP-9. Science 289, 313–316 (2000).

Jessen, K. R., Mirsky, R. & Arthur-Farraj, P. The role of cell plasticity in tissue repair: adaptive cellular reprogramming. Dev. Cell 34, 613–620 (2015).

Knapp, D. & Tanaka, E. M. Regeneration and reprogramming. Curr. Opin. Genet. Dev. 22, 485–493 (2012).

Chera, S. et al. Diabetes recovery by age-dependent conversion of pancreatic delta-cells into insulin producers. Nature 514, 503–507 (2014).

Thorel, F. et al. Conversion of adult pancreatic alpha-cells to beta-cells after extreme beta-cell loss. Nature 464, 1149–1154 (2010).

Chakravarthy, H. et al. Converting adult pancreatic islet alpha cells into beta Cells by targeting both Dnmt1 and Arx. Cell. Metab. 25, 622–634 (2017).

Bosma, M. J. & Carroll, A. M. The SCID mouse mutant: definition, characterization, and potential uses. Annu. Rev. Immunol. 9, 323–350 (1991).

Yang, Y. P., Thorel, F., Boyer, D. F., Herrera, P. L. & Wright, C. V. Context-specific alpha- to-beta-cell reprogramming by forced Pdx1 expression. Genes Dev. 25, 1680–1685 (2011).

Schaffer, L. et al. A novel high-affinity peptide antagonist to the insulin receptor. Biochem. Biophys. Res. Commun. 376, 380–383 (2008).

Vikram, A. & Jena, G. S961, an insulin receptor antagonist causes hyperinsulinemia, insulin-resistance and depletion of energy stores in rats. Biochem. Biophys. Res. Commun. 398, 260–265 (2010).

Yi, P., Park, J. S. & Melton, D. A. Betatrophin: a hormone that controls pancreatic beta cell proliferation. Cell 153, 747–758 (2013).

Cigliola, V., Thorel, F., Chera, S. & Herrera, P. L. Stress-induced adaptive islet cell identity changes. Diabetes Obes. Metab. 18, 87–96 (2016).

Damond, N. et al. Blockade of glucagon signaling prevents or reverses diabetes onset only if residual beta-cells persist. eLife 5, e13828 (2016).

Grieco, F. A. et al. Delta-cell-specific expression of hedgehog pathway Ptch1 receptor in murine and human endocrine pancreas. Diabetes Metab. Res. Rev. 27, 755–760 (2011).

Lau, J. & Hebrok, M. Hedgehog signaling in pancreas epithelium regulates embryonic organ formation and adult beta-cell function. Diabetes 59, 1211–1221 (2010).

Kawahira, H. et al. Combined activities of hedgehog signaling inhibitors regulate pancreas development. Development 130, 4871–4879 (2003).

Cervantes, S., Lau, J., Cano, D. A., Borromeo-Austin, C. & Hebrok, M. Primary cilia regulate Gli/Hedgehog activation in pancreas. Proc. Natl Acad. Sci. USA 107, 10109–10114 (2010).

Landsman, L., Parent, A. & Hebrok, M. Elevated Hedgehog/Gli signaling causes beta-cell dedifferentiation in mice. Proc. Natl Acad. Sci. USA 108, 17010–17015 (2011).

Thomas, M. K., Lee, J. H., Rastalsky, N. & Habener, J. F. Hedgehog signaling regulation of homeodomain protein islet duodenum homeobox-1 expression in pancreatic beta-cells. Endocrinology 142, 1033–1040 (2001).

Thomas, M. K., Rastalsky, N., Lee, J. H. & Habener, J. F. Hedgehog signaling regulation of insulin production by pancreatic beta-cells. Diabetes 49, 2039–2047 (2000).

Schaffer, A. E. et al. Nkx6.1 controls a gene regulatory network required for establishing and maintaining pancreatic Beta cell identity. PLoS Genet. 9, e1003274 (2013).

Gao, T. et al. Pdx1 maintains beta cell identity and function by repressing an alpha cell program. Cell Metab. 19, 259–271 (2014).

Gutierrez, G. D. et al. Pancreatic beta cell identity requires continual repression of non-beta cell programs. J. Clin. Invest. 127, 244–259 (2017).

Swisa, A. et al. PAX6 maintains beta cell identity by repressing genes of alternative islet cell types. J. Clin. Invest. 127, 230–243 (2017).

Papizan, J. B. et al. Nkx2.2 repressor complex regulates islet beta-cell specification and prevents beta-to-alpha-cell reprogramming. Genes Dev. 25, 2291–2305 (2011).

Gauthier, B. R., Gosmain, Y., Mamin, A. & Philippe, J. The beta-cell specific transcription factor Nkx6.1 inhibits glucagon gene transcription by interfering with Pax6. Biochem. J. 403, 593–601 (2007).

Schisler, J. C. et al. The Nkx6.1 homeodomain transcription factor suppresses glucagon expression and regulates glucose-stimulated insulin secretion in islet beta cells. Proc. Natl Acad. Sci. USA 102, 7297–7302 (2005).

Lee, Y. et al. Hyperglycemia in rodent models of type 2 diabetes requires insulin-resistant alpha cells. Proc. Natl Acad. Sci. USA 111, 13217–13222 (2014).

Butler, A. E. et al. Adaptive changes in pancreatic beta cell fractional area and beta cell turnover in human pregnancy. Diabetologia 53, 2167–2176 (2010).

White, M. G. et al. Expression of mesenchymal and alpha-cell phenotypic markers in islet beta-cells in recently diagnosed diabetes. Diabetes Care 36, 3818–3820 (2013).

Thorel, F. et al. Normal glucagon signaling and beta-cell function after near-total alpha-cell ablation in adult mice. Diabetes 60, 2872–2882 (2011).

Hayashi, Y. et al. Mice deficient for glucagon gene-derived peptides display normoglycemia and hyperplasia of islet α-cells but not of intestinal L-cells. Mol. Endocrinol. 23, 1990–1999 (2009).

Miyatsuka, T. et al. Persistent expression of PDX-1 in the pancreas causes acinar-to-ductal metaplasia through Stat3 activation. Genes Dev. 20, 1435–1440 (2006).

Dietrich, P., Dragatsis, I., Xuan, S., Zeitlin, S. & Efstratiadis, A. Conditional mutagenesis in mice with heat shock promoter-driven cre transgenes. Mamm. Genome 11, 196–205 (2000).

Bruning, J. C. et al. A muscle-specific insulin receptor knockout exhibits features of the metabolic syndrome of NIDDM without altering glucose tolerance. Mol. Cell 2, 559–569 (1998).

Long, F., Zhang, X. M., Karp, S., Yang, Y. & McMahon, A. P. Genetic manipulation of hedgehog signaling in the endochondral skeleton reveals a direct role in the regulation of chondrocyte proliferation. Development 128, 5099–5108 (2001).

Chen, S. X. et al. Quantification of factors influencing fluorescent protein expression using RMCE to generate an allelic series in the ROSA26 locus in mice. Dis. Model Mech. 4, 537–547 (2011).

Rodriguez, C. I. et al. High-efficiency deleter mice show that FLPe is an alternative to Cre-loxP. Nat. Genet. 25, 139–140 (2000).

Russell, M. C., Cowan, R. G., Harman, R. M., Walker, A. L. & Quirk, S. M. The hedgehog signaling pathway in the mouse ovary. Biol. Reprod. 77, 226–236 (2007).

Li, Z. et al. Reduced white fat mass in adult mice bearing a truncated Patched 1. Int. J. Biol. Sci. 4, 29–36 (2008).

Strom, A. et al. Unique mechanisms of growth regulation and tumor suppression upon Apc inactivation in the pancreas. Development 134, 2719–2725 (2007).

Mathe, Z. et al. Tetracycline-regulated expression of VEGF-A in beta cells induces angiogenesis: improvement of engraftment following transplantation. Cell Transplant. 15, 621–636 (2006).
Acknowledgements
We are grateful to Y. Dor, A. Ruiz i Altaba and M. González Gaitán for carefully reading and discussing the manuscript; to O. Fazio, M. Urwyler, C. Gysler, B. Polat and R. Gangula for their technical help and to J.-P. Aubry-Lachainaye for FACS assistance. We acknowledge C. Delucinge-Vivier, M. Docquier, A. Efanov, P. Ebert, J. Calley, H. Wu, S.K. Syed and T. Wei for technical and expert assistance supporting RNA sequencing, quality control, statistical and bioinformatics analyses. M.S. was supported by R01DK068471 (NIH/NIDDK). S.C. is supported by grants from the Research Council of Norway (NFR no. 247577) and the Novo Nordisk Foundation (no. NNF15OC0015054). M.A.M. was supported by U01DK072473 (Beta Cell Biology Consortium). Work was funded by grants from the National Institutes of Health/National Institute of Diabetes and Digestive and Kidney Disease (Beta Cell Biology Consortium, grant no. U01DK089566 and Human Islet Research Network, grant nos UC4-DK104209 and UC4-DK108132), the Juvenile Diabetes Research Foundation (in part through joint research funding with Lilly Research Laboratories, grant nos 17-2011-276, and 2-SRA-2015-67-Q-R), the Innovative Medicines Initiative Joint Undertaking under grant agreement no. 155005 (IMIDIA), resources of which are composed of financial contribution from the European Union's Seventh Framework Programme (FP7/2007-2013) and EFPIA companies' in kind contribution, the Fondation privée des Hôpitaux Universitaires de Genève–Confirm, the Fondation Aclon and the Swiss National Science Foundation (grant no. NRP63, 310030_152965 and the Bonus of Excellence grant no.310030B_173319) to P.L.H.
Ethics declarations
Competing interests
The authors declare no competing interests.
Additional information
Publisher's note: Springer Nature remains neutral with regard to jurisdictional claims in published maps and institutional affiliations.
Integrated supplementary information
Supplementary information
About this article
Cite this article
Cigliola, V., Ghila, L., Thorel, F. et al. Pancreatic islet-autonomous insulin and smoothened-mediated signalling modulate identity changes of glucagon+ α-cells. Nat Cell Biol 20, 1267–1277 (2018). https://doi.org/10.1038/s41556-018-0216-y
Received:

Accepted:

Published:

Issue Date:

DOI: https://doi.org/10.1038/s41556-018-0216-y