Abstract
Epithelial integrity is maintained by the cytoskeleton and through cell adhesion. However, it is not yet known how a deregulated cytoskeleton is associated with cancer. We identified cancer-related regulator of actin dynamics (CRAD) as frequently mutated or transcriptionally downregulated in colorectal cancer. We found that CRAD stabilizes the cadherin–catenin–actin complex via capping protein inhibition. The loss of CRAD inhibits F-actin polymerization and subsequently disrupts the cadherin–catenin–actin complex, which leads to β-catenin release and Wnt signalling hyperactivation. In mice, CRAD knockout induces epithelial cell integrity loss and Wnt signalling activation, resulting in the development of intestinal mucinous adenoma. With APC mutation, CRAD knockout initiates and accelerates mucinous and invasive adenoma development in the colorectum. These results define CRAD as a tumour suppressor, the inactivation of which deregulates the cytoskeleton and hyperactivates Wnt signalling thus initiating mucinous colorectal cancer. Our study reveals the unexpected roles of an actin cytoskeletal regulator in maintaining epithelial cell integrity and suppressing tumorigenesis.
Relevant articles
Open Access articles citing this article.
Xiaoduo Tang

,

Jingyan Ren

…

Bai Yang

Nature Communications Open Access 27 April 2023

Youn-Sang Jung

&

Jae-Il Park

Experimental & Molecular Medicine Open Access 10 February 2020

Kee-Beom Kim

,

Colin T. Dunn

&

Kwon-Sik Park

Experimental & Molecular Medicine Open Access 12 December 2019
Access options
Access Nature and 54 other Nature Portfolio journals
Get Nature+, our best-value online-access subscription
$29.99 / 30 days
cancel any time
Subscribe to this journal
Receive 12 print issues and online access
$209.00 per year
only $17.42 per issue
Rent or buy this article
Prices vary by article type
from$1.95
to$39.95
Prices may be subject to local taxes which are calculated during checkout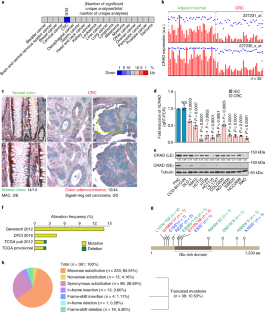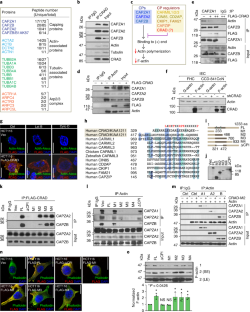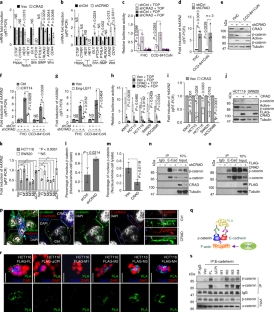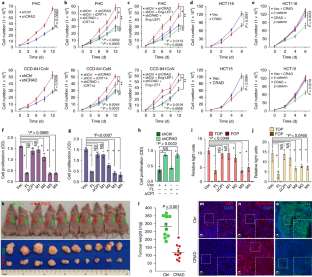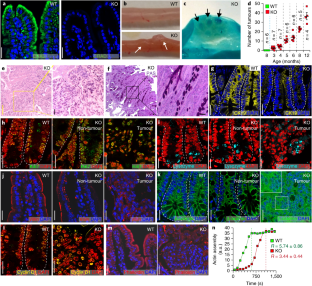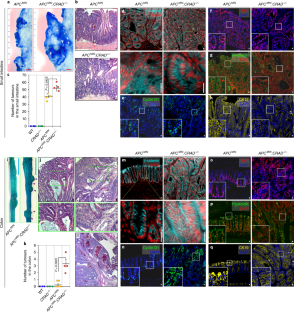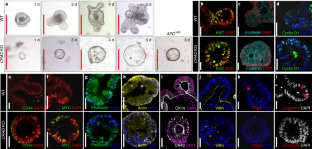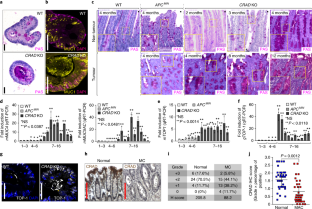 Data availability
Microarray data that support the findings of this study have been deposited in GEO (accession code GDS2947). Mass spectrometry data used in this study is available from Supplementary Table 2. The CRAD expression data in CRC cells were derived from the cBioportal using the TCGA Research Network (http://cancergenome.nih.gov/) and Genetech datesets. The dataset derived from this resource that supports the findings of this study is available in Oncomine (https://www.oncomine.org/resource). CRAD expression data were also derived from cBioportal (http://www.cbioportal.org/) and COSMIC database (https://cancer.sanger.ac.uk/cosmic). Source data for Figs. 1–8 and Supplementary Figs. 1–8 have been provided as Supplementary Table 4. All other data supporting the findings of this study are available from the corresponding author on reasonable request.
References
Mege, R. M., Gavard, J. & Lambert, M. Regulation of cell-cell junctions by the cytoskeleton. Curr. Opin. Cell Biol. 18, 541–548 (2006).

Gumbiner, B. M. & Kim, N. G. The Hippo-YAP signaling pathway and contact inhibition of growth. J. Cell Sci. 127, 709–717 (2014).

Oda, H. & Takeichi, M. Evolution: structural and functional diversity of cadherin at the adherens junction. J. Cell Biol. 193, 1137–1146 (2011).

Maiden, S. L. & Hardin, J. The secret life of alpha-catenin: moonlighting in morphogenesis. J. Cell Biol. 195, 543–552 (2011).

Bianchini, J. M. et al. Reevaluating αE-catenin monomer and homodimer functions by characterizing E-cadherin/αE-catenin chimeras. J. Cell Biol. 210, 1065–1074 (2015).

Edwards, M. et al. Capping protein regulators fine-tune actin assembly dynamics. Nat. Rev. Mol. Cell Biol. 15, 677–689 (2014).

Bear, J. E. et al. Antagonism between Ena/VASP proteins and actin filament capping regulates fibroblast motility. Cell 109, 509–521 (2002).

Xue, B. & Robinson, R. C. Guardians of the actin monomer. Eur. J. Cell Biol. 92, 316–332 (2013).

Schafer, D. A., Jennings, P. B. & Cooper, J. A. Dynamics of capping protein and actin assembly in vitro: uncapping barbed ends by polyphosphoinositides. J. Cell Biol. 135, 169–179 (1996).

Taoka, M. et al. V-1, a protein expressed transiently during murine cerebellar development, regulates actin polymerization via interaction with capping protein. J. Biol. Chem. 278, 5864–5870 (2003).

George, J. et al. Comprehensive genomic profiles of small cell lung cancer. Nature 524, 47–53 (2015).

Ambros, V. R., Chen, L. B. & Buchanan, J. M. Surface ruffles as markers for studies of cell transformation by Rous sarcoma virus. Proc. Natl Acad. Sci. USA 72, 3144–3148 (1975).

de Curtis, I. & Meldolesi, J. Cell surface dynamics - how Rho GTPases orchestrate the interplay between the plasma membrane and the cortical cytoskeleton. J. Cell Sci. 125, 4435–4444 (2012).

Gauthier, N. C., Masters, T. A. & Sheetz, M. P. Mechanical feedback between membrane tension and dynamics. Trends Cell Biol. 22, 527–535 (2012).

Pollard, T. D. & Cooper, J. A. Actin, a central player in cell shape and movement. Science 326, 1208–1212 (2009).

Bryce, N. S. et al. Cortactin promotes cell motility by enhancing lamellipodial persistence. Curr. Biol. 15, 1276–1285 (2005).

Montross, W. T., Ji, H. & McCrea, P. D. A beta-catenin/engrailed chimera selectively suppresses Wnt signaling. J. Cell Sci. 113, 1759–1770 (2000).

Kwiatkowski, A. V. et al. In vitro and in vivo reconstitution of the cadherin–catenin–actin complex from Caenorhabditis elegans. Proc. Natl Acad. Sci. USA 107, 14591–14596 (2010).

Maiden, S. L. et al. Specific conserved C-terminal amino acids of Caenorhabditis elegans HMP-1/α-catenin modulate F-actin binding independently of vinculin. J. Biol. Chem. 288, 5694–5706 (2013).

Hong, S., Troyanovsky, R. B. & Troyanovsky, S. M. Binding to F-actin guides cadherin cluster assembly, stability, and movement. J. Cell Biol. 201, 131–143 (2013).

Braga, V. M. & Yap, A. S. The challenges of abundance: epithelial junctions and small GTPase signalling. Curr. Opin. Cell Biol. 17, 466–474 (2005).

Tanaka, Y. et al. Frequent β-catenin mutation and cytoplasmic/nuclear accumulation in pancreatic solid-pseudopapillary neoplasm. Cancer Res. 61, 8401–8404 (2001).

Peterson, L. W. & Artis, D. Intestinal epithelial cells: regulators of barrier function and immune homeostasis. Nat. Rev. Immunol. 14, 141–153 (2014).

van Es, J. H. et al. Wnt signalling induces maturation of Paneth cells in intestinal crypts. Nat. Cell Biol. 7, 381–386 (2005).

Moser, A. R., Pitot, H. C. & Dove, W. F. A dominant mutation that predisposes to multiple intestinal neoplasia in the mouse. Science 247, 322–324 (1990).

Bara, J., Forgue-Lafitte, M. E., Maurin, N., Flejou, J. F. & Zimber, A. Abnormal expression of gastric mucin in human and rat aberrant crypt foci during colon carcinogenesis. Tumour Biol. 24, 109–115 (2003).

Sachs, N. & Clevers, H. Organoid cultures for the analysis of cancer phenotypes. Curr. Opin. Genet. Dev. 24, 68–73 (2014).

Podolsky, D. K., Fournier, D. A. & Lynch, K. E. Human colonic goblet cells. Demonstration of distinct subpopulations defined by mucin-specific monoclonal antibodies. J. Clin. Invest. 77, 1263–1271 (1986).

Yamachika, T. et al. Establishment and characterization of a human colonic mucinous carcinoma cell line with predominant goblet-cell differentiation from liver metastasis. Pathol. Int. 55, 550–557 (2005).

van Es, J. H. et al. Notch/gamma-secretase inhibition turns proliferative cells in intestinal crypts and adenomas into goblet cells. Nature 435, 959–963 (2005).

Hugen, N., Brown, G., Glynne-Jones, R., de Wilt, J. H. & Nagtegaal, I. D. Advances in the care of patients with mucinous colorectal cancer. Nat. Rev. Clin. Oncol. 13, 361–369 (2016).

Brabletz, T. et al. Nuclear overexpression of the oncoprotein beta-catenin in colorectal cancer is localized predominantly at the invasion front. Pathol. Res. Pract. 194, 701–704 (1998).

Vermeulen, L. et al. Wnt activity defines colon cancer stem cells and is regulated by the microenvironment. Nat. Cell Biol. 12, 468–476 (2010).

Goentoro, L. & Kirschner, M. W. Evidence that fold-change, and not absolute level, of beta-catenin dictates Wnt signaling. Mol. Cell 36, 872–884 (2009).

Voloshanenko, O. et al. Wnt secretion is required to maintain high levels of Wnt activity in colon cancer cells. Nat. Commun. 4, 2610 (2013).

Hulsken, J., Birchmeier, W. & Behrens, J. E-cadherin and APC compete for the interaction with beta-catenin and the cytoskeleton. J. Cell Biol. 127, 2061–2069 (1994).

Fagotto, F., Funayama, N., Gluck, U. & Gumbiner, B. M. Binding to cadherins antagonizes the signaling activity of beta-catenin during axis formation in Xenopus. J. Cell Biol. 132, 1105–1114 (1996).

Brannon, A. R. et al. Comparative sequencing analysis reveals high genomic concordance between matched primary and metastatic colorectal cancer lesions. Genome Biol. 15, 454 (2014).

Okada, K. et al. Adenomatous polyposis coli protein nucleates actin assembly and synergizes with the formin mDia1. J. Cell Biol. 189, 1087–1096 (2010).

Kufe, D. W. Mucins in cancer: function, prognosis and therapy. Nat. Rev. Cancer 9, 874–885 (2009).

Edgar, R., Domrachev, M. & Lash, A. E. Gene Expression Omnibus: NCBI gene expression and hybridization array data repository. Nucleic Acids Res. 30, 207–210 (2002).

Forbes, S. A. et al. COSMIC: mining complete cancer genomes in the Catalogue of Somatic Mutations in Cancer. Nucleic Acids Res. 39, D945–D950 (2011).

Gao, J. et al. Integrative analysis of complex cancer genomics and clinical profiles using the cBioPortal. Sci. Signal. 6, pl1 (2013).

Rhodes, D. R. et al. ONCOMINE: a cancer microarray database and integrated data-mining platform. Neoplasia 6, 1–6 (2004).

Cerami, E. et al. The cBio cancer genomics portal: an open platform for exploring multidimensional cancer genomics data. Cancer Discov. 2, 401–404 (2012).

Jung, H. Y. et al. PAF and EZH2 induce Wnt/β-catenin signaling hyperactivation. Mol. Cell 52, 193–205 (2013).

Jun, S. et al. PAF-mediated MAPK signaling hyperactivation via LAMTOR3 induces pancreatic tumorigenesis. Cell Rep. 5, 314–322 (2013).

Elias, J. E. & Gygi, S. P. Target-decoy search strategy for increased confidence in large-scale protein identifications by mass spectrometry. Nat. Methods 4, 207–214 (2007).

Sato, T. et al. Single Lgr5 stem cells build crypt-villus structures in vitro without a mesenchymal niche. Nature 459, 262–265 (2009).

Symons, M. H. & Mitchison, T. J. Control of actin polymerization in live and permeabilized fibroblasts. J. Cell Biol. 114, 503–513 (1991).
Acknowledgements
We thank J.A. Cooper for his insightful comments and recommendations regarding the experiment and result analysis. We thank S.-H. Lee, H.N. Suh, S.H. Lee and K.-S. Park for helpful comments on the manuscript. This work was supported by the Cancer Prevention Research Institute of Texas (grant no. RP140563 to J-.I.P.), the National Institutes of Health (grant nos R01 CA193297-01 (to J-.I.P.), 5R01 GM107079 (to P.D.M.) and R01 GM126048 (to W.W.)), the Department of Defense Peer Reviewed Cancer Research Program (grant no. CA140572 to J-.I.P.), a Duncan Family Institute for Cancer Prevention and Risk Assessment Grant (IRG-08-061-01; to J-.I.P.), a Center for Stem Cell and Developmental Biology Transformative Grant (MD Anderson Cancer Center to J-.I.P.), an Institutional Research Grant (MD Anderson Cancer Center; to J-.I.P.), a New Faculty Award (MD Anderson Cancer Center Support Grant; to J-.I.P.), a Metastasis Research Center Grant (MD Anderson; to J-.I.P.) and a Uterine SPORE Career Enhancement Program (MD Anderson; to J-.I.P.). The core facility (DNA sequencing and Genetically Engineered Mouse Facility) was supported by the MD Anderson Cancer Center Support Grant (CA016672).
Ethics declarations
Competing interests
The authors declare no competing interests.
Additional information
Publisher's note: Springer Nature remains neutral with regard to jurisdictional claims in published maps and institutional affiliations.
Integrated supplementary information
Supplementary information
About this article
Cite this article
Jung, YS., Wang, W., Jun, S. et al. Deregulation of CRAD-controlled cytoskeleton initiates mucinous colorectal cancer via β-catenin. Nat Cell Biol 20, 1303–1314 (2018). https://doi.org/10.1038/s41556-018-0215-z
Received:

Accepted:

Published:

Issue Date:

DOI: https://doi.org/10.1038/s41556-018-0215-z