Abstract
Unravelling the dynamic molecular interplay behind complex physiological processes such as neuronal plasticity requires the ability to both detect minute changes in biochemical states in response to physiological signals and track multiple signalling activities simultaneously. Fluorescent protein-based biosensors have enabled the real-time monitoring of dynamic signalling processes within the native context of living cells, yet most commonly used biosensors exhibit poor sensitivity (for example, due to low dynamic range) and are limited to imaging signalling activities in isolation. Here, we address this challenge by developing a suite of excitation ratiometric kinase activity biosensors that offer the highest reported dynamic range and enable the detection of subtle changes in signalling activity that could not be reliably detected previously, as well as a suite of single-fluorophore biosensors that enable the simultaneous tracking of as many as six distinct signalling activities in single living cells.
Your institute does not have access to this article
Relevant articles
Open Access articles citing this article.
Danielle L. Schmitt

,

Stephanie D. Curtis

…

Jin Zhang

Nature Communications Open Access 05 July 2022

Tom Kaufman

,

Erez Nitzan

…

Ravid Straussman

Nature Communications Open Access 18 May 2022

Chihiro Nakamoto

,

Yuhei Goto

…

Tomonori Takeuchi

Molecular Brain Open Access 06 December 2021
Access options
Subscribe to Nature+
Get immediate online access to the entire Nature family of 50+ journals
Subscribe to Journal
Get full journal access for 1 year
$99.00
only $8.25 per issue
All prices are NET prices.
VAT will be added later in the checkout.
Tax calculation will be finalised during checkout.
Buy article
Get time limited or full article access on ReadCube.
$32.00
All prices are NET prices.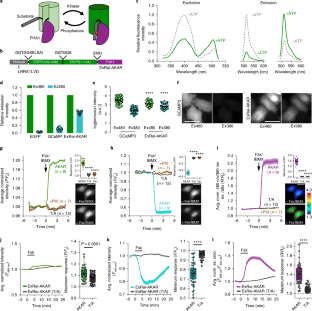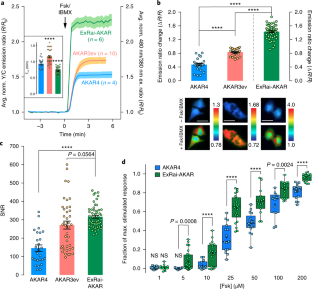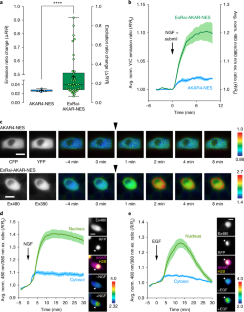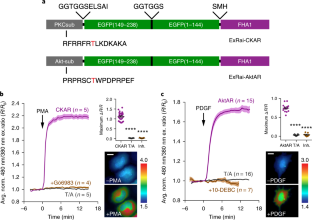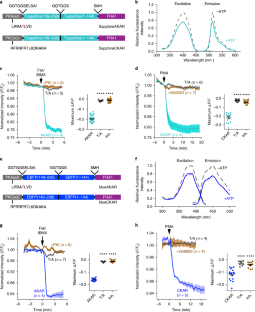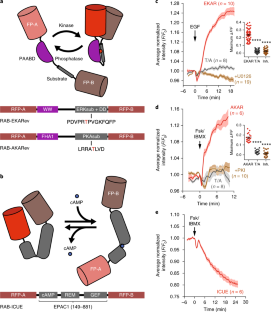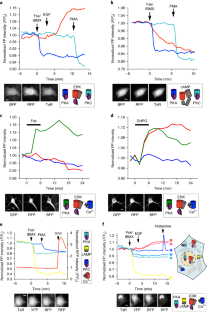 References
Depry, C., Mehta, S. & Zhang, J. Multiplexed visualization of dynamic signaling networks using genetically encoded fluorescent protein-based biosensors. Pflugers Arch. 465, 373–381 (2013).

Piljic, A. & Schultz, C. Simultaneous recording of multiple cellular events by FRET. ACS Chem. Biol. 3, 156–160 (2008).

Nagai, T., Sawano, A., Park, E. S. & Miyawaki, A. Circularly permuted green fluorescent proteins engineered to sense Ca2+. Proc. Natl Acad. Sci. USA 98, 3197–3202 (2001).

Nakai, J., Ohkura, M. & Imoto, K. A high signal-to-noise Ca2+ probe composed of a single green fluorescent protein. Nat. Biotechnol. 19, 137–141 (2001).

Yang, H. H. et al. Subcellular imaging of voltage and calcium signals reveals neural processing in vivo. Cell 166, 245–257 (2016).

Berg, J., Hung, Y. P. & Yellen, G. A genetically encoded fluorescent reporter of ATP:ADP ratio. Nat. Methods 6, 161–166 (2009).

Marvin, J. S. et al. An optimized fluorescent probe for visualizing glutamate neurotransmission. Nat. Methods 10, 162–170 (2013).

Odaka, H., Arai, S., Inoue, T. & Kitaguchi, T. Genetically-encoded yellow fluorescent cAMP indicator with an expanded dynamic range for dual-color imaging. PLoS ONE 9, e100252 (2014).

Zhang, J., Hupfeld, C. J., Taylor, S. S., Olefsky, J. M. & Tsien, R. Y. Insulin disrupts beta-adrenergic signalling to protein kinase A in adipocytes. Nature 437, 569–573 (2005).

Tian, L. et al. Imaging neural activity in worms, flies and mice with improved GCaMP calcium indicators. Nat. Methods 6, 875–881 (2009).

Tsien, R. Y. The green fluorescent protein. Annu. Rev. Biochem. 67, 509–544 (1998).

Zhao, Y. et al. An expanded palette of genetically encoded Ca2+ indicators. Science 333, 1888–1891 (2011).

Depry, C., Allen, M. D. & Zhang, J. Visualization of PKA activity in plasma membrane microdomains. Mol. Biosyst. 7, 52–58 (2011).

Komatsu, N. et al. Development of an optimized backbone of FRET biosensors for kinases and GTPases. Mol. Biol. Cell 22, 4647–4656 (2011).

Herbst, K. J., Allen, M. D. & Zhang, J. Spatiotemporally regulated protein kinase A activity is a critical regulator of growth factor-stimulated extracellular signal-regulated kinase signaling in PC12 cells. Mol. Cell. Biol. 31, 4063–4075 (2011).

Nam, H.-S. & Benezra, R. High levels of Id1 expression define B1 type adult neural stem cells. Cell Stem Cell 5, 515–526 (2009).

Newman, R. H., Fosbrink, M. D. & Zhang, J. Genetically encodable fluorescent biosensors for tracking signaling dynamics in living cells. Chem. Rev. 111, 3614–3666 (2011).

Herbst, K. J., Allen, M. D. & Zhang, J. Luminescent kinase activity biosensors based on a versatile bimolecular switch. J. Am. Chem. Soc. 133, 5676–5679 (2011).

Gao, X. & Zhang, J. Spatiotemporal analysis of differential Akt regulation in plasma membrane microdomains. Mol. Biol. Cell 19, 4366–4373 (2008).

Zapata-Hommer, O. & Griesbeck, O. Efficiently folding and circularly permuted variants of the Sapphire mutant of GFP. BMC Biotechnol. 3, 5 (2003).

Hung, Y. P., Albeck, J. G., Tantama, M. & Yellen, G. Imaging cytosolic NADH-NAD(+) redox state with a genetically encoded fluorescent biosensor. Cell Metab. 14, 545–554 (2011).

Akerboom, J. et al. Genetically encoded calcium indicators for multi-color neural activity imaging and combination with optogenetics. Front. Mol. Neurosci. 6, 2 (2013).

Alford, S. C., Abdelfattah, A. S., Ding, Y. & Campbell, R. E. A fluorogenic red fluorescent protein heterodimer. Chem. Biol. 19, 353–360 (2012).

Ding, Y. et al. Ratiometric biosensors based on dimerization-dependent fluorescent protein exchange. Nat. Methods 12, 195–198 (2015).

Violin, J. D. et al. beta2-adrenergic receptor signaling and desensitization elucidated by quantitative modeling of real time cAMP dynamics. J. Biol. Chem. 283, 2949–2961 (2008).

Huganir, R. L. & Nicoll, R. A. AMPARs and synaptic plasticity: the last 25 years. Neuron 80, 704–717 (2013).

Diering, G. H., Gustina, A. S. & Huganir, R. L. PKA-GluA1 coupling via AKAP5 controls AMPA receptor phosphorylation and cell-surface targeting during bidirectional homeostatic plasticity. Neuron 84, 790–805 (2014).

Sanderson, J. L., Gorski, J. A. & Dell'Acqua, M. L. NMDA receptor-dependent ltd requires transient synaptic incorporation of Ca2+-permeable AMPARs mediated by AKAP150-anchored PKA and calcineurin. Neuron 89, 1000–1015 (2016).

Wang, J. et al. Multiple kinases involved in the nicotinic modulation of gamma oscillations in the rat hippocampal CA3 area. Front. Cell. Neurosci. 11, 57 (2017).

Rao, V. et al. PKA phosphorylation of cardiac troponin I modulates activation and relaxation kinetics of ventricular myofibrils. Biophys. J. 107, 1196–1204 (2014).

Hu, Z. et al. Acute mechanical stretch promotes eNOS activation in venous endothelial cells mainly via PKA and Akt pathways. PLoS ONE 8, e71359 (2013).

Dunn, T. A. et al. Imaging of cAMP levels and protein kinase A activity reveals that retinal waves drive oscillations in second-messenger cascades. J. Neurosci. 26, 12807–12815 (2006).

Smith, F. D. et al. Local protein kinase A action proceeds through intact holoenzymes. Science 356, 1288–1293 (2017).

Sample, V. et al. Regulation of nuclear PKA revealed by spatiotemporal manipulation of cyclic AMP. Nat. Chem. Biol. 8, 375–382 (2012).

Niino, Y., Hotta, K. & Oka, K. Blue fluorescent cGMP sensor for multiparameter fluorescence imaging. PLoS ONE 5, e9164 (2010).

Aye-Han, N.-N. & Zhang, J. A multiparameter live cell imaging approach to monitor cyclic AMP and protein kinase A dynamics in parallel. Methods Mol. Biol. 1071, 207–215 (2014).

Harada, K. et al. Red fluorescent protein-based cAMP indicator applicable to optogenetics and in vivo imaging. Sci. Rep. 7, 7351 (2017).

Tewson, P. et al. Simultaneous detection of Ca2+ and diacylglycerol signaling in living cells. PLoS ONE 7, e42791 (2012).

Suzuki, K. et al. Five colour variants of bright luminescent protein for real-time multicolour bioimaging. Nat. Commun. 7, 13718 (2016).

Mo, G. C. H. et al. Genetically encoded biosensors for visualizing live-cell biochemical activity at super-resolution. Nat. Methods 14, 427–434 (2017).
Acknowledgements
The authors are grateful to L. Looger, G. Yellen, M. Matsuda, T. Kitaguchi and R. Campbell for generously providing plasmids and to S. Taylor for providing purified PKA catalytic subunit. We also wish to thank E. Greenwald for helping with the bleed-through analysis and correction, as well as E. Lopez Ortega for helping with subcloning and neuronal imaging experiments. This work was supported by Brain Initiative Grant R01 MH111516 (to R.L.H. and J.Z.) and by R35 CA197622, R01 DK073368 and R01 GM111665 (to J.Z.). Y.Z. is supported by the National Natural Science Foundation of China (grant 31771125), the Ministry of Science and Technology of the People's Republic of China (grant 2017YFE0103400) and The One Thousand Talents Plan-Recruitment Program for Young Professionals.
Ethics declarations
Competing interests
The authors declare no competing interests.
Additional information
Publisher's note: Springer Nature remains neutral with regard to jurisdictional claims in published maps and institutional affiliations.
Integrated supplementary information
Supplementary information
Supplementary Figures 1–7 and Supplementary Table 1 legend.
About this article
Cite this article
Mehta, S., Zhang, Y., Roth, R.H. et al. Single-fluorophore biosensors for sensitive and multiplexed detection of signalling activities. Nat Cell Biol 20, 1215–1225 (2018). https://doi.org/10.1038/s41556-018-0200-6
Received:

Accepted:

Published:

Issue Date:

DOI: https://doi.org/10.1038/s41556-018-0200-6