Abstract
The target of rapamycin complex 2 (TORC2) plays a key role in maintaining the homeostasis of plasma membrane (PM) tension. TORC2 activation following increased PM tension involves redistribution of the Slm1 and 2 paralogues from PM invaginations known as eisosomes into membrane compartments containing TORC2. How Slm1/2 relocalization is triggered, and if/how this plays a role in TORC2 inactivation with decreased PM tension, is unknown. Using osmotic shocks and palmitoylcarnitine as orthogonal tools to manipulate PM tension, we demonstrate that decreased PM tension triggers spontaneous, energy-independent reorganization of pre-existing phosphatidylinositol-4,5-bisphosphate into discrete invaginated membrane domains, which cluster and inactivate TORC2. These results demonstrate that increased and decreased membrane tension are sensed through different mechanisms, highlighting a role for membrane lipid phase separation in mechanotransduction.
Relevant articles
Open Access articles citing this article.
Manoël Prouteau

,

Clélia Bourgoint

…

Robbie Loewith

Nature Structural & Molecular Biology Open Access 26 January 2023

Filip Vujovic

,

Neil Hunter

&

Ramin M. Farahani

Cell Communication and Signaling Open Access 18 May 2022

Manjari Mishra

,

Pranav Adhyapak

…

Shobhna Kapoor

Scientific Reports Open Access 06 September 2019
Access options
Access Nature and 54 other Nature Portfolio journals
Get Nature+, our best-value online-access subscription
$29.99 per month
cancel any time
Subscribe to this journal
Receive 12 print issues and online access
$209.00 per year
only $17.42 per issue
Rent or buy this article
Get just this article for as long as you need it
$39.95
Prices may be subject to local taxes which are calculated during checkout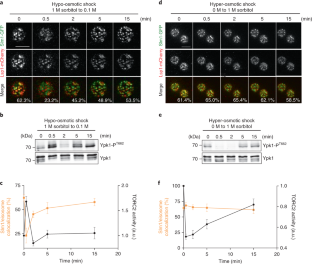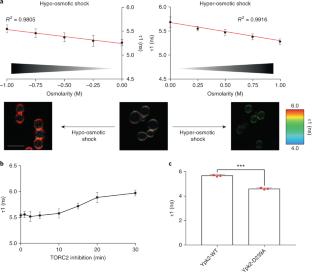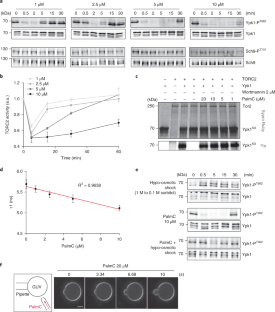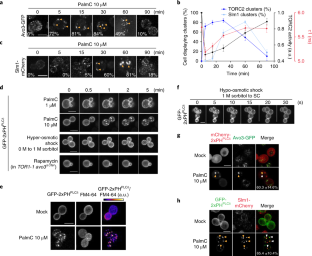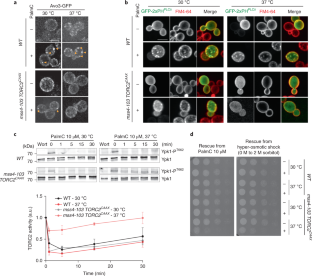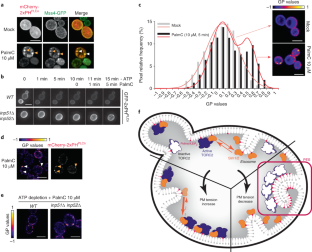 References
Paluch, E. & Heisenberg, C. P. Biology and physics of cell shape changes in development. Curr. Biol. 19, R790–R799 (2009).

Yu, H., Mouw, J. K. & Weaver, V. M. Forcing form and function: biomechanical regulation of tumor evolution. Trends Cell Biol. 21, 47–56 (2011).

Diz-Munoz, A., Fletcher, D. A. & Weiner, O. D. Use the force: membrane tension as an organizer of cell shape and motility. Trends Cell Biol. 23, 47–53 (2013).

Dai, J. & Sheetz, M. P. Mechanical properties of neuronal growth cone membranes studied by tether formation with laser optical tweezers. Biophys. J. 68, 988–996 (1995).

Lieber, A. D., Yehudai-Resheff, S., Barnhart, E. L., Theriot, J. A. & Keren, K. Membrane tension in rapidly moving cells is determined by cytoskeletal forces. Curr. Biol. 23, 1409–1417 (2013).

Morris, C. E. & Homann, U. Cell surface area regulation and membrane tension. J. Membr. Biol. 179, 79–102 (2001).

Berchtold, D. et al. Plasma membrane stress induces relocalization of Slm proteins and activation of TORC2 to promote sphingolipid synthesis. Nat. Cell Biol. 14, 542–547 (2012).

Walther, T. C. et al. Eisosomes mark static sites of endocytosis. Nature 439, 998–1003 (2006).

Olivera-Couto, A. & Aguilar, P. S. Eisosomes and plasma membrane organization. Mol. Genet. Genom. 287, 607–620 (2012).

Berchtold, D. & Walther, T. C. TORC2 plasma membrane localization is essential for cell viability and restricted to a distinct domain. Mol. Biol. Cell 20, 1565–1575 (2009).

Diz-Munoz, A. et al. Membrane tension acts through PLD2 and mTORC2 to limit actin network assembly during neutrophil migration. PLoS Biol. 14, e1002474 (2016).

Fadri, M., Daquinag, A., Wang, S., Xue, T. & Kunz, J. The pleckstrin homology domain proteins Slm1 and Slm2 are required for actin cytoskeleton organization in yeast and bind phosphatidylinositol-4,5-bisphosphate and TORC2. Mol. Biol. Cell 16, 1883–1900 (2005).

Tabuchi, M., Audhya, A., Parsons, A. B., Boone, C. & Emr, S. D. The phosphatidylinositol 4,5-biphosphate and TORC2 binding proteins Slm1 and Slm2 function in sphingolipid regulation. Mol. Cell Biol. 26, 5861–5875 (2006).

Grossmann, G. et al. Plasma membrane microdomains regulate turnover of transport proteins in yeast. J. Cell Biol. 183, 1075–1088 (2008).

Aronova, S. et al. Regulation of ceramide biosynthesis by TOR complex 2. Cell Metab. 7, 148–158 (2008).

Kamada, Y. et al. Tor2 directly phosphorylates the AGC kinase Ypk2 to regulate actin polarization. Mol. Cell Biol. 25, 7239–7248 (2005).

Hohmann, S. Control of high osmolarity signalling in the yeast Saccharomyces cerevisiae. FEBS Lett. 583, 4025–4029 (2009).

Brewster, J. L. & Gustin, M. C. Hog1: 20 years of discovery and impact. Sci. Signal 7, re7 (2014).

Levin, D. E. Regulation of cell wall biogenesis in Saccharomyces cerevisiae: the cell wall integrity signaling pathway. Genetics 189, 1145–1175 (2011).

Soleimanpour, S. et al. Headgroup engineering in mechanosensitive membrane probes. Chem. Commun. 52, 14450–14453 (2016).

Colom, A. et al. A fluorescent membrane tension probe. Nat. Chem. https://doi.org/10.1038/s41557-018-0127-3 (2018).

Gaubitz, C. et al. Molecular basis of the rapamycin insensitivity of target of rapamycin complex 2. Mol. Cell 58, 977–988 (2015).

Urban, J. et al. Sch9 is a major target of TORC1 in Saccharomyces cerevisiae. Mol. Cell 26, 663–674 (2007).

Beese, S. E., Negishi, T. & Levin, D. E. Identification of positive regulators of the yeast fps1 glycerol channel. PLoS Genet. 5, e1000738 (2009).

Novick, P., Ferro, S. & Schekman, R. Order of events in the yeast secretory pathway. Cell 25, 461–469 (1981).

Rispal, D. et al. Target of rapamycin complex 2 regulates actin polarization and endocytosis via multiple pathways. J. Biol. Chem. 290, 14963–14978 (2015).

Desrivieres, S., Cooke, F. T., Parker, P. J. & Hall, M. N. MSS4, a phosphatidylinositol-4-phosphate 5-kinase required for organization of the actin cytoskeleton in Saccharomyces cerevisiae. J. Biol. Chem. 273, 15787–15793 (1998).

Kavran, J. M. et al. Specificity and promiscuity in phosphoinositide binding by pleckstrin homology domains. J. Biol. Chem. 273, 30497–30508 (1998).

Stefan, C. J., Audhya, A. & Emr, S. D. The yeast synaptojanin-like proteins control the cellular distribution of phosphatidylinositol (4,5)-bisphosphate. Mol. Biol. Cell 13, 542–557 (2002).

Dupont, S., Beney, L., Ritt, J. F., Lherminier, J. & Gervais, P. Lateral reorganization of plasma membrane is involved in the yeast resistance to severe dehydration. Biochim. Biophys. Acta 1798, 975–985 (2010).

Singer-Kruger, B., Nemoto, Y., Daniell, L., Ferro-Novick, S. & De Camilli, P. Synaptojanin family members are implicated in endocytic membrane traffic in yeast. J. Cell Sci. 111, 3347–3356 (1998).

Stefan, C. J., Padilla, S. M., Audhya, A. & Emr, S. D. The phosphoinositide phosphatase Sjl2 is recruited to cortical actin patches in the control of vesicle formation and fission during endocytosis. Mol. Cell Biol. 25, 2910–2923 (2005).

Owen, D. M., Williamson, D. J., Magenau, A. & Gaus, K. Sub-resolution lipid domains exist in the plasma membrane and regulate protein diffusion and distribution. Nat. Commun. 3, 1256 (2012).

Sanchez, S. A., Tricerri, M. A. & Gratton, E. Laurdan generalized polarization fluctuations measures membrane packing micro-heterogeneity in vivo. Proc. Natl Acad. Sci. USA 109, 7314–7319 (2012).

Harris, F. M., Best, K. B. & Bell, J. D. Use of laurdan fluorescence intensity and polarization to distinguish between changes in membrane fluidity and phospholipid order. Biochim. Biophys. Acta 1565, 123–128 (2002).

Prouteau, M. et al. TORC1 organized in inhibited domains (TOROIDs) regulate TORC1 activity. Nature 550, 265–269 (2017).

Karuppasamy, M. et al. Cryo-EM structure of Saccharomyces cerevisiae target of rapamycin complex 2. Nat. Commun. 8, 1729 (2017).

Chen, X. et al. Phosphatidylinositol 4,5-bisphosphate clusters the cell adhesion molecule CD44 and assembles a specific CD44–Ezrin heterocomplex, as revealed by small angle neutron scattering. J. Biol. Chem. 290, 6639–6652 (2015).

Honigmann, A. et al. Phosphatidylinositol 4,5-bisphosphate clusters act as molecular beacons for vesicle recruitment. Nat. Struct. Mol. Biol. 20, 679–686 (2013).

van den Bogaart, G. et al. Membrane protein sequestering by ionic protein–lipid interactions. Nature 479, 552–555 (2011).

Marat, A. L. et al. mTORC1 activity repression by late endosomal phosphatidylinositol 3,4-bisphosphate. Science 356, 968–972 (2017).

Narita, T., Naganuma, T., Sase, Y. & Kihara, A. Long-chain bases of sphingolipids are transported into cells via the acyl-CoA synthetases. Sci. Rep. 6, 25469 (2016).

Loewith, R. & Hall, M. N. Target of rapamycin (TOR) in nutrient signaling and growth control. Genetics 189, 1177–1201 (2011).

Huber, A. et al. Characterization of the rapamycin-sensitive phosphoproteome reveals that Sch9 is a central coordinator of protein synthesis. Genes Dev. 23, 1929–1943 (2009).

Vincent, J. et al. Small molecule inhibition of cGAS reduces interferon expression in primary macrophages from autoimmune mice. Nat. Commun. 8, 750 (2017).

Wanke, V. et al. Caffeine extends yeast lifespan by targeting TORC1. Mol. Microbiol. 69, 277–285 (2008).
Acknowledgements
The authors thank G. Molinard and M. Prouteau for technical help and T. Kapoor, J. Chiaravalli and J. Fraser Glickman for their collaboration on the high-throughput screen (HTS) campaign. M.R. acknowledges the iGE3 PhD Student Awards. R.L. acknowledges support from the Canton of Geneva, project funding from the Swiss National Science Foundation (SNSF) and the European Research Council Consolidator grant programme. A.R. acknowledges funding from the Swiss National Fund for research grants nos. 31003A_130520, 31003A_149975 and 31003A_173087, and the European Research Council Starting Grant no. 311536 (2011 call). M.R., K.N.-S., A.C., S.S., S.M., A.R. and R.L. are indebted to the National Centre for Competence in Research in Chemical Biology for its support.
Ethics declarations
Competing interests
The authors declare no competing interests.
Additional information
Publisher's note: Springer Nature remains neutral with regard to jurisdictional claims in published maps and institutional affiliations.
Integrated supplementary information
Supplementary information
About this article
Cite this article
Riggi, M., Niewola-Staszkowska, K., Chiaruttini, N. et al. Decrease in plasma membrane tension triggers PtdIns(4,5)P2 phase separation to inactivate TORC2. Nat Cell Biol 20, 1043–1051 (2018). https://doi.org/10.1038/s41556-018-0150-z
Received:

Accepted:

Published:

Issue Date:

DOI: https://doi.org/10.1038/s41556-018-0150-z