Abstract
Embryonic stem cells can be incorporated into the developing embryo and its germ line, but, when cultured alone, their ability to generate embryonic structures is restricted. They can interact with trophoblast stem cells to generate structures that break symmetry and specify mesoderm, but their development is limited as the epithelial–mesenchymal transition of gastrulation cannot occur. Here, we describe a system that allows assembly of mouse embryonic, trophoblast and extra-embryonic endoderm stem cells into structures that acquire the embryo's architecture with all distinct embryonic and extra-embryonic compartments. Strikingly, such embryo-like structures develop to undertake the epithelial–mesenchymal transition, leading to mesoderm and then definitive endoderm specification. Spatial transcriptomic analyses demonstrate that these morphological transformations are underpinned by gene expression patterns characteristic of gastrulating embryos. This demonstrates the remarkable ability of three stem cell types to self-assemble in vitro into gastrulating embryo-like structures undertaking spatio-temporal events of the gastrulating mammalian embryo.
Relevant articles
Open Access articles citing this article.
Min Bao

,

Jake Cornwall-Scoones

…

Magdalena Zernicka-Goetz

Nature Cell Biology Open Access 13 September 2022

Gianluca Amadei

,

Charlotte E. Handford

…

Magdalena Zernicka-Goetz

Nature Open Access 25 August 2022

King Hang Tommy Mau

,

Donja Karimlou

…

Véronique Azuara

Nature Communications Open Access 05 July 2022
Access options
Subscribe to Nature+
Get immediate online access to Nature and 55 other Nature journal
Subscribe to Journal
Get full journal access for 1 year
$99.00
only $8.25 per issue
All prices are NET prices.
VAT will be added later in the checkout.
Tax calculation will be finalised during checkout.
Buy article
Get time limited or full article access on ReadCube.
$32.00
All prices are NET prices.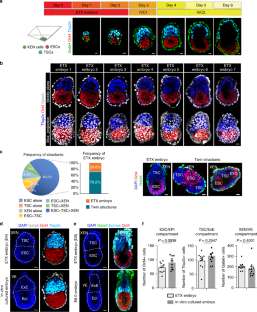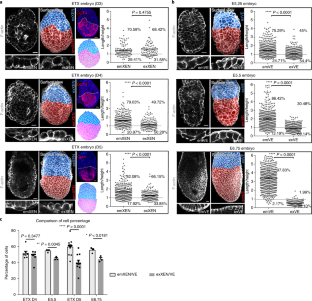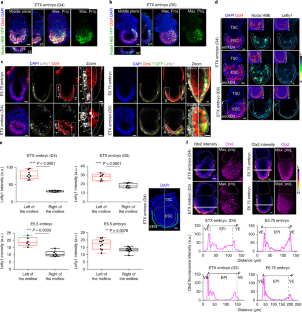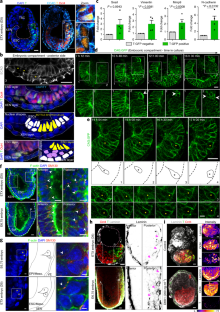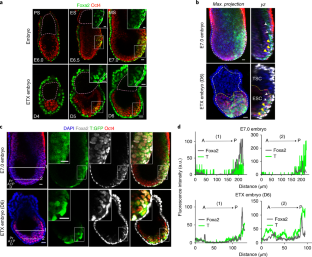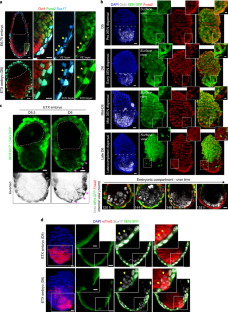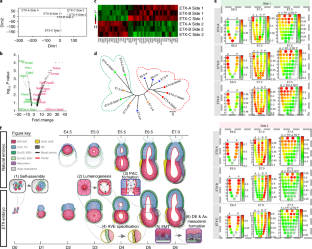 References
Bedzhov, I. & Zernicka-Goetz, M. Self-organizing properties of mouse pluripotent cells initiate morphogenesis upon implantation. Cell 156, 1032–1044 (2014).

Shahbazi, M. N. et al. Pluripotent state transitions coordinate morphogenesis in mouse and human embryos. Nature 552, 239–243 (2017).

Harrison, S. E., Sozen, B., Christodoulou, N., Kyprianou, C. & Zernicka-Goetz, M. Assembly of embryonic and extraembryonic stem cells to mimic embryogenesis in vitro. Science 356, eaal1810 (2017).

Rivera-Perez, J. A. & Magnuson, T. Primitive streak formation in mice is preceded by localized activation of Brachyury and Wnt3. Dev. Biol. 288, 363–371(2005).

Robertson, E. J. Dose-dependent Nodal/Smad signals pattern the early mouse embryo. Semin. Cell Dev. Biol. 32, 73–79 (2014).

Wood, S. A., Allen, N. D., Rossant, J., Auerbach, A. & Nagy, A. Non-injection methods for the production of embryonic stem cell-embryo chimaeras. Nature 365, 87–89 (1993).

Bradley, A., Evans, M., Kaufman, M. H. & Robertson, E. Formation of germ-line chimaeras from embryo-derived teratocarcinoma cell lines. Nature 309, 255–256 (1984).

ten Berge, D. et al. Wnt signaling mediates self-organization and axis formation in embryoid bodies. Cell Stem Cell 3, 508–518 (2008).

van den Brink, S. C. et al. Symmetry breaking, germ layer specification and axial organization in aggregates of mouse embryonic stem cells. Development 141, 4231–4242 (2014).

Warmflash, A., Sorre, B., Etoc, F., Siggia, E. D. & Brivanlou, A. H. A method to recapitulate early embryonic spatial patterning in human embryonic stem cells. Nat. Methods 11, 847–854 (2014).

Tanaka, S., Kunath, T., Hadjantonakis, A. K., Nagy, A. & Rossant, J. Promotion of trophoblast stem cell proliferation by FGF4. Science 282, 2072–2075 (1998).

Kimura-Yoshida, C. et al. Canonical Wnt signaling and its antagonist regulate anterior–posterior axis polarisation by guiding cell migration in mouse visceral endoderm. Dev. Cell 9, 639–650 (2005).

Yamamoto, M. et al. Nodal antagonists regulate formation of the anteroposterior axis of the mouse embryo. Nature 428, 387–392 (2004).

Tam, P. P., & Beddington, R. S. Establishment and organization of germ layers in the gastrulating mouse embryo. Ciba Found. Symp. 165, 27–42 (1992).

Viotti, M., Nowotschin, S. & Hadjantonakis, A. K. Afp::mCherry, a red fluorescent transgenic reporter of the mouse visceral endoderm. Genesis 49, 124–133 (2011).

Kunath, T. et al. Imprinted X-inactivation in extra-embryonic endoderm cell lines from mouse blastocysts. Development 132, 1649–1661 (2005).

Takaoka, K., Yamamoto, M. & Hamada, H. Origin and role of distal visceral endoderm, a group of cells that determines anterior-posterior polarity of the mouse embryo. Nat. Cell Biol. 13, 743–752 (2011).

Papanayotou, C. et al. A novel nodal enhancer dependent on pluripotency factors and smad2/3 signaling conditions a regulatory switch during epiblast maturation. PLoS Biol. 12, e1001890 (2014).

Hoshino, H., Shioi, G. & Aizawa, S. AVE protein expression and visceral endoderm cell behavior during anterior-posterior axis formation in mouse embryos: asymmetry in OTX2 and DKK1 expression. Dev. Biol. 402, 175–191 (2015).

Williams, M., Burdsal, C., Periasamy, A., Lewandoski, M. & Sutherland, A. Mouse primitive streak forms in situ by initiation of epithelial to mesenchymal transition without migration of a cell population. Dev. Dyn. 241, 270–283 (2012).

Laurie, G. W., Leblond, C. P. & Martin, G. R. Localization of type IV collagen, laminin, heparan sulfate proteoglycan, and fibronectin to the basal lamina of basement membranes. J. Cell Biol. 95, 340–344 (1982).

Sasaki, H. & Hogan, B. L. Differential expression of multiple fork head related genes during gastrulation and axial pattern formation in the mouse embryo. Development 118, 47–59 (1993).

Lewis, S. L. & Tam, P. P. Definitive endoderm of the mouse embryo: formation, cell fates, and morphogenetic function. Dev. Dyn. 235, 2315–2329 (2006).

Burtscher, I. & Lickert, H. Foxa2 regulates polarity and epithelialization in the endoderm germ layer of the mouse embryo. Development 136, 1029–1038 (2009).

Balmer, S., Nowotschin, S. & Hadjantonakis, A. K. Notochord morphogenesis in mice: current understanding & open questions. Dev. Dyn. 245, 547–557 (2016).

Saitou, N. & Nei, M. The neighbor-joining method: a new method for reconstructing phylogenetic trees. Mol. Biol. Evol. 4, 406–425 (1987).

Peng, G. et al. Spatial transcriptome for the molecular annotation of lineage fates and cell identity in mid-gastrula mouse embryo. Dev. Cell 36, 681–697 (2016).

Bedzhov, I., Leung, C. Y., Bialecka, M. & Zernicka-Goetz, M. In vitro culture of mouse blastocysts beyond the implantation stages. Nat. Protoc. 9, 2732–2739 (2014).

Fehling, H. J. et al. Tracking mesoderm induction and its specification to the hemangioblast during embryonic stem cell differentiation. Development 130, 4217–4227 (2003).

Rhee, J. M. et al. In vivo imaging and differential localization of lipid-modified GFP-variant fusions in embryonic stem cells and mice. Genesis 44, 202–218 (2006).

Sozen, B., Amadei, G., Na, E., Michel, G. & Zernicka-Goetz, M. Stem cells reconstituting gastrulating embryo-like structures in vitro. Nat. Protoc. Exch. https://doi.org/10.1038/protex.2018.072 (2018).

Piette, D., Hendrickx, M., Willems, E., Kemp, C. R. & Leyns, L. An optimized procedure for whole-mount in situ hybridization on mouse embryos and embryoid bodies. Nat. Protoc. 3, 1194–1201 (2008).

Picelli, S. et al. Smart-seq2 for sensitive full-length transcriptome profiling in single cells. Nat. Methods 10, 1096–1098 (2013).

Picelli, S. et al. Full-length RNA-seq from single cells using Smart-seq2. Nat. Protoc. 9, 171–181 (2014).

Anders, S., Pyl, P. T. & Huber, W. HTSeq—a Python framework to work with high-throughput sequencing data. Bioinformatics 31, 166–169 (2015).

Andrews, S. FastQC a Quality Control to Tool for High Throughput Sequence Data https://www.bioinformatics.babraham.ac.uk/projects/fastqc/ (2010).

Trapnell, C., Pachter, L. & Salzberg, S. L. TopHat: discovering splice junctions with RNA–Seq. Bioinformatics 25, 1105–1111 (2009).

Kim, D. et al. TopHat2: accurate alignment of transcriptomes in the presence of insertions, deletions and gene fusions. Genome Biol. 14, R36 (2013).

Hong, F. et al. RankProd: a bioconductor package for detecting differentially expressed genes in meta-analysis. Bioinformatics 22, 2825–2827 (2006).

Saldanha, A. J. Java Treeview—extensible visualization of microarray data. Bioinformatics 20, 3246–3248 (2004).

Huang da, W., Sherman, B. T. & Lempicki, R. A. Systematic and integrative analysis of large gene lists using DAVID bioinformatics resources. Nat. Protoc. 4, 44–57 (2009).
Acknowledgements
The authors thank colleagues in the M.Z.G. laboratory for insightful comments. The M.Z.G. laboratory is supported by grants from the European Research Council (669198) and the Wellcome Trust (098287/Z/12/Z). B.S. is also supported by Akdeniz University, Turkey. T.V. and L.C. are funded by Wellcome. T.V. is also funded by the University of Leuven, Belgium (PFV/10/016). The authors thank A. Weberling, M. Mole, N. Christodoulou, C. Kyprianou and J. Guo for their help, A. Hupalowska for inspiration for a model in Fig. 7f, and L. Wittler, I. Urban, A. Landsberger, C. Schick and H. Schlenger for technical support.
Ethics declarations
Competing interests
The authors declare no competing interests.
Additional information
Publisher's note: Springer Nature remains neutral with regard to jurisdictional claims in published maps and institutional affiliations.
Integrated supplementary information
Supplementary information
About this article
Cite this article
Sozen, B., Amadei, G., Cox, A. et al. Self-assembly of embryonic and two extra-embryonic stem cell types into gastrulating embryo-like structures. Nat Cell Biol 20, 979–989 (2018). https://doi.org/10.1038/s41556-018-0147-7
Received:

Accepted:

Published:

Issue Date:

DOI: https://doi.org/10.1038/s41556-018-0147-7