Abstract
Cellular senescence is a tumour suppressor programme characterized by a stable cell cycle arrest. Here we report that cellular senescence triggered by a variety of stimuli leads to diminished ribosome biogenesis and the accumulation of both rRNA precursors and ribosomal proteins. These defects were associated with reduced expression of several ribosome biogenesis factors, the knockdown of which was also sufficient to induce senescence. Genetic analysis revealed that Rb but not p53 was required for the senescence response to altered ribosome biogenesis. Mechanistically, the ribosomal protein S14 (RPS14 or uS11) accumulates in the soluble non-ribosomal fraction of senescent cells, where it binds and inhibits CDK4 (cyclin-dependent kinase 4). Overexpression of RPS14 is sufficient to inhibit Rb phosphorylation, inducing cell cycle arrest and senescence. Here we describe a mechanism for maintaining the senescent cell cycle arrest that may be relevant for cancer therapy, as well as biomarkers to identify senescent cells.
Access options
Subscribe to Journal
Get full journal access for 1 year
$99.00
only $8.25 per issue
All prices are NET prices.
VAT will be added later in the checkout.
Tax calculation will be finalised during checkout.
Rent or Buy article
Get time limited or full article access on ReadCube.
from$8.99
All prices are NET prices.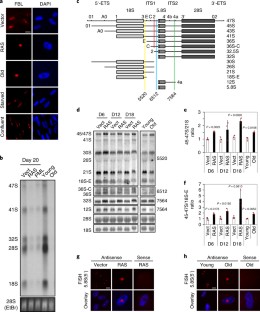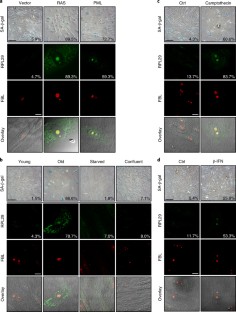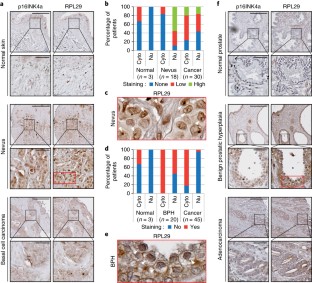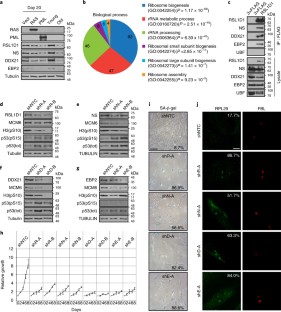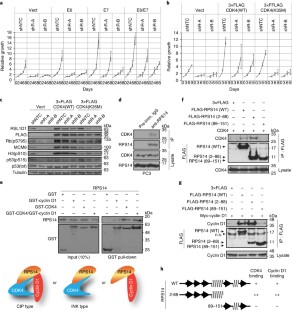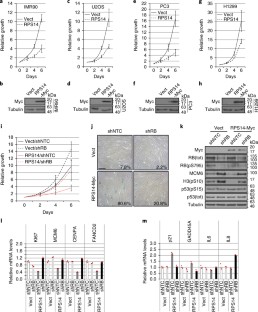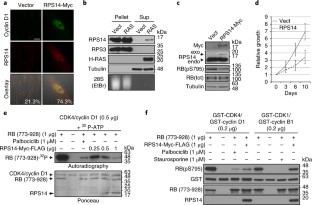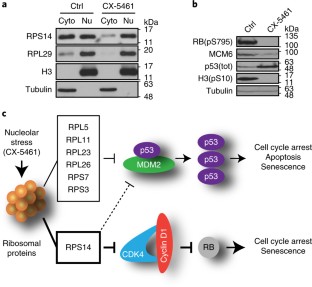 References
1.

Deschenes-Simard, X., Lessard, F., Gaumont-Leclerc, M. F., Bardeesy, N. & Ferbeyre, G. Cellular senescence and protein degradation: breaking down cancer. Cell Cycle 13, 1840–1858 (2014).

2.

Michaloglou, C. et al. BRAFE600-associated senescence-like cell cycle arrest of human naevi. Nature 436, 720–724 (2005).

3.

Vernier, M. et al. Regulation of E2Fs and senescence by PML nuclear bodies. Genes Dev. 25, 41–50 (2011).

4.

Kang, T. W. et al. Senescence surveillance of pre-malignant hepatocytes limits liver cancer development. Nature 479, 547–551 (2011).

5.

Xue, W. et al. Senescence and tumour clearance is triggered by p53 restoration in murine liver carcinomas. Nature 445, 656–660 (2007).

6.

Chen, Z. et al. Crucial role of p53-dependent cellular senescence in suppression of Pten-deficient tumorigenesis. Nature 436, 725–730 (2005).

7.

Guerra, C. et al. Pancreatitis-induced inflammation contributes to pancreatic cancer by inhibiting oncogene-induced senescence. Cancer Cell 19, 728–739 (2011).

8.

Stumpf, C. R. & Ruggero, D. The cancerous translation apparatus. Curr. Opin. Genet. Dev. 21, 474–483 (2011).

9.

Bhat, M. et al. Targeting the translation machinery in cancer. Nat. Rev. Drug Discov. 14, 261–278 (2015).

10.

Nishimura, K. et al. Perturbation of ribosome biogenesis drives cells into senescence through 5S RNP-mediated p53 activation. Cell Rep. 10, 1310–1323 (2015).

11.

Drygin, D. et al. Targeting RNA polymerase I with an oral small molecule CX-5461 inhibits ribosomal RNA synthesis and solid tumor growth. Cancer Res. 71, 1418–1430 (2011).

12.

Bywater, M. J. et al. Inhibition of RNA polymerase I as a therapeutic strategy to promote cancer-specific activation of p53. Cancer Cell 22, 51–65 (2012).

13.

Devlin, J. R. et al. Combination therapy targeting ribosome biogenesis and mRNA translation synergistically extends survival in MYC-driven lymphoma. Cancer Discov. 6, 59–70 (2016).

14.

Serrano, M., Lin, A. W., McCurrach, M. E., Beach, D. & Lowe, S. W. Oncogenic ras provokes premature cell senescence associated with accumulation of p53 and p16INK4a. Cell 88, 593–602 (1997).

15.

Ohtani, N. et al. Opposing effects of Ets and Id proteins on p16INK4a expression during cellular senescence. Nature 409, 1067–1070 (2001).

16.

Takahashi, A. et al. Mitogenic signalling and the p16INK4a-Rb pathway cooperate to enforce irreversible cellular senescence. Nat. Cell Biol. 8, 1291–1297 (2006).

17.

Chicas, A. et al. Dissecting the unique role of the retinoblastoma tumor suppressor during cellular senescence. Cancer Cell 17, 376–387 (2010).

18.

Zou, X. et al. Cdk4 disruption renders primary mouse cells resistant to oncogenic transformation, leading to Arf/p53-independent senescence. Genes Dev. 16, 2923–2934 (2002).

19.

Acevedo, M. et al. A CDK4/6-dependent epigenetic mechanism protects cancer cells from PML-induced senescence. Cancer Res. 76, 3252–3264 (2016).

20.

Goel, S. et al. Overcoming therapeutic resistance in HER2-positive breast cancers with CDK4/6 inhibitors. Cancer Cell 29, 255–269 (2016).

21.

Langhendries, J. L., Nicolas, E., Doumont, G., Goldman, S. & Lafontaine, D. L. The human box C/D snoRNAs U3 and U8 are required for pre-rRNA processing and tumorigenesis. Oncotarget 7, 59519–59534 (2016).

22.

Wild, T. et al. A protein inventory of human ribosome biogenesis reveals an essential function of exportin 5 in 60S subunit export. PLoS Biol. 8, e1000522 (2010).

23.

Deschenes-Simard, X. et al. Tumor suppressor activity of the ERK/MAPK pathway by promoting selective protein degradation. Genes Dev. 27, 900–915 (2013).

24.

Meng, L., Yasumoto, H. & Tsai, R. Y. Multiple controls regulate nucleostemin partitioning between nucleolus and nucleoplasm. J. Cell Sci. 119, 5124–5136 (2006).

25.

Romanova, L. et al. Critical role of nucleostemin in pre-rRNA processing. J. Biol. Chem. 284, 4968–4977 (2009).

26.

Ma, L. et al. CSIG inhibits PTEN translation in replicative senescence. Mol. Cell Biol. 28, 6290–6301 (2008).

27.

Mallette, F. A., Goumard, S., Gaumont-Leclerc, M. F., Moiseeva, O. & Ferbeyre, G. Human fibroblasts require the Rb family of tumor suppressors, but notp53, for PML-induced senescence. Oncogene 23, 91–99 (2004).

28.

Helt, A. M. & Galloway, D. A. Destabilization of the retinoblastoma tumor suppressor by human papillomavirus type 16 E7 is not sufficient to overcome cell cycle arrest in human keratinocytes. J. Virol. 75, 6737–6747 (2001).

29.

Malumbres, M. & Barbacid, M. Cell cycle, CDKs and cancer: a changing paradigm. Nat. Rev. Cancer 9, 153–166 (2009).

30.

Donati, G., Peddigari, S., Mercer, C. A. & Thomas, G. 5S ribosomal RNA is an essential component of a nascent ribosomal precursor complex that regulates the Hdm2-p53 checkpoint. Cell Rep. 4, 87–98 (2013).

31.

Sloan, K. E., Bohnsack, M. T. & Watkins, N. J. The 5S RNP couples p53 homeostasis to ribosome biogenesis and nucleolar stress. Cell Rep. 5, 237–247 (2013).

32.

Rabl, J., Leibundgut, M., Ataide, S. F., Haag, A. & Ban, N. Crystal structure of the eukaryotic 40S ribosomal subunit in complex with initiation factor 1. Science 331, 730–736 (2011).

33.

Rodier, F. et al. Persistent DNA damage signalling triggers senescence-associated inflammatory cytokine secretion. Nat. Cell Biol. 11, 973–979 (2009).

34.

Coppe, J. P. et al. Tumor suppressor and aging biomarkerp16(INK4a) induces cellular senescence without the associated inflammatory secretory phenotype. J. Biol. Chem. 286, 36396–36403 (2011).

35.

Ebert, B. L. et al. Identification of RPS14 as a 5q− syndrome gene by RNA interference screen. Nature 451, 335–339 (2008).

36.

Dorr, J. R. et al. Synthetic lethal metabolic targeting of cellular senescence in cancer therapy. Nature 501, 421–425 (2013).

37.

Coppe, J. P. et al. Senescence-associated secretory phenotypes reveal cell-nonautonomous functions of oncogenic RAS and the p53 tumor suppressor. PLoS Biol. 6, 2853–2868 (2008).

38.

Horn, H. F. & Vousden, K. H. Cooperation between the ribosomal proteins L5 and L11 in the p53 pathway. Oncogene 27, 5774–5784 (2008).

39.

Marechal, V., Elenbaas, B., Piette, J., Nicolas, J. C. & Levine, A. J. The ribosomal L5 protein is associated with mdm-2 and mdm-2-p53 complexes. Mol. Cell Biol. 14, 7414–7420 (1994).

40.

Zhou, X., Hao, Q., Liao, J., Zhang, Q. & Lu, H. Ribosomal protein S14 unties the MDM2-p53 loop upon ribosomal stress. Oncogene 32, 388–396 (2013).

41.

Lessard, F. et al. The ARF tumor suppressor controls ribosome biogenesis by regulating the RNA polymerase I transcription factor TTF-I. Mol. Cell 38, 539–550 (2010).

42.

Ingolia, N. T., Brar, G. A., Rouskin, S., McGeachy, A. M. & Weissman, J. S. The ribosome profiling strategy for monitoring translation in vivo by deep sequencing of ribosome-protected mRNA fragments. Nat. Protoc. 7, 1534–1550 (2012).

43.

Scott, D. D. et al. Nol12 is a multifunctional RNA binding protein at the nexus of RNA and DNA metabolism. Nucleic Acids Res. 45, 12509–12528 (2017).

44.

Al-Shahrour, F., Diaz-Uriarte, R. & Dopazo, J. FatiGO: a web tool for finding significant associations of Gene Ontology terms with groups of genes. Bioinformatics 20, 578–580 (2004).
Acknowledgements
We thank D. P. Baker (Biogen Idec), D. A. Galloway (Fred Hutchinson Cancer Center), N. Bardeesy (MGH), S. Lowe (MSK), A. Koff (MSK), T. Moss (U. Laval), I. Topisirovic, P. Chartrand (U. Montréal), V. Blank (McGill University) and B. Weinberg (MIT) for comments and/or reagents. We thank É. Bonneil, F. McManus and the IRIC Proteomics Core Facility for proteomic analysis. We thank J. Hinsinger, M. Birlea and the IRIC Histology Core Facility for immunohistochemistry. F.L. is supported by FRQS (Fonds de Recherche du Québec-Santé) and the CRS (Cancer Research Society). G.F. is supported by FRQS. Work was funded by grants from the CIHR (Canadian Institute of Health and Research: CIHR MOP11151) to G.F., (Canadian Institutes of Health Research: CIHR MOP106628) to M.O. and the CCSRI (Canadian Cancer Society Research Institute: 704223) to G.F.
Ethics declarations
Competing interests
The authors declare no competing interests.
Additional information
Publisher's note: Springer Nature remains neutral with regard to jurisdictional claims in published maps and institutional affiliations.
Integrated supplementary information
Supplementary information
About this article
Cite this article
Lessard, F., Igelmann, S., Trahan, C. et al. Senescence-associated ribosome biogenesis defects contributes to cell cycle arrest through the Rb pathway. Nat Cell Biol 20, 789–799 (2018). https://doi.org/10.1038/s41556-018-0127-y
Received:

Accepted:

Published:

Issue Date: